Fashion
Paris Fashion Week - Saint Laurent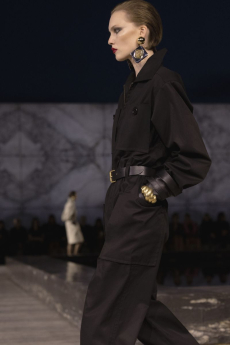 Saint Laurent presented its SS24 collection at Paris Fashion Week on September 26th, 2023. The collection, designed under the creative direction of Anthony Vaccarello, was showcased in a gigantic architectural construct built for the occasion, with a magnificent view of the Eiffel Tower. For this season, the unexpected move of Vaccarello was to strip everything back. He declared that his goal was to bring everything back to its simplistic form, without overcomplicated pieces or exaggerated silhouettes. Indeed, this clean canvas marks a new chapter in the history of Saint Laurent. Cotton as a material dominated the Maison's runway in every way possible, from shirts to evening dresses. The main inspiration behind the collection is the "Saharien" jacket, a concept that Yves Saint Laurent brought back from his North African upbringing and with which he revolutionized Parisian fashion in 1967. Despite its simplicity, the collection is definitely not humble: every piece radiates the fierce, put-together Parisian glamour which in the years has come to represent the brand. Every outfit was completed by 80s-inspired maquillage, voluminous hair, and gold jewelry. The whole collection brings back the idea of a simple, stripped-back elegance that exalts the wearer and captivates.
www.ysl.com
Fashion
Hermès Reopens its Vienna Store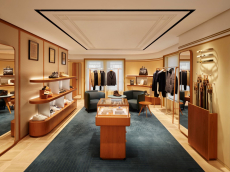 On September 22nd, 2023, Hermès announced the reopening of its newly expanded Vienna store, where the House's sixteen métiers are represented by historical elements of the city subtly blended with modernity. The store, located at 22 Graben, is the symbol of the brand's commitment to the Austrian capital, contributing to the country's dynamism. It has been renovated by Parisian architects RDAI, and it has been expanded in depth and with the inclusion of one additional floor, thus doubling its original surface. The Hermès experience now extends over three floors, dedicated to accessories, beauty, women and menswear, and jewelry. On the last floor, a VIP area has been built to offer an exclusive shopping experience. Each space affirms its own identity, all the while remaining faithful to the brand's elegant aesthetics. The space features a sculptural staircase in natural oak which seamlessly unites the three floors. The architecture of the building is inspired by the Vienna Secession art movement, featuring a subtle combination of colors, materials, and patterns. The store's lighting emphasizes the precious mosaic floor, which also displays the House's ex-libris. This store marks the beginning of a new chapter for Hermès in Vienna. It perfectly showcases the brand's history and commitment to innovation through a beautiful display of architectural and decorative elements.
www.hermes.com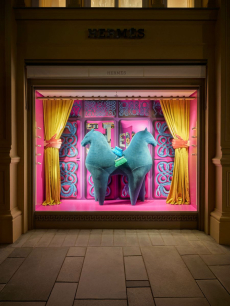 Fashion
Milan Fashion Week - Loro Piana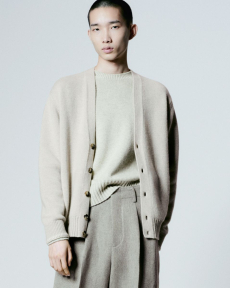 For its SS24 collection, Loro Piana celebrates its affinity with Japan with a clothing line that profoundly reflects the brand's founding values. The affinity with Japanese culture is celebrated as a powerful force in its richness of high-quality craftsmanship and closeness to Loro Piana's values. The collection reflects a balance with nature and an idea of harmony with the world we inhabit. The non-ostentatious and powerful humbleness that distinguish the brand become the main forces driving this season's collection. The vibrant simplicity and flowing harmony of Japanese clothing pervade the collection, and it is evident in the cashmere or silk coats with petite stand-up collars, in the kimono-style jackets, and in the rounded pants. The tailoring is elongated, reflecting the slender lines and simple garments typical of Japanese traditional clothing. The knitwear defines the silhouette, while delicate shirts privilege the use of light and airy materials. The collection's journey moves from the muted hues of bamboo to the beauty of handwork and the new texture of outerwear reinterpreted in shades of earthy tones. The colors move along with the textures, in this collection that is an ode to delicacy and elegance, and yet manages to be striking in its simplicity.
www.loropiana.com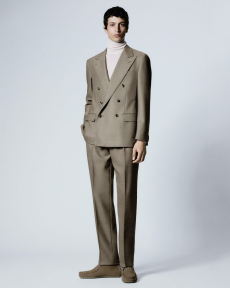 Fashion
Milan Fashion Week - FENDI
In the brand's SS24 womenswear collection, FENDI's Artistic Director of Couture and Womenswear Kim Jones takes the city of Rome, the founding place of the brand, as the main source of inspiration. The garments in the collection explore an ease of dressing with a certain Roman freedom. Throughout this collection, imperfection becomes a more human perfection, and luxury is found in comfort and quiet. The clothing and accessories allow the wearer to feel fully themselves in them, exploring a sense of duality that permeates the whole collection. The garments are simultaneously pragmatic and playful, crafted with masculine tailoring and materials but applied fluidly and femininely with elegance and sensibility. The materials and textures range from the finest kid mohair to silks and knits. The garments are fluid and everchanging: a washed silk evening dress is able to slip into the day-to-day, while a folded-over waistband reveals a pair of trousers' inner construction. The way the outfits are put together also reflects FENDI's dualistic approach, such as pairing a masculine, heavy coat with ballet shoes. In this collection, masculine utility and comfort come together with a feminine flourish with the agency of the wearer in mind. The collection caters to both style and comfort, effortlessly revealing the elegance of the FENDI woman.
www.fendi.com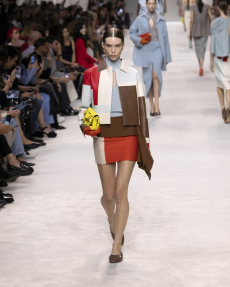 Fashion
Valentino Black Tie Campaign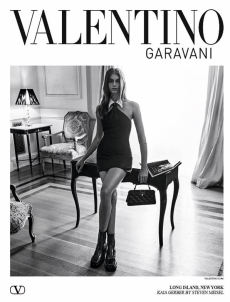 The Italian maison Valentino presents its new Black Tie advertising campaign. The brand's concept is centered around the description and the codification of a style, not simply a dress code. The face of the campaign is American actress and top model Kaia Gerber, who with her effortless beauty and impeccable style perfectly embodies the character and personality of Valentino's Black Tie campaign, which represents the universal language of fashion. The campaign was shot by Steven Meisel at Oheka Castle in New York, a place that symbolizes the Maison's attention towards timeless fashion and style that is perennially elegant. Through Valentino's creative director Pierpaolo Piccioli, the black tie is reclaimed as a symbol of self-expression, which, from its traditional association with formal menswear, becomes a versatile and outspoken piece. In Valentino's campaign, the black tie stands for individual representation and the breaking of solidified boundaries that are reclaimed, and thus hold a different, stronger power. The reinterpretation of the black tie as an element and as a symbol represents a shift towards inclusivity and diversity, imbuing this classic symbol with new meanings. The campaign perfectly represents the shift between past and future, maintaining elegance while at the same time gracefully embracing what is to come.
www.valentino.com
Fashion
C.P. Company's FW23 Campaign
C.P. Company once again develops the project started for its 50th anniversary in 2021 featuring a history of Italian sportswear. For its FW23 campaign, the brand renowned for its outerwear features four people photographed by Neil Bedford. C.P. Company's campaign features Hee Choi, vice president of GF Fashion in Seul, Milo Cuki, a London-based model, Cheb Moha, an artist from Dubai, and finally a special guest, Sergio Pizzorno, a London-based young musician and leader of the British band Kasabian who shot for the campaign alongside his father. The people featured in the campaign come from different cultural backgrounds and have had different experiences throughout their lives; they are from different ages, genders, and interests. At the same time, they are brought together by wearing, buying, and selling C.P. Company, and for having intersected it with experiences of cultural interest. The four talents interpret C.P. Company's seasonal looks through the lens of their style, representing the brand's unique ability to use the materiality of clothing as a form of expression, intertwining their personal story with the company's vision. With this campaign, C.P. Company unveils the versatility of its materials and the possibility of self-expression that it offers, perfectly representing the brand's commitment to uniqueness and innovation.
www.cpcompany.com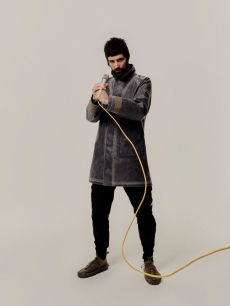 Fashion
Oris X Bracenet
Oris, the Swiss watchmaker, has revealed an exciting collaboration with Bracenet. It is a social enterprise through upcycled creation, transforming discarded ghost fishing nets into accessories. This innovative venture led to the creation of stunning watch dials, a special-edition version of the Aquis Date diver's watch. Their revolutionary partnership commenced with a recognition of the ecological concerns stemming from abandoned ghost nets in the oceans. The outcome, according to ocean experts, unveiled an annual influx of approximately one million tons of fishing nets into the seas. Therefore, the ghost nets continue to trap and endanger marine life as they linger in the water. As a result, their ongoing efforts led to the stunning collaboration to create a new Oribis watch that features a spectacular dial made of recycled ghosts and end-of-life nets. Crafted in these vibrant kaleidoscopic dials, it has a remarkable color accent where the pure green gently blends with blue and white as they fuse into the raw material. Moreover, every dial has a unique look due to its unique production process. Alongside its sophisticated look, the material is entirely devoid of additives, fillers, or adhesives. All in all, every delicate detail collectively represents a cool, unique appearance, making a perfect statement. Available in two stainless steel versions, there is one with a 43.50 mm case and the other with a 36.50 mm case. Both models have automatic mechanical movements and uni-directional rotating bezels and are water-resistant to 30 bar (300 meters).www.oris.ch bracenet.net
Fashion
H&M Studio Collection AW23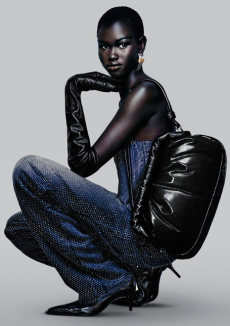 Dark glamour and sculptural silhouettes are what characterize H&M's AW23 Studio Collection. H&M Studio is the most progressive and trend-setting collection of the brand, designed to represent the fashion and the personality of our times. The theme of this year's collection, "back to black", conveys a simple, feminine, and elegant attitude. The collection is inspired by the somber elegance of the heroines of noir and horror films, featuring angular cuts, precisely formed silhouettes and linear accessories. The AW23 H&M Studio Collection pieces are both pragmatic and poetic, allowing the owner to wear them in the years to come because of their high-quality design and materials. Sleek tailoring on every item makes each garment extremely versatile and striking at the same time: each piece is a statement designed to be noticed thanks to its simple details and design. Some of the most iconic pieces in the collection are a floor-length black coat and a black A-line mini dress with a white collar. The accessories are also a vital part of the collection, thanks to the glamour feeling of pieces such as Nappa leather boots and eye-catching jewelry. The materials are sustainable, thanks to the high-quality fabrics employed in making the garments. The collection will be available starting from September 28th, 2023.
www.hm.com
Fashion
New PHANTOM Perfume by Rabanne
Following the creation in 2021 of PHANTOM Eau de Toilette, Rabanne now releases a more intense version: PHANTOM Eau de Perfume. The original PHANTOM represented a new era in the history of men's luxury perfumes, characterized by its masculinity and encouraging men to be the boldest version of themselves. The PHANTOM perfume represents a new chapter in this narrative, aiming to inspire the new generation. It is a dark fragrance, meant to reveal all mysterious aspects of masculinity and exalt them, and this is exactly what makes it such a seductive scent. This fragrance is inspired by a night out in the captivating city of Paris, by its dark scenery and exhilarating scene. The PHANTOM man follows his instincts and lets himself be guided by his emotions, leading to a seductive mysteriousness. Actor and musician Charlie Heaton is the embodiment of PHANTOM's spirit through his compelling personality and mysterious and attractive aura. Charlie Heaton has thus become Rabanne's global ambassador for PHANTOM's campaign, perfectly representing the essence of the perfume. The fragrance is crafted from prestigious and ethically sourced ingredients, created by the world-renowned perfumers Juliette Karagueuzoglou, Anne Flipo, and Dominique Ropion. To its core, Rabanne's PHANTOM Eau de Perfume is an ode to modern masculinity and its mysteriousness, boosting an irresistible aura around whoever wears it.
www.rabanne.com
Fashion
FENDI's 2023 Chinese Valentine's Day Capsule Collection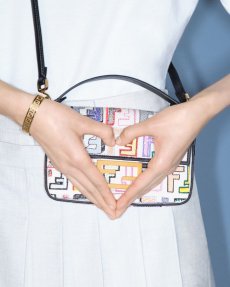 FENDI celebrates love with a romantic color palette with pastel hues in its 2023 Chinese Valentine's Day Capsule Collection. The limited edition collection comprises joyful, fun, and romantic attire with ready-to-wear pieces such as bags, shoes, and accessories. The women's collection conveys a playful attitude through a reinterpretation of the multicolor iconic FF logo, which made its first appearance on a baguette bag in the SS09 collection. In this women's collection, the logo appears in different formats on multiple items, such as a doodle version of the FENDI mirror logo printed on a cropped shirt and a matching asymmetrical skirt. The juxtaposition of different tones also contributes to the fun and playful feeling of the collection. Since the brand owes its iconicity to its bags, this collection features a multicolor pattern on a selection of bags in embroidered canvas or printed leather, as well as on matching accessories such as foulards and headbands. For menswear, the pattern is reinterpreted in tones such as lilac, pink, orange, yellow, and navy blue. Geometric patterns can be found on the iconic Astuccio bag and on T-shirts, which also feature graphic designs. Overall, both the men's and the women's collection has a playful yet sophisticated energy that perfectly captures FENDI's elegant feeling through colorful tones.
www.fendi.com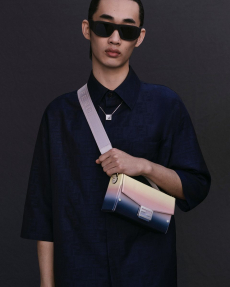 Fashion
A New Diesel Store Opens its Doors in Paris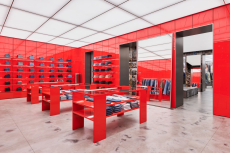 Rue Saint-Honoré in Paris, one of the most famous shopping destinations in the world, is the location of the new Diesel store, which opened its doors at number 223 on July 13th, 2023. The store has been conceptually designed to fit into the context of the French fashion capital, integrating it with the ethos that distinguishes Diesel as a brand based on boldness, individualism, and freedom. The space was designed under the audacious supervision of Glenn Martens, Diesel's Creative Director. Red and industrial metal billboards aesthetically define the store, representing a powerful interpretation of Diesel's recently launched retail design concept. The billboards placed all around the store recall the brand's vintage advertisements through an aesthetic that reminds of the iconic Route 66. The road concept is also present in the walls covered in riveted raw steel panels. The store offers the visitor an immersive experience by dedicating an entire room to the exposition of the 1DR bags and capsules, where peel-off billboards create an atmosphere of nostalgia. Diesel's Denim Collection, the signature feature of the brand, also has a room dedicated to it, with red-lacquered walls and a staircase that leads to a second floor with an exposed ceiling designed to evoke the atmosphere of a studio exposing men and women ready-to-wear collections. The new Diesel Paris store is the ultimate frontier in the brand's conceptual design, made to capture the visitor through powerful visual language.
www.diesel.com
Fashion
Berlin Fashion Week - Richert Beil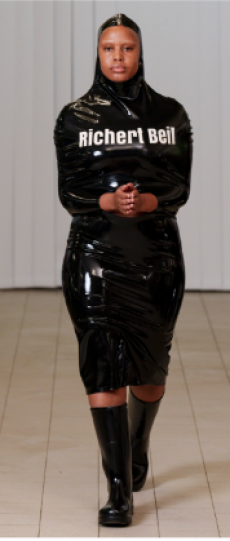 The concept of gender is challenged in Richert Beil's new collection, presented at the Berlin Fashion Week 2023. The setting of the fashion show was an old supermarket, where designers were allowed to set up their scenery. Beil's new collection, titled "Vater, Unser," defies the traditional societal norm that sees men as the preferred gender. This collection indeed aims to deconstruct men's wardrobes, thus challenging classical notions of beauty and elegance. Through their collections, the two designers and founders of the brand, Jale Richert and Michele Beil, aim to challenge gender stereotypes and aesthetics. Richert Beil draws inspiration from multiple sources, such as the craft itself or the materials used in their collection. Its primary source of inspiration, though, comes from traditional German textiles, sewings, and finishing techniques, thus paying homage to the heritage of the two designers. Another influence on the brand comes from the interviews that the designers regularly conduct with people from their diverse community to get a better grasp on what is generally expected from today's fashion and to integrate different emotions and aspirations into their creations. Finally, with its diversity of backgrounds, the city of Berlin constitutes the perfect hub for Richert Beil's brand to grow and develop. The designers are mainly interested in the city's history of activism, its thriving cultural and artistic scene, and the openness and acceptance that characterizes it.
www.richertbeil.com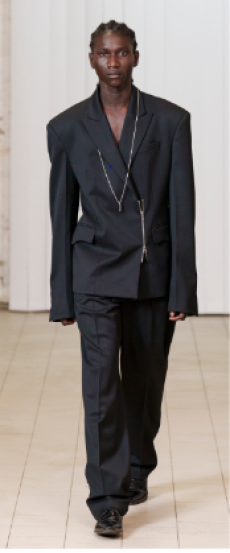 Fashion
Table du Sud's New Capsule Collection in Collaboration with Clairz Interior Design
Table du Sud's new capsule collection, launched in collaboration with Clairz Interior Design, consists of six pieces of furniture featuring natural materials, clean lines, and round shapes. Table du Sud is a Dutch design company that handcrafts its products in Tweede, Netherlands. Started from scratch by two young brothers, the company has grown to be known for its custom tables while also offering an expanding range of home furniture. The pillars of the brand are user-friendliness and sustainability. Clairz's trendy designs and Table du Sud's quality are merged in this collection, which mixes the latest trends in terms of interior design with classical shapes and sustainable materials. The coffee and dining tables are all designed with a C-shape and are made of oak. The tables are customizable to fit anybody's preferences and necessities: it is possible for the client to choose the type of oak, the color, and the edge finish. The tables come in three different sizes and twelve colors the customer can choose from. Dining tables are priced starting from €3,250, while the coffee tables start from €1,360. The collection is available online and in Table du Sud showrooms from June 29, 2023.
www.tabledusud.nl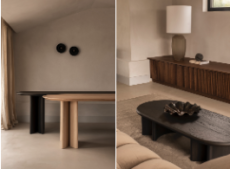 Fashion
EBEL Launches the Sport Classic Luscious Red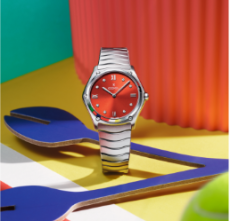 The functional retro design of the Ebel Sport Classic is now made into two new editions in luscious red. The new models have launched in April 2023, of which one is a limited edition. The Ebel Sport Classic is a versatile model that can be worn both elegantly and sportily and perfectly embodies the brand's passion for innovation and excellence in watch design. With these new models, the brand reiterates its connection with tennis, which first took place in the 1980s through a collaboration with great tennis players of the time. The new classic editions feature a luscious red dial in EBEL's iconic hexagonal shape with rhodium-plated Roman numerals. Attention to detail is a defining feature of the brand, and it is noticeable in the Sport Classic model in the retro touches added to its design, such as the brushed and polished stainless steel detailing. The limited edition also displays a net motif on the dial and is only available in 50 pieces. The bracelet is comfortable, with the brand's signature curved wave links and folding clasp. EBEL's Sport Classic Lady Tennis models are the perfect balance between elegance and comfort, targeted toward women leading active lives. EBEL is also an official partner of the Ladies Open Lausanne, the Bad Homburg Open, the ELLE Spirit Open Montreux, and the Hamburg European Open 2023.
www.ebel.com
Fashion
"Get Ready for Cozy Season" with OCCHIO's New Lighting
At the heart of OCCHIO's brand is the "joy of use" of its innovative products and a desire to instill a new culture of light. The company, born in 1999 thanks to Axel Meise, aims to design living spaces through lighting, making it possible to adapt rooms to every situation. The German brand has been a leader in the luxury lifestyle sector for more than 20 years, and it has now come out with a collection of lighting products tailored for the colder season. With the weather getting colder, it is natural to want to feel more comfortable in one's home. OCCHIO's lighting aims to deliver that cozy feeling and feel-good atmosphere through lights that can be adjusted to different moods and situations. The collection creates cozy light zones for reading, eating, or relaxing during the colder months. The Gioia lighting series, which has received this year's IF Design Award, is versatile and adaptable to every situation. It can be combined with the Gioia Lettura for a comfortable and enhanced reading experience, with the possibility of adjusting the direction and light intensity. The unique flexibility of the Gioia allows it to turn 360°. OCCHIO's classic reading lighting, the Sento Lettura, allows for coziness and concentration while reading through an adaptable arm available in two lengths.
www.occhio.com
Fashion
The Gentlemen's Crystals are Blood Red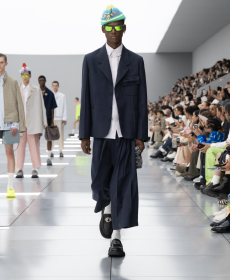 Fashion, at its core, is a waltz choreographed by the different essences established by Maison's different aesthetic codes and principles. This waltz, with a diverse range of silhouettes, energies, and colors characterizes the DNA of the Haute Couture House Dior. The Creative Director of Dior Men's, Kim Jones, draws inspiration and pays homage to beloved iconographic elements in the grand world of Haute Couture, from the silhouettes of Yves Saint Laurent to the embroideries of Gianfranco Ferré; the cabochons of Monsieur Dior to the textures of Marc Bohan.

Garments are imbued with playful femininity, slim-fitting suits adorned with ephemeral crystals resembling a transitory rainbow, patterns that accentuate the personality of the individual wearing the garments, and accessories that deconstructed preconceived notions of the divine masculine.

Kim Jones orchestrates a flirtatious pairing between the expected practicality of male tailoring and pop excess; producing an infusion of a sense of crisp, playful modernity, practicality, and ease. A key look that stands out includes a silhouette constructed by the combination of an embellished baby pink button-down and an egg-white jacket paired with dynamic Bermuda shorts that imbues the look with luxurious androgyny. The neon yellow handbag that accompanies the look contrasts the atmosphere curated– the artistic vision of Jones oozes from the holes of the garments, the pores of the models, and the fingers of the artists who have threaded the art on display into a whole.

www.dior.com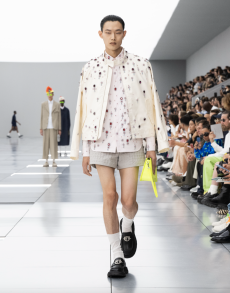 Fashion
Men's Milan Fashion Week - Ralph Lauren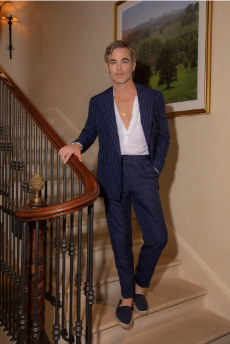 During Milan Fashion Week, Ralph Lauren presented its SS24 Purple Label collection. The event held at The Bar Ralph Lauren, and made in collaboration with Esquire, was an intimate dinner for close friends of the brand, such as Chris Pine and Damson Idris. The collection presented has as its central focus the Purple Label's European craftsmanship mixed with American design. But this time, the clothes are inspired by the Mediterranean summer and the romance that comes with it. Indeed, Purple Label's collections are titled Ralph's Dolce Vita to recall the timeless elegance and glamour of old villas. The clothes honor Maison's iconic high artisanship while at the same time presenting fresh colors and fabrics. The lightweight fabrics such as linen are combined with lush textures to ensure comfort and wearability; the eveningwear is characterized by sleek silhouettes, which, once again, are reminiscent of the brand's enduring items and classic style. The color palette is quite varied, from classic linen shirts to colorful swimwear that presents a tropical pattern. The SS24 collection is a continuation of the Purple Label's classic American style while being inspired by the Mediterranean summer.
www.ralphlauren.com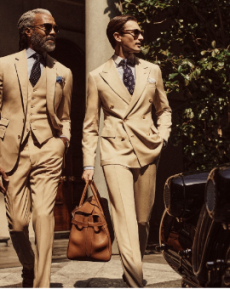 Fashion
Welcome Back to The Savoy
For Gucci, the luggage has always represented more than just a carrier of personal belongings. The luggage is the creative spark that started it all. Back at the turn of the century, the fine leather suitcases accompanying the international jet set were the inspiration for Guccio Gucci, at the time a porter at The Savoy Hotel in London. He had but a simple vision to connect the suitcases he encountered there with the incomparable leather craftsmanship from his home in Florence. Over 100 years later, Gucci luggage is constantly being reimagined from design and structure to color and material treatments. Today the Gucci Valigeria, the House's iconic, extensive travel collection, includes an array of trolleys, hard and soft suitcases, duffle bags, trunks, hat boxes, and beauty cases.

In the Summer of 2023, the Gucci Valigeria campaign grants us the opportunity to time travel back to where it all began. The second chapter of the campaign stars Gucci's Global Brand Ambassador, Jungjae Lee, with emblematic designs in hand, venturing through the historic hotel from the House's origin story. The imagery features backdrops in The Savoy's marquee and their flagship Royal Suite by Gucci, decorated especially with pieces from the Gucci Décor collection, and showcases the heritage-infused Savoy line and the new Gucci Porter selection in collaboration with FPM Milano. The campaign presents the consistent narrative between Gucci's innovative and forward-thinking present and its groundbreaking, unforgettable past.

www.gucci.com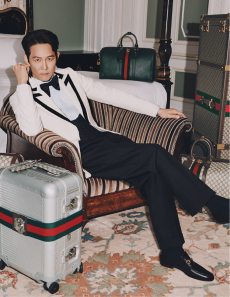 Fashion
Men's Milan Fashion Week – Ten c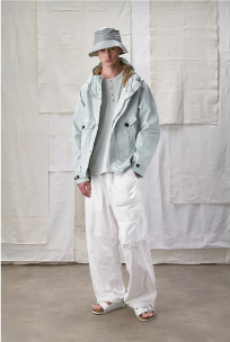 The Italian brand Ten c focuses its attention on technical fabrics. Its unique and iconic fabric, the OJJ – Original Japanese Jersey is for the first time created in lighter tones such as light blue and pink in the Men's SS24 collection.The inspiration for the shades of the year-round sweatshirts and jerseys is taken from the reflection of the light over the Berici Hills of Vicenza, where the photoshoot of the collection was filmed.

The Laminated RIP-Stop and the ultralight sanded nylon with a cotton hand are among SS24's novelty in Ten c's menswear collection. The pieces take inspiration from the British navy and army, and have been designed with the purpose of creating a total look. The OJJ is mixed in the clothing of the new collection with the new material, thus maintaining it as the iconic material of Ten c; at the same time, it becomes a visual symbol of the brand through external hot-stamping applications. The OJJ remains the focal point of the collection, with sweatshirts dyed in the light hues that characterize the collection and a new Japanese model reminiscent of American varsity sweatshirts. In the men's SS24 collection, Ten c maintains its technical style proposing it in different, lighter tones.  

www.tenc.com
Fashion
Men's Milan Fashion Week– Prada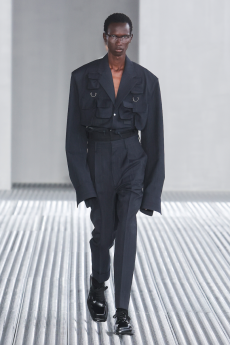 Prada's SS24 menswear show during Milan Fashion Week unveiled Miuccia Prada and Raf Simons' new collection, Fluid Form. At the very core of the collection is an exploration of fluid architecture and the human body: a realization of bodily liberation and awareness through the silhouette and materiality of garments. Simplicity and fluidity permeate throughout. The structure and details of a shirt are borrowed to transform and reconstruct staple menswear pieces; leather bags take on a striking softness; headbands and eyewear are crafted to appear as if capturing fragments of motion. Purpose and function are reimagined as well, transitioning from expansion to elaboration. Utilitarian pockets leave behind their conventional use to become decorative devices, while the floral print is animated through applications of corsages and fringe. Silhouettes are intended to surprise us: while borrowing their lines from masculine suiting, their structure carries an intrinsic flexibility. The showspace, the Deposito of the Fondazione Prada, adds another layer to the concept of fluidity with abstract walls that form an ever-shifting enfilade. Prada's SS24 menswear collection speaks to humanity's underlying qualities of life, to its natural state. A state characterized by its inherent dynamic movement and constant transformation: fluidity.

www.prada.com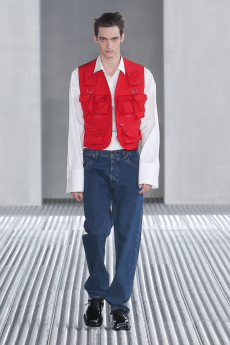 Fashion
Keepall and Keep Dancing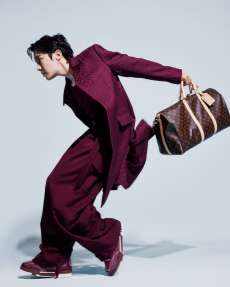 J-Hope is much more than a triple threat, he is the South Korean rapper-singer-songwriter and music producer as well as the lead dancer of the world-renowned K-Pop band BTS. In February of 2023, Louis Vuitton was pleased to announce this 21-st century icon as a House Ambassador.

J-Hope now becomes the face of the latest Louis Vuitton campaign, a series of stills featuring the iconic Louis Vuitton Keepall, an extremely coveted item from their leather goods range since the 1930s. J-Hopes charm and suaveness radiate in the images, where he is caught mid-action in dynamic, dance-like movements that reference his strengths in choreography that are adored worldwide. He is dressed in monochrome, tailored looks, with the Keepall in hand like an extension of his body.

The Keepall is a versatile, elegant travel bag; the perfect cabin-size companion for carrying all travel essentials for anywhere from romantic weekend getaways to far-flung adventures. Its hard, roomy, rounded shape is crafted with Louis Vuitton excellence and built to last. It has received a wide array of material and color treatments, including several exclusive artistic collaborations through the years from Yayoi Kusama, and Takashi Murakami to Supreme and Stephen Sprouse. The Keepall is woven into the Louis Vuitton DNA and delivers endless future possibilities of both style and adventure. The Keepall campaign featuring J-Hope will run on Louis Vuitton digital and social channels from the 14th of June.

www.louisvuitton.com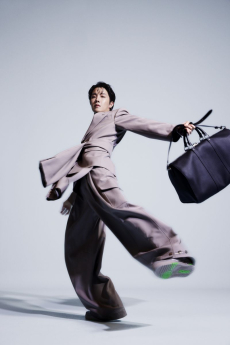 Fashion
Unparalleled Comfort with a Stylish Touch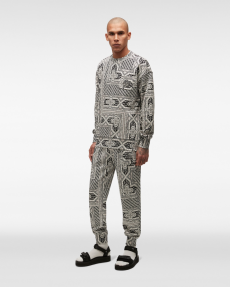 As one of the world's leading producers of luxury outerwear, sportswear, and accessories, it should come as no surprise that Moose Knuckles not only presented new Bunny styles and the new Air Down category for its SS23 collection, but also launched new sportswear styles and accessories.

For this season, the brand's signature sportswear is intended to become a must-have for the absolute summer wardrobe, owing to its design which favors a high performance and style blend. Among the ready-to-wear offer, the matching sets available for both men and women are the go-to garments to face rising temperatures without losing that stylish touch. Whether chosen with shorts or jogger, including neoprene parts for women, these effortless looks embody the possibilities of combining freshness and comfort for all occasions: be it for a daily walking routine in the city, summer-break travels, or simply looking to wear practical and cozy clothing. Among the new accessories, we find logo-adorned belts, socks, pool slides, and bucket hats. Not to mention the Utility bag – a belt bag that can be worn crossbody or at the hip – or the Rope Sack bag for your busy, on the move, days. Introduced in a brand-new bandana print and in metallic silver, the versatile unisex pullover – crafted with cotton French terry and the iconic Moose Knuckles logo on the chest – becomes a staple piece that ought not to escape our attention. After all, who would want to miss out on unparalleled comfort without compromising their look?

www.mooseknucklescanada.com
Fashion
The Perfect Companions for your Adventures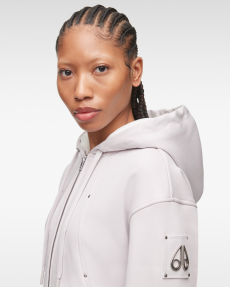 Inspired by a fearless creature, the Canadian luxury outerwear brand Moose Knuckles manifests an irreverent spirit and energy, alongside an unabating commitment to product design and technical expertise. Within the brand lies the story of its Canadians founders, whose family heritage traces back 100 years in the tailored and parka manufacturing business. For its SS23 collection, Moose Knuckles introduces new Bunny styles and the Air Down category: new pieces that are destined to become our essential companions during the transitional weather periods. Moose Knuckles' bestseller hoodie, as well as the combination of a water-resistant jacket and a silky-soft faux fur hoodie guarantee coziness and protection with style. The new Bunny styles are some of the most versatile products ever created by the Canadian luxury brand, apparent in the fully reversible styles and the eye-catching color palette made of bold metallics and natural hues. The brand keeps up with its goal to craft resilient garments for the most unforgiving conditions with the new Air Down products, engineered to feel weightless for ultimate comfort. Crafted with the latest technology in lightweight layering, a recycled shell that repeals wind and moisture, and a RDS-certified 800 fill power for warmth and comfort. Tested to express their highest potential during every outdoor adventure, the new Bunny and Air Down garments are available in new colorways and with the brand's signature monogram pattern for women, men, and kids.

www.mooseknucklescanada.com
Fashion
For the Young Ones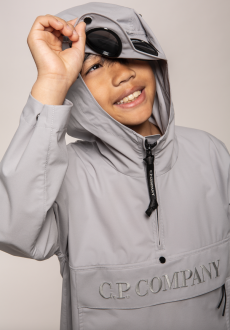 C.P. Company and Atlanta Group have come together to collaborate and create a high-fashion collection exclusive to youth under 16. The C.P. Company Undersixteen line reimagines what fashion means to a younger generation, and allows for young individuals to express themselves as freely as their older counterparts in the world around them. The product will be the result of Altana Group's experience in managing kids and baby lines, combined with the know-how of the original Italian sportswear brand which since 1971 has perfectly combined tradition, innovation, and performance. The garments are imbued with a youthful energy that is observed through the funky detailing such as the zip-ups with a full zipper connecting the body and the hood to create a playful silhouette and the accompanying built-in goggles, integrating a futuristic essence to the swag of the young ones.

Lorenzo Osti, President of C.P. Company relays appreciation and satisfaction in the press release announcing the collection: "It is a real honor and privilege to start this journey with the Altana Group, of which I was able to admire the exceptional product quality, production capacity, and ethical and responsible corporate footprint. I'm sure they will be excellent partners for spreading the brand to our younger customers".

Pioneering the role of youth in the dynamic world of fashion, this collaboration subjects a generally forgotten demographic and does it with exquisite care, style, and eternal funk.

www.cpcompany.com
www.atlantagroup.com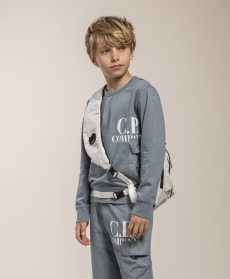 Fashion
Finché c'è Fiato, c'è Vita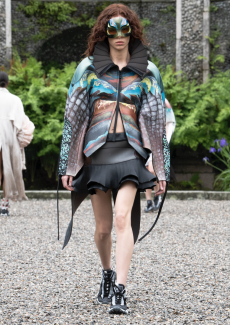 The soft wind blew heads of hair to the rhythm of the flowing water of Lake Maggiore. The island of Isola Bella has harbored the legends of the Borromeo family for centuries– a story adorned with the gift of time and life. The Louis Vuitton 2024 Cruise Collection visits and reimagines the scenery of the island adorned with a glamorous palace covered by mysterious gardens imbued with omnipresent infinity.

Resembling an artistic botanical Cruise, the garments allude to several different elements present in their surroundings. Interpretations of tight tops made from wetsuit material paired with flowy capes with adornments that resemble the fins of an extraterrestrial fish. Elegance and glamour are threaded into the collection with a celebrated notion of play. Uncommon garment pairings and surprising silhouettes come together as a grand eclectic botanical garden.

The end of the Cruise is marked by the key looks of the collection. Dresses that transform their wearer into a mermaid, a swan– the contrast between the light and heavy materials used to construct the dresses provide the juxtaposed balance of facticity and transcendence that marks life but specifically the natural life. A sage green dress, resembling the motion and attitude of algae moves as though it speaks its own language with the world around it. The details embellishing the thin and elegant silhouette transform it from the ordinary to the extraordinary. Air flows and moves within the garment, whispering along to the rhythmic lullabies of the Isola Bella.

www.louisvuitton.com
Fashion
The Feminine Wears the Pants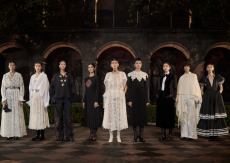 Maria Grazia Chiuri, the Creative Director of Dior, found inspiration in the beautiful landscape and culture of Mexico whilst designing the Dior Cruise 2024 collection. This "Place of the soul", will forever be haunted by the iconic energy and essence of Frida Kahlo, the legendary and figuratively forever immortal Mexican artist. Now remembered, Kahlo is a woman who transcended her form and physicality through her clothes, which became representation, proclamation, protest, and affirmation.

The garments showcased in the collection reflect the androgynous energy of Kahlo and pay homage to her clothing choices, all imbued with deep meaning regarding to the place of women in the patriarchal societal power regime. Suits thus pay tribute to her style while, in counterpoint, echoing the Tehuana custom, full skirts are worn with a traditional tunic: the huipil. A pink dress reminiscent of the one worn by Frida Kahlo in one of her self-portraits is featured. However, through heavy use of the binary colors black and white, the details of the garments shine, and the looks become a personality that the models embody and pay their respects to. The craftsmanship pays respect to the local artisans, their expertise shines with original embroideries, and co-creations crafted with their ateliers, notably adorning dresses, and shirts.

Chiuri completely immersed herself and her mind in the culture and beauty of Mexico and dedicated her talents to creating a collection that purely reflects a vital feminine experience in history closely intertwined with the oscillations of nature.

www.dior.com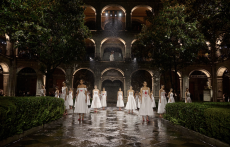 Fashion
Electronic Fantasia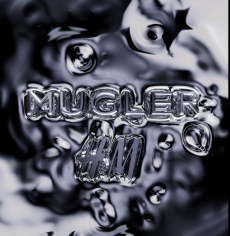 H&M and Mugler's event is set to introduce and immerse the star-studded guest list in the two brands' collaborative iconic world. H&M's collections with designer brands are coveted in the elusive fashion world– and this year's capsule collection in collaboration with Mugler – available from the 11th of May, 2023 – has been globally anticipated since its announcement. The event celebrates a collection that explores Mugler's core values of transformation, body positivity, gender fluidity, and breaking fashion rules. This exploration opens the doors of the Mugler fantasy, welcoming a grandiose audience into a magical and invigorating realm of design.

The soundtrack to this momentous night is curated with the same meticulous care that goes into designing the garments. The transformative, genre-bending, and rule-breaking line-up for the night is as follows: Tommy Cash, VTSS, Zebra Katz, Chippy Nonstop, and Toccororo. The signature sounds of these acclaimed DJs all share a desire to explore the corners of electronic music and transform it to make it their own with grace. The glamorous night, turned into an early morning of ethereal electronic music ought to imbue the already mysterious and captivating upcoming H&M and Mugler capsule collection with a mystic essence of exploration and transcendence.

www.hm.com
www.mugler.com
Fashion
The Third Edition of the BVLGARI AVRORA AWARDS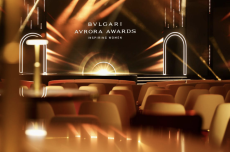 With a mission to celebrate inspirational and talented contemporary women, the third edition of the BVLGARI AVRORA AWARDS ceremony was held on April 26th. The start studded award show dates back to Bulgari's initiative on March 8th, 2016, named after the Roman goddess of dawn, a symbol of intelligence and creativity. The first edition of the award ceremony was held in China in 2019 to pay homage to contemporary Chinese women's creativity and transformative power. Full circle, in collaboration with the official media partner of the luxury brand Marie Claire, the BVLGARI AVRORA AWARDS ceremony is back in China to celebrate and highlight the achievements of Chinese women.

The third edition of the awards ceremony hosted many iconic and talented names among them were, Mr. Vincenzo Pujia, Bulgari Retail & Customer Experience VP and Greater China Managing Director, Mr. Emanuele di Lorenzo Badia, The Charge' d'Affaires ad interim of the Embassy of Italy to the P.R.C., Bulgari brand ambassador Liya Tong, Wen Qi, Fan Chengcheng, Bulgari PR ambassador Kai Xu, Famous actress Kara Wai, Zhuo Tan, as well as celebrity friends of Bulgari - Nazha, Li Zhang, Duling Chen, Lingzi Liu, Keni Zeng, Yunrui Li, Keran Lu. Moreover, the ceremony was also blessed by the appearance of this year's nominators and the winners of this and past years' BVLGARI AVRORA AWARDS.

Dedicated to honoring the creative and transformative power of modern Chinese women, and constructing discourse about their journeys of growth and innovation – the BVLGARI AVRORA AWARDS ceremony celebrated a total of seven nominators and nine winners from fields such as film, art, and dance. These winners include the versatile actress Jingyi Zhang, the coveted young director Dongmei Li, swan-like dancer Jiejing Zhu, and more powerful and awe-inducing women.

www.bulgari.com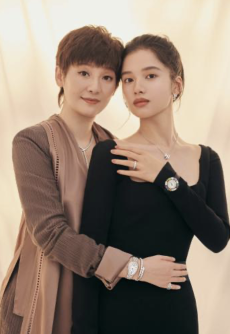 Fashion
Cartier Libre: An Exploration of All Possibilities of Creation
With total creative freedom, the ability to push boundaries and challenge conventions, as well as question form and design, the Cartier creation studios are taking jewelry in an avant-garde direction. Bold and radical, limited edition pieces embody a spirit of powerful curiosity and a constant pursuit of innovation as they take on lines, volumes, contrasts, and mobility with a unique creative mindset.

The Tressage Jewelry collection, the latest addition to the Cartier Libre collection, embraces three aesthetics that reinterpret the work of gold, volume and the interplay of contrasts. These stylistic signatures spring from the influence of Cartier's first female Creative Director since 1993, Jeanne Toussaint. Toussaint, aka the Panther, is not one to shy away from defying limits – a creative freedom expressed with this collection. The first aesthetic is 'gold bead chains and precious rollers'. The challenge was to create the illusion of a continuous chain that would twist on itself to create volume, which was ultimately achieved through a multitude of strands of moving gold beads. The second aesthetic is 'materials in tension', which includes three Tressage rings and bracelets and centers on the jewelers' remarkable talent to transform hard materials like gold and stone to give the illusion of supple, animated forms. 'Twisted coral, braided diamonds and gold', the third aesthetic, honors Toussaint's chromatic heritage. The ring and bracelet's band, a powerful trompe-l'oeil, required the meticulous assembly of a succession of metal elements to compose the pattern. The Tressage Jewelry collection epitomizes the endless possibilities of creation.

www.cartier.com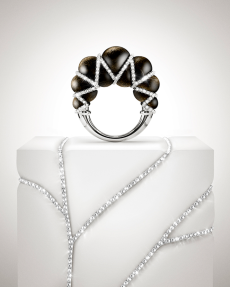 Fashion
Valentino Vintage 2023: Archival Fashion as a Tool for Future Creativity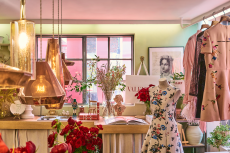 Valentino Vintage, the Maison's unique second-hand initiative first launched in 2021, returns once again with its alternative shopping experience, placing value onto a more circular fashion model as it expands its universe through many historical layers of the past. The project indulges the global community to bring to selected vintage stores their preloved Valentino garments and exchange the items with the option to buy new Valentino designs.

Starting on April 18th, 2023, the seven vintage stores (Milan, Paris, London, Los Angeles, New York, Seoul, and Tokyo) will experience a shared temporality with a Valentino take over. Each boutique – carefully chosen for its distinctive identity and curated collection, representative of the respective city's local culture – fully takes on the Maison's DNA with a unique Valentino Vintage display. Madame Pauline in Milan evokes the feeling of sitting in a mid-20th C apartment, while the timeless and tasteful Janemarch Maison in Seoul is curated by Creative Director Jung Jae Ok as a French-style boutique. This year, Valentino also established an international creative partnership with 1 Granary, a London-based education and incubator platform that invited their student community and seven fashion, design and art schools to join the initiative in all selected cities. This one-of-a-kind project invites the next generation of creative talent into Valentino Vintage's multidimensional world by fostering engagement initiatives and connections with professionals, and offering resources to empower their talent and creative vision. Marking a new direction, the initiative grants the preservation and transmission of Valentino heritage, know-how, extraordinary handmade workmanship and mastery.

www.valentino.com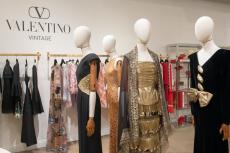 Fashion
Mullberry and Axel Arigato's Capsule Collaboration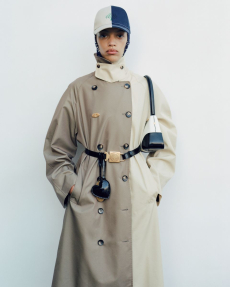 Axel Arigato and Mulberry have joined forces to create a limited-edition, wear-forever capsule collection. The unisex garments, bags, footwear, and accessories exemplify a harmony between the brands' respective values of Scandinavian minimalism and the timeless British aesthetic. The starting point of the collection was an exploration into the Mulberry archives, giving rise to 35 pieces that celebrate iconic moments in pop culture over the last 50 years, particularly in Britain.

Three archive Mulberry bag designs are reintroduced in a selection of colorways including Axel Arigato's signature emerald green and azure blue, as well as a classic, elegant black. Axel Arigato's Area Sneaker, inspired by vintage baseball references, are offered in the same green and blue colorways, adorned with Mulberry's iconic Postman's lock and a custom strap. In addition, a white and gum edition of the sneaker is decorated with Mulberry's tree emblem.

A split-color spin using refined and sophisticated neutral tones is seen on trench coats, embroidered varsity jackets and baseball caps. On some items, the brands' individual logos are seen beside each other while on others, Mulberry's tree emblem and Axel Arigato's insignia are married into a crest.

The collection reflects the collaborative and communal spirit between the brands, adhering to their environmentally conscious production values. All the bags are produced with environmentally accredited leather at Mulberry's own carbon neutral factories in the UK, and the footwear is made in Portugal with polyester crafter from recycled PET bottles. Furthermore, all the cotton throughout the collection is Global Organic Textile certified.

www.mulberry.com
www.axelarigato.com
Fashion
Woolrich's Swan Song
The fourth Season of The Woolrich Woman designed by Daniëlle Cathari, explores and quantifies the essence of an existence intertwined with nature. The Amsterdam-based designer works to create pieces that intentionally deconstruct fashion and explore the borders of design, consciously coloring outside the lines of traditional tailoring practices. Cathari found inspiration in the serenity of water and everything it encapsulates, specifically mimicking the shape of the graceful swan through direct influences of art-nouveau and line dispositions in garments outlining this SS23 collection.

Tube tops, maxi skirts, scarves, and bomber jackets, the culmination of the garments and their artistic stance allude to the curved and grandiose but elegant physicality of the snow-white bird. Combining the black tube top and the buttery white maxi skirt creates a reconstructed silhouette of the swan– highlighting the lines and curves of the female body - Cathari imbues the collection with the feminine strength and beauty of The Woolrich Woman. Colors play on aspects of the swan's dance with water additionally featuring the supporting cast of water lilies and the bubbles that line the edges of the moving tides.

The use of soft and delicate materials, such as linen and bouclé yarns, in the production of the garments, further submerges this season's Woolrich Woman into the comfort and soft femininity of water and nature. Daniëlle Cathari rethinks femininity with a natural lens – playfully implementing the quiet power and the loud soul of the world around us into the seams of traditionally acclaimed silhouettes and designs.

www.woolrich.com 
Fashion
Palm Angels Sets Foot in Seoul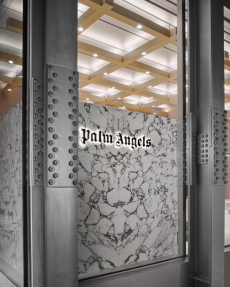 The Italian brand Palm Angels accelerates its global expansion with the opening of the brand's first boutique in Seoul, opened in partnership with Forward Global Fashion Co., Ltd. a leading company in the fashion industry.

The classic taste of Milan touches down on the lively streets of Seoul adorned with the brutalist aesthetic of various buildings in Los Angeles, where the soul of Palm Angels resides. The new store, located at 18-2, Dosan-daero 45-gil, Gangnam-gu, a well-known luxury shopping destination of the Korean capital, celebrates Palm Angel's essence– characterized by a bold and youthful desire to express and surprise. A full-height window playfully displays the store's pink concrete walls, light-whitened cedar wood central counter, and grid ceiling beams– an outside glance, quick and sly, is enough to be entranced by the aesthetic dance between the industrial and the chic.

The boutique design is characterized by geometric lines set in a warm atmosphere where the displays are outlined to highlight the brand collections. The minimal and powerful essence of the shop, narrated by the quiet harmonies of metal and marble, is disrupted by the animated liveliness of baby pink color. Francesco Ragazzi, the brand Founder and Creative Director, affirms that the "store tells the whole Palm Angels story as it perfectly embodies the emotions, inspirations, and values of the brand". Developed by the Palm Angels internal architects' team in close collaboration with Ragazzi, the new Palm Angels store is a penultimate representation of the high-fashion streetwear brand.

www.palmangels.com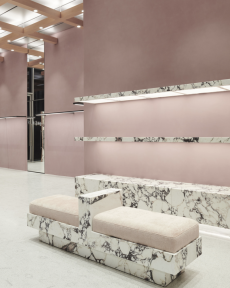 Fashion
W&W: An Immersion into Gucci's Universe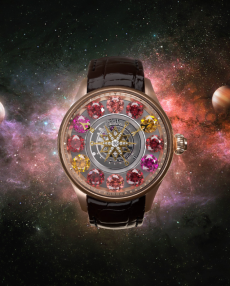 For its special event at Watches and Wonders 2023 in Geneva, Gucci presented its newest releases at the Gucci Greenhouse. The new innovative updates to core collections pay tribute to Gucci's iconic codes and High Watchmaking expertise as the house takes on a new endeavor: a dreamlike, horological spaceflight into the Gucci universe.

Four new designs enter the G-Timeless Planetarium collection. 12 Ethiopian opals, and a pastel melange of topaz, peridot, amethyst and Ethiopian opals embellish two new lunar themed creations. Another design, inspired by an otherworldly sunset, is characterized by contrasting reds, while the brightest addition is an all-around, star-themed creation. Additions to the G-Timeless Dancing Bees collection continue to celebrate the bee motif on another tourbillion. In honor of Mother Earth's singular beauty, two new designs feature exceptional stone dials: a turquoise dial resembles the oceans, and a vibrant pistachio green opal dial captures lush, verdant lands. Technological precision describes the new, made-to-order G-Timeless Moonlight creations, which uniquely incorporate a client's specific place, time and date of birth into the watch. Inspired by the forms of contemporary architecture, the Gucci 25H collection welcomes a wide array of new additions. Made for extreme comfort, the new Gucci 25H with the perpetual calendar complication comes in three models with gold and steel finishes, and is powered by the GG7S7.25.PC caliber. For a more sustainable approach, the Gucci Dive collection features bio-based materials and an automatic movement with 300m water resistance. The novelties showcase Gucci's exceptional heritage alongside its contemporary savoir-faire.

www.gucci.com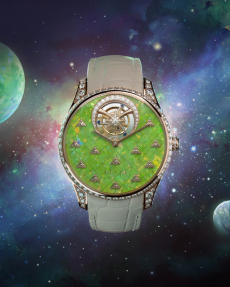 Fashion
30 Years of the Royal Oak Offshore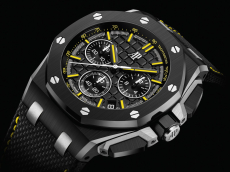 The Royal Oak Offshore model was first launched in 1993, causing an even greater sensation than the launch of the original Royal Oak 20 years prior. The watch's virile aesthetics, complete with oversized proportions and an enlarged rubber seal, earned it the nickname "The Beast".

In a stand-alone collection, the Royal Oak Offshore represents the pioneering design and technical innovation of Swiss Haute Horlogerie manufacturer Audemars Piguet. Inspired by offshore racing and the unapologetic creativity of the 1980's, the Royal Oak Offshore was designed by Emmanuel Gueit. The model was quick to be embraced by the young and adventurous, as well as various communities of extreme sports. Exuding powerful and dominant energy, thanks to its 42mm diameter and sturdy design, the chronograph became an icon of the millennium.

Marking its 30th anniversary, the Royal Oak Offshore is relaunched, master-crafted from black ceramic and punctuated with yellow details with an ultra-contemporary design and innovations in ergonomics and materials. It pays tribute to the Royal Oak Offshore "End of Days" limited-edition collaboration with Arnold Schwarzenegger in 1999, which ushered in a succession of limited-edition designs with numerous multidisciplinary celebrities. Only 500 pieces of the "End of Days" model were manufactured, and there will only be 500 pieces of the new Royal Oak Offshore Self-winding Chronograph.

www.audemarspiguet.com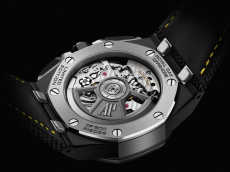 Fashion
The New Horsebit Story
Gucci's new The Horsebit 1955 campaign, shot by Mert&Marcus, features Halle Bailey, Hanni, and Julia Garner – three exceptional women who expertly create meaningful spaces within the realms of their respective crafts.

The campaign, characterized by a dashing use of primary colors and simple angles, is formed around the essence of the three powerful women featured. The artists, singer-songwriter actress Halle Bailey, NewJeans member and Global Brand Ambassador Hanni, and critically-acclaimed award-winning actress Julia Garner, exude a powerful adjacent to the one The Horsebit 1955 is imbued with. The Horsebit 1955 shines next to the strong and distinctive silhouettes of the artists who make the bag their own. Through smooth clips and meticulous attention to detail, the campaign masterfully highlights the archival-inspired bag.

Gucci's Horsebit 1955 Bag pays homage to an archival design- recreating the lines and forms introduced over six decades ago. The accessory is adorned with iconic details reconceived with a modern perspective and especially highlights a part of Gucci's genetic code: the Horsebit. The double ring and bar design- borrowed from the elusive equestrian world is considered to be one of the most distinctive elements among the House symbols. The classic silhouette of the flap shoulder bag is elevated by the ephemeral feeling of textured black leather and the support of a fashionably adjustable shoulder strap. The Horsebit 1955 gives each person the agency to exude the House's unique spirit in any way they desire.

www.gucci.com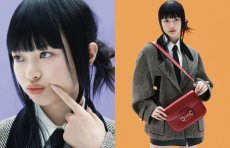 Fashion
W&W CHANEL: Into The Cosmos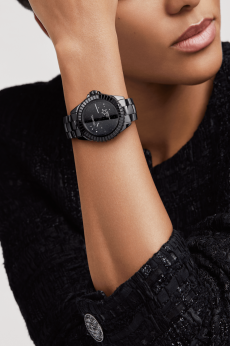 For the 2023 edition of Watches & Wonders, CHANEL debuted its new timepieces created in its laboratory in La Chaux-de-Fonds. Inspired by science fiction, space and time travel, we accompany CHANEL on an intergalactic journey, traveling throughout the cosmos. Dreamed up by CHANEL's Watch Creation Studio, the new Interstellar Capsule collection presents seven exclusive watches – including reinterpretations of some of the French Maison's beloved designs.

The J12 watch is continuously reinvented without sacrificing its singularity. The new J12 Interstellar and J12 Cybernetic watch are no exception. The former carries an aventurine effect black glittery lacquered dial, while the latter is a graphic interpretation of the J12 watch that produces contrast, apparent in the black-lacquered dial with a matte white-varnished pixel motif. The designs align with the Maison's stellar odyssey: the Première Lucy Star watch comes with a steel comet-shaped charm set with 6 brilliant-cut diamonds, whereas the J12 Cosmic watch comes polished with rhodium-plated space-inspired stickers. Similarly, a black-lacquered dial with a rhodium-plated printed circuit motif set distinguishes the Boy·friend Cyberdata watch. In line with the collection's theme, an 18K yellow gold, black ceramic and titanium robot-shaped case adorns the Première Robot watch. Lastly, the Code Coco Cybergold watch is fashioned with a golden quilted calfskin strap with black trim and black calfskin lining. As an ode to Gabrielle Chanel's astrological sign, Leo, four new pieces, such as the Lion Astroclock and the lion-sculpted cuffs, launched alongside the new collection. The creations are now available in CHANEL boutiques around the globe.

www.chanel.com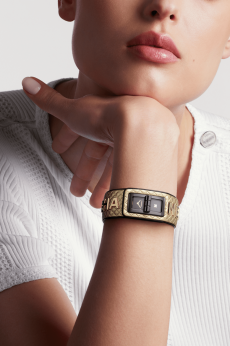 Fashion
W&W Cartier: Unlimited Time, Infinite Creativity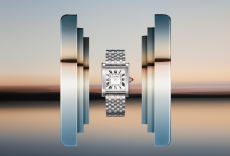 Cartier's unconventional chronoception: time is cyclical, rather than linear. Cartier's new watch collections, presented at Watches & Wonders 2023, continue to uphold the Maison's paradigmatic trademark: its engagement in an endless process of transformation and reinvention. This time, transformation materializes through the prism of creativity, as the watches – full of form and character – are revisited for the new collections.

This year, like every year, a new watch enters the Cartier Privé collection. The Tank Normale is revealed in honor of one of Cartier's most remarkable creations, the very first Tank watch created in 1917. The new Tank Américaine watch – with a finer, more acrobatic line and an adjustable strap – borrows its purity and curved case from the Tank Cintrée watch. The iconic Santos-Dumont watch is elevated to carry on the legacy of Cartier, maintaining the elegance of the original model while featuring a gold or steel case, visible screws, a beaded crown and blue cabochon. Following a pattern of continuity, a rather exceptional capacity to only resemble itself characterizes the new Baignoire watch. This version is not merely a watch but also a piece of jewelry. A feature also found in the Clash [Un]limited watch, whose geometry is constant and true to the Maison's style. Cartier's iconic panther magnetizes the company's latest jewelry watch. Equipped with an ingenious system and no visible hinges, the model perfectly hugs the wearer's wrist. Cartier's today looks to tomorrow: watches that make their mark in the present and in the perpetually evolving future.

www.cartier.com 
Fashion
Everyone's Favorite Puffer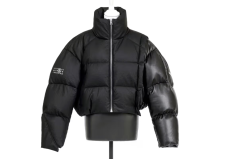 MM6 Maison Margiela and CHENPENG's collaborative FW23 collection combines the new fresh and cool attitude of MM6 and the iconic puffer silhouette of the Chinese label. The mutual wit, character, and abilities of the brands work together to produce the quintessential puffer jacket.

The silhouettes are imbued with lines that provide structure to the jackets and tie in an experimental architectural element to the independent posture of the jackets. The collaboration features three classic puffer jacket silhouettes – reimagined and reinvented to showcase the MM6 charm and the exceptional CHENPENG mastery. The three different puffer styles: a nylon textured parka-length coat with an in-built padded scarf detail; a cropped jacket with contrast faux leather sleeves and a faux leather gilet featuring similar contrast paneling with contrasting high shine nylon provide versatility and comfort for any situation and climate.

The puffers, integrate innovative design and aspects to ensure comfort, and each piece embodies the practical yet style-minded perspective that MM6 is known for. The capsule, exuding comfort, style, and mystery is the perfect high-quality integration to an everyday outfit. The collection is now available at MM6 retail locations and e-commerce site – including selections in some multi-brand stores as well.

www.maisonmargiela.com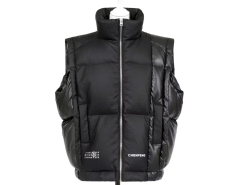 Fashion
Exclusive Chocolate Creations, Dior You Can't Wear
As Easter approaches, the House of Dior reveals a delectable approach to honoring their history and founder, Christian Dior. The art de vivre and gastronomy were cherished by Christian Dior, who was proud to describe himself as a "gourmand". The House cultivates and shares this passion, with a series of exclusive chocolate creations.

Delicate and delicious; they are works of art that can be held in your palm and melt in your mouth. The distinct and exquisite sculptural forms take the shape of three iconic Dior silhouettes. The sculptures are exceptional recreations of some of Dior's most emblematic creations. The magnificent petal skirt of the Junon dress, the swirling movement of the Tourbillon dress, and the timeless Bar jacket exemplify a convergence of mastered skill, from couture to the culinary arts. The chocolate dresses are presented at La Pâtisserie Dior, located at the 30 Montaigne boutique. The heart of Dior, 30 Montaigne and its neighboring buildings are a fully immersive world that take you back to the beginnings of the couture house.

The elegant experience of the chocolate dresses can be carried home in a poetic box, kept and savored for over a year. They can also be enjoyed on the spot at La Pâtisserie Dior as a truly unique and cherishable memory.

www.dior.com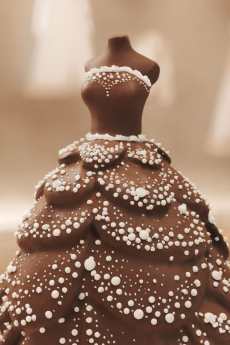 Fashion
Porsche x BOSS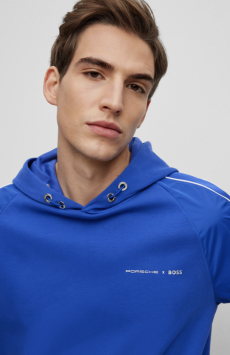 Porsche and BOSS's collaborative SS23 collection features an intimate pairing of innovative designs and a distinctive L.A. essence. The brands' collaboration celebrates the notable friendship between the luxury fashion brand and the renowned German automobile manufacturer specializing in high-performance luxury sports cars, SUVs, and sedans. Putting forth a collection perfect for a multitude of activities on a warm day, Porsche and BOSS once again showcased their potential as a duo.

In January, the beloved Colombian singer Maluma was announced as one of the faces of the global campaign. The world-renowned singer is also featured as the lead in the Porsche x BOSS collection.

The SS23 collection features a series of transcendental athleisure garments and premium casual wear pieces imbued with the charisma of seasonal colors such as bright white and warm royal blue. The silhouettes feature several jersey and nylon styles, such as polos, hoodies, and more, which are embellished with color-gradient detailing that imbues the garments with notions of speed and adrenaline. Lightweight essentials: jackets, sweatpants, hoodies, and sneakers are adorned with white stripes and piping inspired by elements of the active warm-weather lifestyle. The allure and excitement of the collection are sewn into the essence of smart casual wear paired with the elevated L.A. vibe.

www.hugoboss.com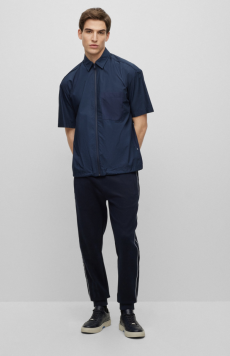 Fashion
The Chosen Four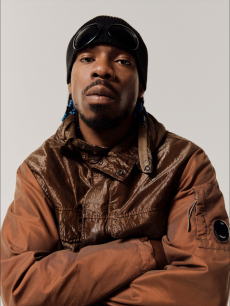 Succeeding C.P. Company's 50th Anniversary project, the SS023 ADV campaign follows the stories of four individuals. Stemming from diverse cultural backgrounds while also differing in age, gender and interests, the chosen four interpret seasonal looks with their own personal style. They represent the brand as an engine for social change and innovation by virtue of their experiences.

The ADV campaign is attended by five-year-old Leo and his father Diego, who frequently skates at Milano Centrale, a source of aesthetic inspiration. The brand's attention to detail prompted an immediate attraction during his search for practical jackets, essential for wintertime skating. Representing his story, Diego wears a workwear-inspired Ba-Tic Light jacket together with his own camouflage cargo pants. The brand's affinity to pursue utility and functionality is shared by Louison Bahurel. The brand's garments, he explains, are fashioned as tools, "helping you preform actions more easily thanks to their ergonomics and adaptability." Wearing a 50 Fili Tr-P jacket with a concealable hood is Gabriel Moses, a successful photographer and video maker from South London. This versatile jacket with a military inspired fabric and a polyurethane coating secures an ideal hard-wearing outwear piece. Sofia Pace, a New Yorker, found herself a one-of-a-kind piece for her closet. Representing the brand's wide array of experimental fabrics, she wears the reflective Kan-D jacket with a detachable hood, crafted using a flattened monofilament nylon yarn.

This entrancing partnership epitomizes C.P. Company's pioneering urban sportswear and its hybridization of functional menswear and Italian fabric innovation – characteristic of all pieces.

www.cpcompany.com 
Fashion
Bally SS23 Campaign: Villaseñor's Take on Modern Luxury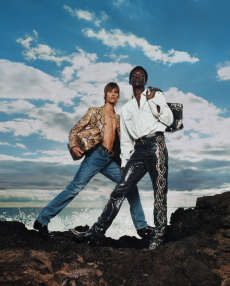 After welcoming Rhuigi Villaseñor as its new Creative Director in January 2022, Bally's SS23 campaign is a tribute to his debut collection and future ambitions for the house. Villaseñor builds onto the Swiss brand's 172-year rich heritage of craftsmanship and its longstanding relationship with art, architecture and the environment with his creative vision: an evocative and fresh play that conveys his interpretation of modern luxury. "I wanted to introduce a new visual language to Bally campaigns," he explains, "a mix of bold sophistication and sensuality".

Under Villaseñor's direction, the SS23 campaign honors the power of nature that has always been at the heart of Bally. Photographed by Harley Weir and styled by Emmanuelle Alt, the models – including Vivienne Rohner, Kayako Higuchi, Nyakong Chan, Yeray Allgayer, Hong Seong Jun and Feranmi Ajetomobi – are captured in natural elements overlooking a windswept, rocky coastline. The ingenious use of the landscape produces a captivating outcome. An innate sense of confidence pervades, while a dichotomy arises. Sophisticated silhouettes with rich materials, such as velvet and snake-printed leather, lie in contrast with the rugged terrain. The vision is taken further as the light and shade of the water and saturated blue skies are used to amplify metallic leathers, golden-toned Bally emblem hardware, washed denim and cutaway forms. In continuation of Bally's craftsmanship legacy, Villaseñor introduces a new category: jewelry geared to suit an energetic lifestyle.

The Creative Director elucidates his intentions to remodel Bally, and, under his direction, we impatiently wait to see what is next on his agenda.

www.bally.com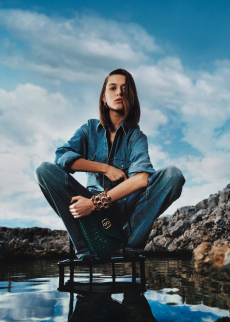 Fashion
Longchamp's New Ambassador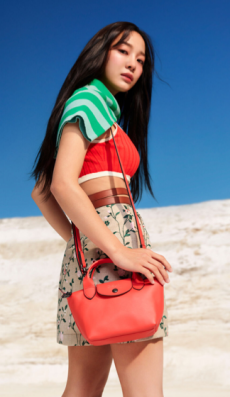 Longchamp has revealed its newly appointed ambassador: South Korean singer and actress Kim Se-jeong. "We are delighted to welcome Kim Se-jeong to the Longchamp family," comments Creative Director Sophie Delafontaine. "Not only is she an exceptionally talented performer, but her joy and energy make her great to be around." In addition to making a name for herself in her native country, the talented actress shot to international stardom with her award-winning role in the SBS romantic comedy series Business Proposal – one of the most popular non-English shows on Netflix in 2022. Her lively and relatable personality is the key source of her burgeoning fan base. Her Instagram account, where she tells us to keep an eye out for her future work with the brand, has over nine million followers. "It is an honor to collaborate with Longchamp, which to me epitomizes the style of the Parisienne," Se-jeong explains. "I feel we can maximize the relationship by playing to our strengths and similarities". With her natural warmth and sparkle, Se-jeong was the ideal choice to embody the energy and authenticity of Longchamp as well as to front its SS23 campaign. The visuals shot in Seoul display Se-jeong modeling key looks from the SS23 collection, characterized by a synergy of bold colors, prints and materials, in combination with Longchamp's star bags, such as the new Box-Trot in natural canvas and leather or eye-popping candy-pink. The Longchamp SS23 campaign with Kim Se-jeong is available for purchase on the brand's website.

www.longchamp.com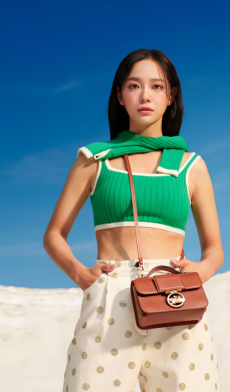 Fashion
MFW - Bottega Veneta FW23 - Unfolding Endless Possibilities
Taking over as Creative Director, Matthieu Blazy has brought his 'Italia' trilogy of shows to an end with Bottega Veneta FW23. Showcasing his future ambitions for the house, Blazy continues to honor Italy's history with craft in motion. An artistic vision expressed in the show's theme: a parade. "The alchemy of the street is in the difference", Blazy explains, "it is the surprise of the encounter that has importance". Looking "at what makes people gather together in a place without hierarchy, where everyone is invited", he debuts a versatile and relatable yet also elevated collection.

Past techniques, motifs, characters and creatures voyage through space and time to materialize in the present and future. Roman bronze runners and a Boccioni statue decorate the runway. The mythology of antiquity and Futuristic influences heavily inform the designs. Blazy's parade is a place of joy, entertainment and endless possibilities – a place of priests and playboys, sleepwalkers and streetwalkers. Craft is reconfigured as innovation: cuts, fabrics and proportions take center stage. Shaved leather appears weightless, intricate silk hand embroideries are recreated and rearranged, cascading scales and ostrich-feathers decorate leather pieces and a fringed coat was woven in one piece rather than embroidered. Tailoring divides the figure: wide shoulders and pinched waists become a trend, while cuffs and collar create dimension. Transformed through cut, fantastic and chimerical creatures emerge as skirts allude to a mermaid's fishtail. Representing a sheer variety of occasions across the 81 looks, Bottega Veneta's all-inclusive collection has something for everyone.

www.bottegaveneta.com 
Fashion
PFW - CHANEL FW23/24
CHANEL's camellias brought love and adoration to Paris Fashion Week. Virginie Viard - Karl Lagerfeld's former first assistant and successor - stayed true to the femininity and decorativeness at the core of CHANEL's aesthetic whilst adding her creative charm to the garments. The camellia is historically significant for the luxury brand. In 1923, Coco Chanel pinned one of the winter flowers to a dress for the first time. As desired by Viard, the collection is tastefully elegant and dynamic. The camellia motif is the central thread that ties in this creative dance between the traditional elegance of CHANEL and Viard's eccentric touches. The brand's FW23/24 collection highlights the artist in women and breaks convention whilst doing so. Floral coats, peak lapels, and jackets traditionally tailored for men - the CHANEL artist is a woman who does not conform. The brand's rebellion against conventions of traditional tailoring is embedded into the collection. CHANEL's subtle rebellion is accompanied by authentic materials, comfortable silhouettes, and an indisputable English essence. The showcase, constructed around two grandiose camellia sculptures, is as dynamic as the winter flower. With slight touches from the '60s and '70s - asymmetrical cuts, light materials, and open backs pervade the collection with an essence of movement observed in nature. Motifs of the winter flower are seen in almost every garment- prints, sculptural elements, and accessories. The repeated display of the motif fabricates an elegant cohesivity that only strengthens the impact of individual garments.

www.chanel.com
Fashion
PFW - Paul Smith FW23 - Abstract Prints, Tactile Fabrics and Elegant Silhouettes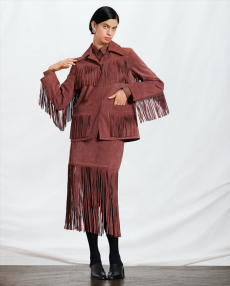 Presenting its FW23 women's collection in Paris, Paul Smith is once again recognized for its creativity, curiosity and playful touch. Inspired by modernist architecture and design, an interplay between prints and fabrics as well as a reinvention of traditional tailoring and eveningwear become the blueprint for this collection. Black, gray and white serve as a base on which glimpses of cobalt blue and powder pink along with warmer burgundy and mauve tones can stand out. The center of attention, however, is on abstract prints, textile fabrics and an elegant silhouette. Antique interior and upholstery textiles guide the composition of the design's prints. The 'Big Flower' is superimposed on traditional overcoats and suiting, whereas a floor-length dress carries the 'Botanical Collage'. Denim, satin, shearling and suede – among others – showcase the use of new and richer fabrics. Other unexpected elements, button detailing and an extra-long scarf, and a revision of gender dressing standards also enter the stage. Traditional menswear codes, as for instance shirting stripes and classic tailoring, are subverted and juxtaposed with a feminine sensibility and silhouette. The tuxedo, a garment commonly associated with masculinity, is taken apart into a cropped tuxedo jacket and skirt. Nipped waists, high-waisted asymmetric trousers and a new hourglass-shaped jacket with strong shoulders embrace the female form. The FW23 Mulberry x Paul Smith bag collection is also included. Mulberry's classic messenger bag, the Anthony, is reworked using Paul Smith's Signature Stripe webbing straps. This collection clearly follows Paul Smith's guiding principle: "you can find inspiration in everything".

www.paulsmith.com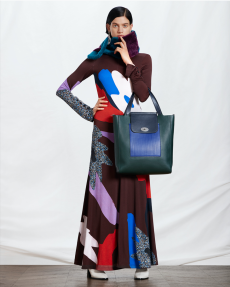 Fashion
Giorgio Armani's 10 Corso Como Collection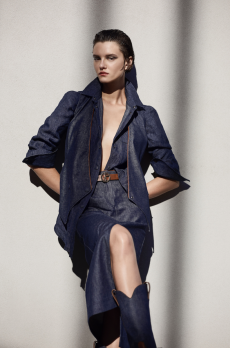 A deep exploration of one element synthesized by established details- Giorgio Armani's 10 Corso Como Collection renovates the essence of the old west through slim and androgynous silhouettes. This second collaboration with 10 Corso Como showcases the "new Giorgio Armani" - pushing the limits of the possibility that coherence provides.

The entire collection is made of denim - the elusive intimacy that the intense blue of the unwashed denim tailored into thin, elongated forms and coupled with cognac-colored elements transforms the garments into an avante-garde expression of passion and persistence. The brand's dedication to coherence is admirable - an established loyalty to the coarseness of denim opens the door for elegant details such as subtly formidable boots or belts to shine. A relationship between traditionally masculine and feminine tailoring allows the brand to play with harsh lines, denim ties, and structured garments to accentuate the feminine confidence and sexuality of the models.

The experience that Giorgio Armani curated includes Flavio Favelli's Mobilia Essay- a 20-square-meter installation that entails luminous hangers and grand armchairs upholstered in rubber. Differing armchairs will be exhibited in Giorgio Armani's boutique stores around the world. The 10 Corso Como Collection is an avante-garde praise of denim as a lucrative medium of creative expression.

www.armani.com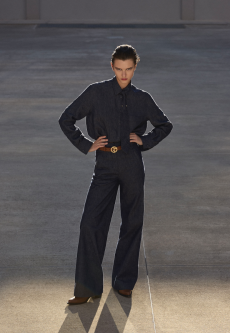 Fashion
MFW - Dolce & Gabbana's Sensuale - FW23
Sensuality, a concept far removed from sex appeal- is intimately connected to a woman's ephemeral nature and feminine charisma. Dolce & Gabbana's FW23 collection titled Sensuale explores the depths of feminine sensuality and aims to aesthetically display a new dimension of it. The collection highlights the ever-changing and dynamic nature of women through the extensive use of tulle, lace, and chiffon. From garments that are tailored and cut to display lace, garments that are entirely made of tulle, to garments that entirely hide the model's physique- Dolce & Gabbana marries Italian glamor and meticulous craftsmanship to highlight the natural, inherent feminine charisma. The cohesive and bold color schema grants attention to the tailoring of garments, and accessories. The contrasts between the use of fluid and structured material, and form-fitting and oversized silhouettes signify the diversity of the sensuality. Dolce & Gabbana's FW23 Sensuale collection explores the corners of feminine sensuality to tell the world that "beauty is not enough to be sensual, but charisma is essential".

www.dolcegabbana.com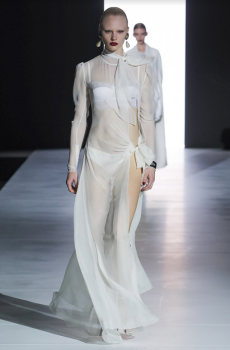 Fashion
MFW - FW23 - Rethinking History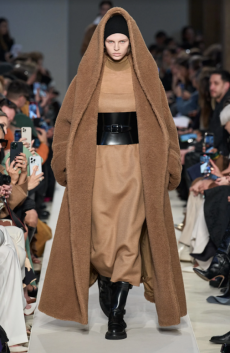 Ian Griffiths employed his creative protocol of highlighting a female figure from a historical period to explore his artistic thesis. Max Mara's FW23 collection expands on the ingenuity of the French mathematician and philosopher Émilie du Châtelet to re-envision the eighteenth century. Châtelet- an immensely intelligent and astute thinker who set the tone for rational thinking during the period of Enlightenment wrote that "to be happy, one must rid oneself of prejudice". Her doctrine is visible in her attempts to dissect the sociopolitical role of women, the afterlife, and human happiness. Châtelet and her lover, Voltaire spent 10 years together- saturating their life with scientific experimentation and intellectual debate. The fashion of the Age of Reason was nebulously tinted with the sediments of a darker time. Châtelet was not concerned about necromancy - her empirical gaze is the foundation for Max Mara's indulgence in reimagining a play between the empirical and the occult of the 18th century to create a collection for the now. Garments display the androgyny that the thinker sought to enter predominantly male spaces: oversized silhouettes underlined with form-fitting tops of varying fabrics that highlight feminine energy. An adaptation of 18th-century menswear and womenswear is seen in the extensive layering of garments and the imposing teddy and trench coats that play into the narrative of the femme fatale. The dark empirical feminine is highlighted in evening garments utilizing sheer fabrics and elements of practicality and utility accessorized with corset belts. In its FW23 collection, Max Mara intertwines creativity with historical exploration to capture the essence of the 18th century whilst empowering Max Mara women.

www.maxmara.com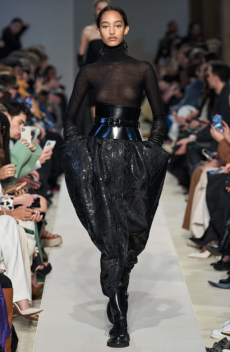 Fashion
Insight into the Future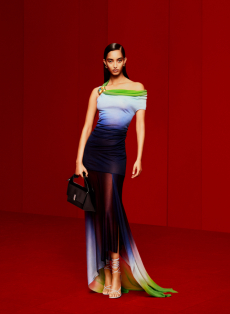 When historic Florentine house Ferragamo tapped Maximilian Davis as its new Creative Director and successor of Paul Andrews in March 2022, the house's CEO Marco Gobetti said, "[Davis] will write a new, exciting chapter for this house built on a heritage of creativity, craftsmanship, sophistication, and outstanding human values." Despite his young age, Davis is by no means unknown having risen to fame as part of the renowned fashion incubator Fashion East. It became evident that one could expect a new Ferragamo with the most exciting, new talents taking over the creative reigns. Having made his highly-anticipated debut with the SS23 collection, Ferragamo has now released its first campaign under Davis shot by Rafael Pavarotti. It is a boldly sensual reflection of Davis' vision featuring a diverse cast of personalities, each with its own distinct confidence. In their diversity, they become the perfect reflection of the Ferragamo attitude and independence. Against a dramatic backdrop in the vibrant signature Ferragamo red, the collection with all its details stands in sharp focus. Its elegant and contemporary character is perfectly mirrored in the imagery visually standing out against the monochrome background. The imagery is a crystallization of the new dawn for the house, rooted in its rich Italian history, yet with a direct vision for the future.

www.ferragamo.com
Fashion
Pharrell Williams appointed as the new Louis Vuitton Men's Creative Director
In late November 2021, news about the passing of Louis Vuitton Men's Artistic Director Virigil Abloh, after having been battling cancer privately for several years, shocked the world. Undoubtedly one of the most influential figures in fashion, he was largely credited as one of the pioneers who bridged the gap between streetwear and luxury fashion, bringing a new flair to the historic house of Louis Vuitton. Having set a very high standard for any successor, the French Maison found itself without a permanent creative or artistic director for the entirety of 2022 with the presented collections having been designed by the remaining menswear design team and guest creative directors such as Kid Super founder Colm Dillane for the FW23 collection. On February 14, 2023, Louis Vuitton announced that, effective immediately, Pharrell Williams will be taking over the creative reigns as new Men's Creative Director. Over the past two decades, Williams has established himself as a cultural and global icon with his creative universe encompassing music, art and fashion. His courage to break the boundaries of the various worlds he explores, aligns him perfectly with Louis Vuitton's status as a Cultural Maison, reinforcing its values of innovation, pioneer spirit and entrepreneurship. Building upon a long legacy of working with luxury companies, Williams does not only look back on creative collaborations, but has always been known as a taste-maker whilst also being deeply engaged in social causes. Pietro Beccari, Louis Vuitton's Chairman and CEO, declared, "I am glad to welcome Pharrell back home, after our collaborations in 2004 and 2008 for Louis Vuitton, as our new Men's Creative Director. His creative vision beyond fashion will undoubtedly lead Louis Vuitton towards a new and very exciting chapter."

Pharrell Williams' first collection for Louis Vuitton will be revealed in June 2023 during the Men's Fashion Week in Paris.

www.louisvuitton.com
Fashion
Rebirth of an Icon: The Lady 95.22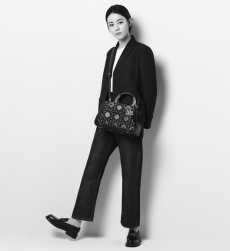 Building upon an immensely rich history, there is a special aura surrounding a Maison like Dior. Not only did the ateliers perfect their craft throughout the decades, but some of the leading creative minds of their respective eras were able to leave their imprint on the Maison, resulting in an archive which becomes a perpetual source of inspiration and an embodiment of the Maison's DNA shaped over time. To honor this DNA, this unique heritage, Dior has now revisited one of its iconic bags, the Lady Dior, giving it a modern makeover and hence bridging the past and present. First introduced in 1995 and revived in 2022, both moments in time are reflected in the bag's new name, The Lady 95.22. First introduced at the DIOR FW22/23 ready-to-wear show, the new icon is defined by its ultra-contemporary silhouette, with its architectural shape being enhanced by the emblematic macrocannage in combination with the new graphic maxicannage pattern. After this first unveiling on the runway, Chinese actress and Dior ambassador Dilraba Dilmurat is now shot with the iconic black leather bag. The resulting imagery isn't solely a prefect metamorphosis between the wearer and her bag, but an expression of the pure essence of Dior style, audacious yet elegant, an eternal source of inspiration and self-affirmation.

www.dior.com
Fashion
COS x YEBOAH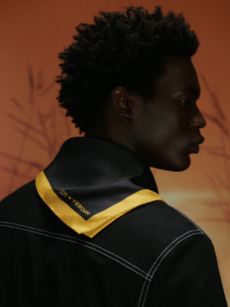 COS was founded with the concept of offering its customers a more minimalist, uncomplicated wardrobe, less trend-oriented, modern pieces taking inspiration from the effortless and nonchalant Nordic lifestyle and aesthetic sensibilities. With the launch of its newest global collaboration entitled Metamorphosis, COS signals first hints towards a new direction. For this newest 40-piece collection, COS partners up with London-based brand Yeboah, founded by Reece Yeboah and presents a blend of elevated wardrobe staples and street-luxe garments with an interchanging color palette of dark tones accentuated with eye-catching yellow. It is a coming together of two brand's creative languages, a masterful blend of functionality and style enriching COS with new creative impulses. Unveiled in an experiential presentation in a unique London venue. There the guests were immersed in a striking light presentation, kaleidoscopic patterns taking guests on a journey of metamorphosis inspired by butterflies. Additionally, it was James Messiah who created a bespoke soundscape for the presentation whilst also performing a live spoken word pieces reflective of the overall narrative for the evening.

The new COS x YEBOAH collection will be available from February, 1st, 2023.

www.cos.com
www.yeboahonline.com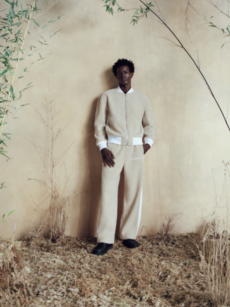 Fashion
Hublot BIG BANG ZERMATT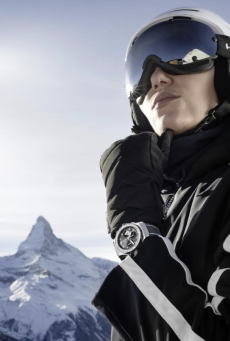 A shared sense of "Swissness" is something that has united the watchmaker Hublot with the Alpine resort Zermatt since their first collaboration in 2017. Located just at the foot of the Matterhorn, a behemoth of nature, the village of Zermatt has drawn in visitors since the mid 19th century, for its proximity to the iconic Swiss site, as well as its uniquely Alpine charm – winding alleys and old-fashioned brown chalets.

A Swiss brand at heart, Hublot has long cherished its connection to the region and its unique ability to draw ties with the culture and landscape. Setting up one of its most traditional boutiques at the center of the resort, Hublot took care to design its flagship such that it complemented the surrounding traditional architecture of the town.

The new BIG BANG ZERMATT is another ode to the bond between the brand and the resort town, combining integral elements of Swiss tradition with modern watchmaking. The timepiece also derives inspiration from the Matterhorn itself, playing with materials and light in order to mimic the changing faces of the vast mountain. The watch comes in two editions: the men's model and the women's model, both supplied in a steel case and with unique detailing. Both are powered by a self-winding chronograph. The colors, slate gray and snow white, imitate the surrounding environment of the namesake village of Zermatt. HZ

www.hublot.com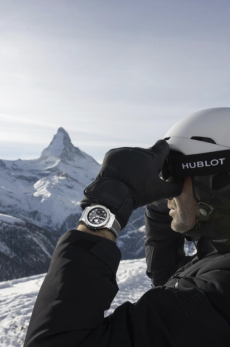 Fashion
Josephine Baker Lives On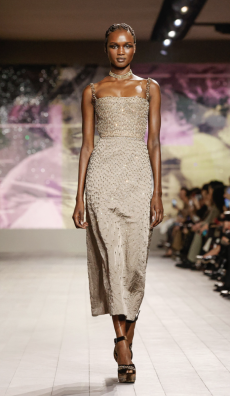 Since her emergence on the stages of Paris in the early 1920s, Josephine Baker has been a cultural icon – a symbol concurrently of the glitz and glam, as well as the struggles that defined her time. Born in 1906 in St. Louis, Missouri, Baker eventually renounced her American citizenship after reaching instant success in a France that did not have the same degree of racial segregation as her home country at the time.

Baker was a showgirl, a siren; lauded for her sexuality, style and magnetism (one needs only see a photo of her in the iconic banana skirt to find this claim justified). At the same time and more importantly however, Baker was also an activist, a proud African-American woman and member of the NAACP, and even a part of the French Resistance during WWII, helping to smuggle information on the locations of Nazi soldiers via her music sheets.

For all her courage and style, and her fascinating story, it is no wonder that Maria Grazia Chiuri took Josephine Baker as the muse for her latest collection for the Dior Maison. Conflating fashion and politics is a feat the Creative Director has received much attention and praise for in her decade-long tenure at the Maison.

Paris is an apt location to premiere a collection devoted to the woman who lived and breathed Paris in the Jazz Age. The line designed by Chiuri is filled with references to the great Josephine Baker and the historic times in which she lived – Art Deco inspired headbands, flapper dresses, velvet dressing gown coats. The artwork featured prominently as the set of the show tells the story of other important African-American female figures of the 20th century, celebrating their accomplishments in their respective fields and their trailblazing contributions to society. HZ

www.dior.com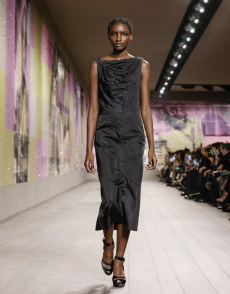 Fashion
In The Skies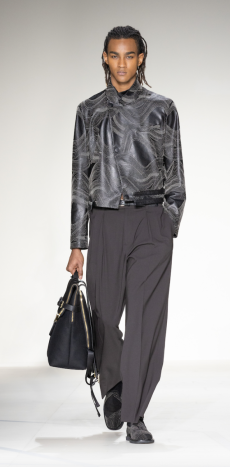 Circling above Milan at an unknown altitude, the models of Emporio Armani's Milan Fashion Week show glided gracefully over the runway like the brand's characteristic eagle. In fact, the models and looks they were donning were no more elevated than the rest of Milan, yet the optical illusion provided by the floor of the showroom – a military style birds-eye map of Milan – together with the old-fashioned pilot accessories, worked together to vividly simulate the theme of aviation that spanned the entire collection and show.

In keeping with the nostalgia for the early days of flight, the entire collection acted as a tribute to the revered figure of the 1930s aviator (an assuredly widespread male fantasy). Sophisticated and adventurous, an explorer by nature; the gentleman in the skies requires (at least as much so as the gentleman on the ground) a suitable attire, that is at once as sophisticated as he himself, yet also accommodating in his sportive ventures. In this pursuit, the Emporio Armani FW23 collection presents the perfect wardrobe companion for such a man. Soft, high-impact materials, designed in the classic sartorial gentlemen's styles such as Houndstooth and Prince of Wales checks, take shape in varied silhouettes – trench coats, double-breasted pea coats, cropped trousers, and more. Accessories help to enhance this effect: combat boots, aviator shades, vintage-style bomber jackets, to name just a few. Adding extra points in the categories of both Timelessness and Elegance is the color palette, made up of beiges, grays and caramels in the former part of the collection, with occasional splashes of color in the latter half. HZ

www.armani.com
Fashion
Finding Balance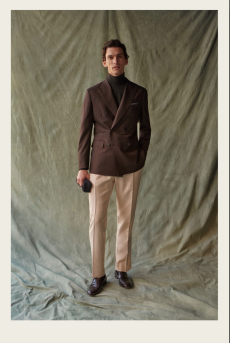 "Balance of life", Brioni's FW23 Collection, is a testament to the ethos of the brand – the creation of stylish, timeless, high-quality pieces. As the name suggests, the collection and accompanying campaign does exude an acute sense of serenity. One contributing factor in this most definitely the color palette of muted brown, grey and cream tones. Especially accented throughout the collection are the shades of turquoise and tobacco. An emphasis is placed on the guiding principles of subtlety and intimacy, as is by now a deeply entrenched philosophy at the Maison of Brioni. A stark contrast to the brash loudness to much of the outside world and fashion industry, the brand stands like a quiet and steady sanctuary, like a place of solace and subtlety. Not just the men are lucky enough to be graced with new looks this season however, the women's capsule collection "La Donna" has also been extended to include eight more full looks. Like the men's collection, the women's looks are distinguished by an exquisite attention to tailoring and fabrics. Brioni brings balance through its personal process of taking the time and care to bring a piece to life, using only the finest handcraft to allow the elements of the clothing to shine through. In this process, it also allows the wearer to shine through, more so than the item they are wearing. The soft material and tailoring of the garments allows for more fluid movement in the wearer, creating ease of movement and thereby a balance between the inner and the outer. HZ

www.brioni.com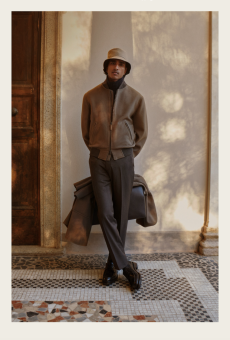 Fashion
LOIS // OSLO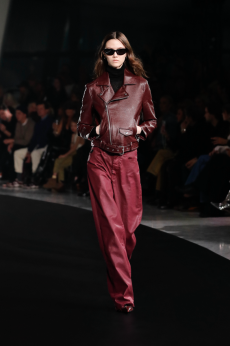 "Casual chic" is perhaps the best way you could describe the new FW23 collection by Lois Jeans, inspired by 1980s New Yorker street style. Sub-themes of Groovy Chic and Preppy Chic also ran throughout the collection, lending the collection a certain versatility.

Set against the dramatic backdrop of the Oslo Opera House, the unveiling of the collection was accompanied by dramatic live music and ballet dancing, creating a formidable experience for the guests in attendance. The Opera House is an architectural marvel; designed by the Norwegian architectural firm Snøhetta, it unfolds neatly into the cityscape thanks to its low-slung form. Music played a central role in the event as well: the full show was accompanied by an orchestra of 22 Norwegian music students, to the tune of the celebrated Boléro by Maurice Ravel. Due to its grand yet sleekly elegant interior, the opera house was the perfect venue for the convergence between fashion, dance and music that took form through the Lois Jeans FW23 show.

In the words of Creative Director Arthur van Rongen: "In this show, everything for me came together; my favorite classical piece of music in one of the most beautiful buildings of the world, my favorite ballerina in the world in one of the most beautiful countries of the world. For this show. I've really listened to my dreams, and together with my team we made it happen and with our audience it felt for 30 minutes we were all together in a bubble of love. This is what fashion should be like for me." HZ

www.loisjeanstore.com
Fashion
Jackie, meet Dakota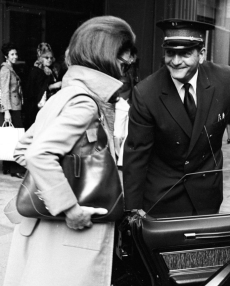 A mainstay within Gucci, the Jackie handbag has been a popular favorite since its inception in 1961 among celebrities and civilians alike. Named after one of its biggest subscribers, Jackie Kennedy herself (archives within Gucci show the first lady clutching the bag on many, many occasions), the bag has since found its way onto the arms of many familiar faces over the years.

Most recently, actress Dakota Johnson has joined its ranks. The Jackie 1961 campaign is shot like a series of paparazzi portraits of the young actress moving through her daily life in L.A. This videographic style is not new to the Jackie bag's legacy in the media. In fact, it is said that its renaming (priorly named the Fifties Constance) came about upon the Gucci family seeing a paparazzi shot of Jackie Kennedy with the bag.

Each outing in the campaign is paired with a different model of the inherently versatile Jackie bag, each version emblematic of a certain time and style. The bag maintains its characteristic silhouette in each iteration, with variations on everything from color to texture to patterning, lending the bag its adaptable personality. As far as designer 'It' bags go, the Gucci Jackie bag is unique in its long held position as a timeless favorite. HZ

www.gucci.com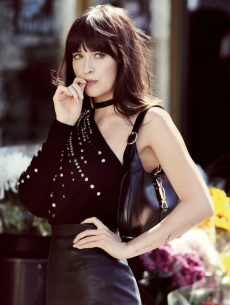 Fashion
The Year of the Rabbit 2023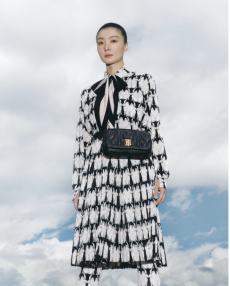 January 22nd, 2023 marks the beginning of the Year of the Rabbit in the lunar calendar. Traditionally, the sign of the Rabbit is associated with longevity, peace, and prosperity in Chinese culture. Starring Chinese actors such as Qi Xi and Shi Pengyuan, as well as athlete Zhao Lina, Burberry has unveiled a new campaign to celebrate the Year of the Water Rabbit 2023. The capsule collection features well-known, traditional Burberry motifs redesigned with playful elements to celebrate the Rabbit, such as the Thomas Burberry monogram with rabbit ears. These iterations abound throughout the collection on womenswear, menswear and childrenswear, leaping off the paper onto clothes, and from bags to silk scarves and other accessories. The campaign video (aptly named "Take A Leap") is directed by Zika Liu and Sky, and shows each individual on a journey through open spaces, finding inspiration and energy from their surroundings. Burberry encourages the viewer to use the new year to a similar end, with the message "Dream Further. Take a Leap." HZ

www.burberry.com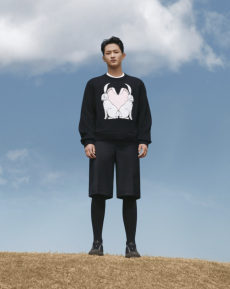 Fashion
Stone Island SS023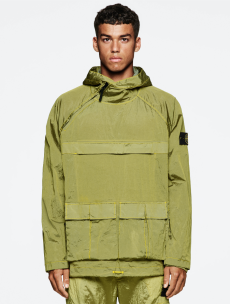 The brand Stone Island cherishes a culture of research, experimentation and usability. With its sharp focus on textile research and design innovation it continues to push the bounds of fashion production. It is a project based on fashion beyond mere aesthetics, taking as its observatory the study of workwear for the sake of understanding the functionality and evolution of clothes. The DNA of the brand lies in scientific innovation and investigation, as it seeks to transform and reinvent the make-up of fibres and fabrics, as well as of dyeing processes.

The Stone Island Spring Summer '023 collection is yet another stitch in this pattern, representing state-of-the-art fabric and garment dyeing technology, in terms that will set the average layperson's head spinning. In terms of styling, the collection explores the world of 1980s youth subcultures, with a vibrant palette of colors – magenta, yellow, orange, sienna, green – that ensure a visual blast to the past. Despite the technological innovation and fashion focus of this new line, the brand remains true to its essence: keeping functionality at the very heart of the collection. HZ

www.stoneisland.com
Fashion
Hublot's Carbon Rainbow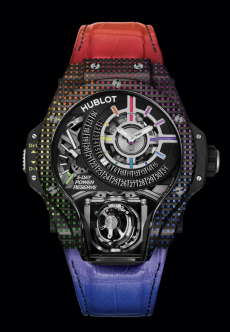 Aided by the newest innovations in digital and watch technology, Hublot is able to push to the borders of creativity and innovation. This is shown most recently in the newest and most colorful product on the market: the Hublot MP-09 Tourbillon Bi-Axis 5-Day Power Reserve in Rainbow 3D Carbon. It is the splashy sequel to the original MP-09 Model, released in 2017, but upgraded to be encased by a rainbow-themed 3D carbon case. The technology underlying the MP-09 is no less astonishing than its saturated exterior – the carbon case is assembled by threading countless thin bars of carbon into a woven pattern. It is milimeter work. What meets the eye as a seamless rainbow is more like an optical illusion, when one looks to the actual technology beneath. An impressive piece of craftsmanship, creativity and engineering.

It lies in the very DNA of the brand Hublot to explore uncharted territory in the art and craftsmanship of watchmaking. The "Art of Fusion" is how the brand itself conceptualizes it, a melding together of tradition, craftsmanship and innovation.

The Hublot MP-09 Tourbillon Bi-Axis 5-Day Power Reserve in Rainbow 3D Carbon will be exhibited exclusively at the Hublot Loves Art event in Miami.

www.hublot.com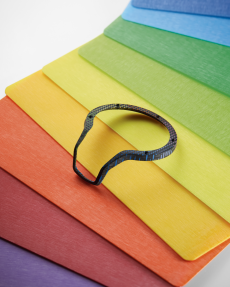 Fashion
"BEYOND PERFORMANCE"
Moncler, the luxury outerwear producer, has made a name for itself over recent years as one of the foremost producers of fashionable and functional winter styles. Its name hails from its birthplace, Monestier-de-Clermont, a little alpine skiing village 30 km from the town of Grenoble, situated in the Auvergne-Rhône-Alpes region of southeastern France. What began as a mountaineering company dedicated to the production of tents, sleeping bags and other mountaineering equipment is now the world's foremost producer of luxury down jackets.

Moncler Grenoble represented a return to the roots for Moncler, a collection dedicated exclusively to skiwear, and helping individuals look stylish on the slopes. "Where High Style collides with High Performance" is an apt description for Moncler Grenoble's latest collection. The launch of the new collection is accompanied by a short film debuting Moncler Grenoble brand ambassador, Richard Permin. Permin is a French free-skiier and these days, ardent skiing filmmaker. The film, directed by Jonas Lindstroem, shows Permin doing the unthinkable, speeding down an almost 90 degree slope, inches ahead of an oncoming avalanche. The clip looks more like a scene from the climax of a Bond film than the promotional video for a new ready-to-wear collection, especially given its location: the film is shot on the Quetrupillán, a stratovolcano in Chile. Like 007, Permin looks undeniably stylish, clad in Moncler Grenoble. The debut film and collection are a true testament to Moncler Grenoble's mantra "Beyond Performance," pushing human ability to the borders of possibility. HZ

www.moncler.com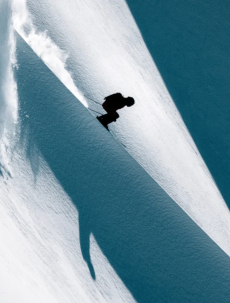 Fashion
Eastpak x Super Mario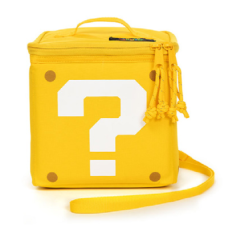 It's-a-me, Mario! Nintendo's poster boy, one of the most well-known and loved characters on video game screens, is coming back to schools and offices. Since the early 1980s, Mario has been delighting people all over the world in his quest to save Princess Toad and the Kingdom from Bowser and the Koopa Troopa, the clan of evil turtles known for their black magic.

Out of his familiar native Mushroom Kingdom, Mario now comes riding back in on what is surely another familiar household name, the Eastpak. The brand is well known for its functional, stylish and timeless luggage, accompanying millions to school and work every day. "Built to resist", Eastpak products come with a thirty-year warranty as another guarantee of the durability and robustness of the product, thus reducing waste and promoting more sustainable patterns of purchasing.

Across multiple products, from Padded Pak'r backpacks to Eastpak's Springer bum bags, pencil cases, suitcases and lunchboxes, a sense of childhood is woven into the exteriors, with familiar Super Mario motifs embossed and embroidered in. The collaboration is rife with imagination and nostalgia, bringing a little bit of that early 90s feel to everyday life. HZ

www.eastpak.com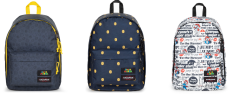 Fashion
The Maison's Newest Member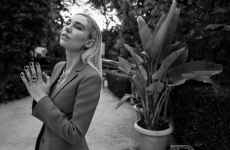 Vanessa Kirby, English stage, TV, and film actress, is to become one of the new faces of Cartier. The London-born actress has an impressive resume of on-stage and on-screen appearances under her belt, from most notably her supporting role as Princess Margaret in British drama series "The Crown" to action films such as "Mission Impossible – Fallout", to starring roles such as in "Pieces of a Woman" and "The World to Come". With over twenty nominations as "Best Actress" for her role in "Pieces of a Woman," Kirby has distinguished herself as a "tour-de-force", a "wonder" or an "amazing talent", to quote just a few raving reviewers.

Thanks to these very qualities, her talent, sensuality and determination, Cartier has chosen the talented young actress as the face of its celebrated "La Panthère" perfume campaign. With a "natural elegance that feels both authentic and free," Kirby is the perfect fit for the fragrance that is created to exude freedom, to represent a woman that is independent, graceful, and rebellious.

Kirby joins the likes of Rami Malek, Maisie Williams, Lily Collins and Jackson Wang as the newest addition to Cartier's impressive and versatile roster of brand ambassadors. Each ambassador brings their own brand of non-conformity and talent to the brand's image, bringing a fresh touch of modernity and culture to the Maison. HZ

www.cartier.com
Fashion
Dior in the Dunes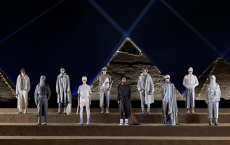 Emerging from a desert landscape, the formidable silhouettes of the pyramids crowning the background, the models of Dior take to the stage. Set against the Great Pyramid of Giza, a relic of over four millennia of human history, the Dior Men's Fall Show 2023 was a nod to the past as well as a look to the future, a symbolic gesture to the House's 75th birthday. The contrast between the ancient site and the retro-futurism of the designs bore witness to this unification of past and future.

Aptly titled "Guided by the Stars", the collection draws on a fascination with technology and sci-fi themes. Artistic director Kim Jones conceived a lineup that played with patent astronomical references, even collaborating with NASA on some designs that used telescope images for print galaxies. Complementing the background, desert hues such as white, gray and sand stood out in particular, with occasional splashes of yellow and orange. Accessories like stormtrooper helmets and racer-style sunglasses completed the theme, creating looks reminiscent of David Lynch's 1987 adaption of "Dune." A fusion of elegant tailoring and futuristic design permeates the collection, with kilt-like overlays often hung to one side over sharp tailored trousers. Thick neck scarves, sheer fabrics and capes helped to complete the Dune-like aesthetic.

Using a range of techniques, Kim Jones managed to create a collection that was at once futuristic and utilitarian, explorative and celestial. With 75 looks to commemorate 75 years of Dior, the new Men's collection celebrates past, present and future. HZ

www.dior.com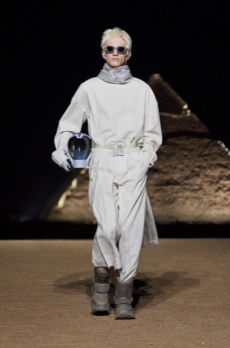 Fashion
Memento Mori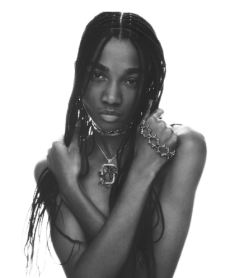 The "Nocturnal Angels" collection represents a new chapter for the label Palm Angels, as it ventures into uncharted waters in its first-ever High Jewelry collection. Working in close collaboration with the designer and jeweler Duffy, Francesco Ragazzi – designer, photographer, Palm Angels founder – brought his own brand of daring to the endeavor, bringing the jeweler into his specific world of shapes and colors.

The collection comprises only four pieces: the Oxymoron bracelet, the Pleasuredome necklace, the Antithesis bracelet, and the Allegoria pendant. Each individual piece is handcrafted and brought to life out of varying components of gold, sterling silver, precious stones such as amethyst, sapphire, diamonds, and more. Each piece is also uniquely adorned with motifs that call to mind the theme. According to Ragazzi, "Memento Mori" was a central concept in this collection – an artistic and religious trope that was thought to remind the viewer of their mortality and the inevitability of death. In this vein, the two designers played especially with the motifs of bones, insects, snakes, skulls, and leaves – common motifs in art history used to evoke this theme – to point to the "transience of life". Another case in point for Palm Angels' ongoing mission to use clothing and design as "cultural signifiers".

The Palm Angels High Jewelry collection will be exclusively available at the brand pop-up boutique in Los Angeles, 8818 Melrose Avenue, West Hollywood, California 90069. HZ

www.palmangels.com
Fashion
Italian hospitality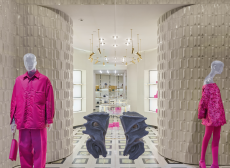 In time for the new year, Valentino unveils its plans for a new store concept. With an interior design that brings together elements of 1930s Art Deco with a bold 1970s aesthetic, the resulting atmosphere strikes a refined yet eclectic balance. Marble floors with geometric motifs and elements of onyx and wood create an air of refinement throughout the store. Textile walls in muted tones pay tribute to the tailoring busts used in haute couture. In order to produce unique objects to ornament the spaces, the Maison brought in specialist craftsmen – the result: an array of handmade ceramic door handles, decorative geometric compositions in brass, delicate chandeliers, Camaleonda sofas, and more.

The new design story places the central focus on the client and the customer journey. In line with its Italian heritage, the brand sets out to create a feeling of welcoming and hospitality throughout its line of stores. Each store is subtly enhanced with details connected to the local culture. The space is designed to create a sense of intimacy with the customer, to aid Valentino in its increasingly "human-centric" approach to business. The Maison has begun the redesign of its global locations in November 2022, with a few flagship stores such as in Jeddah, Madrid, Venice and Shanghai. It plans to roll out its new boutique designs in New York and Paris by springtime of next year. HZ

www.valentino.com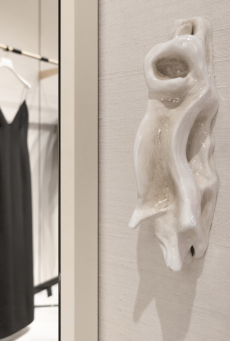 Fashion
A Family Affair
Five generations of the Mazza family business have culminated in this: a new apparel collection by PREMIATA in time for Fashion Week 2022. The entire line is conceived as to be genderless, designed and constructed only for "a person who needs multifunctional clothes every day." Functionality is at the heart of this new collection – the clothes are designed to be "structured and versatile to use them all day long." Heavy jackets to parkas, field jackets and winter coats comprise the new line. The ad campaign is unmistakingly urban: with the neon-lit background and sullen-looking youngsters, it appeals to the image of a wintry cityscape. Shot by Leandro Emede and styled by Nick Cerioni, the set is designed to recall a dystopian Blade Runner-esque backdrop, "between neon and rain".

The thermo and design technology behind the new collection is impressive. Among the used materials are nylon and organic cotton, treated so as to become water repellent and soft to the touch. A fundamentally Italian family brand, PREMIATA holds its "Made in Italy" label with pride. Traditionally a high-end footwear brand (the Mazza family began shoe production as early as 1885), the announcement of a new apparel line concurrent with the new generation of the Mazza family, siblings Vincenzo and Carlotta, represents a turning page in the company's history. HZ

www.premiata.eu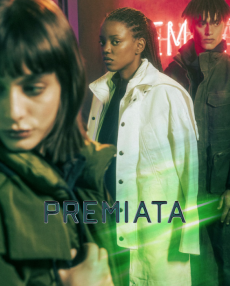 Fashion
What makes an icon?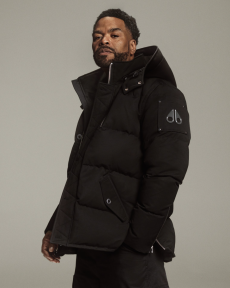 The launching of this year's new Icons in Icons campaign by Canadian luxury outerwear label Moose Knuckles was accompanied by a similarly exciting news piece – the announcement of the brand's collaboration with two matter-of-fact modern icons. Method Man of the Wu-Tang Clan and Natasha Lyonne from "Orange is the New Black" and "Russian Doll" have joined forces with the esteemed brand to create a campaign showcasing the new collection. To Moose Knuckles, both individuals embody the concept of 'cultural icon,' in their own unique ways. The campaign was shot by acclaimed photographer Luis Alberto and styled by fashion editor and stylist Carlos Nazario. Pushing the bounds of creativity and their respective crafts, the venerated artists both on- and off-camera do well to demonstrate the titular theme. In the words of Method Man, "Icon: when you do something well and it keeps going after you're not here, that's when it becomes iconic."
Moose Knuckles is a leading force in the production of luxury outerwear, sportswear and accessories designed to endure any conditions. From the Canadian tundra to the cosmopolitan city of Montreal, its homebase, the brand seeks to create styles to be worn in any context. The new collection is a testament to its theme – revisiting classic signature styles such as the 3Q jacket and Stirling Parka in new and adventurous ways, thus extending the legacy of the brand's very own icons. HZ 

www.mooseknucklescanada.com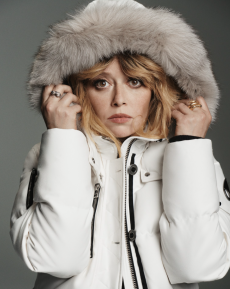 Fashion
New concept store The Square opens in Berlin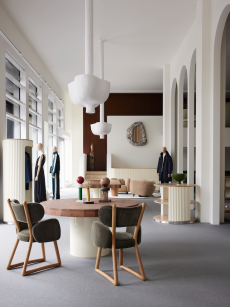 Right at the heart of Berlin, between Gendarmenmarkt and Unter den Linden, Emmanuel De Bayser and Josef Voelk are opening their new 700-square-meter flagship store, The Square. Once known as The Corner Berlin, this new space creates an extended aesthetic experience induced by the interior designs of the Paris-based studio Pierre Augustin Rose. Reflecting on the classicist spirit of Berlin's lively historic quarter, the vast and sun-illuminated store constitutes a present-day Arcadia, distinguished by wooden panels, white columns, and high arches as well as a light and soft colorway. Amid the elegant interiors, a carefully curated selection of fashion, beauty, interior design, and art is displayed, inviting customers to a unique and holistic aesthetic experience. Besides furniture and home objects by among others Ann Demeulemeester and Chiarastella Catrani, as well as sculptures by Nicolas Lefebvre and Thomas Junghans, the Square provides high luxury in the fashion department, featuring brands like Balenciaga, Dries van Noten, Dior, and Jacquemus. The impressive reopening of The Square oriented to history as well as modernity thus becomes part of a general renaissance, which is currently taking place in Berlin Mitte. JW

The Square Berlin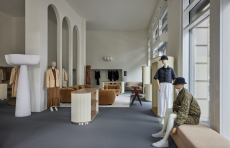 Fashion
Dior Maison: La Colle Noire Collection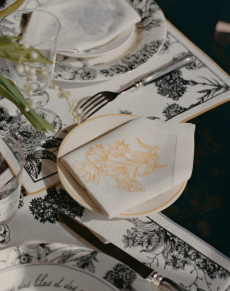 At the Château de la Colle Noire the French couturier Christian Dior found a place to enjoy a sunny and peaceful interlude, symbolizing French art de Vivre. The tranquil Provencal haven in Montauroux surrounded him with a mesmerizing and inspiring atmosphere evoked by century-old trees and the subtle fragrance of rare flowers.
Now, Dior Maison introduces a vibrantly hued collection, which revolves around the Maison's founder's love and passion for nature and botany, thus picking up the name of the magical château. The flowers of the extraordinary garden, including lilacs, lilies, roses, carnations, tulips, and papavers are referenced in delicate and beautiful sketches which adorn dinner and dessert plates, mouth-blown glass decanters, hand-painted glasses as well as napkins and embroidered placemats. The glasses are labeled with the plant's names in romantical cursive handwriting and feature, depending on the flower, a colorful edge. This color scheme is continued on the napkins, which show an embroidery of a flower in its respective color. Beyond these exceptional items, colored glass candle holders round off this botanical collection. Crafted in Italy thanks to virtuoso savoir-faire, they offer an enchanting and surprising finishing touch. JW

www.dior.com
Fashion
The comeback of Cartier's pebble-shaped watch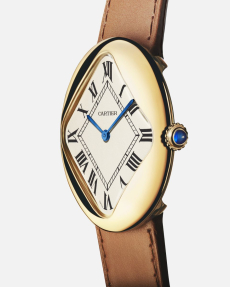 An icon returns, as Cartier releases the pebble-shaped watch which has been firmly rooted at the core of the Maison's watchmaking heritage for 50 years. Distinguished by its rarity and singularity, the watch and its unprecedented design recall the feeling of excitement in London at the beginning of the 1970s. During this time, a creative upswing within the English capital and Cartier became noticeable and led to the designs of the Crash in 1967 and the Maxi Oval in 1969. Meanwhile, the pebble-shaped watch was released in 1972 and was only produced in a very limited number. The thus highly sought-after watch model returns today with a surprising and singular aesthetic, paying homage to the original design which unites roundness with a square dial beneath an elegant exterior.
Cartier launches 150 individually-numbered pieces of the reinvented model, subtly deviating from the original in their proportions. Beyond that, it houses one of Cartier's flattest hand-wound movements, the Manufacture 430 MC movement. Emphasizing the creative mind significant to Cartier, the watch consists of an 18-carat gold case, which combines pure lines with harmonious proportions. The Roman numerals and blued sword-shaped hands stand out on the eggshell-colored dial, showing great attention to detail. To complete the sophisticated design, a light brown calf leather strap with a gold pin buckle adds a vintage touch to the otherwise timeless design. JW

www.cartier.com
Fashion
Dion Lee launches Dion Lee Code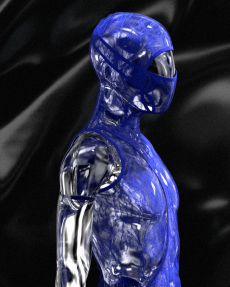 Dion Lee introduces Dion Lee Code as it launches the Façade Digital NFT collection in collaboration with MA+CREATIVE. As the official launch into web 3, the collection is dropping today, including five digital garments and two full looks. The looks are distinguished by a semi-sheer lace as lace serves as a window into the character's identities. Beyond that, the first look consists of a silicone wave lace frock coat, contour corset, and, contour lace trousers, while the second look features a visceral lace hooded tank and blueprint denim.
The designs stem from Dion himself while the universal format in 3D files was created by the NFT artist Sam Walker. Entitled Façade, the collection investigates, how far we use constructed identities to build up a facade. The designer thus enters another dimension, where we can choose our characteristics, no matter the societal circumstances and external controls. Sevdaliza's track System was chosen to accompany the collection as it was inspired by Sevda's experience as a woman in the music industry who does not identify in any way with industry standards.
Dion Lee has announced, to donate part of the proceeds to the Women's Reproductive Rights Assistant Project, which offers comprehensive support for women to have a safe, legal abortion or emergency contraceptives. JW

www.dionlee.com
Fashion
Hublot and Shepard Fairey present a harmonious watch design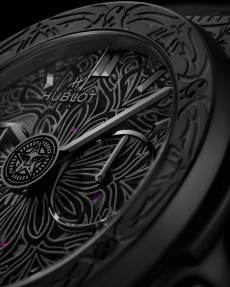 Cooperated for the first time in 2018, Hublot and Shepard Fairey now return with a fascinating collaboration, exclusively available in North America. As the internationally renowned street art artist aligns with Hublot's spirit of crossing boundaries and setting new limits, the collaboration came naturally to both of them. In various fields, the artistic all-round talent and founder of the fashion brand OBEY Clothing was able to achieve success. He gained particular notoriety for his poster Obama Hope from 2008 or the large-scale installation Earth Crisis from 2015, the first-ever installation to be seen on the Eiffeltower.
To follow up on the last collaboration between Shepard Fairey and the Swiss luxury watch brand from 2020, they choose again a model from the Classic Fusion-Collection. This time, Shepard embellishes it with a mandala, to which the watch's elements are attached. Distinguished by its all-black design, it consists of a chronograph movement, a ceramic case, and Hublot's classic black rubber strap as well as sapphire glass that covers the bottom of the case. The mandala, the core of the outstanding design and significant to Fairey's work, exudes harmony, as it connects the artistic skills of the two exceptional cooperation partners. JW

www.hublot.com
Fashion
Chanel SS23 - A magnificent collage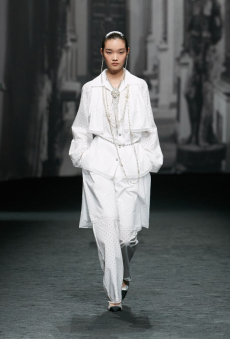 In the course of Paris Fashion Week, Chanel presented the Spring-Summer 2023 Ready-to-Wear collection in a mesmerizing fashion show. Virginie Viard took inspiration for the collection from the artistically revolutionary film Last Year in Marienbad (1961) directed by Alain Resnais. The costumes of Delphine Seyrings were designed by Gabrielle Chanel herself, adding a sophisticated allure to the film stemming from Chanel's central idea of freedom of movement. Imbued by the feathers, sequins, and heels, Viard found pleasure in mixing up things. She thus composed the Spring-Summer 2023 Ready-to-Wear collection of individual pieces, beautiful in themselves, to form an extensive, magnificent collage, an imaginary world, confronted with itself. A white jacket with sequins, deconstructed prints, and pastel tweets are found alogside velvet panne, lace, and light chiffon. Each of the pieces that walk down the runway is an allure in its own way, failthfully incarnated in Kristen Stewart. "(...) of the people around me, she is the closest to Gabrielle Chanel, at least to my idea of her. She understands CHANEL, its clothes. And with her, it becomes even more modern. This collection, it's also her." explains Viard. JW

www.chanel.com
Fashion
Stella McCartney presents SS23 at the Centre Pompidou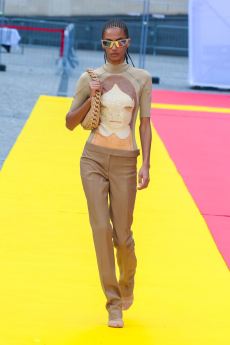 During Paris Fashion Week, Stella McCartney presented the Spring Summer 2023 collection at the Centre Pompidou piazza in a democratic demonstration outdoors, a brand first. Mirroring the facade of the renowned museum, the catwalk was composed of colored paths which created a link between art and fashion. Art was furthermore incorporated into the collection, as it featured the work of the Japanese artist Yoshitomo Nara, who inspired the collection as a whole with his slogan "CHANGE THE HISTORY". His illustrations of big-eyed girls, sinister children in animal costumes, and activist slogans can be found on various iconic pieces such as stretchy crinkle knit dresses, t-shirts, and bias-cut dresses. These unique items already give a taste of the upcoming unisex capsule of Stella McCartney in collaboration with Yoshitomo Nara.
In its minimalism and sensuality, the garments are characteristic of Stella McCartney, clashing the casual with the formal. Furthermore, it underlines the sustainable approach of the brand in using conscious materials and vegan alternatives to leather, protecting animal rights dear to Stella McCartney. Another highlight is the evening garments, including cut-out dresses, fluid tops, and asymmetric skirts, glamorous due to their crystal embellishments. These can also be found on the iconic Falabella clutch as well as on S-Wave party bags, which among other accessories round off the outstanding collection. JW

www.stellamccartney.com
Fashion
Seeing double at the Gucci SS23 fashion show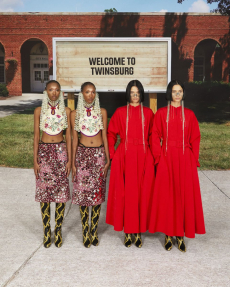 During Milan Fashion Week Gucci presented the new Spring/ Summer collection 2023, designed by the Maison's creative director Alessandro Michele. Titled Twinsburg, this collection pays homage to two extraordinary women of the creative director's life, his mother and her twin sister. Having experienced their deep connection, secret intimacy, and ancestral alliance while growing up, Michele developed a fascination for the double. He explains: "Every single time I catch an aura of beauty in such specular multiplication. It's so familiar, so powerful."
For this reason, 68 pairs of identical twins walked the Gucci runway to present the garments of the new Spring/ Summer collection, yet portraying the impossibility of the perfectly identical. From this, the designer derives the tension of the relationship between original and copy, which determines the collection. It shows how the same garments create different effects on seemingly identical bodies and how fashion after all reinforces the act of individualization. That is, the collection describes twinship as a relationship between identity and otherness. Though sharing a confusable appearance, twins are not limited in their being. Nevertheless, they portray the sense of co-belonging and sisterhood, which is an indispensable part of our every life. JW

www.gucci.com
Fashion
ICEBERG presents its Fall Winter 22-23 collection Back in Black!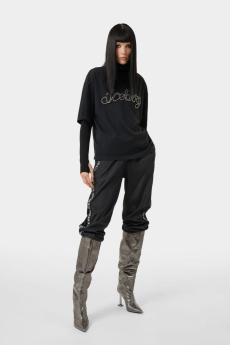 ICEBERG's new Fall Winter 2022-2023 collection for men and women welcomes the cold seasons of the year in its unprecedented black aesthetic. Designed by the brand's creative director James Long, the collection embodies his vision of "traveling without moving and being present and visible without being physically there". Portraying the Italian chill, a lot of the garments link traditional dress codes with outerwear thus making them more suitable for fall and winter.
The collection stands out with unique clothing items, such as heavy leather jackets and elegant jumpsuits, combining exciting cut variations in their catchy appearance. One of the highlights of the ICEBERG Fall Winter 2022-2023 collection is the eco-leather embellished jacket for women, which features a lurex entwined furry collar alongside crystals, rounded studs, and Iceberg logo engraved buttons. Exuding to the spirit of the brand, its name ICEBERG is spelt out on both sleeves with rounded gunmetal studs. Also in terms of accessories, James Long delights with his new creations. The Black Square Base Heeled Boots are particularly striking and essential to every woman's wardrobe. Defined by clean and elegant lines, these pointed-toe boots have an exceptional stiletto heel with a square base. JW

www.iceberg.com
Fashion
Tod's SS23 brings Italian Flair to MFW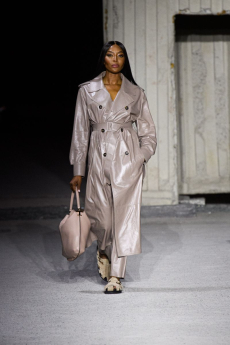 Italian Flair is the name of Tod's' new Spring/ Summer collection 2023, which testifies to the brand's origin and was presented during the Milan Fashion Week. In the spirit of the brand, which is characterized by its Italian soul, Tod's' creative director Walter Chiapponi particularly focused on the material and craft aspect during the creation of the garments. Dedicated to providing high quality, the collection is classic yet unpredictable as it evokes confidence and a certain attitude in its wearers. Following the younger generation's line, it thus allows you to dress with freedom and add personal touches to the clothes, expressing your own identity. In its color palette of pale shades, different beiges, and hints of red and yellow, the garments reference the Italian hearth during summer. As if made for extraordinary combinations is the sartorial dress with a structured jacket with oversized shoulders and wide, high-waisted trousers. Another highlight of the collection is the Bubble ballerina with its giant pebble sole in contrasting colors. The iconic Tod's moccasin is defined by a curled seam, depicting an artisanal detail. Regarding accessories, Tod's presented amongst others a new variation of the Di Bag, for the first time made in mosaic of different leathers. JW

www.tods.com
Fashion
Jimmy Choo extends its Varenne family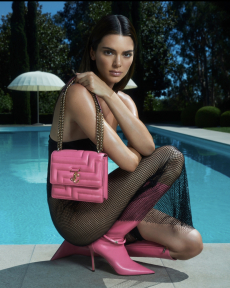 Jimmy Choo introduces the Varenne Avenue Collection for the coming season of Autumn 2022 as an extension of the beloved Varenne family. This new series of exceptional handbags exudes the spirit of the Jimmy Choo muse's glamorous world and of the cosmopolitan cities in which they live as it embodies a dynamic lifestyle. The design is distinguished by the new matelassé pattern and adorned with statement gold hardware as well as the iconic JC monogram. Modern yet timeless in its sensory feel, the collection stands out due to its playful colors of pink, gold, burgundy, and black. Each of the pieces of the Varenne family is made in Italy, ensuring high quality and dedication to craftsmanship, significant to Jimmy Choo.
The collection includes a square quad, shoulder, and clutch with gold and leather chain strap as well as the pouch clutch and small leather goods. Sandra Choi, creative director of Jimmy Choo concludes: "Our new Avenue quilting pattern lends a graphic depth and richness that animates our signature Varenne's personality. The linear pattern draws inspiration from our urban habitat, the avenues we navigate daily dreaming with every step of arriving somewhere full of wonder." JW

www.jimmychoo.com
Fashion
Eastpak x Denham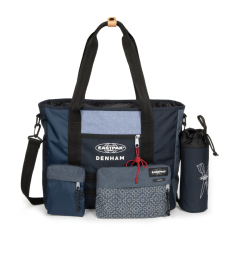 In an astonishing collaboration, Eastpak and Denham revamp Eastpak's most iconic silhouettes, releasing them in contemporary denim style. The Amsterdam brand links its unique take on jeans with the function-first approach of the bag manufacturer, thus combining the pioneering spirits of both brands. A two-part collection emerged, stylish and intelligent, adapting to the wearer's needs.
The first model is titled Padded Denham and depicts Denham's version of the classic Eastpak Padded Pak'r backpack. It is distinguished by a modern patchwork of contrasting denim fabrics, adorned with traditional Sashiko embroidery, Japanese knotted zipper pullers, and other signature design elements. While the design undergoes an enhancement, the functionality remains as the backpack is equipped with multiple accessory pockets, a number of detachable pouches, and a detachable bottle holder. The Padded Kerr is based on the shape of the iconic Eastpak shopper and resembles the model mentioned above in its multifunctional aesthetic and Eastern-inspired design, implemented in the same denim patchwork. Both of these pieces, the Padded Denham and the Padded Kerr, are characterized by Denham's unique style, reinforcing the functionality significant to Eastpak. JW

www.eastpak.com
www.denham.com
Fashion
Stone Island presents Ghost Pieces for FW 22/23
For the season of Fall/ Winter 2022/2023 Stone Island introduces monochromatic Ghost Pieces, based on the concept of camouflage. Even the Stone Island badge, significant to the Milan-based brand, was converted into a new monochromatic version to blend with the clothing items, embellishing the left sleeve. Field jackets, military smocks, overshirts, Bermuda shorts as well as trousers are fabricated in an organic and long-lasting cotton fabric, called O-VENTILE®. They are a great fit for every weather thanks to the special weaving of the fibers offering protection against wind and rain while remaining breathable. To further weatherproof the outwear pieces, thermo-taped seams are incorporated into the timeless designs. As it is a completely natural fabric developed in the U.K., it provides a comfortable feel as well as a high quality. Knits completing the collection are made of cashmere and adorned with military details while heavy cotton was used to create warm fleeces. The color palette of the collection ranges from black and dark gray to lighter gray and off-white, creating garments that are easy to combine, enhancing every outfit. JW

www.stoneisland.com
Fashion
Louis Vuitton and Mory Sacko unveil restaurant
Louis Vuitton ventures into the world of culinary as it joins forces with the Michelin-starred chef Mory Sacko. In June the renowned French Maison unveiled the "Mory Sacko at Louis Vuitton", a seasonal restaurant at the White 1921 Hotel in the heart of Saint-Tropez, taking Louis Vuitton's art of travel to the next level. Located at the central yet calm Place des Lices, Mory Sacko creates a unique and sophisticated gastronomic experience, distinguished by his travel-inspired menu. For the dishes he offers in the restaurant, Sacko fuses local foods with inspirations from all over the world, creating true explosions of flavor. An exemplary but comprehensive impression of the culinary skills of the young chef is given by the tapas on the dinner menu, ranging from vegetarian aubergine tacos to a selection of grilled amberjack to mango salad to much more.
For the design of the venue, Louis Vuitton and Mory Sacko worked closely together. An ethereal and artistic Moongate welcomes the guests into the restaurant, whose interior is defined by the materials of travertine, wood, rope, and ratan. Monogram flowers, significant to the Maison, can be found all over the restaurant as well as redesigned Objets Nomades. The surrounding creates a tranquil yet fresh atmosphere, maximized by the savoir-faire of the Maison and the culinary expertise of chef Mory Sacko. JW

www.louisvuitton.com
Fashion
Billie Eilish stars in Gucci Eyewear imagery
Singer-songwriter Billie Eilish makes her debut as the face of the new Gucci eyewear imagery, featuring designs of the second release of Gucci's 2022 eyewear collection. Known and loved for embracing authenticity and self-expression, Billie Eilish reflects the core values of the iconic Italian brand. Inspired by the film noir genre, the series follows the talented musician on a dreamlike car ride, which takes her and the viewer on a journey through a range of striking portraits echoing Billie Eilish's unique style. An intriguing plot attracts the viewer, who gets ready to unravel the mystery. The images are based on unbalanced compositions and use a rich color palette, as well as contrasted lighting effects, creating a suspenseful atmosphere. Portraying the cars as a symbolic extension of their driver in the imagery, they reflect their intentions, motivations, and personalities. The imagery as a whole is composed of retro allure and modern sophistication which recurs in the eyewear designs. In one of the images, Billie Eilish wears caravan sunglasses distinguished by black acetate and gold-toned Gucci script logos. Another one shows the American singer with an 80's-inspired cat eye design in pink, echoing the alluring and cinematic vibe of the images. JW

www.gucci.com
Fashion
The Dior B101 Sneakers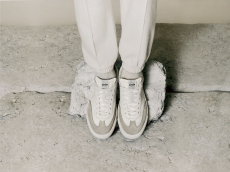 As part of Dior's Winter 2022-2023 men's show, the French Maison presents the B101 Sneakers. Defined by a contemporary design of fine lines, the sneaker combines premium materials of smooth calfskin and suede. Available in a range of luminous colors, from black to gray to cream white, the B101 Sneakers speak to the codes of the British fashion designer Kim Jones. The model comes in six different low-top variations, united as they respectively connect formality and serenity in one model. With great potential to become one of Dior's classics, the comfortable and elegant shoe goes well with both suit pants and jeans. In the fashion show, Dior combined them with oversized, patterned coats and straight pants, creating a modern and cool outfit from head to toe. Ensuring high-quality and a comfortable wearing sensation, the B101 Sneakers completed and enhanced the silhouette of the Dior Winter 2022-2023 collection.
As the art of detail is significant to the spirit of the French Maison, the CD Diamond Signature adorns the sole as well as the tongue and heel of the high-quality piece. Thus, it creates an ultimate urban look and true objects of desire. JW

www.dior.com
Fashion
LML Studio presents Sensible Ensemble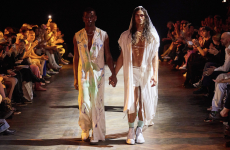 Known for his hand-painted and re-tailored garments, fashion designer and founder of LML Studio Lucas Meyer-Leclèrc showed his latest collection, titled Sensible Ensemble, during Mercedes-Benz Fashion Week Berlin in the old Telegraphenamt. The new collection revolved around the theme "remake, reuse, reassemble". Thus, Lucas Meyer-Leclèrc incorporated many reworked and repurposed vintage pieces into the collection, some of which derived from the 1930s. A significant part of Sensible Ensemble was composed of hand-knitted, crocheted, painted and embroidered pants and shorts as well as coats, tops and accessories. The designs and the fashion show, which was divided into three parts, were inspired by the beautiful feeling of togetherness as well as diversity and the freedom of love and life. A highlight of the runway show was the Berlin Ensemble, who performed an a cappella version of German icon Marlene Dietrich's and Peter Seegers' song "Tell me where the flowers are." Musician PZUDEMO also performed during the show and sang his song GRIND. He was dressed in retailored cotton gabardine trousers, a leather vest and a jacket, which was composed of several evening suits from the 1930s, both hand-painted. A hand crocheted tie completed the look. JW

www.MBFW.berlin
Fashion
SUSUMU AI at Berlin Fashion Week
On the occasion of Berlin Fashion Week SUSUMU AI has shown its new Spring Summer 2023 collection in the Samurai Museum Berlin. The garments of the Berlin-based fashion label were presented by professional Taiko performers. Taiko is a special drum style which originated in Japan and revolves around an exchange of energy: While the drum remains just a tool, the players themselves become the instrument.
Japan plays an important role within the brand as it sources its high-quality fabrics from the Eastasian country as well as draws huge inspiration from it. It therefore seems obvious that SUSUMU AI has chosen the Samurai Museum in Berlin as the event location since Samurai are deeply rooted in Japanese culture. Surrounded by collections of historical objects and multimedia installations, the brand set the stage to present its new collection of clothing. Founder and Art Director Alisa Menkhaus explains that traditional craftsmanship is the core of SUSUMU AI, which blends perfectly with the scenery of the Museum. After she and Keiho Menkhaus greeted the guests with a short introductory speech, the performance of the drum playing models began and Japanese culture was spread across the room, enchanting the audience. JW

www.susumuai.com
Fashion
Bobkova at Mercedes Benz Fashion Week Berlin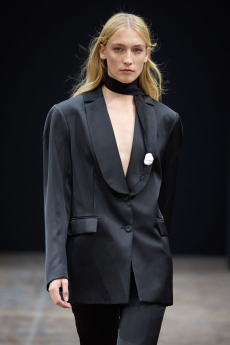 Bobkova presents its latest collection in the course of the Mercedes Benz Fashion Week Berlin in the old Berlin telegraph office. The collection is not only part of Berlin Fashion Week, but also of Ukrainian Fashion Week International. Since Ukraine is still suffering from the brutal war against Russia, the initiative "Support Ukrainian Fashion" has requested fashion weeks around the world to present Ukrainian fashion designers, so that they will not lose this season. Bobkova is characterized by its own interpretation of casual clothing. Founded by Ukrainian fashion designer Kristina Bobkova in the year of 2000, the brand creates timeless pieces for stylish yet practical women who love to travel. Distinguished by Japanese cut discipline, the garments stand for strength and femininity while also rethinking gender stereotypes. Paying attention to unusual finishes and technological fabrics, the new collection includes oversized suits and flowy dresses. The color palette ranges from black to soft and light shades of pink and yellow, dedicated to Kiev's floral symbol. A highlight of the collection are the bags, which were created in a collaboration with the sustainable bag brand Chris Bader from the south of Germany. Together, the two brands designed everyday bags with an austere silhouette, defined by a sophisticated look and the long-standing expertise of Chris Bader. JW

www.bobkova.com.ua
Fashion
Audemars Piguet opens new AP House in Munich
Across from the Bavarian State Opera in the heart of Munich, Audemars Piguet opens its new AP House. The concept presents an experiential and innovative approach to retailing. Four times bigger than the previous location in the Maximiliansstraße, the new space offers new and intimate possibilities to linger in its unique atmosphere, enhancing the shopping experience. The interior design was created by the architect Rafael Martinez, who combined oak parquet, concrete walls, and plastered surfaces to echo the brand's elegant spirit. More than a store, the AP House features a bar and seating areas of comfortable sofas as relaxing retreats. An absolute highlight is the back Steinway & Sons Spirio grand piano. Two more separate areas provide an intimate ambiance, as one of them is decorated with an open fireplace and a comfortable sofa, and the other one presents a chic cigar lounge. Beyond that, the outstanding creations of the Swiss Haute Horlogerie manufacturer are of course displayed in the spatialities, including a selection of the Royal Oak 50 Years Anniversary models. The House will furthermore display a changing exhibition of contemporary artwork in cooperation with local galleries and the Audemars Piguet Contemporary, the art program of the renowned horologist. Thus, the house in its entirety depicts an exclusive place of encounter for friends and customers of the brand. It represents the spirit of Audemars Piguet, composed in an exceptional space. JW

www.audemarspiguet.com
Fashion
The Sesia Happy Day bag by Loro Piana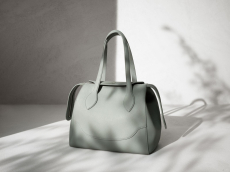 Loro Piana launched its new Sesia Happy Day within its Fall/ Winter collection 2022-2023. As a variation of the "Sesia" bag, the model is just as elaborate yet casual as the Loro Piana classic itself. Ranging from neutral colors to dark green, the bag comes in different styles and sizes of M, L, and XL, offering enough space for the tasks of everyday life. Especially outstanding is the new Sesia Happy Day Micro, which features the exact details of the M-model as it is in its compact construction especially geared to the safe keeping of any valuable items. The design appears functional and playful, defined by the curved line on the front and back, reminiscent of a smile to which the bag's name refers. In its materiality, the accessory corresponds to Loro Piana's high standards of quality and craftsmanship. For some of the models, the well-tried 'Supple Suede" gets reinterpreted, as it is inverted, thus creating a soft outside of velour leather and a smooth inside. Another version is made of "Tender Calf" which is characterized by the delicate, natural grain, suitable for everyday use. The shape, size, and material of the Sesia Happy Day make the bag a great companion for everyday life and an exceptional addition to every outfit. JW

www.loropiana.com
Fashion
Iris van Herpen and Aubade create a botanical seduction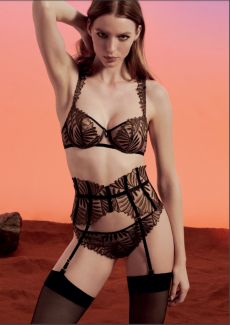 "Sensory Illusion" is the title of the collaboration between Parisian lingerie manufacturer Aubade and Dutch couturier Iris van Herpen. Inspired by nature, its fragility, and vibrant vitality, Iris van Herpen created undergarments with leaf embroidery and mystic ornaments, diving into a magical and botanical world. For the creation process of the pieces, the talented designer explored the archives of the French lingerie pioneer during which she came across Aubade's iconic and ethereal gradations. As a new interpretation, she constructed straight lines, contrasting with the organic, embroidered motives. A seductive see-through effect is created, which continues at the back of the bra in a refined embroidery. Available in the colors "Golden Leaves", a mix of bronze and black, and "Silk Rose", different shades of pink, the collection offers two different variants of sensuality.
The capsule includes ten pieces, three of which are different kinds of bras. Each of them has matching panties, which range from tanga to Italian slip to shorty made of Saint-Tropez-lace. A body, a nightgown, and a high-waist suspender belt complete "Sensory Illusion". Reminiscent of nature's diversity, a u-shaped, golden piece of jewelry distinguishes the triangle-bralette, the body, and the nightgown in between the cups. Bringing together two masters of their craft who value luxurious materials, the exclusive Capsule collection merges seduction and savoir-faire. The exceptional craftsmanship of Iris van Herpen and the decades of experience values of Aubade, result in an alluring and unique collection of high-quality lingerie. JW

www.aubade.com
www.irisvanherpen.com
Fashion
Sam Baron designs outdoor furniture for Dior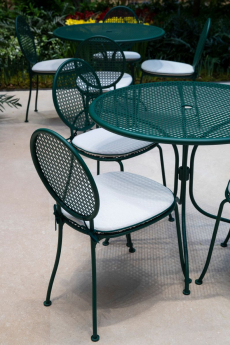 In collaboration with the French designer Sam Baron, the luxury Maison Dior expands its product range with a collection of exclusive outdoor furniture. The curated assortment includes a chair and an armchair as well as round and square tables made of green metal, fitting beautifully in any outdoor area. The design of the chairs completely adheres to the tradition of the house, as it uses both, the openwork cannage typical of Dior and the oval shape of its previous chair designs. Thus, it truly becomes a new icon of the renowned house. Manufactured in France, the ensemble of garden furniture evokes a true feeling of French art de vivre. Splendidly, the pieces of furniture are staged in the well-known Pâtisserie Dior at 30 Avenue Montaigne in Paris and in Dior cafés all around the world, where they unfold their full effect of atmospheric savoir-vivre.
Sam Beron's designs are true objects of desire, fully living up to Dior's standards of excellence and elegance. In their classic and elegant appearance, they bring France to the terraces and gardens of this world. JW

www.dior.com
Fashion
Jewelry by Louis Vuitton - Empreinte Collection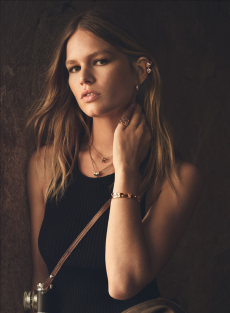 The 2004 Empreinte collection shines in new splendor as Francesca Amfitheatrof, Artistic Director of Jewelry and Watches for Louis Vuitton, presents its unmistakable designs in a refreshing and bold way.

The collection includes 18-karat yellow, white and pink gold pieces adorned by the distinctive LV initials and Monogram Flowers. The Monogram flower appears in particular on a medallion which resembles a modern talisman as well as on the cords of bracelets. While Empreinte portrays strength and adventure, the interlaced bracelets give a warm feeling by symbolizing loving relationships. They also refer to an iconic piece of the company's history as they are inspired by the leather strap that fastens the Louis Vuitton luggage. A long necklace that can be worn stacked or as a bracelet gives the collection an individual touch. Hoop earrings and diamond-studded ear cuffs complete the clear and contemporary ensemble.
With Empreinte Louis Vuitton and Francesca Amfitheatrof represent the "Art of Travel" in the tradition of the company. While remaining true to Louis Vuitton's values, history, and quality standards the designer did not miss to meet modern requirements concerning the design and also the production of the collection. The company attaches great value to producing its goods in an ethical way and is therefore certified by the Responsible Jewelry Council since 2012. JW

www.louisvuitton.com
Fashion
Comme des Garçons x Air Max Sunder
Comme des Garçons has undoubtedly become a household name within the luxury fashion industry. The Japanese brand, under the creative lead of Rei Kawakubo, has continuously evolved, establishing a visual identity which is unrecognizably Comme des Garçons. Throughout the year, the Japanese brand has also worked together with Nike to create a series of collaborative sneakers. Now, they are pleased to announce the newest collaboration, the Comme des Garçons x Air Max Sunder, which first debuted in Tokyo during the Comme des Garçons Homme Plus SS22 show. The original model was first introduced in the late 90s and has remained unchanged ever since. Comme des Garçons is the first to update the design since its inception. The exterior shroud is customized by featuring premium neoprene and nubuck. Available in three colourways, the new and modern redesign is simplified, yet maintains the original fit of the sneaker with its unique combination of zipper and lace-up.

The Comme des Garçons x Air Max Sunder will be available at all the CDG and Dover Street Market stores globally, as well as the DSM E-Shops.

www.comme-des-garcons.com
www.nike.com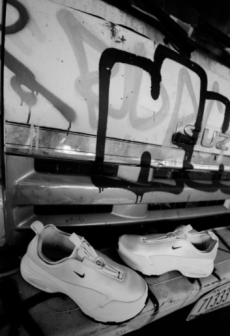 Fashion
Alexander McQueen Sprint Runner
Regardless of one's age, sneakers have become an intricate part of all of our wardrobes. From fast fashion retailers to luxury houses, everybody has recognized its popularity and has included a selection of sneakers in their selection. Formerly considered as footwear suitable only for casual dressing or athletic activities, the sneaker has now overcome this limitation and can be worn at ease with either casual or formal attire. Nothing might exemplify this development more than the new Alexander McQueen film, directed by award-winning director and visual artist Sophie Muller. The focal point of this film is the Sprint Runner sneakers work by singer, songwriter and renowned dancer, Mettenarrative. The Sprint Runner is a modern and streamlined variation of a classic running sneaker. First unveiled to the world at the women's SS23 show, the shoes with their sleek design prove to be versatile and suitable for any situation. Sophie Muller's film finds its inspiration in Mette's fiercely beautiful physicality and is an ode to the ultimate expression of empowerment through clothing. The dresses Mettenarrative is wearing, corset dresses with oversized hook-and-eye detailing and asymmetrical dresses, which beautifully accentuate the body and its movements are matched with the Sprint Runner in classic white, the perfect shoe granting ultimate freedom of movement.

www.alexandermcqueen.com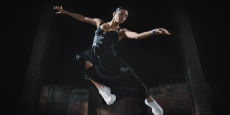 Fashion
Givenchy opens its first NYC downtown boutique in SoHo
The House of Givenchy has announced the opening of its Soho Store, the first downtown location for the brand, opening in the heart of Soho. Only the sixth store in the Americas, this opening signals the importance of the US market for the French House. As Givenchy CEO Renaud de Lequen puts it: 'A key destination for luxury, SoHo's vibrant retail neighborhood will give us the opportunity to serve our ever-growing client base. This opening represents a new chapter for Givenchy as we continue to scale our business in the United States and internationally.' The store itself will be the first US location to feature the brand's latest retail concept, defined by its design leveraging contrasting tones and materials, industrial and natural, matte and rough as well as sharp and soft. Stretching over two floors, the boutique will offer the full breadth of Givenchy's Women's and Men's Ready-to-Wear collections as well as all the accessory collections. Additionally, it will debut exclusive capsule collections and a special made-to-order programme. Another visual highlight of the store, with its interior of a stone-gray palette, will be the sculptures exclusively conceived in collaboration with British artists Ewan McFarlane. Positioned as freestanding artworks throughout the store, these mannequins will surprise the visitors with their unusual poses and positions. This new conceptual approach to retail underlines the brand's ongoing desire to merge the storytelling between art and fashion.

The Givenchy Soho Store is located at 94 Greene Street in New York City.

www.givenchy.com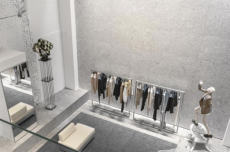 Fashion
Valentino: The Beginning
Since its foundations, Maison Valentino has rejected the idea that beauty stems from aesthetic impositions, that to achieve beauty one has to follow a set of rigid canons or fixed rules. The Italian Maison has always upheld one of its guiding principles and beliefs, beauty is a manner. The new Couture collection depicts Creative Director Pierpaolo Piccioli's idea of beauty, which now puts what was once peripheral into the centre, hence broadening the spectrum of beauty. Everything has changed, yet at the same time, some things never will. Everything starts where everything has always begun, in Rome, in the Valentino Ateliers where the skilful hands of incredible craftspeople bring creations and inventions to life, leaving an imprint of their character on the cloth through manual work. Their manner hasn't changed and neither has the atelier's address. The collection itself is the materialization of a dialogue, an ideal conversation between Pierpaolo Piccioli and the house's lexicon. Now at the helm of Valentino for 23 years, Piccioli describes the collection as deeply personal, the closing of a circle, a more conscious way to consider the history of Valentino. On a more personal level, it is also, in Piccioli's own words, an investigation to 'understand how much of myself is in today's Valentino, and how much of Valentino there is in my identity.' The collection was defined by its supreme sophistication, bringing some of Valentino Garavani's favourite themes, such as the black and white or the famous Fiesta dress, into the modern age through Piccioli's interpretation and sense of time.

www.valentino.com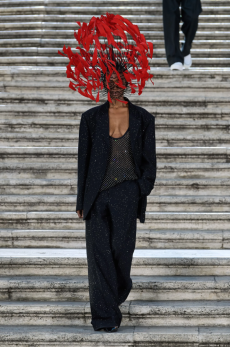 Fashion
TOMBOGO x Saucony Butterfly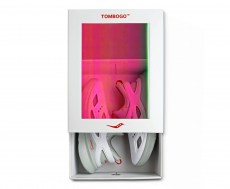 Saucony belongs to those brands that have a long heritage attached to it. Despite all the tradition and history, the brand has long recognized that one can not solely rest on its laurels, but there is a constant need for novelty and innovation in order to ensure continued success. As part of this year's Paris Men's Week, Saucony unveiled its collaboration with TOMBOGO, combining the creative forces and impulses of both brands in order to create a brand new silhouette, the Butterfly. This shoe strikes the perfect balance of the three elements which define both brands, functionality, form and performance. The shoe was unveiled in the House of Originals, where friends of the brand were able to get a sneak peek of the collaboration between Saucony's performance know-how and TOMBOGO's innovative design language, expressed through the modular nature of the shoe, and interchangeable color system, allowing every wearer to make the shoe their own.

The TOMBOGO x Saucony Butterfly will become available in selected markets over the course of the year.

www.saucony.com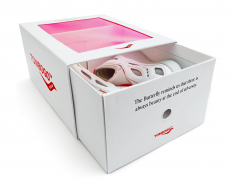 Fashion
Paul Smith Reinterprets Traditional Menswear Codes for SS23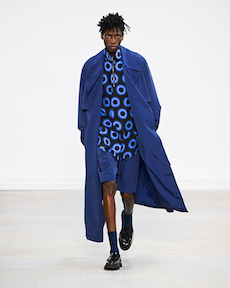 For its SS23 men's presentation in Paris, Paul Smith revisits the '80s art scene to offer a redefined take on classic menswear silhouettes. Silhouettes throughout the collection reinterpret the norms of formal menswear and translate them into a casual spirit in multiple combinations, including a waistcoat-inspired vest, oversized shorts, belted jacket, and car coat. Traditional shirting stripes are subverted, mixed and matched, and used across sportswear and technical styles. These include an oversized pullover windbreaker, work jacket, collarless shirt, and knitted vests. Paired with these pieces, are footwear that reinforces the contrast between traditional elegance and sporty modernity, with high-shine cut-out leather loafers set atop a lightweight sole and classic crossover sandals on hiking-inspired commando soles. Prints throughout refer to '80s artistic techniques and media. Within the collection is a "Hot Summer" floral, seen across shirting and outerwear, and the "Glow Polka" print, taking its cue from contemporary light installations and features across shirting and neon knitwear. Another key theme is the painterly finish in the "Untitled" stripe print, created using an innovative combination of hand-painting, spray-painting, and screen-printing. Also highlighted, is the interplay of texture and print. Innovative techniques are employed to showcase patterns that emphasize the contrast between formal and casual, blending traditional shirting poplin and worsted suiting materials with lightweight silks and technical nylons. Presented in Paris at a former post office, an industrial backdrop reinforces the collection's artistic inspiration. This, in hand with an eclectic mix curated by renowned British DJ Gilles Peterson, reflects the season's vibrancy and the '80s club scene. GH

www.paulsmith.com
Fashion
Dries Van Noten SS23 Menswear Collection: Unusual Elegance.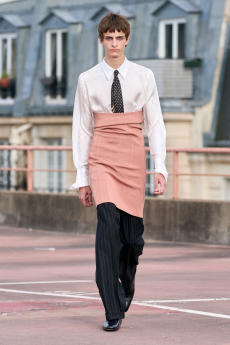 The Dries Van Noten SS23 Menswear Collection is a mix of contrasts. A sense of loucheness and sensuality is combined with the classic structure of sartorialism. Two worlds collide: on one side, refined, precious, and intimate aesthetic, while on the other, hard and robust outer layers act as armor. The collection is inspired by the Zazou subculture of Paris during WWII when the youth used to take refuge in the Pam Pam Cafe, dancing their troubles away to swing jazz. The garments presented during the Paris Fashion Week also referred to the Buffalo-style movement that mixed masculine and feminine elements with joyous revelry. On the runway, we can admire silk vests with spaghetti straps worn with pleated trousers, as well as silk smoking shirts paired with unstructured striped pajama pants, all garments that convey a new sense of intimacy emphasizing men's lingerie. To follow, sequined embroidery on cycling shorts shows a glorious preciousness alongside technicality, while Western-style shirting, boots, and shoes give masculine cowboy vibes. Lastly, couture expressions are balanced with suiting; the huge plume on a rolled shoulder, the dramatic shape on a parka, and flowing patchwork shirt capes. VB

www.driesvannoten.com
Fashion
La Martina SS23 Collection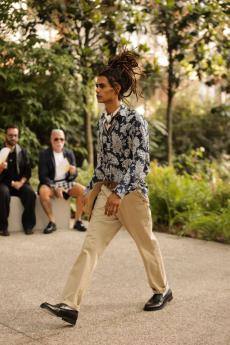 Held at Garden Senato, a classy, unconventional, and unique location, the La Martina SS23 show stands for creativity, multiculturalism, and integration. The brand has unveiled a new collection inspired by a journey that follows the polo players from Argentina to London to attend tournaments and social events. But like everyone, also La Martina's polo players deserve a holiday. The SS23 Collection is structured around 4 four macro themes: Argentina, England, Holiday, and Essential. From sporty to casual, from streetwear to a more elegant cut, the new garments are made for any adventure, especially during summer vacations. Then, as a fil rouge to connect the many looks are, as always, colors and materials such as nylon, linen, and jersey. La Martina fashion show was presented during the Milan Fashion Week in the shape of a big live event followed by an exclusive party with a DJ set by Graziano della Nebbia, a well-known name on the Milanese music scene. To attend the event were prominent personalities such as Italian and international journalists, K.O.L., VIPs, ambassadors, and friends of the brand. VB

www.lamartina.com
Fashion
Born in Oasi Zegna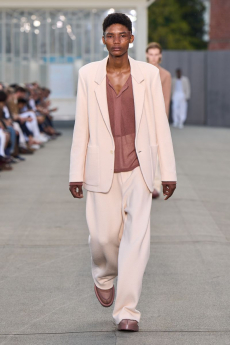 Innovation is paramount for Zegna and starts from the Oasi. Created by Ermenegildo Zegna, Oasi Zegna is an ecosystem born long before this word was even known. It is not only a unique model of societal and environmental consciousness but also a set of principles that foster consistency and promote harmony. From here starts the journey made by Artistic Director Alessandro Sartori while designing the SS23 Menswear Collection. Going back to the roots and keeping in mind two of Zegna's hallmarks - craftsmanship and tailoring - the brand has presented a new series of garments that feature new shapes and textures, giving life to a new language. The idea was to keep the finesse, the attention to detail, and the respect for materials while experimenting with lighter silhouettes and fabrics, as well as finishes with different technicalities, to create a new style for men. The result is a collection that brings the lightness and the freedom of the Oasi Zegna as an environment into the city: kimono-cut jackets, impalpable coats, shirts, and tops, are characterized by loose and unstructured shapes, Bermuda shorts further free movement, while tailored blazers are freed from the necessity of having a collar. Also, materials and colors evoke this feeling of extreme lightness. Throughout the collection, engineered knitwear, technical silk, meshes, rubberized nylons, wools, terry, rubberized leather, and lacquered nappa were combined with a color palette that ranges from earthy tones, powder white, and dusty rose to charcoal, sulfur, and black. VB

www.zegna.com
Fashion
Prada Choices
Fashion can be defined as a manner, a way of dressing, or a method of presenting oneself. Based on this reflection, Miuccia Prada and Raf Simons have created a new collection titled "Prada Choices," an invitation to rethink what style is. The Prada SS23 Menswear Collection plays on the juxtaposition of many elements. Garments are here combined in an unusual way generating a different impact and identity according to the dialogue of each piece with the others. The designers have combined the brand's sophisticated aesthetic with Raf Simons' youthful aura. Suits, overcoats, sweaters, shirts, denim, and leather are among Prada classics. Despite their simplicity, the silhouettes of these pieces have been reinterpreted through context. Leather shorts are coupled with patterned cotton shirts, and knee-length four-button coats come in leather, gingham, and off-white. Simplicity is the reading key but what makes this collection iconic is the mix of rawness and sophistication, classicism and spontaneity. It is the choice of pairing colors, fabrics, patterns, and shapes to elevate the whole show. VB

www.prada.com
Fashion
CD 1947 Capsule Collection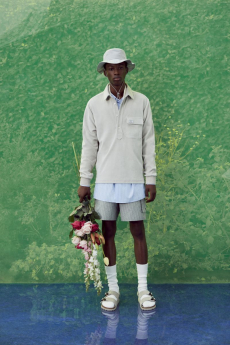 Dior has unveiled the CD 1947 Capsule Collection, a dialogue between Kim Jones and the legacy of Christian Dior. The line features a new "Christian Dior" signature connected with "1947," the year of the first Dior défilé. It presents some iconic classics of the Maison as the Dior Saddle Bag in typical Dior Grey grained leather, introducing, at the same time, a great novelty: an exclusive collaboration with Birkenstock. Dior's Creative Director has chosen to reinterpret two signature silhouettes of the German shoe manufacturer, the Tokio Mule and Milano Sandal, taking inspiration from Christian Dior's love of gardening. Celebrating this influence, the two silhouettes mix functionality, and elegance in tribute to the couturier. The mule and sandal also arrive in a variety of finishes, including black nubuck calfskin, grey felted wool, and, for the Tokio Mule, a "Greige" nubuck calfskin. The CD 1947 Capsule Collection is available on Dior's website. VB

www.dior.com
Fashion
adidas x Gucci Pop-Ups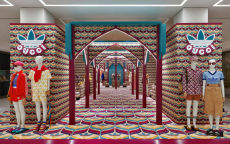 Gucci has announced the arrival of a brand new series of Gucci Pop-Ups, with the initiative of connecting and engaging with clients across the world and their surrounding communities. The pop-ups will showcase a variety of products in an immersive, dedicated environment which reflects Gucci's unconventional approach to luxury fashion. Another exciting factor is the pop-up debuts in Alsterhaus in Hamburg. adidas x Gucci merges the emblems of each house to create iconic tailored streetwear creations. Expanding from the initial adidas x Gucci lookbook, the collection involves a spectrum of sport-inspired pieces, distinguished by the same retro aesthetics of the show. With the heritage of both brands encoded in a trio of lines, a fixation of stripes plays out across ready-to-wear and accessories including Gucci's own take on the famous adidas Gazelle sneaker. The kaleidoscope aesthetics of the collection are reflected in the creativity of the Pop-Ups dedicated to it. The space is defined by a perimeter of illuminated pointed arches complemented with vintage-inspired furniture. Elements featured are coated in the energetic retro print taken from the collection, combining the GG monogram with the sportswear brand Trefoil, amplifying the two legacies. GH

www.gucci.com
Fashion
Hortus Deliciarum: The New Gucci High Jewelry Collection
Creative Director Alessandro Michele has unveiled the third act of Hortus Deliciarum, the Gucci High Jewelry collection. A fantastical journey more than just a simple collection, it presents unique pieces that seem suspended in time and space. Inspired by an imaginary Grand Tour, the jewelry reflects an ethical and aesthetic value by bringing together different cultures and restoring the splendor of rarities existing side by side. Alessandro Michele himself becomes the traveler of this voyage, telling us a story through the new Gucci creation, a story that is divided into five chapters. The first theme develops the idea of the Grand Tour, a journey of indefinite duration undertaken by European nobles and intellectuals from the eighteenth century onwards. Rome was the ultimate destination and so the starting point of this third Gucci High Jewelry collection. Necklaces, bracelets, earrings, brooches, and gold pendants featuring red and pink spinel, blue topaz, and colored diamonds evoke the historicity of the typical Roman landscapes. From the Eternal City, the journey continues in the India of the Maharajah between the magnificence of the royal palaces and the lush nature of the gardens. Red is the color that characterizes this chapter: rubellite, imperial topaz, yellow beryl, tourmaline, and garnet adorn the jewels embodying the hypnotic quality of twilight. The third theme pays homage to the mythological origins and symbolism of the pearl, a gem born from the foam of the sea and solidified on Aphrodite's skin. Alessandro Michele's travel diary dedicated the last pages to the New World when Modernism abounded and skyscrapers soared into the sky. These necklaces and bracelets come in geometric shapes in chains with asymmetrical, flexible modules. To complete the collection are pieces in psychedelic colors evoking the pop culture, free self-expression, and the desire to discover foreign worlds typical of the 1970s. VB

www.gucci.com
Fashion
Paul Smith x Mini – Recharged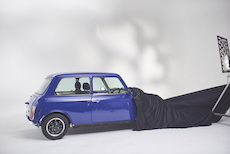 Paul Smith and Mini have once again joined forces to convert a classic Mini from the 1998 MINI Paul Smith Edition and install an electric engine in a project that marries heritage and tradition with innovation and modernity. The vibrant blue body was first exhibited at Salone Del Mobile, Milan's premier design festival, the blue reflects a swatch taken from one of Paul's favorite shirts. The lime green accents and battery box reflect the 1990s color sensibilities. The car has been restored and redesigned, branded as MINI RECHARGED, and engineered by a specialist team at "Recharge Heritage Limited", who are responsible for implementing the MINI RECHARGED project. When discussing the recharge, Paul Smith has said: "Three things describe this car perfectly: quality, sustainability, and functionality […] we have made a 1990s car totally relevant for today". The project follows the success of last year's MINI STRIP, a radically reduced sustainable concept car that "stripped away" extraneous design details and pushed the limits of automotive design. Both models will be exhibited at Paul Smith's showroom, which has been redesigned to mirror the aesthetic of MINI RECHARGED as part of Salone Del Mobile. GH

www.paulsmith.com
www.mini.com
Fashion
Louis Vuitton Unveils Colorful Lineup on Monogram Macassar and Taurillon Monogram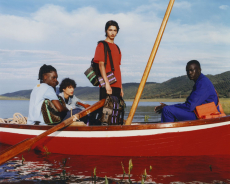 Louis Vuitton has introduced a fresh and cool lineup on Monogram Macassar and Taurillon Monogram for Summer 2022. To pay homage to Virgil Abloh, the French Maison designed a leather goods collection featuring a distinctive seasonal color palette of orange, purple, and mint green that evokes the late Creative Director's rainbow and energizing universe. The new accessories are practical and colorful, all crafted in LV Taurillon Monogram leather. The briefcase is a sophisticated yet spacious item able to contain tech and essential documents thanks to a padded laptop sleeve and pockets. Its closure features the iconic Virgil Abloh-designed S-Lock Signature, while a top handle and a wide woven shoulder strap make it functional and comfortable. The new wearable wallet is roomy, with a vertical silhouette, and characterized by a flap with a magnetic finishing inspired by Louis Vuitton's original, unbreakable lock from 1886. Then, two other unique Louis Vuitton cult favorites have been redesigned: the Keepall 25 in a city bag size and the Christopher backpack in a smaller version. To complete the collection are the Monogram Macassar canvas bags in the same seasonal colors embellished with signature matte black metallic finishes. VB

www.louisvuitton.com
Fashion
Louis Vuitton Unveils a Restaurant With Michelin-starred Chef Mory Sacko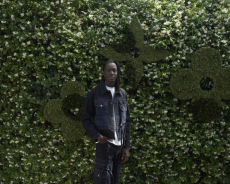 In the city of Saint-Tropez, the first Louis Vuitton restaurant has opened its doors, led by Michelin-starred chef Mory Sacko. Head of the restaurant MoSuke in Paris, Mory Sacko is one of the new stars of French cuisine. For Louis Vuitton, he created a unique experience, a modern restaurant that combines the art of Travel, dear to the brand, and the savoir-faire of the French Riviera. The menu offers a mix of flavors: African and Japanese influences meet the local cuisine, taking the guests on a culinary journey to faraway places. For lunch, the chef proposes a creative take on Ekiben presented on a custom-made wooden tray adorned with flowers and foliage. For dinner, vegetarian aubergine tacos, a selection of grilled amberjack, crayfish, and prime rib, served with fennel and a mango salad, are presented in ceramic dishes. It is a plant-based cuisine that blends authenticity with simplicity. Located inside the White 1921 Hotel on the iconic Place des Lices, the Louis Vuitton restaurant is an oasis of calm. The decor features travertine, wood, rope, and rattan adorned with the Monogram flowers and specially redesigned Objets Nomades. The architecture, designed by Mory Sacko, recalls a holiday on the Mediterranean coast surrounded by tranquillity, fresh air, and light. The Louis Vuitton restaurant is the next summer destination. VB

www.louisvuitton.com
Fashion
Louis Vuitton x NBA New Collection
Louis Vuitton and the National Basketball Association (NBA) are back with a new collaboration inspired by travel. This year's edition continues to celebrate the values of basketball, a legendary sport that emanates uplifting energy, so much appreciated by Virgil Abloh and reflected in all the pieces he created for the Maison. Dedicated to luggage, the new Louis Vuitton x NBA Collection features The Christopher backpack, iconic Keepall 55, Dopp Kit, and Pocket Organize, together with two exceptional pieces: a case that can store eight watches and the signature Malle Courrier. Every piece presents different exclusive motifs as an oversized LV signature in the shape of a basketball that boasts the NBA logo colors, a basketball net combined with gold chains and metal details, and the iconic NBA colors. These unique items, made of Monogram-embossed electric blue Taurillon leather, represent the perfect mix of Louis Vuitton and NBA's aesthetic codes and spirits. In addition, the French House, which invented the "Art of Travel," has created an exceptional new Official Travel Trunk for the NBA's Larry O'Brien Trophy, the pinnacle of basketball achievement. The new trunk is a reinterpretation of the original model that the Maison has been producing for over 160 years. This version features an exterior covered in emblematic Monogram canvas with heavyweight brass closures and fittings and an interior lined with soft microfibre and sporting the NBA's 75th Anniversary logo. VB

www.louisvuitton.com
Fashion
Paul Smith Presents a Cinematic AW22 Men's Collection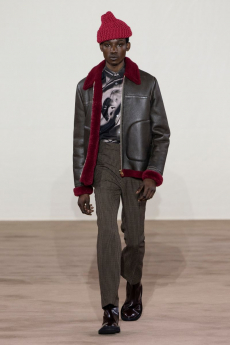 Inspired by the world of arthouse cinema, Paul Smith has presented the AW22 Menswear Collection, a combination of otherworldly photo prints, lavish textures, and a cinematic palette. The new collection is a one-of-a-kind revival of the distinctively visual techniques of film's greatest auteurs, from the 1930s monochromatic films to the 1960s and the emergence of technicolor. Padded down jackets, checked duffle coats, cropped bombers, as well as jumpers, and shirts are adorned with psychedelic Zig Zag prints, Shadow Floral prints, and other bold graphic elements in an homage to avant-garde directors such as David Lynch and Wong Kar-wai. Instead, photo prints, a long-time signature of Paul Smith, resemble vintage movie posters and old cinema interiors, while the heady Starlet print is a reference to the studio headshots of silver screen stars. In terms of fabrics, the collection offers a wide range of materials: from tweeds and wool for both tailoring and sportswear to matte satin, rich shearling, mohair, and jewel-toned leather to portray Hollywood Golden Age and a return to dressing up. Surrealism and opulence are mixed, giving life to a unique fashion show held at the spectacular Île-de-France Regional Chamber of Commerce and Industry headquarters in Paris. VB

www.paulsmith.com
Fashion
Tommy Hilfiger x NBA: The Essence of Basketball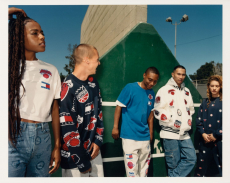 Tommy Hilfiger, one of the world's most recognized premium lifestyle brands, has unveiled a new project in collaboration with the NBA. Symbol of the American style, since the 1990s, Tommy Hilfiger has been associated with basketball and street culture, capturing the attention of A-list celebrities and influencers, many of whom had ties to the NBA and sports community. Since then, the sport has always remained a key component of Hilfiger's brand vision. Today, to celebrate its roots and streetwear fashion, the American brand has launched the new TOMMY JEANS capsule collection by partnering with the National Basketball Association. Inspired by the energy at the heart of basketball, a sport that helped to shape local street culture and diverse communities, the new collection features hoodies, sweatpants, t-shirts, denim pants, and shorts combined with NBA team logos. These garments represent streetwear fashion at its finest. The TOMMY JEANS and NBA capsule collection is available on Tommy Hilfiger's website and at TOMMY JEANS stores across Europe, North America, Latin America, and select stores in Asia. VB

www.tommyhilfiger.com
Fashion
"Victory travels in Louis Vuitton"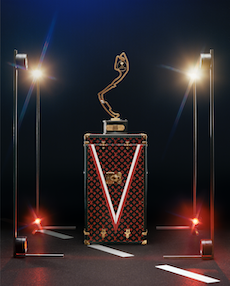 For the second time, the unprecedented Trophy Travel Case for the Formula 1 Grand Prix de Monaco is being presented by Louis Vuitton and the Automobile Club de Monaco. The bespoke case in the colors of the Principality is a celebration of both exceptional French savoir-faire and passion for a legendary sporting event. The Trophy Travel Case epitomizes the Maison's and Automobile Club's shared values of tradition, transmission, and excellence. Hand-crafted in Louis Vuitton's historic Asnières workshop, the trunk showcases the brand's savoir-faire with its one-of-a-kind red Monogram pattern on a tarmac-black background, drawing inspiration from the heritage of the Formula 1 Grand Prix de Monaco. The Monogram canvas is adorned with the red shade of the Monaco flag, while the red lines, tracing "V" for "Victory", are rimmed with a white strip, reminiscent of the unique urban route of the track, and the colors of the Monaco flag. Inside its Louis Vuitton case, the trophy is the perfect replica of the 3,337 km circuit with its famous 19 bends, where overtaking is close to impossible. GH

www.louisvuitton.com
www.acm.mc
Christian Louboutin presents L'Exhibition Chapter II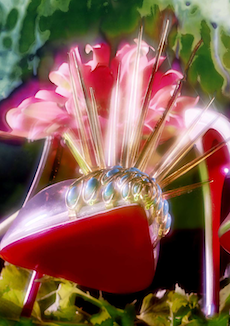 Christian Louboutin, L'Exhibition[niste] is returning in a new form this summer and will be presented by the Grimaldi Forum Monaco from July 9th to August 28th 2022. Chapter II will be devoted to the work and imagination of Christian Louboutin, the shoe designer and key figure in the world of fashion who has drawn much inspiration from the Principality. Redesigned by Oliver Gabet, and showcased across a spectacular 2000 square meter set, the exhibition will unveil previously unsees pieces related to the designer's Monegasque inspirations, as well as new collaborations. The "Musée Imaginaire" will be in a 300 square meter room, where objects from Christian Louboutin's personal collection will be displayed in conjunction with heritage and artistic works from public and private collections of Monaco's museums. It will explore themes in the designer's work such as his love of dance and the legacy of the Ballets Russes, his passion for African art and Asia, the pop influence of Warhol, and his fascination with oceanography. Far from a traditional retrospective, the exhibition has been designed as a joyful odyssey across three decades of overflowing creativity. Indeed, it is imbued with a curiosity for all arts and cultures. GH

www.christianlouboutin.com
www.grimaldiforum.com
Fashion
Bolia: Neutra Modular Storage System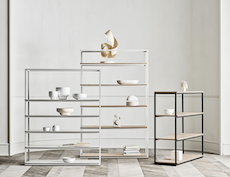 Neutra is a flexible, minimalist shelving solution named after Richard Neutra's functional architecture. Designed in robust, modular combinations, Neutra allows the user to create a piece of furniture that precisely meets its wishes and needs while fitting perfectly into the interior. The storage system blends into a private or professional setting with elegance, letting the displayed items take center stage. The storage system does not take light away from beautiful vases, books, and works of art that can be displayed, and fades away thanks to its minimalist lines of great finesse. Neutra is available in a wide variety of modules, sizes, and materials to bring a personalized touch to any space. Its boards are made of white pigmented oak, or gray lacquered MDF. Its support is available in black or gray lacquered steel. The lightness and sensuality refer to Scandinavian nature and its spring season is synonymous with blossoming. Neutra creates a calm and optimistic atmosphere with its durable and environmentally friendly materials and soft colors that reflect the changing seasons. GH

www.bolia.com
Fashion
Balenciaga Spring 23 Fashion Show
Taking place in New York, on the trading floor of the New York Stock Exchange, Balenciaga's Fashion Show unlocks a new chapter in the brand's history by presenting a collection that is a mix of ready-to-wear, eveningwear, and Balenciaga x adidas. The models walked down the runway covered in black fetish bodysuits as obscure identities. Over this latex layer, they wore Demna Gvasalia's creations which spanned from suiting, separates, and outerwear featuring bold silhouettes and precise tailoring with minimalist construction techniques. The collection also presented extra-formal clothing such as bodycon gowns, reconstructed tuxedos, floor-length silk trenches with trains, and the collaboration between Balenciaga and adidas. This line included a wide range of products from garments, shoes, and bags to jewelry and accessories embroidered with the adidas' trefoil motif and Balenciaga logo reinterpreting Balenciaga's creative language. In addition, the Spring 23 Collection includes the oversized, padded XL Pump, thick steroid boots, and the Stage Shoe featuring a heel-less sock pump on a flat platform connected only to its toe. VB

www.balenciaga.com
Fashion
Dior Maison Presents The Aquarius Collection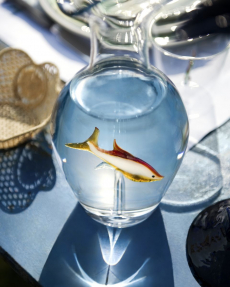 Approaching the summer season, Dior Maison has unveiled a new tableware collection dedicated to the fascinating underwater world. Sea creatures of all colors and shapes are hand-embroidered on white linen napkins and painted as frescos on ceramic plates. A golden fish, made of glass, seems to float inside a carafe, while a bigger specimen in luminous shades of blue and green serves as a centerpiece. The Aquarius Collection, as the previous one realized by Pierre Yovanovitch and inspired by places dear to Christian Dior in the south of France, celebrates a special site loved by him. Designed by Art Director Cordelia de Castellane, the new pieces are a poetic reference to the river that flows past the mill at Monsieur Dior's country home in Milly-la-Forêt. A haven of peace where Christian Dior found refuge, far from the hustle and bustle of Paris. VB

www.dior.com
Fashion
BEAUDE STUDIO for CDLP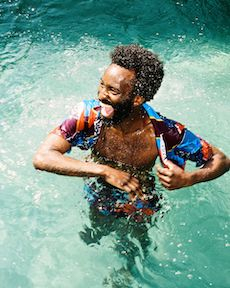 BEAUDE STUDIO launched today for CDLP, a Paris-based floral print, and design studio, to design custom prints for SS22 Pool and Swim collection. This capsule launched exclusively at Boys Don't Cry, Paris – an interdisciplinary space specializing in men's style, design, books, and art. The collection is made up of vintage scarves, mosaics, and architectural details from the brand's Stockholm atelier, in vivid tones fitting to the season as well as abstract insertion and overlapping, creating the prints La Fleur, La Fête, and Le Tigre. Describing the project as organic, exploratory, spontaneous, and led by collaborative intuition, Ashley Boer's vision easily merged with CDLP design director and friend Ingrid Guttorsmen. BEAUDE STUDIO works with select clients to create prints and floral installations for galleries, showrooms, boutiques, and events, each design and composition is created to translate an expression within the dynamic of the studio. CDLP is a design house of luxury essentials within the categories of underwear, t-shirts, socks, swim, home, and sports. The brand's design philosophy is driven by purpose and effortless style, with a focus on innovation and responsibility. GH

www.beaudestudio.com
www.bdc-paris.com
www.cdlp.com
Fashion
Hublot Big Bang Tourbillon Samuel Ross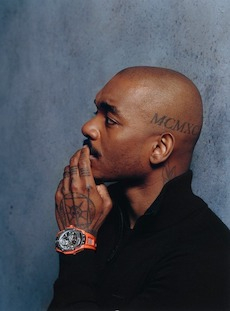 Creative Director Samuel Ross became an ambassador for Hublot in 2020, after being awarded the Hublot Design prize in 2019 with his REFORM sculpture. This was a creation of Ross' own fusion, by merging past and present, combining granite with steel in a production process that incorporated both handwork and state-of-the-art machining. This year, Hublot is incorporating Samuel Ross' unique graphic language into watchmaking. Here, Ross' signature color scheme and penchant for strict geometry and urban design combined with the innovation and precision that govern the work of both Ross and Hublot. The distinctive, stylized hexagon of the Big Bang case is reflected in the honeycomb titanium meshwork of the sapphire dial, case, case back, and bracelet. This robust and efficient shape, repeatable without gaps or overlaps, has become the standard for modern construction and design thanks to each element's seamless fit. Only 50 examples of this piece will be made – each a work of art that brings a new perspective and imagination to watchmaking. Celebrating this launch, Ross' signature colors will grace Hublot boutique on 5th Avenue in New York City. GH

www.hublot.com
Fashion
BE YOUR CHANGE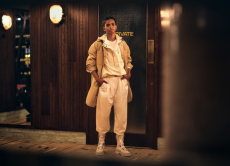 Brunello Cucinelli started the #BeYourChange project in order to use its voice to touch on important issues such as hope, courage and the future. By joining forces with various personalities, the house's message of trust and reflection for the new generations on how change always starts with people, is echoed. For the fifth series of the project, Brunello Cucinelli teams up with Ramla Ali, the first female boxer representing Somalia at the Tokyo Olympics. Her path to success was not predestined, on the contrary Ali had to overcome multiple obstacles, such as fleeing the ongoing civil conflict in her home country. In this edition, Ali talks about her personal story and how boxing has helped her to find a voice, to grow as a person and to stand up to prejudice, fear and insecurity. A successful athlete and activist, Ali now shares the empowering lessons she took from boxing with other women. In 2018, she founded the Ramla Ali Sisters Club, a weekly, free boxing session for women in London aiming to provide a safe space without discrimination. Through the #BeYourChange project, Ramla Ali uses her voice inviting everybody who wants to listen to pursue your dreams with courage. FM

www.brunellocucinelli.com
Fashion
Applications open for Cartier Women's Initiative 2023
Cartier is once again seeking to drive change by empowering women impact entrepreneurs through its Women's Initiative program. This provides female changemakers with financial, social, and human capital support to grow their business and build their leadership skills. Launched in 2006, Cartier Women's Initiative has supported 262 female entrepreneurs to support their businesses that are all driven to solve the most pressing global challenges. Since its 15th anniversary on International Women's Day, the program has been looking for ways to extend opportunities to more entrepreneurs around the world and ensure the program evolves alongside new developments in its global ecosystem. Because of this, for its 2023 edition, the program is expanding with the creation of new Regional and Thematic Awards. The Regional Awards will be expanded to two new regional categories: Francophone Sub-Saharan Africa and Oceania. This is to increase the impact of the program and refine its support to different regions. Three fellows will be selected from each of the nine regions. In addition to the Science and Technology Pioneer award launched in 2021, a Diversity, Equity, and Inclusion Award will be created to encourage entrepreneurial solutions designed to close gaps in access, outcome, or opportunities that have been underrepresented or unserved. Based on being around inclusivity, this pilot award is open to all genders, three fellows will be selected for each of these two thematic awards. Impact entrepreneurs across the globe can apply from May 16th, 2022, until June 30th, 2022 for these awards. The top three applicants for each award will be announced in April 2023, and the awardees will be selected by the jury during the Cartier Women's Initiative awards ceremony in May 2023. The first-place awardee will take home $100,000 in grants, while the second and third places will respectfully receive $60,000 and $30,000. Finally, the 33 awardees will all benefit from tailored mentoring and coaching, media visibility, networking opportunities, and the in-person INSEAD Social Entrepreneurship Program and Executive Education program. GH

www.cartier.com
www.insead.edu
Fashion
La Grande Dame 2012 x Yayoi Kusama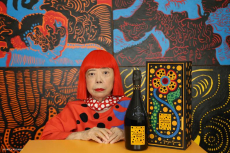 Today, the destinies of Veuve Clicquot and Yayoi Kusama have converged in an unparalleled collaboration. The Champagne house based in Reims has unveiled the new La Grande Dame 2012 Edition, an artistically decorated magnum bottle supplemented by an exceptional object reminiscent of a flower created by the Japanese artist. Entitled "My Heart that Blooms in the Darkness of the Night," this unique and colorful work of art is a symbol of love and optimism. Yayoi Kusama is one of the most successful contemporary artists, becoming famous for her signature polka dots. A signature pattern that she reworked for this special occasion to symbolize the perlage of the champagne. This collaboration is not the first time they have met. It all started in 2006 when the artist created a portrait of Madame Clicquot covered in red polka dots for a charity auction in Tokyo. But this time, their partnership reaches a new sparkling, daring, and optimistic climax. L'Objet d'Art that wraps La Grande Dame 2012 Magnum, with happiness and vibrancy, celebrates the joie de vivre. In addition, Yayoi Kusama designed La Grande Dame 2012 Limited Edition (0.75l) which will be available from June. While the "My Heart that Blooms in the Darkness of the Night" artwork is available exclusively on request through Moët Hennessy Private Sales. VB

www.veuveclicquot.com
Fashion
So-Hee Han Joins OMEGA
So-Hee Han has joined the OMEGA universe of female talent, which already includes Cindy Crawford, Nicole Kidman, and Kaia Gerber, amongst many other celebrities. The South Korean actress, born in 1994, began her career as a supporting character in several TV series, "Money Flower" (2017) and "100 Days My Prince" (2018), to name a few. Then, she quickly took up leading roles in the JTBC series "The World of the Married" (2020), where she played a villainous yet charming character, and in the Netflix-produced feature "My Name" (2021). In the future, she will also appear in the drama "Gyeongseong Creature." Today, So-Hee Han, with her charisma and captivating presence, has become a member of OMEGA's ambassador family, stepping out in front of the camera wearing the most elegant watches. She is a rising star in the world of entertainment, and her talent and acting skills are inspiring, the reason why the Swiss watch manufacturer has chosen her to be the new face of the brand. So-Hee Han embodies many of the qualities and values that OMEGA stands for. VB

www.omega.com
Fashion
Bulgari And Save The Children Campaign: "My Wish For You"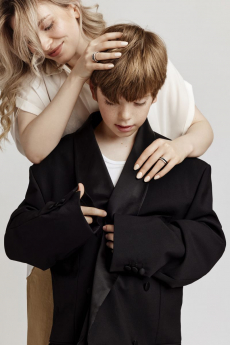 To celebrate Mother's Day, Bulgari has teamed up with Save The Children in a unique campaign titled "My wish for you." Their partnership started 13 years ago, and since the beginning, Bulgari has donated more than $100 million to the charity organization helping 2 million unprivileged children worldwide through four different areas of intervention: education, poverty alleviation, youth empowerment, and emergency response. This time, the fine jewelry brand, thanks to this new initiative, not only portrays Mother's Day in a beautiful way but also contributes to funding programs to support children in difficult humanitarian situations, giving Save The Children €75 for each piece they will sell. Bulgari wants to offer everyone a life full of love, where children feel supported in their own choices and decisions, where they can pursue their ambitions and achieve their goals. VB

www.bulgari.com
Fashion
Marsèll Announces Second Release With Suicoke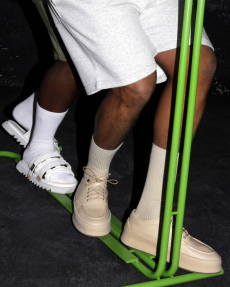 To underline the design and quality alongside the strategic and commercial running of the brand, Marsèll has announced a new collaboration with the Japanese footwear brand Suicoke. The partnership started in 2021 when they created a collection that blended Japanese culture and Italian craftsmanship, with a genderless style pushing the boundaries of contemporary aesthetics. This year, following the idea behind the SS21 project, Marsèll and Suicoke have released new handmade pieces made out of a careful selection of raw materials, mixing innovative technologies with more traditional methods. The results are unique, original items that are anything but industrial. The key model of the 2022 collaboration is Moto, the Japanese brand's undisputed bestseller. Moto is a sandal, reimagined by the Italian brand, entirely made of leather with a recycled rubber sole in an oversize style and wraparound straps. Together with this new design, Marsèll has also included in the collection the iconic Depa shoe, which debuted last season, in five more colors. The collaboration will be distributed in 10 Corso Como, Nordstrom, Browns, and GR8, while a limited edition of the Moto sandal will be accessible only at the most prestigious retailers. VB

www.marsell.it
www.suicoke.com
Fashion
TAG Heuer F1 Edition
Tag Heuer has unleashed its newest timepiece inspired by the dominant style of race legend Ayrton Senna, an admired and adored legend for motor racing, as well as Formula 1 fans all over the world. The collaboration between TAG Heuer and Ayrton Senna has been ongoing since 1988, Senna was redefining the word "drive" by breaking many records. Continuing to pay tribute to the driver's legacy, TAG Heuer continues its quest to create the perfect Formula 1 watch, the one the legendary driver would have loved to wear on his wrist. The bold design and original red color nod to Ayrton's original watch. The TAG Heuer Senna Special Edition is a very elegant mix of red, anthracite, and black, in line with the design codes of the brand. SENNA's iconic S. The timepiece also features an ultra-resistant black ceramic bezel, with the number 400 engraved as a reference to the symbolic 400km/h that has never been reached in Formula 1. The famous S/EL bracelet is inspired by the first TAG Heuer chronograph watch worn by Ayrton Senna. Highly shock-resistant, it has a folding clasp with a driver extension to fit over the sleeve of a racing suit. The timepiece is equipped with the automatic Calibre 16, protected by a stainless-steel screw-down case back engraved with the Brazilian driver's iconic helmet on the back, alongside a special engraving of "SENNA SPECIAL EDITION". GH

www.tagheuer.com
Fashion
Chanel at The Venice Biennale 2022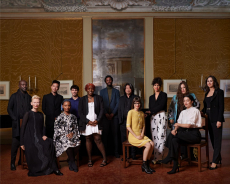 The CHANEL Next Prize is the brand's latest initiative to support the arts and contemporary culture, reflecting its founder's aim to be a part of the "ce qui va arriver" – "what happens next" prize. The French house has celebrated the ten winners of the new biennial award at the pre-opening of the 59th edition of the Venice Biennale, awarding them €100,000 each. Jung Jae-il, Keiken, Lual Mayen, Marlene Monteiro Freitas, Rungano Nyoni, Marie Schleef, Botis Seva, Wang Bing, Eduardo William, and Precious Okoyomon represent 11 countries and diverse art forms, from theatre, film, dance, gaming, the visual and performing arts. As winners, they also had the opportunity to test ideas, strengthen artistic networks, and find inspiration for future projects by participating in different activities such as joining the preview of this year's exhibition "The Milk of Dreams," and a celebratory dinner in their honor. Jurors Tilda Swinton and Sir David Adjaye, as well as creative thought leaders and partners from the CHANEL Culture Fund, took part in the events. VB

www.chanel.com
Fashion
The Armani Group Opens The First A|X Armani Exchange Store in Amsterdam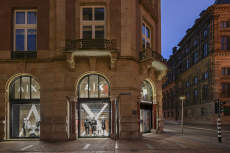 The A|X Armani Exchange store has landed in the Dutch capital. Following the recent inauguration in Milan, the Armani Group decided to open a large store in Amsterdam, in a strategic location in front of Dam square and on the corner of Kalverstraat: a lively spot with a constant flow of tourists. The store, housed within a historical building, was designed by Giorgio Armani and his team of architects along the false lines of the one recently opened in Milan, featuring a minimal selection of colors, elements, and materials combined with LED strips that display graphic information and logos. At the entrance, illuminated letters, A and X attract the attention of passers-by that, entering the store, can walk through the women's collection displayed on the ground floor and the menswear section located on the first floor. The whole project, including the materials, finishes, coatings, and lighting, was designed to have the least environmental impact possible. In addition, avant-garde systems and technology make the shopping experience even more unique. VB

www.armani.com
Fashion
Bottega Veneta & NTS announce Bottega Radio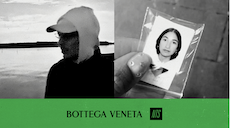 Global music platform and radio station NTS has joined forces with Bottega Veneta for a new cultural partnership and monthly radio series, celebrating the craft behind music by collaborating with emerging and established musicians. The radio will be ongoing throughout this year, opening new conversations between NTS residents and guest stars through a series of collaboratively produced musical soundscapes, airing under the new title of Bottega Radio. For an insight into what is to come, the first episode features autotune enthusiast Tim Zha, otherwise known as Organ Tapes, working together with L.A's Jazmin, an expert in Latin music and resident host for NTS show Como La Flor. Launched on April 7th the series took off with a party at Stone Nest in London's West End, featuring DJ sets and live performances from PLZ Make It Ruins boss and Frank Ocean collaborator Vegyn, experimental hip-hop auteur Slauson Malone, producer-rapper John Glacier, collaborative duo Sky and Mika Oki and the ever-elusive Dean Blunt. The first episode of Bottega Radio aired on NTS 2 at 09:00 am on April 8th and can be listened back via the Bottega Veneta App. GH

www.bottegaveneta.com
Fashion
LOUIS VUITTON for UNICEF: The New Silver Lockit Bracelets by Virgil Abloh
Louis Vuitton has launched a new collection of Silver Lockit bracelets designed by Virgil Abloh, carrying forward solid cooperation with UNICEF. This year the Creative Director of the French Maison, who passed away last November, created a collection including bracelets and pendants that recall his first Silver Lockit collaboration but with new colors and materials. The LOUIS VUITTON for UNICEF partnership started six years ago to help bring vulnerable children life-saving support in humanitarian situations, assisting the international organization in responding quickly to emergencies or disasters worldwide. Since 2016, to support this initiative, Louis Vuitton has annually presented new versions of the Silver Lockit bracelet to raise money to donate to UNICEF. Given the success of these sales, the brand let Virgil Abloh reinterpret these items with his stylistic signature bringing a breath of fresh air to the collection. The Men's Artistic Director added a bold chain linked to a thicker cord, a silver padlock, and a Louis Vuitton charm that in the current collection come in natural and black titanium and are combined with neon yellow, rainbow, or black cord bracelets. VB

www.louisvuitton.com
Fashion
Calvin Klein x Palace: Anything But Ordinary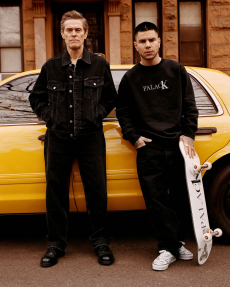 Calvin Klein teamed with Palace to celebrate individuality and inclusion from New York and London to the world. The new collection CK1 PALACE unites Calvin Klein's iconic minimalism with Palace's irreverent and modern style, presenting signature garments of the American brand layered with a playful, graphic aesthetic by Palace. Underwear, shirts, and hoodies in classic colors like black, grey, white, and wheat feature custom logos that combine Palace's signature Tri-Ferg with Calvin Klein's regular trademark. Basketball jerseys and baggy shorts push the boundaries of conventional sportswear, and the denim collection presents loose-fitting shorts and full-length pants in a faded wash to give a modern twist to the looks. In addition, since the heritage of both Palace and Calvin has roots in skate culture, the brand addressed Vans to create a limited run of "Calvans." Dropping via a star-studded campaign, directed by long-time Palace photographer Alasdair McLellan and styled by Max Pearmain, the two brands have gone all out, even remixing the classic CK One fragrance into a unisex, playful scent. CK1 PALACE will be available on April 8th at Palace stores in London, New York, Los Angeles, and Tokyo, as well as on the website of both brands. VB

www.calvinklein.com
www.palaceskateboards.com
Fashion
PB 0110 x ___hagenkoetter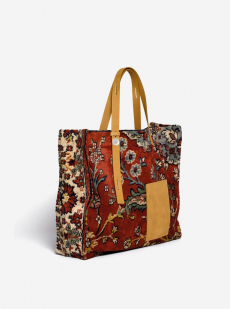 Rethinking the development process of a collection and upcycling century-old fabrics, PB 0110 and ___hagenkoetter teamed up to present new collaborative products. Past and present woven together. On one side, PB 0110, the label by Philipp Bree, known for fine bags of natural leather and linen, and on the other ___hagenkoetter, which works with traders who specialize in sourcing antique fabrics crafted by hand on small looms in the 19th century and kept carefully preserved. Both of them involve local manufacturers preferring traditional production methods to machine production. The collection presented features one-of-a-kind models realized with different fabrics, each of which, has its own story. The result of this collaboration is a classic tote bag in two versions: the HB 01 consisting of a soft, light divan previously used as a cover on beds or upholstered furniture, and the HB 02, a bag made of light linen fabric, almost 100 years old, utilized for tablecloths, workwear, bed covers and more. Both are complete with the PB 0110 vegetable tanned leather from the tannery in Belgium. PB 0110 x Hagenkoetter products are available exclusively at PB 0110, SSENSE, Online, and CIBONE, Japan. VB

www.pb0110.com
Fashion
Armani Hotels and DGDA Announce Plans for New Armani Hotel in Diriyah
Armani Hotels & Resorts has announced the realization of a new signature hotel in the city of Diriyah, Kingdom of Saudi Arabia. This plan is made in collaboration with Diriyah Gate Development Authority, a program that aims to preserve Diriyah's history, celebrate its community, and develop the historic UNESCO site. This 300-year-old city, located just 15 minutes from Riyadh, and the capital of the First Saudi State, is part of a pedestrian-centric project designed to preserve the rich history and culture of Saudi Arabia. Diriyah will soon become an extraordinary international cultural and lifestyle destination, and the Armani Hotel will be one of the new hotel units in the city. That is the third Armani property globally and represents a new interpretation of Armani hospitality and lifestyle. The hotel, realized by Mr. Giorgio Armani and his in-house interior design team and architects, embraces Saudi Arabia's culture and heritage. The structure, including 70 luxuriously designed rooms, two restaurants, and a high-end spa, is characterized by essential lines that enhance the precious materials utilized. Here, volumes, light, and shadow are blended with the unique architecture and landscape of the site, giving life to a building that fits organically into the rich urban and cultural fabric of Saudi Arabia. VB

www.armani.com
Fashion
Acqua di Parma Presents COLLAB - The Colonia Laboratory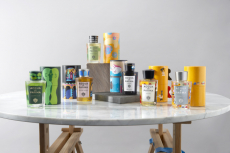 In collaboration with IED - Instituto Europeo di Design, one of Italy's most significant fashion, design, and communication schools, Acqua di Parma has launched a new initiative. COLLAB is an open laboratory that connects customers and emerging artists through art and scent in an interactive co-creation process. The Italian brand collaborated with six emerging Italian talents that have translated their creative vision in a collection of 300 unique 180ml pieces from the Colonia Collection. Departing from their personal style, each artist developed a design inspired by the Italian culture, from the horoscope tradition and card games to the reinterpretation of the gladiator imagery from ancient Rome. Different techniques, visions, and colors blended in dynamic visual communication. In addition, since the COLLAB project is a co-creation laboratory, the clients can customize their very own personal fragrance bottle based on what the artists have previously crafted. A Roman number or a horoscope symbol, among other themes, can be added to the final product giving life to a true collector's item. To take part in this experience, people can book their one-on-one appointment on the Acqua di Parma website to meet the artists at the Maison's Boutique in Milan, starting their creative path together. Then, to offer the same service to those clients across Italy and Europe, the brand provides online appointments through a customized platform. COLLAB reflects Acqua di Parma values in preserving culture, art, and design while supporting future generations. VB

www.acquadiparma.com
Fashion
Chanel Launches A New Podcast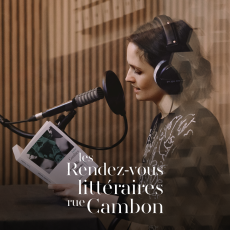 Chanel has unveiled the first two episodes of a new podcast entitled Les Rencontres. This new format follows the Rendez-vous littéraires rue Cambon that was established in 2021 by Creative Director Virginie Viard, together with CHANEL ambassador and spokesperson Charlotte Casiraghi. This podcast, which releases a new episode each month in French and English, turns the spotlight on contemporary female authors who have recently published their first novel. For the first episode of the French version, writer Pauline Gonthier discusses her novel "Les oiselles sauvages," published by Julliard in 2021. The French author talks about the genesis of her writing, her decisive meeting with Annie Ernaux, and reveals her ambition to write books that will make people want to read more. While, American writer Lisa Taddeo, whose first novel Animal was published last year by Simon & Schuster, takes part in the English version of the podcast. The guest addresses different topics: from her aptitude for fiction and her desire to question what society expects of women to the importance of self-criticism within the creative process. The conversations are introduced by Charlotte Casiraghi and moderated by journalist Lauren Bastide in French and by writer and literary critic Erica Wagner in English. The first two episodes of Les Rencontres are available on Chanel's website and in the CHANEL 3.55 Podcast on Apple Podcasts. VB

www.chanel.com
Fashion
BYBORRE explores the power of simplicity for the introduction of its 10th Edition
Edition10 by textile design company BYBORRE showcases its advanced knitted textiles and garments in collaboration with the illustrations of Dutch icon Dick Bruna, best known for creating Miffy. By taking Bruna's simplistic yet iconic designs, the textiles play around with the scale of the artwork and apply a limited palette of colors, giving their spin on the illustrator's classic line work. The range of textiles celebrates Bruna's recognizable line work while highlighting how BYBORRE's techniques enable the power of artwork to be transformed into a textile. Staying true to Bruna's signature illustrations, there was a strong focus on precision and simplicity in the process of designing and developing the featured garments. Featured in the imagery are key pieces from previous Editions such as the Open Back Vest, Layer Shirt, and A-Type Jacket. There is a continuation to the evolution of staples such as the Suit Jacket, Pants, and Button Tee. These features are all executed in the latest iterations of BYBORRE Textiles. Additional focus has been put into the development of accessories, resulting in the introduction of a versatile everyday bag. The collection truly captivates the simplicity of Bruna's while going perfectly in hand with BYBORRE'S signature knitted textiles. GH

www.byborre.com
Fashion
In The Name Of Love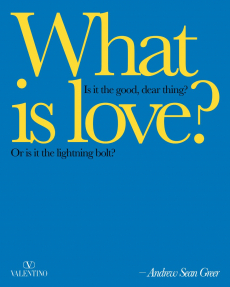 Once again, Maison Valentino delves into the literary world, strengthening its commitment to fostering Arts and Culture. Launching the new campaign "Valentino the Narratives II," the Italian brand redefines the way of communicating, removing images and product placement to make way for authentic, text-only stories. Born from the creative mind and vision of Pierpaolo Piccioli, the second chapter of this advertising campaign features 17 renowned international authors that have written individual and impactful narratives about love celebrated in all its form and meanings. Love is the fil-rouge of the campaign that brings together writers and poets such as Alok Vaid-Menon, Amia Srinivasan, Emily Ratajkowski, Fatima Farheen Mirza, Brit Bennett, David Sedaris, and many others, in a colored layout and freedom of genre. Valentino The Narratives II is a polyphonic conversation that carries on the values of authenticity and individuality, trying to build a multi-vocal community. In addition, thanks to this initiative, Maison Valentino continues to sustain selected independent bookstores and renews the collaboration with Belletrist bookclub promoting cultural happenings. VB

www.valentino.com
Fashion
The Luna Bag
LOEWE presents the "Luna" Bag. Debuted on the SS22 runway in Paris, the new shoulder bag is the latest addition to LOEWE's wide range of products. The Spanish fashion house specialized in leather goods, clothing, perfumes, and other fashion accessories is known for its bold visual identity, spontaneity, and playfulness, characteristics that, for this season, are translated with the Luna bag. Taking its name from the Spanish word for "moon," LOEWE's new design is derived from the shape of a crescent moon. The Luna is a fresh take on a classic hobo bag, an everyday carry-all that sits comfortably on the shoulder and is suited to day or night. This unique accessory comes in black, pecan, avocado green, ash grey satin calfskin, LOEWE jacquard strap, as well as in the iconic Anagram jacquard incorporating the same colors. In addition, metallic sliding eyelets allow the personalization of the LOEWE Luna bag with an extra shoulder strap and charms. VB

www.loewe.com
Fashion
Where Nature Meets The City
For SS22, British footwear brand Clarks Originals and C.P. Company has launched a new collaboration to celebrate the point where nature meets the city. Composed of two jackets and two shoe styles, the collection is equally inspired by the design language of Clark's cult Desert Trek and C.P. Company's historical ability to manufacture clothing textures of cultural depth. Having always been at the forefront of innovative shoemaking since its foundation in 1825, Clarks tight up with C.P. Company to create a range of products that mix natural materials and heritage craftsmanship, with a modern technology suitable to the demands of 21st-century outdoor performance. The outerwear pieces are an exploration of movement between city and countryside, artificial and natural, protective and porous. The iconic Clarks' Desert Trek is reimagined in two styles: the original, enriched by rubber details, and the re-mastered, which features a Vibram outsole. The color palette evokes and reminds of the rich, fertile, and varied landscape of the British coastline as the ultimate escape from the metropolitan area. Lens by the British photographer Will Grundy, the collection conveys a sense of freedom from the routine. The images feature contemporary nomad traders wandering in this uniquely, ever-evolving landscape, which matches and contrasts the tones of the collection. The C.P. Company x Clarks collaboration is available on the website and flagship stores of C.P. Company, in selected global retailers, and exclusively at Clarks Originals Berwick street in London. VB

www.cpcompany.com
www.clarks.com
Fashion
Gucci presents The North Face x Vault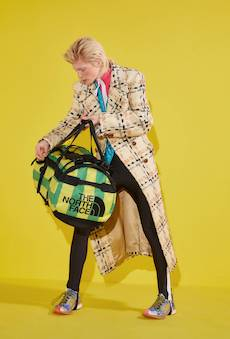 After two chapters of The North Face x Gucci, the collaboration has expanded to Vault, Gucci's experimental online space envisioned by Creative Director Alessandro Michele. With both bands embodying the spirit of exploration, the collaboration presents a limited run of 150 brightly colored base camp duffel bags available exclusively on Vault's website. Since 2021, Vault has continuously ventured into unchartered territories in luxury through unexpected collaborations with brands that speak to its forward-thinking ethos. The North Face is known for its durable, ergonomic, and high-performance designs, its apparel and equipment have become the choice of athletes and explorers from the metropolis to the mountaintop. Since being founded in 1966, the brand has united travelers and adventurers across the globe. Within Vault, The North Face's base camp duffel bag is reimagined with a playful pattern inspired by Vault for the collaboration. Made from a sustainable and weather-resistant material, the bag features adjustable shoulder straps and padded side handles that can be carried or worn as a backpack. This creation is the perfect merging of Vault and The North Face's creative codes, a truly unique find. GH

vault.gucci.com
Fashion
The Next Era
The Dior FW22 Collection is suspended between present and future, beating to the rhythm of simultaneity and synchronicity, in tune with the times. Surrounded by a gallery of paintings created by Italian artist Mariella Bettineschi, the show has brought on stage Maria Grazia Chiuri's concept of (re)constructing a performative relationship between the body and the garment in a succession of operations associating forms, savoir-faire, materials, and futuristic technologies. Titled "The Next Era," this art installation is composed of large-scale portraits of women from the history of painting from the 16th to the 19th Century, that with their cut-up, stacked eyes question the judgment that has conditioned women past and present. Dior's Creative Director has presented a hybrid collection that opens up unsuspected creativity through the use of embroidery, which adorns technical knitwear, waterproof materials, nylon, and cashmere. In addition, Maria Grazia Chiuri revisited heritage to conceive the lines of tomorrow, reinterpreting the iconic Bar jacket. The original structure has turned into a system that manages the body humidity and warms it up using novel techniques created in the D-Air lab laboratories, while a bodysuit keeps the temperature constant. VB

www.dior.com
Fashion
Clarence Ruth Is The Winner of The New Legacy Challenge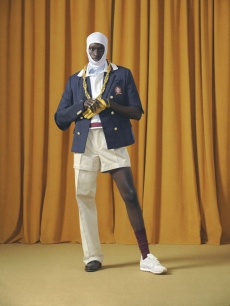 Tommy Hilfiger has announced Clarence Ruth as the winner of the New Legacy Challenge, a design competition developed through a partnership between Tommy Hilfiger's People's Place Program and Harlem's Fashion Row. Launched in 2020, the People's Place Program draws inspiration from Tommy Hilfiger's first store of the same name opened in 1969 in his hometown of Elmira. This program was created to amplify the company's efforts to increase opportunities and visibility for underrepresented communities within the global fashion and apparel industries. And, it is following the brand mission that the New Legacy Challenge has been born. This event aims to support emerging Black talent on a global scale giving them the possibility to bring their unique designs to life. Held at The EDITION Times Square Hotel, the latest edition of the New Legacy Challenge, saw the three finalists Megan Smith, Johnathan Hayden, and Clarence Ruth presenting their inspirations, concepts, and collections in front of a jury. Mr. Tommy Hilfiger, Grammy-winning, Golden Globe and Emmy nominated performer Anthony Ramos and HFR executives, then awarded Clarence Ruth, the founder of the brand Cotte D'Armes which explores denim from a vantage point, with the first prize, giving him the opportunity to co-design a capsule collection alongside the Tommy Hilfiger design team. VB

www.tommyhilfiger.com
Fashion
Louis Vuitton Women's FW22
For FW22, Louis Vuitton wanted to recommence with the special moments in the formative years of one's life cycle that forge a character. The garments are linked to the timeframe of young adulthood. Channeling the sense of youthful experimentation he remembers, Ghesquière topped evening dresses with sporty rugby shirts or chunky sweaters wrapped around waists. This grouping in the show is to evoke how a teenage girl may co-opt her boyfriend's clothes. The imagery also plays with androgynous tailoring, often in oversized shapes. Pannier and bustle shapes were remixed in soft embroidered knit and tweed, making the looks more every day. The message behind the collection is around the freedom and romanticism around hope among youth. The collection displays the aura of having the world at your feet, embracing everything, and approaching taste as a personal construct. This is illustrated in the randomness of the mix and matching of garments, tailored to the individual who may wear them. GH

www.eu.louisvuitton.com
Fashion
032C WORKSHOP X SNIPES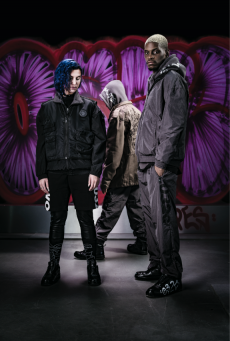 SNIPES and 032c WORKSHOP just launched their exclusive capsule collection titled BREAKING BARRIERS. With it, both brands showcase their distinct take on streetwear, and influential creators and VIPs from the realms of fashion, street style, and arts flocked to 032c WORKSHOP's pop-up shop in Berlin for a sneak peek. TJ TurnUp, rappers Ufo361, and ASAP Nast, as well as celebrity stylist Bloody Osiris, were among the illustrious crowd. In 2016, 032c WORKSHOP started out as the merchandise extension of the eponymous Berlin-based magazine and has since gained a cult following in its own right, with drops generally being sold out in a heartbeat. And this unisex streetwear collection goes to show how perfectly their creative approach vibes with SNIPES. Having been started in 1998 in Germany, SNIPES has since evolved into a true household name in the realms of streetwear and sneakers having expanded widely into different European markets and the United States. Together, they have also added graffiti icon MODE2 to the roster, who contributed graphic elements to the designs. The result of the creative hive mind? An intersection of high fashion and authentic style influences directly from the streets. BREAKING BARRIERS features understated, contemporary streetwear essentials from accessories such as laces, socks, and bags to track pants, shirts, and jackets with impeccable details. The muted color palette of greys and black with some pops of bright green provides the perfect canvas for logo prints and MODE2's intricate artworks.

032c WORKSHOP x SNIPES limited BREAKING BARRIERS collection will drop on March 5, 2022, in 8 select SNIPES stores across Europe and online.

www.snipes.com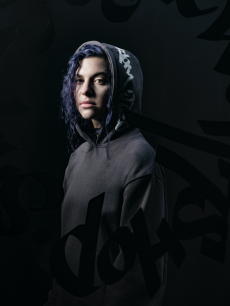 Fashion
Trussardi FW22: A New Narrative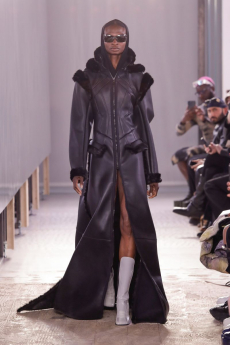 Trussardi, one of the oldest fashion houses to show during Milan Fashion Week, presented its FW22 Collection designed by Creative Directors Benjamin A. Huseby and Serhat Isik. Held at the ground floor of Palazzo Trussardi, the setting reflected the idea of excavation of the house and a return to origins. Benjamin A. Huseby and Serhat Isik wanted to give life to a new Trussardi narrative using their methodology of uncovering the layers to get to the foundation. They looked at the past to reshape the present and think about the future. From a sleeping beauty, Trussardi is awakened, showing a collection that combined fantasy and reality, the historical and the present. It is a mixture of fantastical fairy tales and the genuine codes of how people dress on the streets of Milan. The two Creative Directors studied the Milanese and noticed how almost everyone was wearing 100-gram Piumino jackets, the typical and essential lightweight down jacket, and created a more beautiful and improved version of the item. Benjamin A. Huseby and Serhat Isik's idea of fashion lies in the magic of clothes that gives visibility to who is wearing them, like a magic cloak. For the FW22 show, they aimed to give this power to everyone, inviting people back into the building because the Trussardi spirit has always been to look at fashion democratically. In addition, they redesigned the house motif, an ouroboros depicting the iconic Italian greyhound eating its tail. For Benjamin A. Huseby and Serhat Isik, time is not linear but a loop, and there is no hierarchy in dressing for a world that exists as much in the past as it does in the present. VB

www.trussardi.com
Fashion
Modernist Magic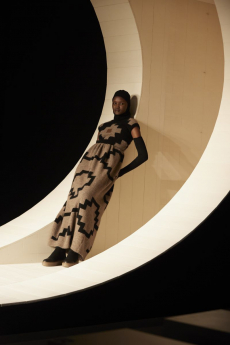 This season Max Mara paid homage to creative polymath Sophie Taeuber-Arp. Architect, dancer, textile designer, painter, and sculptor, she was a modernist who invested even the most everyday object with a sense of magic and mystery. Sophie Taeuber-Arp was the artist, with Wassily Kandinsky, Giorgio de Chirico, Max Ernst, and many others to give rise to the Dada aesthetic. But what inspired Max Mara FW22 Collection were Taeuber-Arp's hastily improvised costumes and marionettes designed for her work "King Stag". Full of joy, energy, and theatrical panache, they were formed fairytale characters that the Italian brand reinterpreted with strong and surprising silhouettes. The collection explored playful contrasts of mini and maxi, micro and macro, skinny and outsize, presenting a wide range of garments: from Max Mara's crepe-soled knitted cuissardes, part boot, and part leggings to bell-shaped and full-length skirts and voluminous trousers. And a pale matte gold zipper was the new talisman of the season. As well as Sophie Taeuber-Arp used to elevate prosaic hardware to poetic heights, Max Mara clothes and accessories assumed a Dada dimension. To complete the collection, Teddy Bear coats and oversized puffas, layered one on top of the other, became dream items. Max Mara presented a sleek, modern dressing, with a dash of Cabaret Voltaire's whirlwind creativity and a sprinkle of magic dust. VB

www.maxmara.com
Fashion
Ferrari FW22: The Beauty of Speed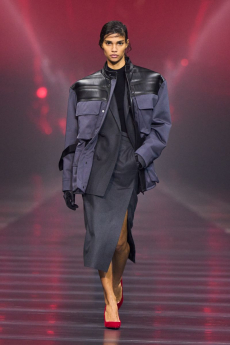 "We affirm that the world's magnificence has been enriched by a new beauty: the beauty of speed." - Manifesto of Futurism. Ferrari, the luxury automotive company, presented its FW22 Collection with a co-ed Women and Men runway as part of the Milan Fashion Week calendar. As well as Futurism exalted the dynamism and speed of the modern world, the Italian brand launched a collection inspired by these elements, enhancing the brand codes of innovation and speed. In a fast-evolving society, Creative Director Rocco Iannone crafted a range of garments and accessories that turned the personalities and passions of leading women and men in today's changing aesthetics and culture into everyday attitudes of daywear and evening wear. Ferrari presented slim yet not minimal silhouettes, tailored and natural materials made with the latest technology, and designs that transcend the boundaries of masculine and feminine. Coats and jackets had contoured shoulders defined by stitching and flat-felled seams, skirts had pencil shapes, often with adjustable metal-zippered slits, and the little black dress came in new materials, such as leather treated with finishes that affect shapes and some volumes that increase towards the hem. Also, new graphics have been added to the Ferrari archive: a camo print obtained by breaking down the silhouette of the Prancing Horse, an abstract motif produced from a hologram of the logo with an enlarged photo of technical filaments, and other patterns derived from thermal scanner grids. In addition, a color palette of blacks, yellow, red, shades of green, and hints of beige and grey combined with sustainable materials such as organic cotton, GRS-certified recycled nylon, as well as Eco down padding completed the Ferrari FW22 Collection. VB

www.ferrari.com
Fashion
Gucci "Love Parade" 2022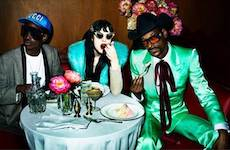 In its "Love Parade", Gucci took over Los Angeles' iconic Hollywood Boulevard for an exhibition that epitomized Old Hollywood glamour. Inspired by tales of glamour and glory, the exhibition celebrates color and life. Garments included tailored, double-breasted blazers paired with ruffled blouses and low-cut waistcoats, houndstooth tailoring, satin suits in multiple colors, velvet suits, stoking gowns, tropical-inspired matching sets, and so much more. The collection is an ode to the colorful personalities throughout Hollywood. The over 100 look-collection also featured a broad celebrity presence, including Jared Leto, Steve Lacy, Jeremy Pope, St. Vincent, Jodie Turner-Smith, Miranda July, and Macauly Culkin. Creative Director Alessandro Michele described the collection to have stemmed from the brand's roots in cinema, as opposed to other brands that have "roots in aristocracy and bourgeoisie". This is an appropriate reflection of Michele's tendencies of having a maximalist approach that enables people to communicate their true essence that can continually change with the seasons as time goes on. Michele credits his mother, an assistant in a production company, for encouraging his love for Hollywood. Equally, the collection is about contemporary Los Angeles. GH

www.gucci.com
Fashion
Fratelli Rossetti in Fiumara d'Arte
Fratelli Rossetti has shot her SS22 campaign in Sicily, among the monumental works of Fiumara d'Arte, one of the largest open-air sculpture museums in Europe, designed by patron Antonio Presti. The colossal works create an evocative and poetic setting for a collection whose every detail evokes the art of craftsmanship. Presti describes the imagery as "a combination of art and fashion that reflects current environmental, social, and cultural concerns. It helps raise the profile of the extraordinary area of Sicily and its ancient villages". The forms are captured by skilled fashion photographer Federico Sorrentino, who pays great attention to contours, geometry, and perspective. Human subjects merge with their environment and create a sense of harmony between the shapes and colors. The collection maintains Fratelli Rossetti's signature elegance while being extensively innovative and bright. The brand continues to bring about small and big revolutions in the fashion world as it has done over the past 70 years, remaining as an international ambassador for "Made in Italy" and Italian style. GH

www.fratellirossetti.com
Fashion
MiuMiu Workout
MiuMiu has introduced a capsule collection of sports accessories to facilitate a search for inner balance and outer strength. Born from the independent and unconventional spirit of Miuccia Prada, MiuMiu illustrates the most rebellious and seductive core of contemporary femininity. It is a youthful and playful brand that, this year, decided to embrace women's sporting spirit launching a line of yoga mats and bricks, drawstring gym pouches, boxing gloves, and water bottles. Each item is adorned with the instantly recognizable MiuMiu logo and made functional thanks to adjustable webbed straps for cross-body or over-the-shoulder carrying. While the color palette of soft pink and classic black combined with white stripe detailing revokes MiuMiu's naïf energy and iridescent subversion. The capsule collection is an emblem of empowered femininity and belonging to a community of like-minded, free-spirited souls. MiuMiu Workout is already available at selected Miu Miu stores worldwide and on the brand's website. VB

www.miumiu.com
Fashion
LOEWE Valentine's Day: Love is in the Air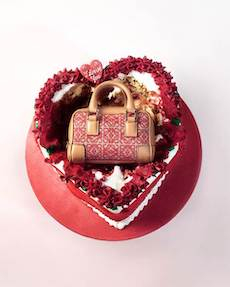 LOEWE truly embrace the over the top essence of Valentine's Day with its new Valentine's collection. Within the collection are the ultimate tokens of affection - a special edition collection of bags, accessories, and small leather goods featuring the brand's signature Anagram jacquard canvas in bold, heart stopping red. The 22 piece collection inspired by love, pairs the vibrant red Anagram Jacquard print with classic calf leather trims. The bags come in nano and 28cm sizes, as well as the iconic Flamenco, Balloon, Cubi and Gate. For the first time, the timeless Goya is available in Anagram Jacquard, adding a warm tactility to its clean lines. Joining the bags in this love affair, is a selection of small leather goods, including wallets, cardholders, and pouches, all with the same print. A bucket hat, sunglasses, and a logo strop complete the line in co-ordinating Valentine's hues. The campaign for the capsule collection is a declaration of excess where too much is never enough. Pairing pieces from the collection with a tongue-in-cheek flurry of hearts, bows, and teddy bears pay homage to the most romantic time of the year. GH

www.loewe.com
Fashion
Armand Basi - Project 01: No Gender Tailoring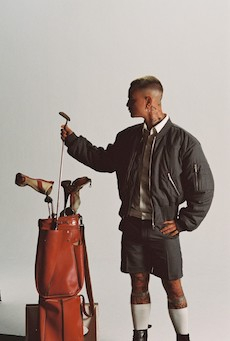 Armand Basi has been relaunched their eponymous label under the creative direction of Eva Basi, granddaughter of brand's founder. Armand Basi was one of the benchmarks of 80s Spanish designer fashion, parading on international catwalks with its first store in London. The revamp named "Project 01: No Gender Tailoring" has been designed by Joan Ros, a designer specialising in tailoring. Ros' imaginary is shaped by his family origins, the countryside of tailoring, as well as the British aesthetic. The collection turns the concept of traditional tailoring on its head with British youth counter-culture styles as inspiration, eradicating gender and season. The rebellious tone throughout the collection is based on the diplomatic line representing tradition in clothing, but applied to the garments that come from counter culture. The collection features various visual games, such as silky-looking cottons, tailoring with zip-fastenings, and knitwear that looks destroyed but with an exquisite technique. Accessories with the capsule collection also presents us with somewhat an illusion; from a distance they seem to have come from an alternative setting, but close up we can see that they're watch chains. The collection also advocates up-cycling, as most of the fabrics have been recovered from the surpluses of fashion companies.GH

www.armandbasi.com
Fashion
Jimmy Choo x Mugler Creative Collaboration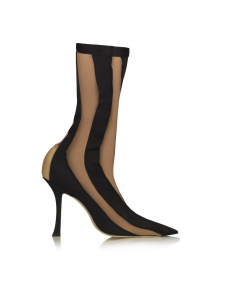 Jimmy Choo and Mugler announced a creative partnership that fuses the heritage of both brands. The two Maisons that set their roots in the 1990s, and are synonyms of power, sensuality, and glamour, decided to team up to create a capsule collection of shoes and boots co-designed by the houses' respective Creative Director's Sandra Choi and Casey Cadwallader. Reflecting the parallel ideologies of both Jimmy Choo and Mugler, the collaboration takes as its leitmotif the ideas of the extreme and of empowerment. The collection, which transgresses boundaries and challenges conventions merging techniques and materials of footwear, jewelry, and clothing, is dedicated to strong and confident women that are at the heart of both brands. The result is a product with a timeless silhouette with a 100mm heel, carved, architectural design, and a striking, sharply squared base. Windows are also open onto the skin, framing the body with seams, chains, leather straps, and panels of mesh, while the color palette is focused on black and nude with hints of gold, silver, and neon yellow. The final piece is a celebration of powerful femininity in all its forms.

www.row.jimmychoo.com
Fashion
Cole Sprouse x Versace 2022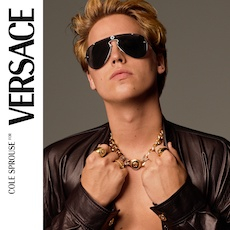 Versace have launched their new 2022 capsule collection, with Cole Sprouse taking centre stage as the perfect embodiment of the Versace name, branded as the epitome of eloquent, expressive masculinity. Captured by internationally renowned photographer Steven Klein, the campaign imagery was taken through a hand-held camera to fully capture Sprouse's movement, charisma, and innate star power. Featured in the collection are the VE2242 Medusa Focus sunglasses. The perfect symbol of Versace's bold, striking aesthetic, the metal navigator frames feature multiple of the house's iconic features, including the Greek Key and brand logo at the temples. The model is available with light grey lenses and a black mirror effect, completed with a small, embossed Medusa on the frame, a staple to the brand. Another feature are the VE2243 Medusa Mesmerize, glamorous sunglasses with a futuristic look, featuring a wrap-around metal mask frame and clip-on details along the profile of the lenses, adding a magnetic vibe to the model presented. Completing the collection with a more sophisticated profile, are the VE1279 Medusa Dream. This optical model epitomizes the urban chic cosmopolitan spirit. Repeated throughout the collection is the Versace logo engraved on the temples for a luxurious finish and contemporary appeal.

www.versace.com
Fashion
Cartier announces the 2022 Impact Awardees
To celebrate the 15th anniversary of the Cartier Women's Initiative, the French luxury Maison has announced the 2022 Impact Awardees. The Cartier Women's Initiative launched in 2006, is an annual international entrepreneurship program that aims to drive change by empowering women impact entrepreneurs. In the past years until today, the brand has recognized and supported 262 women, covering 62 countries and reaching different sectors from pharmaceuticals to agriculture. This year for the Impact Awards nine former fellows, three for each category that has been chosen based on the United Nations Sustainable Development Goals, have been selected according to the extraordinary impact that their businesses have achieved. These entrepreneurs used their skills to safeguard the environment, improve lives in their communities, and pave the way for a brighter future. Among the awardees stand out big names as Joanne Howarth nominated in the "Preserving the planet" category for having founded the Planet Protector Packaging company that manufactures environmentally responsible insulated packaging made from sheep waste wool. Rasha Rady that with her GPS-enabled pharmacy benefits platform Chefaa is running in the "Improving lives" category, and Carmina Bayombong, a candidate in the "Creating opportunities" category, for creating InvestED, a no-profit organization that empowers under-resourced youth in their journey from education to adulthood. The winners of first, second, and third place will be announced at the Impact Awards Ceremony in Dubai on March 6th, 2022.

www.cartier.com
Fashion
La Martina SS22: Between Heritage and Innovation
La Martina continues to focus on great stylistic research, reviving the brand's heritage whilst reflecting the colorful and dynamic rhythms of modern life. The SS22 collection takes inspiration from the brand's manifesto, according to which true luxury consists in taking time for yourself, sharing it with people you care about, contemplating and caring for nature. This, in combination with the Polo world, and the universal value of integrity results in a complete and coherent line of clothing, with the main collection blending more traditional codes with a youthful flair, and different capsule collections featuring reinterpretations of traditional British style with a sportswear soul. The Summer Polo range is a tour through the most popular resorts, represented by staple items in summer patterns and fresh materials. The British and Anglo-Saxon worlds, instead, take shape through the distinctive Guards line and the Varsity Match capsule. The Quebrada de Humahuaca and the Hornocal mountain, a reference to the brand's Argentinian roots, become the inspiration for a capsule collection of travel wear made of k-way and sleeveless reversible down jackets in strong colors, camouflage motifs, and denim materials. In addition, La Martina SS22 Collection is completed by four more lines that evolve basic and top models with more refined materials combined with new and fluo colors.

www.lamartina.com
Fashion
Hublot and the Magic of Ink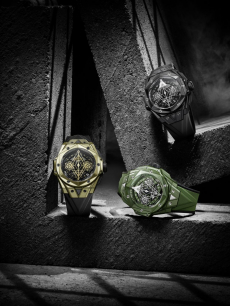 The Hublot X Sang Bleu collaboration continues with the realization of three new iterations of the Big Bang Sang Bleu II. This time, to celebrate the collaboration's 7th anniversary, tattoo artist Maxime Plescia-Buchi chose to apply his ink to two iconic materials central to Hublot's art of fusion: Magic Gold and Ceramic. Two scratch-resistant materials that now bear the indelible signature of the famous tattoo artist in three limited editions. The new trio comes in a 45 mm diameter case made from Magic Gold or Ceramic, featuring the master's design that overlaps the case and bezel, giving to the mechanism-disk-hands the form of a geometric tattoo that extends to the rubber strap. Maxime Plescia-Buchi employed three-dimensional geometry in order to realize the Big Bang Unico Sang Bleu II, incorporating expert use of relief and depth effects that complement the polished, and satin-finished materials. This collaboration allows Hublot to experiment and to transpose its vision and expertise, pushing its creations to new limits. While the art of Sang Bleu is pure perfection, balance, and precision; the tattoos are indelible symbols of self-expression and impart important messages. This is exactly the spirit Hublot tries to embody with its pieces, the Hublot watches as a reflection of your true essence.

www.hublot.com
Fashion
FURLA SS22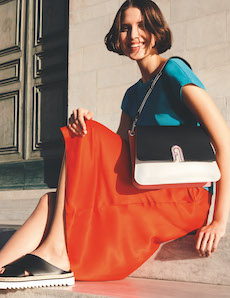 FURLA has launched its SS22 collection that embraces the cheerfulness of Italian warmth, embodying a perfect summer's day. The campaign encourages the joy of connecting with others in order for the most intimate emotions to come into full bloom. The bags are designed to accompany women throughout the seasons, depicted as holding their hopes, dreams, and secrets. The mysterious yet joyful tone of the campaign is pictured in various scenes such as the hills of Pietrasanta, between the alps and the Mediterranean, and the magical light of Renaissance paintings. The collection is meant to trigger limitless smiles of an endless summer, conveying FURLA's timeless message of glowing in the joys of discovery, art, and communal experience.

www.furla.com
Fashion
HUGO BOSS: New Start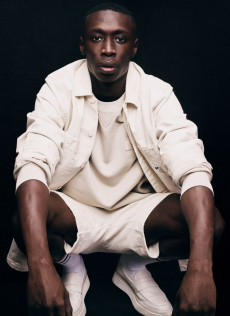 HUGO BOSS launched two simultaneous star-studded global campaigns for its brands BOSS and HUGO. This release is the first visual representation of a true 360-degree rebrand. Both BOSS and HUGO now with a new, modern brand identity are focussing on a younger and global audience and a more playful and casual aesthetic. With the branding refresh, HUGO BOSS aims to become a top 100 worldwide brand without losing its original codes of dressing excellence. The new era of HUGO BOSS starts with the release of the BOSS #BEYOUROWNBOSS campaign, their first social campaign, shot by acclaimed fashion photographer Mikael Jannson. The campaign features an all-star cast, from Kendall Jenner and Hailey Bieber to international TikToker Khaby Lame with whom the brand established a strategic partnership. The launch will be then followed by an impressive digital activation of 200 talents that will post their personal BOSS stories on different social media channels as a concrete means to connect with a new audience. While BOSS is launching #BEYOUROWNBOSS, HUGO is launching the #HOWDOYOUHUGO campaign, activated across different channels. The campaign is covering various artistic fields and features an international cast of celebrities, most notably top model Adut Akech, rapper Big Matthew, SAINt JHN and American dancer Maddie Ziegler, who are act as the faces of the campaign.

www.hugoboss.com
Fashion
AMI FW22: The Essence of Paris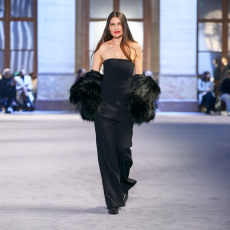 AMI is back in the spotlight presenting the FW22 Collection at Palais Brongniart. It is a collection that embodies the quintessential essence of the Parisian style. Paris is, once again, a steady source of inspiration for Alexandre Mattiussi, founder and Creative Director of the Maison. For this collection, his focus shifted from the streets to metro stations, a public space where everyone comes together, mixes and blends, without any discrimination. Influenced by the people who inhabit those places, he decided to reflect this reality on the catwalk by recreating metro tunnels in a mythical monument. The FW22 has been a statement collection that celebrates AMI's DNA, presenting a free-spirited color palette, prints and motifs next to rich textures and eccentric fabrics. In addition, the collection encompasses a variety of silhouettes, strong unisex pieces, alongside tailored masculine shapes and more delicate feminine forms. These garments are then combined with unique accessories created in collaboration with jeweler Alan Crocetti and with a new it-bag named "Le Voulez-Vous". In terms of his casting for the show, Alexandre Mattiussi has gone beyond the common standards presenting one of the most inclusive casts ever. On the runway, iconic models such as Mariacarla Boscono, Kirsten Owen and Paloma Elsesser walked, side by side, with street-casted models and new faces. A true representation of the French capital, Ami's collection embodies the city's chic flair, fun and diversity.

www.amiparis.com
Fashion
JUUN.JSET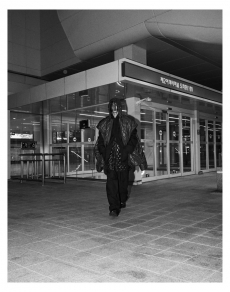 Titled "JUUN.JSET", the FW22 collection by Juun.J expresses the wishful thinking of free-travelling during the pandemic. The theme is inspired by photographs of 60s-70s jet setters' at the airport, filled with a confident attitude, as well as pop-star styles that represent a young, fresh spirit. Quilting is used to enhance the voluminous, rich silhouette, applied not only to outdoor pieces but also over maxi dresses, skirts, MA-1, jackets, and hoodies. Juun.J presents a whole new range of items for this season. Reinterpreting and applying the elements of CWU-8/P military parka into various items, the collection is styled with youthfulness and cool. This season's Juun.J's color palette contains black, brown, and deep green, using over-dyeing and blue denim as point colors. Shot at Incheon International Airport in South Korea, powered by Air Seoul, the looks of the season are completed with a Montblanc suitcase sponsorship.

www.juunj.com
Fashion
Schiesser x Noah Becker
Schiesser presents a project with true authenticity, sustainability and zeitgeist at its core. With contributions by Noah Becker, the collection is a confluence of contemporary art and established design tradition. The design collaboration pays homage to the lightness of life in moments of joy. Schiesser is known for its deeply embedded core values such as originality and authenticity since 1875. Noah Becker is an artist, musician and designer who is known to have always remained true to himself. His reduced art stands for creative freedom. Expressive, abstract, and large-scale paintings are his trademark, creating the message that everyone is born an artist. The SS22 collection with Schiesser titled LET THE SUN SHINE features suns, flowers, smiling faces created by Noah. His prints represent a tribute to the lightness of being, pure joy of life ,and a carefree exchange with each other after the pandemic - a longing that unites humanity as rarely before. The mostly gender-neutral pieces are made of organic cotton dynamically entwine around the body of their wearers. The starting point for the pieces is the color white, a lighthearted, simple reference point from which life unfolds in all its colors and enters into dialogue with others.

www.schiesser.com
Fashion
Isabel Marant Homme FW22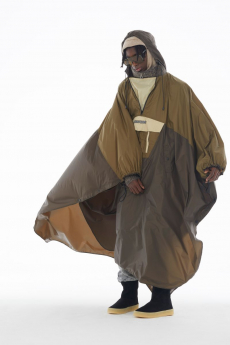 A grungy spirit comes to life in the Isabel Marant Homme FW22 collection. Crafted from unexpected blends of prints, color, and fabrics, the silhouettes of the garments exude a casual chic. Looking back to the 90s as an ode to the legacy of Kurt Cobain, cuts are baggy, check shirts are tied around the waist and washed denim meets versatile stripes. Convinced that layering is key, pieces and shapes are overlapping for an urban look. For an eye-catching streetwear look, the Isabel Marant man wears a pair of Bumkeeh, the reinvented men's version of the iconic wedge sneaker Balskee – one of the house's most known pieces. With adventure at heart, a love for the great outdoors becomes evident in boxy parkas, patchworks of shearling, and oversized windbreakers combined with warm knitwear pieces. Perfect for cold winter weather, the steppe-colored pieces are contrasted by the introduction of color block activewear pieces where royal blue, bright yellow, mint green, and fiery red clash.

www.isabelmarant.com
Fashion
Aubade x Camille Lacourt
French swimwear label Camille Lacourt joins the world of runway to create an exclusive Aubade Homme collection for SS22. The new collaboration is Aubade's first swimwear line for men. The capsule collection is made completely of recycled materials in pursuit of both labels' commitment to sustainable and ethical fashion. Offering maximum comfort in and outside the water, the pieces are designed in a boardshorts shape in a style drawn from the world of surfing. The reoccurring carp motif featured on the shorts is inspired by the marine world and is available in red and blue. Honoring oceanic environments, the pieces are made of elastane cotton that has been GOTS (Global Organic Textile Standard) certified in recognition of the brand's ethical and eco-conscious production process. Diving into the creative languages of Aubade and Camille Lacourt's respective worlds, the collaborative line is an expression of lust for life, representing the interplay between seduction, comfort, creativity, and simplicity.

www.aubade.eu
Fashion
Lemaire FW22: An Ode to Movement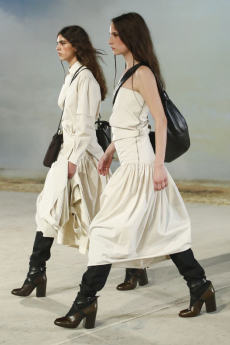 Lemaire FW22 collection focuses on the concept of movement, on how the body acts in space and time, sweeping along the fabric, while the garment itself merges with it, prolonging the momentum. The show, set up by the stage director Philippe Quesne, is inspired by a chronophotographic series of Etienne-Jules Marey. An expansive theater décor made out of 30 meters of painted canvas is bathed in the humid, autumnal light of the sun soaking up the sky after the rain. A poetic scene where clothes flow, ties slide, ribbons float and every single piece mixes in the air. While drawstring bags fasten around the back or waist transform the human body in a certain kind of heavenly figure with a quiver-knapsack with a flexible form. Here men's, women's, and unisex silhouettes turn into ephemeral life-form, valiant and fleeting. They create a collective of souls who leave an irregular trail in which everyone advances at their own pace, but is united in heart. Lemaire collection is a tribute to lightness and peacefulness, where the whirlwind of clothes carries us into a parallel imaginary. 

www.lemaire.fr


Fashion
Philipp Plein FW22: THE TURNAROUND YEAR - The Evolution of creativity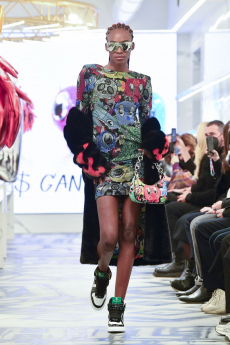 PHILIPP PLEIN shares its new vision with the fashion world at Milan Fashion Week. New horizons are opening up for the empire with an impressive line-up of new openings in exclusive shopping districts and upscale locations. In particular, Barcelona Mandarin Oriental, London Old Bond Street, Warsaw, Poznan, Kuala Lumpur, Las Vegas Forum, St. Petersburg, Dailan Olympia 66 Xigang. Launching a new store concept, PHILIPP PLEIN is bringing to life a contemporary and luxurious sphere, in which the customer is immersed upon entry. PHILIPP PLEIN also announces an expansion of its universe beyond fashion. In addition to his plans to delve into the hospitality and entertainment industry with the PHILIPP PLEIN Hotel and Club in Milan, Philipp Plein announces the launch of a range of art pieces ("Unique Pieces") displayed in the new PHILIPP PLEIN showroom in Via Burlamacchi in Milan. The garments of the season are inspired by the creativity and stamina behind the brand's growth: contemporary art and fashion meet in the capsule collection with playful sophistication where the "Lil Monsters" created by Plein appear printed or sewn by hand. A key feature of this season's presentation is also the total black casting. Only black models have been selected for the catwalk, as a token of the longstanding commitment of Mr. Plein and of the PHILIPP PLEIN Group to inclusivity and to the celebration of black culture.

www.plein.com
Fashion
Missoni Men's FW22
Art has always been at the center of Missoni's sense of creation. This season, the world of art deeply influences the house's FW22 menswear collection. Precisely, the informal abstract art movement which developed in Italy during the 1940s forms the point of departure for the distinctive graphics and harmonic color palette that characterize the collection. The style is openly informal, featuring effortless versatile pieces that emanate a sense of spontaneity. The textile excellence is highlighted by the neutral and timeless shades of gray and blue, combined with vibrant touches of bright tones, such as red, yellow, orange, and green. The collection offers a realistic wardrobe designed for men with a dynamic lifestyle, willing to embrace elegance and comfort. In line with the brand's tradition, knitwear is the star of the collection. Timeless icons, such as the zigzag and the rashel, find space next to new jacquards featuring abstract motifs with an impactful graphic appeal. Patchwork, one of the techniques rooted in the brand's tradition, pops out with a denim jacket enriched with knitted inserts. The collection exudes timelessness while keeping its gaze towards the future through the language of innovation.

www.missoni.com
Fashion
MSGM FW22: The Sound of Time
According to the physicist Carlo Rovelli, time speeds up and slows down, looms and pulses, oscillates and makes a sound. It doesn't run from the past to the future, it is still and yet dynamic. Never forging a direction, always following its own rhythm. Time is confining power, yet an elusive concept that is difficult to grasp for humans. And it is this world of intriguing chaos without strict boundaries that MSGM is speaking about with a collection that mixes hints of heritage and contemporary impulses. And once again it is Milan, as always: the past and future come together in the melancholic setting of an Italian apartment, which serves as a hangout for the MSGM generation. The psychedelic voyage commences amongst the sound waves of distant music. An everlasting classic of MSGM - the magic mushroom - makes a comeback in mesmerizing prints on poplin shirts and boxer shorts, viscose suits, and large inlays on sweaters. Butterfly and acid marble prints appearing like lava join the confluence of visuals. The MSGM Men's FW22 collection embodies a fluid, fantasy-laden approach to reality and is a play on perception. With trekking boots, techno accessories, slippers, and pool slides in association with ACUPUNCTURE, the attitude is distinctly 90s, while always looking to the future. Taking inspiration from the architect Gaetano Pesce, MSGM's creative choices for this season seem free and wild, a kaleidoscopic dream, celebrating life and the sound of time.

www.roe.shop-msgm.com
Fashion
Kiton FW22: Aesthetic Evolution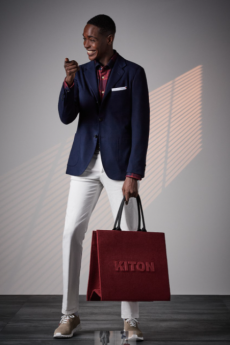 Over the last two years, some of our habits have transformed. Our daily life had to adapt to certain challenges, technology evolved into an integral part of our lives, speeded up our lives, shortened distances but at the same time pushed people further apart. Mostly there weren't any consequential changes in our habits, but their importance in relation to one another and our daily lives have been recalibrated. It's by no surprise that this development translated onto the clothing that we are wearing. Elegance, luxury and comfort remain the watchwords, but now realigned anew, led to the coming together of two previously divided concepts of menswear, formal and leisurewear. Key men's styles are updated in terms of silhouette, propositions and materials. The monochromatic collection presents sophisticated, yet unexpected ensembles shining in a precise color palette and featuring diverse textures of skillfully mixed materials. The Neapolitan sartorial traditions are injected with a new sense of innovation, safeguarding its principles of excellence in a new interpretation fit for a new generation of customers.

www.kiton.com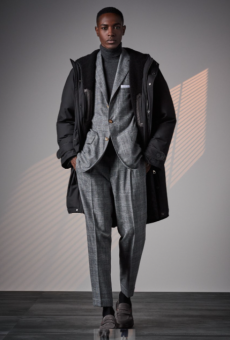 Fashion
Brunello Cucinelli FW22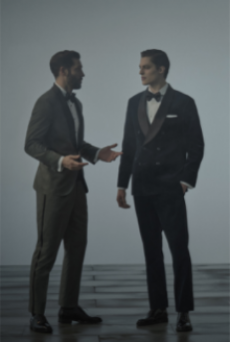 For the FW22 men's collection, Brunello Cucinelli draws inspiration from the urban world and its transformative nature. Different styles clash and influence this season's look that combines tradition with modernity. Effortless silhouettes and soft materials form the basis of the collection and create a balance of elegance and effortlessness. Long coats and down coats offer new shapes and cuts and convey a sense of laissez-faire. Voluminous, modern pants with an athletic touch complement the season's laid-back chic. Newly included knitwear concepts like Chiné- und Vanisé-techniques, jacquard inlays, embroidery and innovative mesh combinations create variation in texture and feel. Alongside timeless neutrals such as elegant beige, gray and blue, new colors come into focus, adding a surprising freshness. Carrot orange, pomegranate red, green tones of lime and eucalyptus, as well as light blue tones refine the textures and patterns and are accentuated by sophisticated knitting techniques.

www.brunellocucinelli.com
Fashion
The North Face x Gucci: Chapter 2
Gucci launches the second Chapter of its partnership with The North Face. Following up on the previous collaboration, the unique product selection resulting from the two brands working together stays true to its original objective: honoring the spirit of exploration in all its forms. The collection examines various spheres of discovery, from literal adventures to more metaphorical or mental journeys. To give the second phase of this collaboration its individual character, Alessandro Michele has created a campaign shot by the French twins Jalan and Jibril Durimel set in Iceland. Stills and videos introduce the viewer to the spectacular landscape and its almost metaphysical spirit. Into this ruff, but yet harmonic environment come Gucci's explorers hiking across Nordic Island to showcase the collaborative collection. The special cross-category collection for men and women comprises ready-to-wear, soft accessories, luggage and shoes, including many pieces as hiking boots, multi-pocketed backpacks and warm, insulated jackets that powerfully reference the outdoor world of The North Face.
Fashion
MARCELL VON BERLIN COFFEE LOUNGE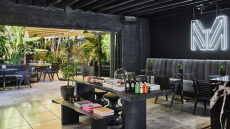 MARCELL VON BERLIN opens his first COFFEE LOUNGE in West Hollywood: an innovative experience where the progressive city of Berlin meets the quiet, luxurious lifestyle of Los Angeles, all in the center of trendy West Hollywood. The lounge is connected to the flagship store and nestles on a beautifully landscaped patio as a new cultural hub and networking hotspot. The lounge offers a range of organic coffee beans roasted specifically for the brand, meeting the highest USDA-certified standards. Guests can choose from medium and dark roasts and other custom blends - including CBD and mushroom infusions. Delicious baked goods and handcrafted creations are available alongside seasonal tea and coffee blends, chosen by culinary experts. The menu is a selection inspired by the season and the local environment and therefore changes frequently. The aesthetic of the new coffee house is a homage to MARCELL VON BERLIN's founding city: the German capital Berlin. The metropolis' modern-minimalist and industrial elements are taken up in the interior design and are accentuated by a sophisticated color palette of black and gray contrasted by lavish velvet seating areas. Los Angeles as the location and inspiration of the COFFEE LOUNGE can be seen and felt inside and out the café. A hidden green oasis is complemented by wooden rattan chairs next to a large outdoor seating area, while the indoor lounge offers more private spaces for small groups. MARCELL VON BERLIN's COFFEE LOUNGE provides a space that is intimate and welcoming while embodying the liveliness and excitement of urban life at its core. A true hideaway spot in West Hollywood, which celebrates cityness, design and culinary excellence. 
Fashion
Pooch Knuckles
 Moose Knuckles introduces its latest collection for pets - Pooch Knuckles. The mini-me style jackets for dogs launched in December 2021during the holiday season. The collection features two dog-wear styles inspired by Moose Knuckles' iconic Stirling Parka. Pooch Knuckles' functionality is designed to help pet owners to dress their dogs for outdoor activities in the cold winter months. Featuring an opening on the back for the leash, adjustable Velcro closures and J-seams with pockets for dog bags, the parka meets the needs of both the owner and the pet. The collection includes the Pooch Parka and Pooch Parka Gold Series coats, which showcase fur trim and Moose Knuckles' signature metal logo and studs and have a durable, water-resistant and windproof exterior. Available in three size options the Pooch Knuckles pieces are available for four-legged friends of various body shapes and heights. Offering the same high-quality weather-proof combination of style and materiality, Moose Knuckles translates its core design ideals into the world of dog wear. The collection is available at Mooseknucklescanada.com, as well as Moose Knuckles stores in SoHo (New York), Boston, London and Montreal.
Fashion
Brunello Cucinelli Menswear SS23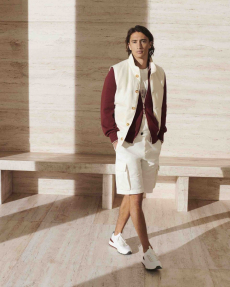 For the men's SS23 collection, Brunello Cucinelli finds the perfect refined yet relaxed balance between sophistication and verve. Feeding on the knowledge of tradition, this skillful nonchalance offers a new interpretation of style: fresh, innovative, and capable of conveying harmony and versatility for any occasion. The prestige behind the origins of the brand is transferred to a more relaxed, effortless style. The modern suit is a feature of the collection, which can be used for daily, leisure, and summer dressing alongside business elegance. A blazer and trousers can be worn separately to adapt to the evolving needs throughout the day. Also included are an array of knitwear, t-shirts, and shirts that boost the sense of ease and comfort of contemporary suits and casual styles alike. The colors highlight the essence of summer in a rich variety of tones. Patterns are captivated by the variety of textures, where structures and color-enriching effects confer three-dimensionally and unique characteristics to elements across the collection. A generous collection of accessories has been made as the perfect embellishments to the looks. A variety of footwear has also been designed to fit styles of any occasion, varying from formal to more lightweight designs. These are characterized by the utmost attention to lightness, comfort, and flexibility. GH

www.bruellocucinelli.com
Fashion
Parisian Prestige for AGL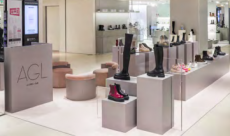 Paris, Boulevard Hausmann 64. Since 1865, the iconic French department store Printemps has been located on this prestigious street that runs through Paris parallel to the curve of the Seine. Exhibiting the latest collection of the top-tier high-end brands, Printemps Hausmann is known for not only the luxurious assortment but just as much for its impressive architecture. With high ceilings and a dome adorned in blue glass mosaics, the department store offers a backdrop that is aligned with the decadence of the brand it represents. The floors are organized in plots, some of which are reserved for temporary stores – ensuring an ever-changing and engaging layout that offers customers to explore new spheres. Throughout December until the beginning of March, the Italian shoe manufacturer AGL is represented on one of these plots. Plexiglass walls separate the different collections of AGL shoes, whereas straight and curved lines intertwine in the design of the interior. The shoes are enthroned upon industrial cement blocks, creating a minimalistic contrast to the seating furniture which is held in soft, warm colors and dusty pink tones. The effortless and contemporary design of the temporary AGL store reflects the modernity and dynamic approach of the brand - currently in the third generation and led by the three Giusti Sisters, AGL persuades with exceptional craftsmanship and timeless design – a result of traditional origins paired with an evolving vision.

www.agl.com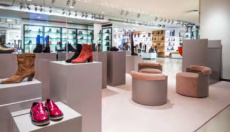 Fashion
Saint Laurent's Arcade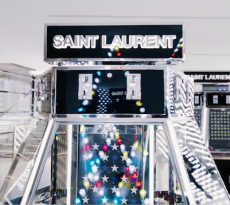 Saint Laurent's Rive Droite space, a destination for all sorts of creative and cultural undertakings, is once again shape-shifting under Anthony Vaccarello's vision. For the holiday season, both locations in Paris and Los Angeles are re-imagined with arcade-themed installations – with machines that have been specially created for the occasion, Anthony Vaccarello relocates the visitors of the retail space into a second reality, projecting them into a fair where they can try their chances at soda tossing, solving Rubix cubes and operating robots with which they can gamble for goodies including lighters, USB sticks, masks, jewelry items and more. Exclusively limited to one machine, the new Saint Laurent Jamie pouches can be won through tactics– and a little bit of luck -. In addition, for the first time, the store location debuts collections for children with the brands Baghera & Eo, resulting in the design of a miniature Baghera car as well as a down-sized design chair, both presented in bright pink with a zebra and a tiger print. Previous successful collaborations with New Era, Baccara, JL Coquet and Cotodama will be prolonged throughout the holiday season. All of the items are exclusively available at the Saint Laurent Rive Droite stores in Paris and Los Angeles.

www.ysl.com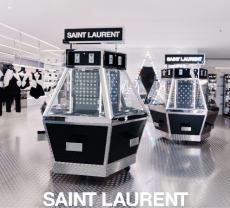 Fashion
A Monk's Habit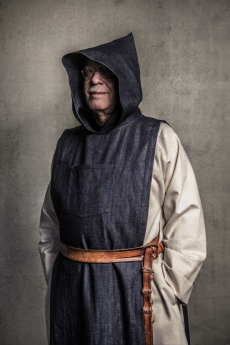 G-Star replenishes their collaboration with an unusual project: together with the brothers of the brewery La Trappe, the denim brand has created a monk habit. What might seem to be a surprising collaboration at first glance, soon turns out to be a unique joining of forces – with the values of sustainability and circularity at the core of both the Dutch denim pioneer's manifesto, as well as the ethos of the long-standing brewery, the collaboration between the two brought forward an intriguing example of how interdisciplinary companionship can introduce new ways. The design process of G-Star for the monk's habits led back to a sketch, perpetuated in a hand sketch in an over 80-year-old book, the La Trappe monks had in their archive. The sketch turned out to be surprisingly modern – with a cut that enables minimum waste production, a solution to reduce the impact of textile production that G-Star pursues in their design process as well. The monk's habit shows strong proportions, alluding to the Bossche Schule, a traditional movement of Dutch architecture. Entirely composed with Cradle-to-Cradle Gold Certified Denim, the habit stands for G-Star and La Trappe's commitment to thinking further than the present. The denim material is made from 100% organic cotton and colored without any chemical dyestuff. During the production process, special attention was paid to reducing water usage to an absolute minimum – nodding to La Trappe's mission of carefully considering the resource of water during their brewery process.

www.g-star.com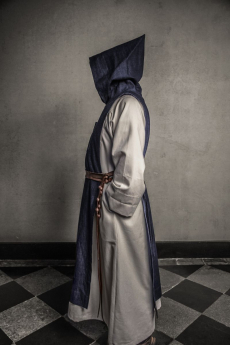 Fashion
Dior Men SS22: Paying Homage to Those Who Shaped Our World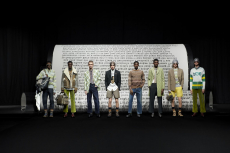 For the SS22 Menswear collection, Dior pays homage to one of the most revolutionary writers of the last century—Jack Kerouac. Christian Dior reimagined the pre-war silhouettes with a refreshing approach, influenced by his journeys, where the couturier acquired knowledge and new sources of inspiration in numerous countries and cultures. The influence and importance of author and poet Jack Kerouac are synonymous with Dior. Kerouac shaped his generation with an avant-garde approach to literature art and gained worldwide recognition with his novel On the Road, published in 1957. Kerouac is considered to be part of the Beat generation, which was a rebellious literary movement, emerged out of the desire to break down the established structures and traditional writing conventions in the 60s. Also known as the Beat poets, they influenced culture and politics with their celebration of experimentation and spontaneous creativity. The SS22 collection celebrates the power of imagination and fuses Dior's heritage, characterized by intricate embroideries or the soft pastel color palette with futuristic technological qualities in materials, such as technical silks and recycled nylon. Fair Isle knits embroidered with sequins are worn with bias-cut soft collegiate jackets and complemented with an original silk Foulard from the 60s. Dior perpetuated Kerouac's legacy by hand-painting and printing extracts of his novel onto leather and silk. "But you can go on thinking and imagining forever further and stop at no decisions to pick up a bag for the thinkings. Turn your thinking into your work, your thoughts into a book, in sieges,'' as perfectly encapsulated by Jack Keruoac himself, Dior aims to encourage confidence in imagination with its SS22 Menswear collection.

www.dior.com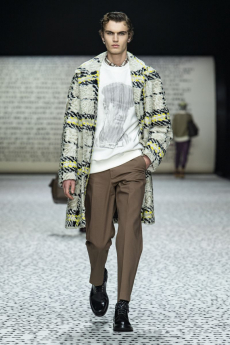 Fashion
DR. Martens and the Neighboorhood Creating Art Together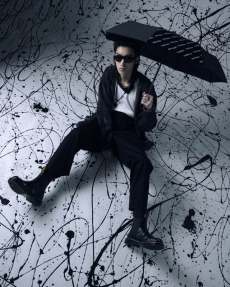 Dr. Martens joins forces with the Neighborhood to add a special take on its signature silhouettes. The streetwear brand Neighborhood was founded by Shinsuke Takizawa in 1994 out of the strong desire for well-designed technical motorcycle clothing and ever since evolved into one of the most important pioneers in the global streetwear scene. Takizawa is known for his rebellious and youthful approach with an emphasis on London's punk culture and New York's scene. Due to its rough and robust aesthetic, Dr.Marten's iconic shoes quickly gained popularity among the emerging underground punk scene in the 60s. As one of the most distinctive symbols of punk culture, Dr.Martens and Neighborhood are an ideal match to work together on a collection. The collection features the 2976 Neighborhood and the 1461 Neighborhood shoe, made out of smooth leather and fusing both brand's signature elements, such as Dr.Marten's yellow contrast stitching, which has been reimagined in a new color to match with the streetwear brand's white paint effect artwork on the shoes. In addition to that, the shoes are complemented with a reflective heel strip, which contributes to the unique aesthetic of the designs.

www.drmartens.com
Fashion
Gucci x The North Face: Opening a Second Chapter of Fashion History
Following the first collaboration in 2021, Gucci teams up once again with The North Face for a ready-to-wear collection. The North Face was founded in 1966 as an answer to the strong demand for proper outdoor clothes for athletes to defy any weather conditions. Today, The North Face belongs to one of the leading outerwear brands with a strong emphasis on function and minimalist key styles. The collaborative collection features variations on insulated bomber jackets and vests, complemented with multi-pocketed backpacks or baseball and bucket hats and worn with hiking boots. In addition to that, The North Face dived into its archives to revive some of the brand's most iconic 90s designs, including the Nuptse Jacket. The selection takes up signature elements of Gucci, such as the GG monogram with a beige and green base and the colorful 70s inspired Gucci patterns while celebrating the spirit of experimentations through new shapes and pieces influenced by The North Face. As a leading mantra, Gucci and the North face decided on self-discovery and self-expression as the vision of the collection. This mantra resurfaces with various essentials, significantly reminiscent of hiking clothing, equipping the wearer with the perfect attire to set off for a trip to the deep ends of the soul.

www.gucci.com
Fashion
Made To Order, Created to Last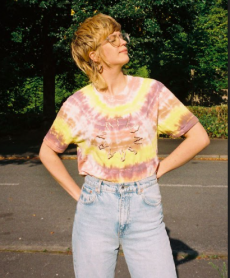 Carnations London – which recently celebrated its first birthday after being founded in 2021 – has made it its mission to produce beautiful and cheerful designs with high quality. Determined to disrupt the shortcomings of the fashion industry, Carnations London has committed to the made-to-order business model – one of the most promising solutions for grappling with wasteful overproduction and a powerful tool to counteract the mindless consumption propelled by fast fashion and throw-away cultures. Each item is made by hand in a small studio – a direct reflection of founder Sarah Bartlett's vision, in which fashion revolves not only around aesthetics but more so about social responsibility. As such, Carnation London's design exude the brand values with their visual language: tie-dye patterns in pastel colors and embroidered scribbles make for a charming character, that reminds the wearer to return to the simple and joy sparking items that are uncomplicated and comfortable to wear. Combining the creative forces of various artists is an endeavor the British label pursues with great integrity - after collaborating with artist Joy Yamusangie, who created a lively illustration for a bucket hat, Carnations has partnered up with Stockholm-based print designer KJP, resulting in multifunctional checker-board bandanna and shirt in a vibrant blue color – which has yet to be revealed to Carnation's followers. Now, during the festive month of December, Carnations returns to the item that marked their debut over a year ago: the classic cotton T-Shirt. With its muted sunset colors, melting together in the iconic tie-dye design (needless to say, achieved with non-toxic dyestuff), the shirt ensures to lift the spirits – and evokes the satisfying conscience of a responsibly sourced product. Besides the B-Day t-shirt, Carnations has included a selection of their best-selling items into the temporary "Festive Shop" collection, offering gift ideas with reasonable origins that make valuable stocking fillers. 

www.carnationslondon.com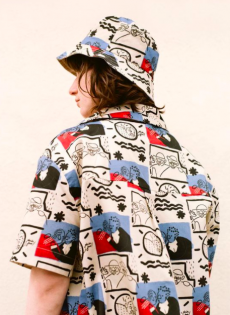 Fashion
Gucci Aria Campaign KAI: A Fairytale Trip Down Memory Lane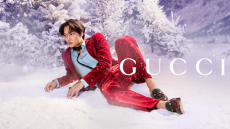 Gucci unveils its special campaign, starring the global brand ambassador KAI and the exceptional looks of the Aria collection. The Aria collection presents the most spectacular highlight of the brand's centennial anniversary. The collection featured the most recognizable and well-known looks of the luxury fashion brand since its founding in 1921. It includes the iconic red velvet suit, designed by former creative director Tom Ford and the red and green stripe logo design, which reflects Gucci's equestrian heritage. The history of Gucci begins in 1921 with Guccio Gucci, who founded a leather goods shop, which eventually became one of the most recognized and sought-after luxury brands. The campaign is set in a surreal and frosted winter landscape, which transports the viewer in a fairytale-like environment. KAI the brand ambassador and protagonist of the campaign is a South Korean singer and dancer who became world-known as a part of the boy group EXO-K. The singer wears the signature looks of the Aria collection, including a velvet, tailored suit, cozy knitwear, and monogram-adorned trousers, worn with equestrian helmets and boots. Director Woogie Kim captures KAI, gracefully dancing and sensually moving, while music composed by Nicolas Fleury is playing in the background.

www.gucci.com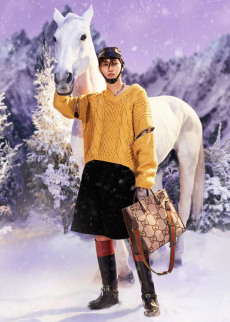 Fashion
PB0110: Coming Back, Carrying an Important Message
For the upcoming weekend, PB0110 announces a special action to improve the brand's ecological footprint, setting an example for the rest of the fashion industry and in particular the harmful impulse buying tradition of the Black Friday Week. PB0110 was founded by Philipp Bree in 2012 on the concept of producing leather goods in Europe with a great emphasis on sustainability, transparency, and high craftsmanship. PB0110's differently shaped and sized bags and backpacks are made out of naturally tanned leather or signature linen and brass. Now, Bree has made it his goal to take a step further towards a sustainable planet with his brand by presenting a new plan of action. PB0110 offers CO2 neutral shipping from now on and is planning to plant four trees with every purchase placed during the Black Friday weekend, in an undertaking of counteraction the environmental impact the sales period has. In addition to that, each customer receives a complimentary CM39 along with their pick-up. The CM39 is a small coin case with a unique opening design, in which overlapping leather parts keep the coins securely inside instead of making a traditional zipper. Besides cherishing the importance of longevity for his leather goods, Bree significantly contributes to a more sustainable and less harmful fashion industry, by ecological relief.

www.pb0110.com
Fashion
BALR. X ISHU: Every Story has Two Sides
BALR.'s joined forces with London-based fashion start-up ISHU to create a collaboration under the theme "Every Story has Two Sides.'' The Amsterdam-based brand BALR. was founded in 2013 by professional football players with a focus on high-end lifestyle products and fashion. "We all have dreams of becoming a great and successful person. Greatness is not something that happens as a result of a careful selection process. It happens by taking action!'' is their leading mantra. Demy de Zeeuw, Juul Manders, and Ralph de Geus, the founders of BALR. aim to inspire the youth to pursue their dreams and work tirelessly to turn them into reality. The latest collection is the brand's answer to the downside of being a well-known public figure and constantly being observed and analyzed. The clothes are equipped with the ability to block out unwanted flashes of paparazzi cameras. The collection ranges from hoodies, capes, and down jackets with an emphasis on versatility and functionality, and worn with sneakers and complemented with differently shaped bags. BALR. used an innovative sunlight technology to distract and distort, and almost every item is imprinted with an eye-catching geometric print in black and white, which is a signature symbol of the fashion start-up ISHU.

www.balr.com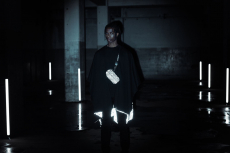 Fashion
AGL Virna Red Pump: Finding Power in Cohesion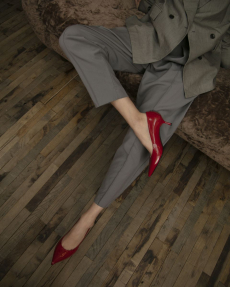 AGL was founded by Piero Giusti in 1958. Now, three generations later, the Italian brand is still a family-run company, owned by the sisters Sara, Vera, and Marianna Giusti. Ever since taking over the brand, the trio works closely together on every project and are known for their artistic sensitivity and sophisticated designs "from women for women". Their latest shoe creation, the VIRNA pump, conveys an important message, as it supports the international day for the Elimination of Violence against Women and spreads. AGL introduces the VIRNA as a pump in a bright red color with a thin elegant heel, made for fierce and confident women. Every shoe visually embodies the brand's deeply anchored identity, the sister's emphasis on craftsmanship, high-quality materials, and exceptional designs. Only this time, the shoe serves a greater purpose than ususal. The proceeds from the purchases of the pump will be donated to CISDA, the international committee in support of Afghan women. The Italian association CISDA was founded on the principles of sharing human values of each person, regardless of their religion, origin, culture, or nationality, and has been promoting solidary initiatives for Afghan women since 1999. The Giusti sisters aim to empower women and advocate for the importance of supporting each other and showing solidarity amongst women, which is visually translated through their collections and in particular the new VIRNA.

www.agl.com
Fashion
Dior Heralds Christmas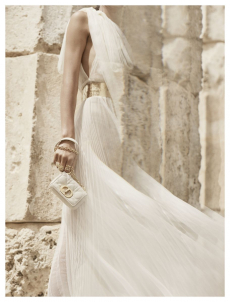 Slowly but surely the Christmas season is unfolding in Paris' shopwindows. As such, Dior has revealed their annual window decorations – this year, the prestigious vitrines of the Avenue Montaigne flagship store are brought to life with scenes of Greek mythology. Paying ode to the eternal beauty of Greece, Dior's windows recall the bright, flowing and crisp draperies that determined the ambiance of the Dior Cruise Show 2022, which was held at the heart of the Panathenaic Stadium in Athens. The white and ecru theme of the collections was highlighted with glistening golden accentuations – an iconic code of the French Maison. In front of the celestial backdrop of the window, a selection of Dior items is exhibited, providing the passerbys with gift inspirations for their loved ones. Herein, Dior's most iconic bags make an appearance in the windows and according campaign, including the Book Tote, the Caro and the Vibe, in sparkling and festive shades. The star symbol, a recurring talisman in Dior's designs, enhances many of the items and heralds the approach of the Christmas season. With jewelry being an indispensable item under the tree each year, Dior incorporated a selection of poetical pieces. Scarves adorned with Pietro Ruffo's sketches, such as the Tarot Arcana and the infamous Around the World motif replenish the selection further. The vitrine and its selection represent a contemporary odyssey that cherishes the pastimes of Dior while making the viewer dream of the celebratory month of December.

www.dior.com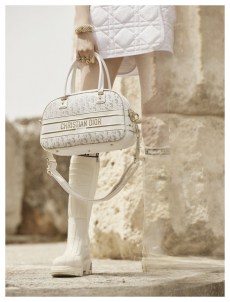 Fashion
Unwrapping the Holiday Season with BOSS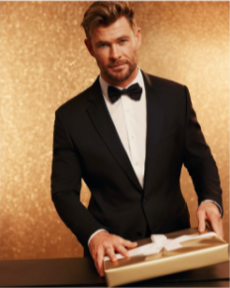 BOSS introduces a new festive campaign together with Chris Hemsworth. Under the name "Unwrapping the Holiday Season", the campaign celebrates the joy of giving and the special moments inherited by the act of sharing gifts. The campaign shows the American actor unwrapping, unboxing and untying various presents – small ones, big ones, classics as well as unexpected ones. BOSS has translated the suspension and joy of opening presents into their Holiday collection, which looks sport logo-embossed, ribbon-like details. All-over logo patterns and sporty trims feature across many of the items, which are presented in sleek black and festive gold color palettes. The collection ranges from perfectly cut tuxedo and sequin dresses to tracksuits and sweaters, providing a broad variety of items and styles, suitable for the formal as well as the relaxed days of the Holiday season. The collection is further complemented with footwear and fragrances, as well as bodywear and accessories, such as bags and backpacks. The capsule invites the BOSS advocates to experience the Holiday collection through the virtue of giving and sharing joy.

www.boss.com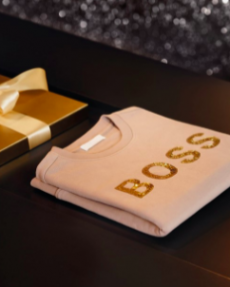 Fashion
Bulgari x Save The Children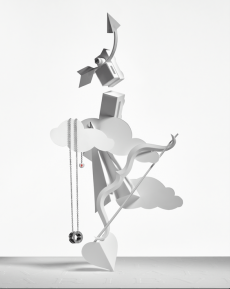 Save the Children is the biggest independent children's rights organization in the world. It has been established in 1919, with the mission to foster safe environments for children to grow up – in manifold ways. Ten years ago, Bulgari has joined a partnership with the changemaker, and ever since dedicates a collection to their good cause. The Save the Children jewelry collection consists of four pieces, two necklaces, one bracelet as well as a ring. Each of the pieces features the Save the Children signature logo with a black Onyx Stone and a red ruby detail that imitates the logo of Save the Children. The proceeds of the collection are primarily used to create quality educational opportunities for children in need, as well as youth empowerment, emergency responses and poverty prevention – so far, the collection has raised more than $100mio. On the occasion of World Children's Day on November 20th, Bulgari has launched the campaign #MyWishForYou, which puts its support of Save the Children into the limelight. The campaign, which is presented as a communication initiative is published over Bulgari's digital and social media channels, serving as a call to action to raise awareness with the namesake hashtag #MyWishForYou. At the center of the digital wave-making is a video that virtually connects children from all over the globe through universal wishes that diverse individuals and Bulgari brand ambassadors have proclaimed for them. Love, hope, support, education, adventure, experiences, strength and ambition are only a few of the wishes to name. With this campaign, Bulgari makes an example of how to combine a legacy as rich as theirs with good deeds and charitable undertakings.

www.bulgari.com
Fashion
Bold Choices from Tylko
Digital-first furniture company Tylko specializes in producing premium, bespoke modern storage, with the aim of encouraging harmony in people's homes. Now they are adding a new, contemporary color palette to their most experimental line of shelving, the Type02. Launched in 2019, the line stands out for a bold and playful approach to storage furniture, available in a fresh range of colors with sleek, wrapped edges. When designing the Type02, Tylko's goal was to encourage self-expression, by offering the necessary online tools and a well-curated range of style variations. Using the brand's easy online configurator, customers are free to personalize the size and style of their furniture, resulting in an original piece that perfectly matches their character and needs. Playing up the experimental appeal, the brand is introducing three new contemporary colors that will bring interesting, original energy to the current palette. The new hues are Burgundy Red, Sky Blue, and Cotton Beige — an eclectic combination that conveys confidence and ease. Tylko invites their audience to see their home as a blank canvas, where they can truly explore their creativity through interior design. And they have fostered creativity from day one: The brand sought to support unique, artistic talent by connecting with creatives who share their passion for bold, forward-thinking ideas and a love for great design. Past collaborations include renowned 3D artists like Andres Reisinger, Chris Labrooy, and Alexis Christodoulou, illustrators such as Martina Paukova, Maria-Ines Gul, Ana Popescu, as well as creative director Charlotte Taylor.

www.tylko.com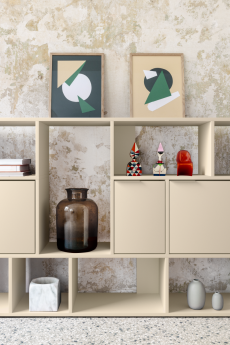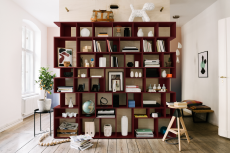 Fashion
Molteni&C: Amabilia: Experiencing Milan
"Those who love and know how to appreciate overall beauty leave these dwellings with nostalgia and a desire to come back. Beauty is not absolute unless it creates an emotion," is how Chiara Mordante, owner of the Palazzo Caminati, refers to the lifestyle project Amabilia, a one-of-a-kind stay experience in the heart of Milan. Molteni&C is an internationally acknowledged furnishing company, which is defined by a unique history, their collaborations with important designers, and the continuous emendation in technology and quality. Four suites have been created and equipped with a luxurious yet comfortable atmosphere for the Amabilia project and are named Montenapoleone, Triennale, Scala, and Aperitivo. Through the project, Molteni&C pays tribute and esteems fashion, design, culture, and the Milanese style. The furniture compositions are an embodiment of Milan, reflecting the traditional elegance of the city harmonizing with charming comfort. The suites give space for the iconic Molteni&C furniture collections, such as the D.153.1 and D.151.4 armchairs, designed by Gio Ponti, and small tables Panna Cotta by Ron Gilad as well as interior design concepts of one of the most important names in Italian design— Federico Peri. The luxurious suites are located on the last floor of the Palazzo Caminati, a magnifying building of the 19th century in the city's heart. The contemporary lifestyle project Amabilia is a love letter to the capital of Lombardy— Milan, equated with sophisticated elegance and Italian craftsmanship excellence.

www.moltenigroup.com
Fashion
ETRO & Harris: Redefining Luxury Fashion
For the FW21 collection, classical ETRO and Harris Reed decided to join forces to create a unique capsule collection of genderless blouses. Designer Harris Reed is known for opening conversation about the power of clothes with his thought-provoking gender-fluid designs. The young designer places an emphasis on sustainability, using deadstock fabrics to reimagine the traditional blouse. ETRO perfectly matches the core identity of Harris Reed, offering a great selection of archival fabrics The capsule collection revolves around the theme of giving archival fabrics a second life. Reed designs his signature blouses, with a voluminous shape, long ties, a bow on the front and in the back, and small details on the sleeves with a Rockstar feel to them. The colorful fabrics used are imprinted with a paisley or floral print. The art of upcycling breaks down the established structures of the luxury industry and ensures a more thoughtful and less harmful way of producing clothes for our planet. Harris Reed and ETRO masterfully manage to fuse their brand DNA, complementing and supplementing each other, resulting in unique creations with a sustainable heart.

www.etro.com
Fashion
Bally SS22 – The Art of Utility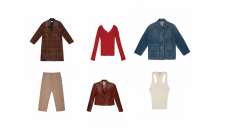 The art of utility. Bally's namesake SS22 collection is dedicated to the post-pandemic future. Inspired by sportswear and workwear elements, the collection celebrates elegant looks with a utilitarian touch. Comfort, lightness and versatility represent the main attributes of the looks and are translated into voluminous proportions, layered styling and a combination of high-quality knit and leather materials. For the SS22 collection, the Swiss house continues its heritage of craftsmanship, which is reflected in refined techniques and intricate details. Leather-woven patterns, hand-trimmed studs and lavish topstitching recur in the looks of the collection, paying tribute to the literal art of utility. The footwear collection presents a cut-out lace-up boot with a clog-like sole, as well as a unisex sneaker with the signature Bally wing emblem. The newly introduced B-monogram and alpine floral motifs are reminiscent of Bally's pillars of art, nature and design. In recent years, sustainability has become a significant part of Bally's design approach and resulted in the implementation of environmentally friendlier solutions over the past seasons. For the SS22 collection, deadstock fabrics, as well as recycled cotton material and regenerated leather.

www.bally.com
Fashion
O'Neill: With Technical Innovation Against the Cold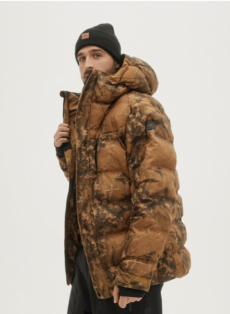 Perfectly in time for the seasonal change into cold weather, O'Neill releases a collection of technically innovated winter jackets. O'Neill's brand logo symbolizes a breaking wave, which represents the origins of the brand in Californian surf wear. The brand was founded in 1952 by Jack O'Neill with the invention of the first wet suit. Ever since, the brand is deemed a pioneer, producing the world's most high-tech and functional wetsuits up to date. O'Neill continues to push technical boundaries in sportswear with its expanded assortment of winter garments, that aim at minimizing the impact on the planet and improving hyper-functionality. O'Neill's latest collection features the LM Supersuit Jacket, which embraces the brand's heritage. The jacket is inspired by the original wetsuit made by Jack O'Neill, refined with a unique function to control the level of air-fill for insulation. Furthermore, the XTRM Mountain Jacket that unites a multitude of unique functions, such as water repellence, detachable snow gaiter, ergonomic paneling system, and recycled REPREVE insulation is introduced in the collection. With the innovative FW 2021 collection of jackets, O'Neill masterfully manages to fuse their heritage with new technical improvements, which allows the wearer to face outdoor environment outbreaks better and longer.

www.oneill.com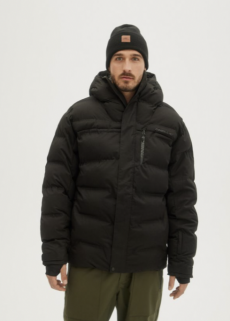 Fashion
PB0110- CO2 NEUTRAL LEATHER: With Small Steps Into a Climate Neutral Future
The urgency for eco-friendly alternatives and climate neutrality is ubiquitous and concerns every occupational group. PB0110 meets today's ecological standard by working closely with a certified tannery in Germany. The family-run tannery was founded in 1899 and ever since lives up to their aspirations of continuous improvement, producing high-quality leather, that stems from by-products of the meat- and milk production. The tannery is tested by ECO2L, a German labeling system that controls the energy and emission variables during the tanning process, and certified with the gold standard of the Leather Working Group, a highly recognized brand, representing responsible leather sourcing to the industry and consumers. By investing in CO2 certificates, ECO2L also supports a wind project in the central Indian state of Madhya Pradesh and therefore contributes worldwide to reduce the risks of global warming. PB0110 Neutral Leather collection features shoulder bags in different sizes and shapes, ranging from sack- to square-shaped bags as well as shoppers accompanied by a long shoulder strap. The color palette ranges from bright blues and reds to earthy nuances, such as brown, black and dark green. The Neutral Leather collection represents a small step for the leather industry to reduce its CO2 emission and foster climate-neutral production as an immanent part of the fashion supply chain.

www.pb0110.com
Fashion
Levi's x The Woolmark Company: Unifying Strengths
Levi's and the Woolmark Company are united by sustainability and performance, which are deeply anchored in the success vocabulary of the two global conglomerates. The Woolmark logo is one of the world's most recognized and respected symbols for natural fibers, assuring the highest quality for the international textile and fashion industries. The company is a subsidiary of the Australian Wool Innovation, owned by more than 24.000 woolgrowers, who invest in the development and research of Australian Wool. The renowned brand Levi's decided to collaborate with the company, combining forces and creating a new silhouette, the Torsten Quilted boot. The casual boot guarantees high quality from the moisture-managed sole through the upper constructed, breathable leather to the recycled lacing. The inner lining of the shoe is made out of Australian merino wool. The Woolmark certified merino Wool equates to a large extent with a renewable, biodegradable, and recyclable fiber. The utilitarian-inspired design is combined with an eco-Cordura quilted effect and is available in an autumnal color palette, ranging from mustard to black. The Torsten Quilted boot perfectly highlights the versatility of the natural fiber and sustainably conscious produced options.

www.levi.com
Fashion
Cartier: A Unique Experience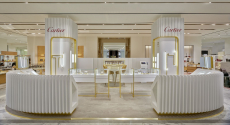 A place where exceptional savoir-faire and remarkable creativity meet- the first Pop-Up boutique in De Bijenkorf, the Netherlands of world-renowned luxury Maison Cartier. By choosing Amsterdam as a location for its Pop-Up boutique, Cartier found the perfect location that coincides with the brand´s deeply anchored values- an unparalleled sense of adventurism and eclecticism. The elegant white interior design is adorned with gold accents and perfectly matches with the iconic gold jewelry pieces, that are showcased in the store, resulting in an ideal union of form and design. The boutique´s assortment includes the most memorable and innovative designs of the luxury conglomerate. Cartier showcases its iconic watches as well as extraordinary rings, bracelets and necklaces, that were designed and crafted at the beginning of the 20th century but due to their timelessness are still popular today. Another notable aspect and proof for Cartier´s deep-rooted originality is an area in the boutique, referred to as Touch&Try, which revolves around a thorough study of the quintessence as well as the origins of Cartier´s iconic jewelry. A visit to the debut Pop-Up boutique of Cartier in Amsterdam is an unparalleled experience, where one encounters a fusion of timeless elegance and precision in jewelry as well as interior design.

www.cartier.com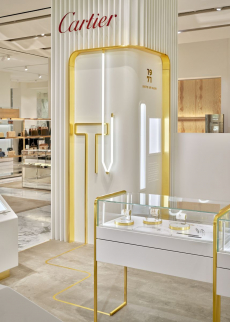 Fashion
Bottega Veneta: Salon 03 Detroit
Inspired by the golden age of intimate couture shows, Bottega Veneta presented its latest collection through Salon 03, a format called to life in October 2020, that presents the ready-to-wear collections of the house with an exclusive take. Each season, the Salon takes place in a new city, intertwining the shown looks with the urban spirit of the according town. The third edition of Salon was presented in Detroit. Inspired by the city's appreciation of technical and creative design, Daniel Lee, creative director of Bottega Veneta, encapsulated Detroit's pioneering role in pushing forward American retail, techno music, automotive innovations and the architectural modernism movement. Celebrating the ingenuity of the city, the collection revolves around the notions of progress and joyful futures. Interpreting sports- and workwear with a modern, high-performance daywear lens, the looks exude individualism and freedom. Referring to the industrial innovations of Detroit, the collection's looks come with a technical glamour that does not compromise in function. Metal yarns, rubber elements and an overarching theme of manipulated, voluminous silhouettes bestow the looks with a avant-gardist nature. The collection was simultaneously presented at their newly opened Detroit Firehouse, which represents a space where local creatives come together, exhibiting diverse art works an design projects. The architecture of the old fire station, which is still true to its original composition, offers a minimal and vast backdrop for the multidisciplinary projects, including for example a pop-up record shop by Detroit's Underground Music Academy and a library dedicated to the publishing history of Detroit, curated by Asmaa Walton. Alongside the creative outlet, the space doubles as a retail point for the commissioned projects.

www.bottegaveneta.com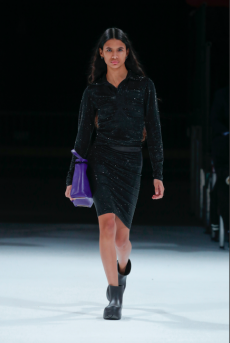 Fashion
Valentino Re-Signify Part II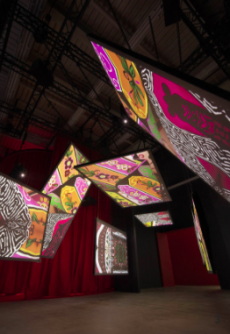 Valentino takes pride in its legacy by reviving significant memories and moments time and time again. As an homage to the profound identity and legacy of the house, creative director Pierpaolo Picciolo has opened the doors of SKP South's T-10 exhibition space in Beijing, to showcase the second edition of Valentino: Re-Signify. Th exhibition, described by Valentino as a "liquid reading", immerses the audience into a universe of interpretative takes on classic Valentino codes. 17 artists spanning different mediums and disciplines have lend their creative vision, whereas each of the artists' works have been paired with Valentino's designs, either separately exhibited in a complimentary way, or incorporated directly into the art works. This time, the exhibition features artists such as Cao Fei, who merged together the themes of Valentino Haute Couture and cosplay and Gioele Amaro, a digital artist who created physical artefacts that play with the limits of eye sight in synergy with six Valentino Couture dresses. Cheng Ran curated a multi-video installation that levels off somewhere between documentary and fiction, depicting four prêt-à-porter looks from Valentino's Act Collection. As the name of the exhibition hints, Valentino Re-Signify Part II is a revived memory, a revisited archive of the house's history, given a new signification through the synergy created by the artists. The re-contextualization of these Valentino anecdotes is exhibited in a perceptible and readable way for the viewer.

The exhibition Valentino: Re-Signify Part II is on show from October 16th to November 7th 2021 at the T-10 space of SKP South in Beijing.

www.valentino.com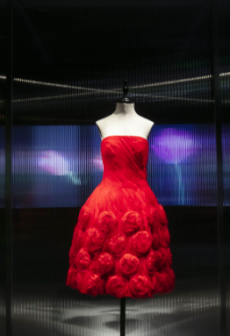 Fashion
Dior Men B30 Sneaker: The Athletic Versatility of Dior´s Men B30 Sneaker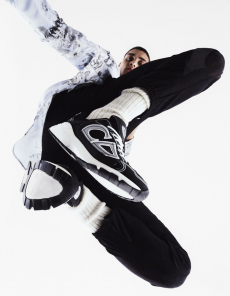 In an interview, Kim Jones once revealed that he owns more than 500 sneakers. His experience and passion for athletic footwear made him an expert in creating the new Dior B30. The Paris-based designer was appointed as the creative director of the traditional Maison Dior two years ago. Ever since he has combined elegant elements, typical for Dior with his modern streetwear affinity, resulting in refreshingly casual and perfectly balanced collections. The B30 Sneaker was shown in the SS22 collection to complementing each presented look with a tribute to the world of running and the streetwear credibility. What strikes most about the sneaker are the extraordinary materials used, such as mesh and microfiber, which enhance the flexibility and lightness of the shoe. The sneaker is adorned with the renowned CD logo on each side of the shoe in a reflective graphic element. Available in five colors, from classic black and white to a refreshing lime, the color palette delivers options for the Dior customer. The versatility of the sneaker perfectly adapts to the complex needs of a customer in today's fast-moving world and therefore is a striking example for Kim Jones´ understanding of our zeitgeist.

www.dior.com
Fashion
Arte Gia "The Divine Feminine": A Love Letter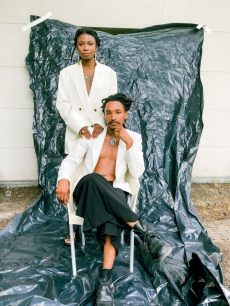 ArteGia is an Amsterdam-based brand who identifies uncompromisingly with feminine energy and inclusion. The family-run brand is founded by Gianita Brinkman, her daughter Kimberly Tarifa and her son Baqua Jody. ArteGia's core identity, the idea it was founded on is the power of the woman. The family's Indonesian heritage is the greatest source of inspiration for their latest collection "Mamuli". ArteGia's idea was to create a love letter, an homage to the Grandmother Marianne, which is transformed into an exceptional range of hand-made jewelry pieces. The collection includes remarkable pieces, earrings and necklaces, made out of sterling silver with an 18-carat gold layer. The pieces of the collection showcase the Mamuli symbol, which unites all the virtues Arte Gia stands for - inclusivity and compassion for every human being no matter their identity, gender or social situation. The symbol has its roots on the Indonesian island of Sumba and represents fertility, creation, healing as well as growth. The most important value of ArteGia is their authentic belief system, which is not only reflected in their jewelry but also in their dedication and support in Bali. The family has made it their mission to especially help the creative and LGBTQ+ communities, by providing basic needs such as rice and food packages. Through their Indonesian heritage, the ravishing Mamuli collection is to be seen as more than just beautiful pieces of jewelry but spiritual reminders of compassion, love and devotion.

www.arte-gia.com
Fashion
Matthew Williams x Ewan Macfarlane: Sculptural Poetry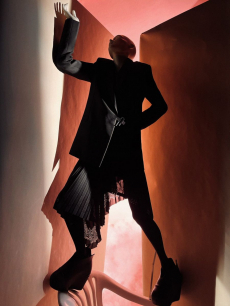 Collaborations have not only proven to be the best way for a brand to connect with a new audience but just as well to develop the brand´s DNA. Accompanying the arrival of Givenchy´s FW21 collection in a few selected stores, Matthew Williams initiated a ravishing collaboration with multimedia artist Ewan Macfarlane. The artist is best known for his impressive and poetic work dedicated to self-discovery. For a few selected retail stores, Macfarlane created captivating human-like sculptures, which are crouching, climbing, reaching or leaning or include disassociated limbs, all dressed in Givenchy. ´´What someone wears should always portray who they are inside. I feel like the beauty of Ewan´s work helps me convey that in a powerful& poetic way´´ explains Williams. The creative director is renowned and admired for perfectly combining the contrast of utility and luxury in his creations for Givenchy. By displaying these impressive mannequins, Macfarlane and Williams open a conversation on self-expression, meaning and evolution as well as craft, opulence and celebrating life. Refreshingly grotesque yet sculptural poetry. Macfarlane´s work perfectly emphasizes Williams quintessence thought for Givenchy, which is to take a look beneath the beautiful and luxurious clothes because, searching for the insides that really count.

www.givenchy.com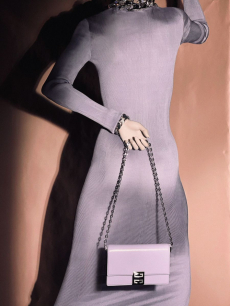 Fashion
Marcell von Berlin FW21: Fashion Remains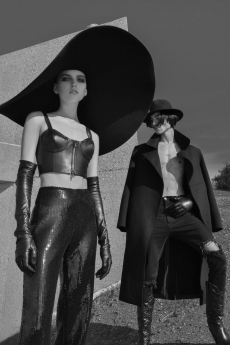 No matter where in time we find ourselves, the past, the present or the future: fashion is always a representation of the Zeitgeist that collectively expresses the ideas and thoughts of indivduals. The Berlin and Los Angeles-based brand Marcell von Berlin creates charming clothes, worn by celebrities like Lady Gaga, Madonna and Jennifer Lopez, aiming to encourage this individual self-expression that eventually turns into a sign of the times. The FW21 women's collection features rock n´ roll inspired clothing, reinvented in a modern version and bold colors that give every wearer the necessary optimism for the future. Eye-catching neon pink, flared trousers with matching blazers, red sequin dresses and gigantic hats represent a spirit that is never out of style, no matter the decade's fashions : joy. In the FW21 collection, particular attention is given to Marcell von Berlin's siganture handbag; the MM. In order to pursue the idea of timeless, adaptable fashion, a bag needs to function as an allrounder, suitable for every occasion whether day or night. The new MM Bags are unique handbags, available in captivating colors such as neon-pink, yellow or green and in a range of different sizes. The theme of joy was also picked up for the men's collection with shark motifs on shorts and shirts as well as bright colored suits. Marcell von Berlin and their brilliant designs as well as exceptional craftsmanship are perfectly in tune with the current times, in which authenticity is the most desirable thing to wear for men just as well as for women.

www.marcellvonberlin.com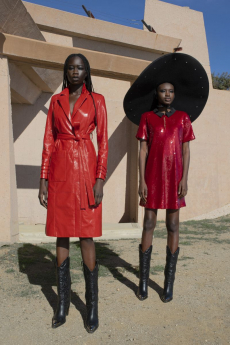 Fashion
Dior SS22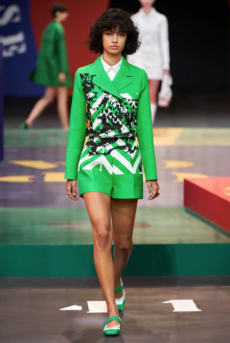 "I have always thought that it's pointless for artists to speak about their own work. It's the artwork itself that must speak to people. Certainly, it's the work that has spoken indeed. (…) It was a natural talent of mine, but it all remained primarily in the background. I always say I have painted a great deal, I exhibited very little and sold nothing [Laugh]" Anna Paparatti is of the most iconic and vivid figures of the 60s in Rome. She was at the centre of that atmosphere of freedom against any preconceived codes and dogmas surrounding the art world, using the theme of "game" and playfulness beyond reality, where art becomes life and vice versa. Conceived through her "absurdist" spirit reflecting the philosophy of her work, Paparatti designed the show space starting from bits of her paintings. here as a gigantic Game of Goose, models move at beat of Italian band "il Quadro di Troisi" live performance. On January 27th, 1961, L'Aurore wrote about Marc Bohan's tenure as Creative Director of the House and his Slim Look: "It completely changes fashion, just as the New Look did in 1947." Maria Grazia Chiuri pays homage to the visionary spirit of Marc Bohan's Slim Look collection and the richness of the 1960s. The silhouettes reveal cuts and graphic effects with color blocking, evoking the painting by Paparatti. The materials and various motifs recall the legendary Roman nightclub, the Piper Club, a unique place for expression at the crossroads of art and design. Sequins, vivid prints, transparencies: Maria Grazia Chiuri dives into women's freedom once again, and into what means to be a woman today, where several facets of personal expression comes together through the intrinsic desire to be real.

www.dior.com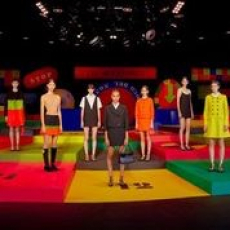 Fashion
Prada SS22: Seduction Explained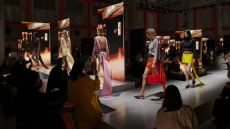 The duality of the Prada SS22 show, staged simultaneously in Milan and Shanghai-connected via live stream, is a perfect portrayal of the two featured influences, the unconventional beauty chic founder Miuccia Prada and elegant streetwear representative Raf Simons working together. Creating the clothes for the SS22 collection, Prada and Simons have reached the bare structural essentials of the clothing, the ultimate climax of a path of seduction, like the curves of a brassiere, framework of a corset or opened buttons at the back of an elegant silk dress. It featured also draped nude dresses, resembling a bone like structure and silk mini skirts in combination with slightly used-looking leather jackets in different silhouettes, a formal and casual blend, a sophisticated contrast which also mimics Prada and Simons´ partnership. The process of stripping down aims for much more than showing of skin- instead the clothes emphasize the sensual game between bare skin and the soft layers of fabric. Prada and Simons created a new form of sensual sexuality, a more hidden one, giving our mind enough space to create own fantasies.

www.prada.com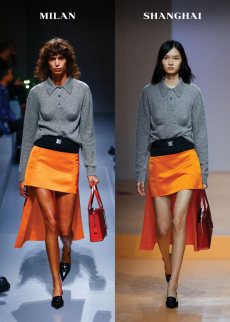 Fashion
Sportmax SS22 Shows How Harmonic Contrasts Can Be
"Every something is an echo of nothing."
For this season's show the artist John Cage serves as main source of inspiration for the brand. The avant-garde composer is known best for his unorthodox ideas and especially the song 4'33'', presented in a complete absence of any sound and which profoundly changed the perception of music.The contrast between noise and silence, John Cage became famous for, is being transformed by the brand in a fashion context. Light backgrounds stand in contrast to dark as well as vibrant colors used in Sportmax' creations. The models wearing intricately, heavily draped amounts of fabric appear out of nowhere between clean walls that can not be distinguished from the white floor on the runway, like an echo caused by the reflection of a sound coming out of nothing. Sportmax' SS22 looks include jumpsuits with big, puff details on the sleeves as well as boxy cut blazers and second skin bodysuits, in a color palette covering natural shades in contrast with bold colors like lilac and fuchsia. The brand also presented charming contrasts between corsetry details and long flowing dresses in soft earthy tones. The journey through the different kind of contrasts inside and outside of the clothing, Sportmax invites us to this season is a perfect addition to Cages silent music studies.

www.sportmax.com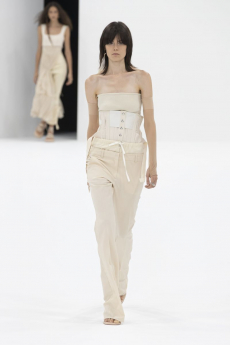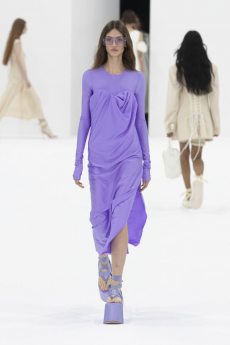 Fashion
Marsèll x RRose 2021: Last Comes First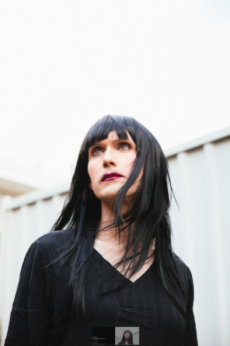 Marsèll x RRose 2021: Last Comes First In 2016, the Italian brand Marsèll has established Marsèll Paradise, a platform for generating a dialogue between the brand's creations and other art forms. This autumn, Marsèll Paradise initiated a collaboration with RRose, the alter ego of musician Seth Horvitz. The California-based musician, who is celebrated for his sensual techno DJ sets, repeatedly collaborates with fashion houses. Under the wings of Marsèll Paradise, RRose has created the media installation "Last Comes First" which thematizes the limits of perception: "I am fascinated with the fuzzy boundaries between things – the moments that rupture the mind's ability to distinguish between independent entities. Illusions reveal the limits of a fixed reality." RRose embodies Marsèll Paradise' vision of cherishing personalities on the pulse of time, who aren't afraid to look beneath the surface of what is commonly accepted and perceived as the norm. By choosing RRose as a featured artist, the platform draws attention to gender perception in particular. The exhibition includes six images, which are transformed into a series of endless video loops, pursuing the idea of an intimate visual investigation. In addition to the exhibited images and videos, RRose has given Marsèll exclusive access to "Sporophyte", one of the songs on her upcoming album.

Last Comes First is exhibited at Marsèll Paradise, Milan, from September 24th - October 3rd 2021.

www.marsell.it
Fashion
Giorgio Armani SS22: Back to the Roots
The Armani SS22 collection is a trip down memory lane to the beginnings of one of the most iconic global fashion brands. For this season's women's collection, the designer chose a special venue-the birth house of the brand, a place where some of the most memorable shows were staged: the Via Borgonuovo 21. The SS22 collection is an invitation for all of those, who were old enough to catch the beginnings of Armani to relive it as well as for younger generations, to get a glimpse of the brands roots. The designer makes playful yet unmistakable use of the deeply anchored Armani vocabulary, with classical light summer suits and elegant, cinched waist dresses that serve as perfect attire for a weekend in the Hamptons. The collection also includes a range of pastel colored, flowing blouses, trousers, widely cut and resembling the shape of skirts as well as prominent, colourful jewelry. The collection gives us also a deeper into Giorgio Armani's heritage, which isn't Italian, as widely believed. His parents originally came from Armenia and fled to Italy during the genocide in 1915. Pieces like wooden bead tops and caps as well as crocheted shoulder bags leave us deeply wanting to join Giorgio Armani as he explores his roots. The sensual, soft materials and colors in combination with the azzurro blue background give the viewer a glimpse of the luxurious present world of Giorgio Armani.

www.armani.com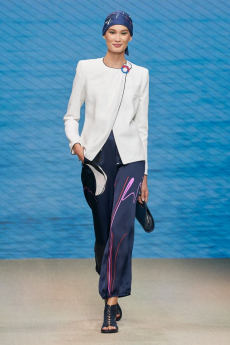 Fashion
Tod's SS22: Freedom of Craftsmanship
Tod's SS22 collection revolves around the notion of freedom. Paying tribute to the brand's closeness to crafts and material quality, Tod's has worked with and sponsored artists who make use of the same medium in the past. For the SS22 collection, Tod's collaborated with Spanish artist Carlota Guerrero, who combines photography, film-making and art directions in her work. Guerrero produced a campaign shoot and video, in which seven women come together in an atelier-like setting where they encounter material sculptures. Through this work, Guerrero tells her own journey with craftsmanship and nods to Tod's expertise in this field. The looks of SS22 refer to urban use, encapsulating relaxation and good taste simultaneously. Short trench coats, windbreakers and parkas refer to the experience of open-air events, while knit items and tailored elements evoke the sophisticated touch of Tod's. The collection achieves an equilibrated balance between utilitarian, masculine looks with lavish, dedicated detailing and high-quality materials. Herein, the collection takes up the iconic indispensable color palette of Tod's of muted tones such as ecru, beige, brown and black – making the craftsmanship of the items stand out from their neutral canvas. Tod's "T Timeless" project, an undertaking that pursues the recognition of the brand even in future years, shows in the accessories of the collection; showcasing prominent memorability through classical footwear and handbags.

www.tods.com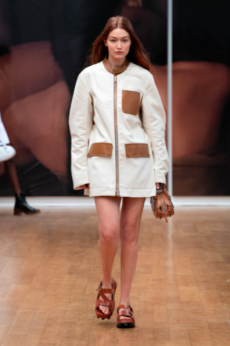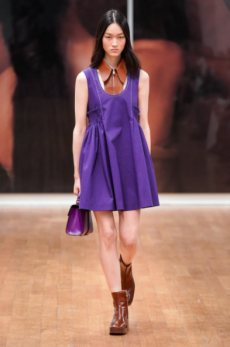 Fashion
Armani SS22, the Soft Spot in Fashion
Emporio Armani celebrates 40 years in business with an extensive collection for men and women, that fills your warderobe for every imaginable occasion for SS22 from holiday sightseeing, going to work to elegant night outs in the city. It is an hommage to Armani's deep rooted essence in enjoying fashion without any strict, imposed rules. The show takes us into different worlds, from an imaginary desert to a dreamy heaven of pastel colors. The runway is filled with Armani's signature lightness and fluidity of the cuts, some genderless pieces and a softness of colors. Pastell pink, green, blue and dusky lilac mac blend together in fluid trousers, blouses and blazers, easily confused with something light as a summer shirt but also holiday ready-to-wear pieces like semi transparent jumpsuits, shorts in an emerald green and turquoise as well as flowing dresses with layers of see-through fabrics and cinched waists, to empathize a little bit of feminity. The men's clothes are ranging between loose-fitted jackets and trousers crafted from linen, jersey, silk and wool as well as more experimental pieces like a light mullet shaped vest with a hood. The accessoires ranging from scarves to cord belts also empathize the lightness, that stands for the brand. Armani is all about showing a strong confidence without losing any harmony or softness in garments.

www.armani.com
Fashion
Tommy Hilfiger FW 21 Pass the Mic
Voices speak volumes and every voice has the power to affect and change the world. It is this positive affirmation that laid the ground stones of Tommy Hilfiger's current FW 21 campaign called Pass the Mic. The campaign features international voices of the entertainment industry from the United States, Korea and Nigeria. Together with these ambassadors, Tommy Hilfiger aims to create a global interface of discussion, where consumers can express their visions and inspirations to create change. Yara Shahidi, Anthony Ramos, Jack Harlow, Wizkid, Kim Soo-Hyun and DJ Cassidy call their followers to action in five portrait videos, revolving around their personal mantras. Empowering phrases such as "I am the I in light. I am the reason the future is so bright", "How many tried? And you still rise." and "Pass the mic and share your light. Every person, every voice can change the world. So what do you have to say?" invoke the audience to engage and answer to the campaign videos on social media. This call to action accompanies the FW 21 collection, which propels Tommy Hilfiger's mission towards diversity and sustainability. Collecting answers to questions on what inspires one to make a difference, what would one say if the world was listening and what drives one towards the future, the Pass the Mic aims to give the audience a platform where engaging conversation erupts.

www.tommyhilfiger.com
Fashion
Longchamp FW21: Seasonal Reinterpretations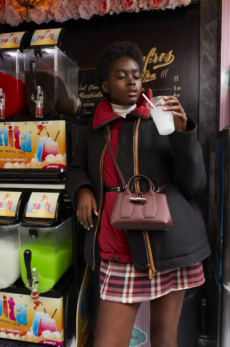 For the FW 21 collection, Longchamp explored a seasonal reinterpretation of two of their star pieces – the Brioche bag, named after the delectable French pastry and the Roseau bag with its signature bamboo toggle. Inspired by the evergreen charm of the Parisienne, the French Maison revisited the two iconic bags with the suave wink French women are known for, expressed in the campaigns through a humorous take on ordinary situations of daily life. The Brioche is presented in a sleek, compact design with a versatile metal chain and it's signature neat flap that allows for a surprisingly spacious interior. A leather-covered, metal-rimmed clasp nods to the leather expertise Longchamp is known for. This season, the Brioche's color palette is replenished with a pastel powder pink and a neutral dove grey. To counteract the soft nuances, a shiny snakeskin-effect leather version as well as indigo denim style one cater for a more outspoken look. Another new version of the Brioche features a sporty 60s vibe with graphic stripe elements. Lastly, the reinterpretation spawned an ivory-colored Brioche with a shearling-effect canvas and a natural calfskin clasp. The Roseau bag has been revisited with a smooth leather body in natural ecru and red color, accessorized with a chunky toggle and chain giving a vintage look, as well as more contrasting material choices such as crocodile-print leather and velvety suedes.

www.longchamp.com
Fashion
Stone Island: The Prototype Research Series
In the wake of Milan Design Week, Stone Island has given insight into what happens behind the scenes of the Italian fashion brand. Within "The Prototype Research Series", Stone Island unveils the unfiltered story behind one of their research projects. Originally curated for the Milan Design Week in 2020, Stone Island experimented with copper nanotechnologies. By applying a nanometric copper layer to non-woven fabric, the process of natural oxidation can be observed. The purpose behind this project was to investigate the transformation that happens during oxidation and how environmental conditions, such as humidity and carbon dioxide concentration in the air influence this process. With the cancellation of the Milan Design Week in 2020, the project took an unforeseeable turn – and delivered an unforeseeable outcome. "When the garments were returned to us in spring 2021, their oxidized appearance was magnificent but the adhesive between the non-woven fabric and the cotton satin was unpredictably 'gone', 'eaten' by oxidation. The result did not reach the target of resistance and solidity we aimed for. I often tell of the 'mistakes' that come up when daring to go beyond the known, the tested, the conventional. This is the unfiltered story of an unfinished research process, an enrichment of the company's experience and culture. Each step has taught us important things which will be important for the future, regardless of the goal achieved," is how Carlo Rivetti, Creative Director, summed up the decision to show the research nonetheless.

www.stoneisland.com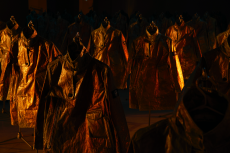 Fashion
Swarovski Wonderlab Collection II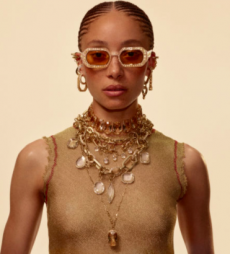 A world where magic and science meet, a world full of wonder – from muses of the Bohemian movement to design aesthetics taken from the Swarovski's Austrian heritage, the second collection of Wonderlab enrichens the timeline of the jewelry brand by a modern twist. Each crystal item of the collection represents a microcosm of an individual world in which the magic of Swarovski jewelry unfolds in manifold ways. The collection exhibits an interplay of colors, textures and cuts that symbolize self-expression in all its various ways – classic, punk, sweet, striking and every nuance in between. Aligned with this expressive nature, the collection is launched with a campaign that represents the opposite of archetypes in all their authenticity. The Wonderlab Collection II cherishes the success of the preceding Collection I; paying tribute to the families of the original collection with evolved takes such as unisex approaches, new forms and colors. Besides, the Wonderlab Collection II presents a quartet of new design families: Abunda embodies technical marvel, exploring architectural elements, focusing on the prowess of craftsmanship. Dextera exemplifies geometric embellishment, parading crystals precisely composed around metal frames that radiate a "mathemagical" fusion. Imber replenishes the Wonderlab themes by a softly sensory experience, with crystals that create a cascading illusion, inspired by the classic Swarovski chains. Lastly, Stella features dark and dreamy star-shaped pieces that play with proportion and lets starlets and stargazers dream of alternate realms.

The Wonderlab Collection II is available from September 7th in-stores as well as online.

www.swarovski.com
Fashion
Galop d'Hermès: Equestrian Anecdotes
The Galop d'Hermès watch, created in 2019, exemplifies a thoughtful creative process. The watch revisits the Maison's equestrian codes with its watchcases that is inspired by the shape of stirrups. The Galop d'Hermès was born from the detailed observation of Californian designer Ini Archibong, who immersed himself into the archives of Hermès creations. Bridoons, stirrups, bridles, harnesses - with his streamlined and balanced style, Archibong merges avant-garde interpretations of these design anecdotes with the beknown functional simplicity of Hermès objects. Now, Hermès relaunches the classic piece in a smaller format. Closely linked to the House's watchmaking repertoire, the Galop d'Hermès is a piece that combines the practicality of a watch with the delicacy of jewelry. The new "Petits Modèles" are available in rose gold, plain steel and in a steel bedazzled with no less than 134 diamonds. The case's soft angles close around a wide-open dial, punctuated by Arabic numerals of different sizes. Enlarged on the lower part of the display, they convey movement and a shift in perspective. The progressive typography, finely highlighted in anthracite, stands out against a sandblasted background, while the hands hover over a smooth opalescent surface. A final nod to the world of horses, the number 8 forms an inverted stirrup. A calfskin or alligator strap, made in the Hermès Horloger workshops, extends the aerodynamic and futuristic lines of this creation.

www.hermès.com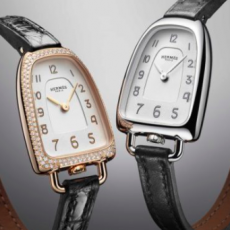 Fashion
Montblanc Meisterstück x Pirelli Limited Edition
When two pioneers of traditional European craftsmanship unite their uncompromising skill and aspiration of quality, the result is guaranteed to be a masterpiece. For their latest writing instrument, Montblanc has paired up with Pirelli, bringing together the art of writing with the art of making tyres. Whereas the collaboration seems unexpected at first glance, these two brands share a strong bond that reaches back to their very beginnings, namely the material that defined their origins: rubber. Back in the day, Pirelli manufactured rubber products of various kinds, while Montblanc crafted their first writing instrument from ebonite, a special kind of rubber received from vulcanizing natural rubber. With a subtle anecdote to Montblanc's signature Rouge et Noir fountain pen and Pirelli's choice of red as a brand color, this Meisterstück edition presents itself in a classic color combination with unconventional graphic design. Inspired by these origins, the deep, saturated black of the ebonite rubber and the accentuating bright red, the Meisterstück Great Masters Pirelli Limited Edition 1872 reflects the legacy of Montblanc and Pirelli at once. The special edition features an engraved pattern on the cap and on the barrel that pays tribute to the historic graphic pattern of the Pirelli logo from 1966 and resembles the surface of tyres. A stylised running tyre with the Montblanc emblem at its centre further expresses the proud collaboration of the incumbent manufacturers, that both carry the virtue of craftsmanship, precision and quality at their core.

The Meisterstück Great Masters Pirelli Limited Edition 1872 is available from September 2021 at Montblanc boutiques worldwide.

www.montblanc.com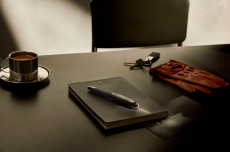 Fashion
Vitra Circle Store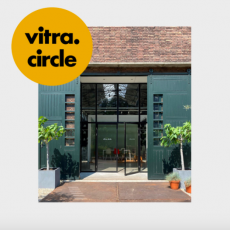 The Swiss design pioneer Vitra opens its first store in the Netherlands. With circularity and sustainability in mind, the name of the store – Vitra Circle Store – already gives away the idea behind the concept. The Circle Store sells used items from the numerous exhibitions, trade fairs and showrooms representing Vitra all over the world. Next to the classic pieces, the assortment range includes products designed exclusively for Vitra by contemporary designers. The pieces available for purchase offer a broad choice to the customer – whether it is sofas, chairs or interior accessories. By opening this well thought out store concept, Vitra aims to increase awareness of conscious consumption, considered production and the importance of original, timeless design. The Circle Store is located in the monumental building in the Hembrugterrein in Zaandam. To provide maximum quality, the objects sold at the Circle Store are restored and cleaned before they enter their second life cycle. The refurbished objects are sold with a two-year guarantee and persuade with fair prices, which are made on-site, depending on the condition of the design pieces.

The Vitra Circle store is open to the public on Fridays from 9am to 5pm from the 10th September 2021, and from the 1st October 2021 additionally on Saturdays from 10am to 5pm.

www.vitra.com
Fashion
Louis Vuitton: Vivienne Travellers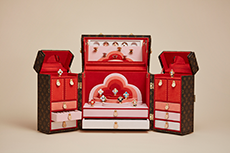 Continuing their ethos of freedom and travel, maker of the finest leather goods and historic fashion house, Louis Vuitton, unveils its new jewelry collection centred around the beloved contemporary mascot: Vivienne. The Vivienne design arrived at Louis Vuitton in 2018 and the family of jewelry has now been expanded into a collection of 11 unprecedented creations.

Vivienne Celebration features both white and yellow gold and is embellished with no fewer than 36 diamonds colored stones and 124 diamonds to evoke the true nature of festivity and joy. This same evocative presence is displayed in the Vivienne Rainbow, true to its name it radiates hope and a fervent emotion thanks to its exquisite pavé gradation of 154 multicolored gemstones. In a poetic homage to Paris' Place Vendôme, the worldwide mecca of jewelry and home to one of the most decadent Louis Vuitton stores, the Vivienne Royal wears a crown of yellow gold and diamonds, draped in a blue lacquer robe punctuated with fleur-de-lys.

Mischievous and fun, Vivienne arrives in many different forms and is hiding a secret, the pendant can be converted to a brooch. The design shows a respect for cultures that are dear to the globe-trotting maison, proving to be adaptable and versatile in any context, environment or occasion. Bursting with life and color; these fetish figures are housed in a specially designed treasure chest with mirrors, stages and individual compartments for each of the 11 pieces; exhibiting a mastery of The Art of Travel by Louis Vuitton.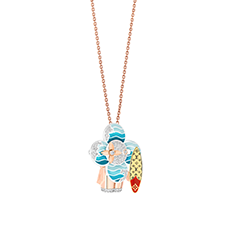 Fashion
Byredo x Our Legacy: Byproduct 27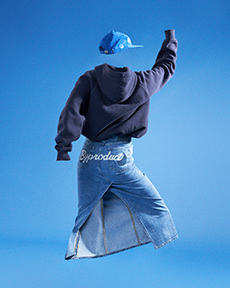 The revival of a cool and familiar style, creative up-cycled fabrics and a tasteful homage to 90s style and youth culture is the latest collaboration from Byredo.
Swedish luxury brand, Byredo, founded by Ben Gorham in Stockholm in 2006 with the mission of translating and evoking emotions and memories, unveils its collaboration with Our Legacy. The latter was also founded in Stockholm just one year prior to the inception of Byredo. Jockum Hallin, Christopher Nying and Richardos Klarén, co-founders of Our Legacy, continuing their ethos of merging the familiar and the irregular have found a dream collaboration in Byredo.
Byproduct is the intuitive and creative arm of Byredo which extends beyond beauty with the finest quality materials to facilitate life's spontaneous, wild and beautiful expeditions. The Byproduct logo is embroidered on caps which arrive in three shades of blue, the words "Work Shop" appear on the caps beside the Yin Yang logo and quote.
Classic blues are overdyed and adorned with bold prints, blue wash denim jeans for men are wide cut and straight fit. A light blue wash women's denim skirt is fitted with a 5-pocket design, an A-line silhouette that sits comfortably above the waist-line and sports a Work Shop x Byproduct Yin Yang logo which has been screen printed by hand to complete the look. In addition to the denim items, the Byredo x Our Legacy collaboration features a boxy fit hoodie with brass eyelets, raglan sleeves and an overdyed finish that appears washed out and youthful.
The Byproduct 27 collection will be available exclusively online at the Byredo website and the Our Legacy website as well as select Our Legacy Flagship boutiques from August 26th, 2021.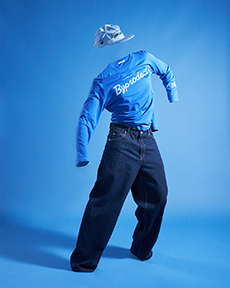 www.byredo.com
www.ourlegacyworkshop.se
Fashion
Electric Horology at CHANEL
For their latest take on watchmaking, CHANEL seeks inspiration from the mantras of electro subcultures. Referring back to the roots of a music genre that cherished being different and original, the capsule collection CHANEL Electro borrows the graphic codes of vibrant night scenes and the rebellious atmospheres, going against the grain of classics and traditions. Given the all-encompassing, sensory, auditory and visual experience of electronic music, the electro era marked a turning point for performance which gave rise to an authentic culture with distinctive aesthetics. As an honor to this fully-fledged artistic genre, CHANEL immersed into the visual effects of electronic music to find impulses for color combinations. "White is illuminated by color, color is intensified by the depths of black" is the essence of the flickering that accompanies the clubbing scene. Arnaud Chastaingt, the director of the CHANEL watchmaking studio, applied these visual performance programs onto four classic watches, the J12, the Première, the Code Coco and the Boyfriend. Using elements of black ceramic and black steel in combination with vibrant color accentuations CHANEL steps out of the conventional way of design. The Code Coco and Boyfriend styles feature bright diamonds and neon pink leather straps, while the J12 exhibits accents of bold colors in its numerals. The Première comes with a chain bracelet that has an interwoven multicolored leather detailing. The campaign is accompanied by the exclusive launch of seven electro-music pieces, all true to style on a vinyl record, as well as Spotify, specially composed for CHANEL by French DJ Pedro "Busy P" Winter.

www.chanel.com
Fashion
Tommy Hilfiger x Romeo Hunte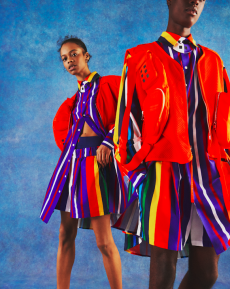 This FW 2021 capsule collection newly defines the American apparel pioneer's signature preppy style with the means of deconstructing and remixing that Romeo Hunte is known for. The collection exemplifies how a close mentorship and collaboration between two designers allows for refreshing takes on classics - Manhattan prep merges with Brooklyn street style, resulting in a collection that focuses on gender-fluid outerwear with multiple purposes. Hunte, who describes reinvention as an inherent part of his design formulas, created garments that blur the lines between edgy and sophisticated, effortlessly intertwining clashing elements. As such, the iconic Hilfiger trench coat has been transformed into a versatile version with detachable sleeves, reinterpreted color blocking and ironic slogans. The capsule collection builds upon Hilfiger's People's Place Program that advocates diverse representation in fashion and beyond. In this sense, challenging the status quo happens not only through the design of the collection - seven one-off upcycled polo shirts will be auctioned with the proceeds going to the Fashion Minority Alliances, a non-profit organization that aims to foster inclusivity in the fashion industry by achieving long-term equity and advancement for BIPOC and historically marginalized creative talents.

www.tommy.com
www.romeohunte.com
Fashion
Dior FW2021: Silk Scarves & Craftsmanship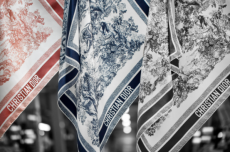 Dior's FW 2021 collection parades a dozen of silk scarves that radiate Dior's elegance paired with a dash of nonchalance. For these special items, Dior collaborated with Italian artist Petro Ruffo, who created designs specifically for this collection. The majority of scarves are graced with landscape motifs and exotic animals. An ecru-berry colored version parades a palm tree and a selection of three scarves are imprinted with the Dior Oblique pattern. During the design process, Ruffo applied his sketches onto the silk fabric by pen engraving, a method carried out by hand. Later on in the process, the methods of silkscreen and inkjet printing are used to transfer the dreamy motifs onto the scarves. After hand cutting the design into their scarf shapes, the seams are frayed or rolled depending on the design. With the extensive amount of detail orientation and needlework, the scarves exemplify the virtue of craftsmanship. An augmented reality filter offers a virtual try-on experience. Whether worn as a headband, a neck scarf or a turban, the styling options featured on the filter nudge towards creativity to explore the endless potential of the silky squares.

The collection of scarves is available in Dior online stores from now on.

www.dior.com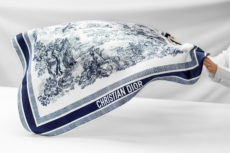 Fashion
Fendi x Rimowa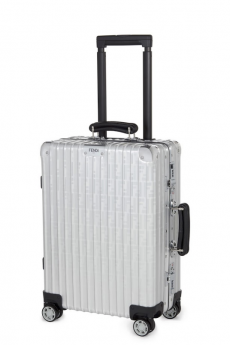 The collaboration between Italian house Fendi and German luxury luggage brand RIMOWA is back once more. For a third time, both houses join forces to combine the best of their respective know-how and flair. Crafted in RIMOWA's signature aluminium, the new Classic Cabin comes equipped with a new and innovative multi-wheel system, which promises smooth and effortless travel even with a full suitcase. It's a perfect blend of German industrial know-how and luxurious Italian craftsmanship. The aluminium body features a brushed effect that depending on the light reveals the Italian house's emblematic FF logo, whilst being completed with Fendi details, such as Cuoio Romano leather handles on the top and side. Additionally, you have the opportunity to hot stamp your initials on a Cuoio Romano leather nametag, as is customary with all Fendi bags.

Available in selected Fendi stores and online from September 2021, the RIMOWA x FENDI suitcases will be pre-launched in August 2021.

www.fendi.com
www.rimowa.com
Fashion
Technical Skill & Creative Flair: Berluti's Fly Sneaker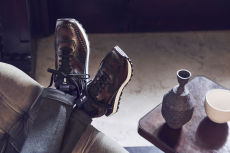 Berluti has replenished its FW 2021 sneaker collection with a new version of the classical Graphic sneaker. Fly unites the 70s elements of the original sneaker with the sporty details of bicolor soles and a geometric heel. The combination of leather and rubber creates a clash between modernity and retro vibes, making the sneaker stand out with a bolder style than expected from Berluti's designs. The combination of rich leather, vibrant tones and dynamic details taken from Berluti's DNA and reinterpreted with an effortless and lightweight approach result in a bootmaker-inspired final outcome. The Fly sneaker comes in three characteristic designs. Two of them are made from leather, featuring a version with black and white stripes that parade a red outsole detail and a white-silver version with a grey outsole detail. Both of these feature the house's signature zig-zag stitching and perforated details. The third version is a derivation of the Venezia accessory collection crafted from calf leather with a special patina, presenting a more toned-down color palette with a saturated brown and black detailing. The Fly sneaker embodies the dedicated craftsmanship and the unique combination of technical skill and creative flair that Berluti stands for.

www.berluti.com
Fashion
aeyde Pre-Fall 21
The pace of our everyday lives is becoming faster and faster. News and images circle the globe almost instantly and we are at all times connected to almost everything that is happening in the world, bombarded with a constant flux of outside stimulus. Then, Covid-19 happened and the world for once stood completely still. People were confined to their homes, events were cancelled, streets were empty, and suddenly we found ourselves alone with our thoughts almost without any distractions. This wasn't just the case for individuals. Also, companies suddenly found themselves in a period of intense introspection, as the minds behind aeyde put it, during which the immensity within was allowed to swell to the surface. All the changes and challenges of the past five years were finally able to sink, sparking the creation of a renewed inner space to contemplate the journey which has brought aeyde to where the brand is now. This is also reflected in the new Pre-Fall collection, which was launched this July. The ongoing reflection is presented throughout the styles, old as well as new, revealing the brand's past, its identity, but also what's to come. In line with its typical signature aesthetic, the two highlights of the collection are the new razor-sharp pointy-toe shoes in monochrome and the sleek square-toe styles in classic colors and luxe snake prints.

The aeyde Pre-Fall collection is available in select stores and online now.

www.aeyde.com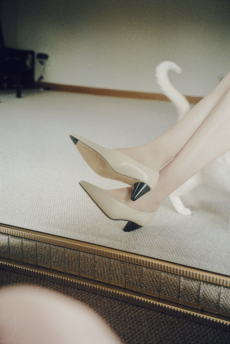 Fashion
Valentino Des Ateliers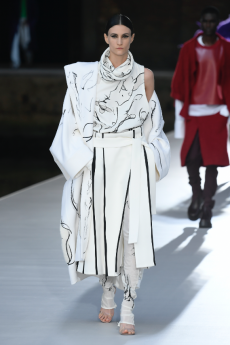 Valentino's Creative Director Pierpaolo Piccioli makes it clear that fashion is not art. Art has no purpose outside itself, art for art, whereas fashion due to its very nature features functionality, a practical scope directly linked to our body. Nevertheless, these two creative differences aren't opposed. On the contrary, when taking the time to learn about these differences they offer a great source of inspiration and opportunity to broaden our horizons. All that's required is to be curious and to take the time to listen. This is the foundation for the Valentino Des Atelier project, meaningful dialogue between the disciplines. Driven by the urge to build a community of makers around Maison Valentino, convinced that painting is to contemporary art what Haute Couture is to fashion, Piccioli brings together a group of painters of different ages, backgrounds and aesthetic inclinations, translating the two-dimensionality of their works into three-dimensional garments, a truly metamorphic process that transforms the paintings which are contemplated as something still into an animated and draped garments moving with the body. Color layering, signs, backgrounds, the full and empty portions are translated by Piccioli into lines, cuts, compositional gestures, involving each artist in a conversation on the dress itself. Each dress is the result of the confrontation of two creatives, the coming together of two distinct languages into a single dress. Valentino Des Ateliers is not just about creating a dialogue, but about listening to each other before pronouncing yourself.

www.valentino.com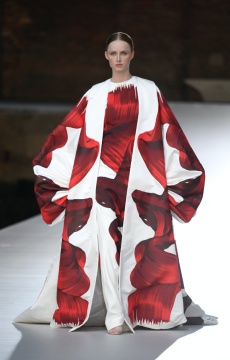 Fashion
Les Extraits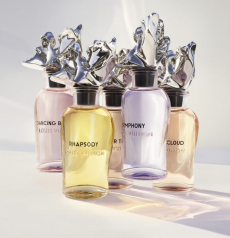 Louis Vuitton's newest Les Extraits Collections is the coming together of two geniuses in their respective fields, Maître Parfumeur Jacques Cavallier Belletrud and architect Frank Gehry. It is the first time that Gehry conceived a perfume bottle. His design is defined by the harmony between line and curve, the tension that gives form to beauty. Each flacon comes topped with a 3-D, sculptural work in silver, which is reminiscent of the wind moving and swirling through silver fabric. The fragrances themselves, entitled Dancing Blossom, Cosmic Cloud, Rhapsody, Symphony and Stellar Times, reflect the spirit of travel that Louis Vuitton has celebrated since its foundation. Through this collection we are taken further, to new horizons, a garden of waves, a golden temple floating beyond time enveloped in a halo of olfactory sensations. The five compositions center on materiality and the perpetual metamorphosis of nature. These scents are liberated, embracing the breath of life by being condensed into an Extrait, allowing them to blossom freely, without any constraint. As Cavallier Belletrud puts it himself, "I wanted to venture where no one goes anymore. To reinvent the notion of an Extrait in a contemporary way. To bring in light, expand matter, and lighten things up. I wanted to deconstruct the very architecture of perfume. That's how Les Extraits Collection was born: five perfumes with no top, heart or base notes, in order to reveal the quintessence of each olfactory family."

www.louisvuitton.com
Fashion
Armani Privé Haute Couture FW2021/22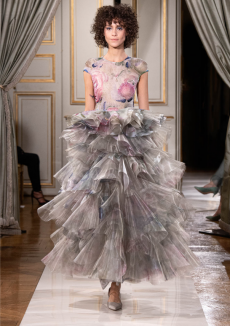 As for many fashion houses, the guests were also allowed to return to Giorgio Armani's Prive Haute Couture show yesterday, which was hosted for the second time in the Italian Embassy in Paris. For a seasoned designer like Mr. Armani himself, heading an established house like his, the pandemic might not have been as cataclysmic as for smaller and less established houses, but by no means can one say that this 16-month halt did not leave a mark nevertheless. With a certain post-pandemic awareness, Mr. Armani states that, "I do not feel more emotional about my work after the pandemic, but now I want my work to show emotions in a clearer way. I think that, during this period, we have discovered a feeling of something true, something powerful, something enriching, something energizing, and I want all this to come true, also through my work." His newest haute couture collection definitely bears witness to this. Fittingly entitled Shine, the collection is luminous. It focuses on the brilliance of fabrics that almost seem liquid, the sheen of satin interwoven with ultra fine metallic thread paired with Armani's signature filtrage, the layering of transparent fabrics, which created as Mr. Armani put it himself, "halos around the body". The garments radiate light and levity, celebrating the excellence of the materials. In a nod to the timelessness of his creations, Mr. Armani, whose clothes are never made for just one season, also filtered into the collection 15 garments from the audience-less show in January, because he wished for people to see them up close.

www.armani.com
Fashion
Hermès Mens SS22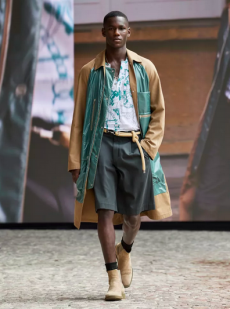 The Hermès Men's SS22 collection is about a sense of lightness, relaxation and freedom. It is a response to our need for wider perspectives, for the great outdoors. It is an invention and reinvention of a wardrobe in which different fabrics are interwoven, and where technical innovation finds inspiration in craftwork legacy. Depth and fantasy: a duality of spirit shaking up appearances. Paper becomes fabric, Toilbright and a cotton cover fuse together, leather is enlivened with bursts of colour and stitching graphics. Forms in trompe-l'œil: overshirts, double jacket-cardigans, coats and parkas in two materials.This hybrid approach ushers in a renewed elegance synonymous with energized and flexible shapes: the seemingly casual style belies a structured sophistication to the night as it fades in from the day. Innovation and precision, a dialogue with legacy patterns devoured, blurred, perforated and otherwise transformed by modern techniques.A harmonious play on contrasts accentuate the colours. Celadon-green, algae, chocolate, and carbon hues blend with the softness of faded rose, stone-grey and raw-silk. A bright, soft sweater, a daisy pattern and large Bermuda shorts embody this liberated relaxation.Suffused with optimism and energy, this creative collection is bursting with the vitality of a world reclaimed.

www.hermes.com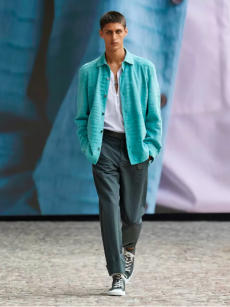 Fashion
Loewe Men's SS22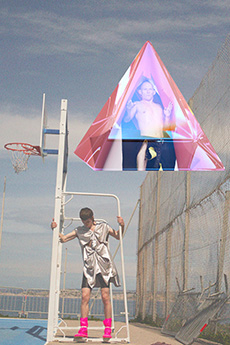 For the SS22 Men's collection, Loewe's Creative Director draws inspiration from the works of New York-based German artist Florian Krewer, one of the most exciting, upcoming voices in contemporary painting. Krewer's works are populated with the conflicts and desires consumed in public spaces of cities with all its free and chaotic characters. His paintings, characterized by their color palette of night-dark blacks, artificially-sweetened pinks, unclean whites and purples and blues, always have their starting point in a photograph, which is either found of personally taken by the artist. The collection radiates a certain sexual energy and is charged with the electrifying promise of intimacy and the feel of human touch. Glimpses of the body are revealed through clever draping and strategically place cutouts. Tripping out translates into an idea of distortion, with coats spouting metal plaques on the back or tops dematerializing into multiple transparent layers. The collection's swinging and energetic tone is determined by the juxtaposition of the pragmatic and the plain bonkers. It's an explosion of colors and saturated hues, which bright accessories, which add another feisty, touch. Overall the collection expresses one thing: joy and freedom coming to the fore.

www.loewe.com
Fashion
UNDERCOVER SS22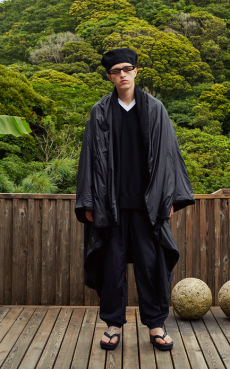 The SS22 Men's Collection "ONCE IN A LIFETIME" by Undercover is inspired by the translation of an idiom known by the Japanese tea master "Sen no Rikyu". For this collection, Jun Takahashi, Creative Director worked in a great environment which is a brand new studio located in a mountain where he could walk down to the beach and learned to cherish the ordinary. The collection reflects his wish to create designs that are not excessively decorative but deeply rooted in everyday life.The style of music and graphic designs created by the Japanese rock band "OGRE YOU ASSHOLE", one of the collaborators of this season, embodies his feelings. The collection reflects visually that even on an ordinary day, any moment in life cannot be repeated. Treasure every single day of your life is the theme for this collection interpreted in monochrome looks with intricate prints and construction, yet simple in form.

www.undercoverism.com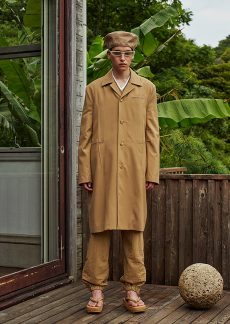 Fashion
MSGM Mens SS22
MSGM's Men's SS22 collection named Canon Infinito - like a musical composition that unfolds in circular melodies.The title of the song by Lorenzo Senni, the project's soundtrack, encapsulates the atmosphere of the entire collection, of a story that follows the moments of a long day, on a desert beach, composed in an intense joint effort by Massimo Giorgetti with Francesco Nazardo, the No Text Azienda and Senni. Canone infinito, like the dazzling light of the sun that hour after hour becomes gentler before giving way to night and returning in the morning, repeating its dance in a stubborn perpetual motion. Infinite like the horizon where the sea melts into thesky. Artisanal washes and the watercolour prints are reminiscent of liquid patterns of water reflected on rippling water; solarised dyes, almost a new tie dye, created surprising effects on the clothes as if they have been left to fade under the heat of the sun. Like chromatic clouds, melange items in woven cotton webbing recreate organic, rough and three-dimensional textures. Wet clothes stick to the skin, along with the scent of salt. Elements embodying an underwater imaginary world appear everywhere. www.msgm.com
Fashion
Tod's Mens SS22
Tod's Men's SS22 collection is presented in the video "Tod's Under The Italian Sun", which was shot at Cantina Petra, Suvereto, a building designed by Architect Mario Botta. The collection embodies nonchalance and modern craftsmanship. Te items are inspired by a combination of the adventurous imagery of Peter Beard with the idea of the urban safari, imagining a wardrobe focused on leisure. The volumes are soft, even in tailoring harmonize well with sandy Mediterranean colors. This wardrobe is made of classics reinterpreted in material, detail, and proportion, such as the Jack Biker jacket made of canvas. The windbreaker is a combination of different materials, and the hoodie is made of suede. The idea of uniform recurs and matching top and trousers, whether they are knitted or lightweight safari jackets. The trousers are practical in parachute canvas, with drawstrings details at the ankle. The knitwear is chunky yet lightweight.

www.tods.com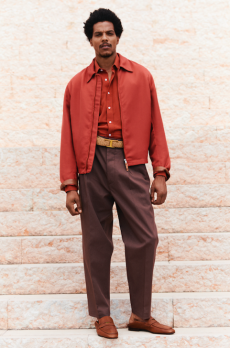 Fashion
Dior Cruise 22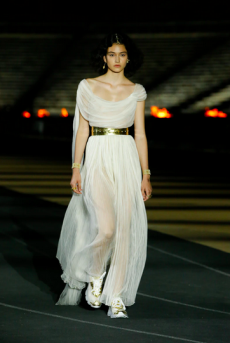 A series of photographs of one of Monsieur Dior's haute couture lines, taken near the iconic Parthenon in 1951, inspired Maria Grazia Chiuri to create the Dior Cruise 2022 collection. The show, set in the Stadium Panathinaiko in Athens, also drew inspiration from Giorgio De Chirico, a pioneer of surrealism who drew on poignant memories of Greece to paint magical places suspended in the silent contrast of light and shadow.  The looks, clearly reminiscent of marble and ancient statues, the tunic plays a central role in the collection. Combing ethereal looks with comfortable footwear such as sneakers or plateau boots, Chiuri seems to have reinvented the antique with the modern. The designer also paid homage to Marlene Dietrich's white suit and Björk's iconic swan dress. Ongoing travel difficulties meant that her show was primarily attended by local press and clients - treated to a heavenly performance by the Greek-American singer Ioanna Gika.

www.dior.com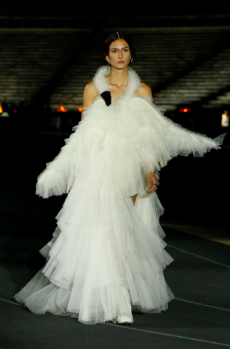 Fashion
Louis Vuitton Women's Cruise 2022 Show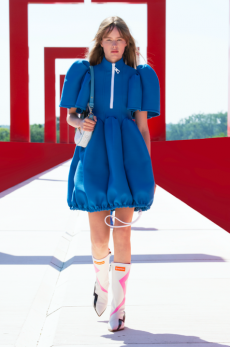 This season's cruise collection, filmed on the Axe Majeur, a architectural masterpiece near Paris, transforms a promenade into fantastical reveries. The sculpture reminds of a beautiful utopia, created by the late artist Dani Karavan, whose compassionate, peaceful works are scattered around around the world. It is an architecture of reconciliation, where water, light, wind, sand, concrete, stone, and steel create a felicitous relationship between nature, space, and time. The collection convinces the viewer with bold reds and blacks as well as mixed prints combined with vibrant boots. Puffy shapes and thick material add unknown dimensions to this collection. The Cruise collection proves once again, one needs nothing more than the most beautiful of passports: creation. As ever, it is unlimited and free.

www.louisvuitton.com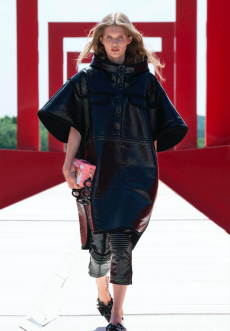 Fashion
HUGO Louder
"HUGO Louder," a new and exclusive music platform by HUGO that gives a voice to inspiring artists around the world, does more than share great music. Its mission is to amplify the voices of inspiring artists and young talents who want to change the world. HUGO's brand ethos is closely linked to popular culture – especially music. In 2012, the brand launched "HUGO Tracks," which showcased bands and acts from the electronic music scene. In more recent years, it has developed a strong partnership with singer-songwriter Liam Payne. Sparked by her enthusiasm, this edition runs under the slogan "Be your authentic Self". Launching on Friday, 4th June, Amelie will release a brand new track on HUGO Louder. Additionally, Amelie will play a live set at 6pm CET via IG live.


www.hugoboss.com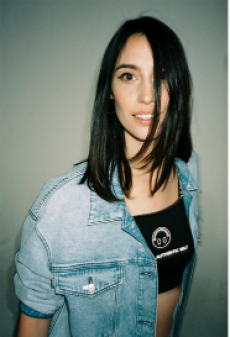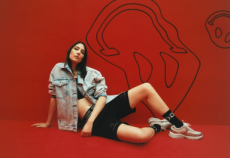 Fashion
MIU MIU Spirit bag
Unveiled as part of the Miu Maritime collection, the Miu Spirit bag adapts to myriad locations, seasons and, of course, individual personal styles. Fun, feminine, light and light-hearted, the Miu Spirit bag perfectly balances fashion and function, classicism and innovation, innocence and experience - all apparently contradictory qualities central to the Miu Miu name. A soft construction, made predominantly in fabric trimmed with leather, this versatile design features bold stripes, Vichy checks and polka dots dancing across faille. In quilted ciré in ultra-bright hues, the Miu Spirit is more sporty; in soft French terry cloth in icecream shades it becomes the ultimate summer carry all. It is – as its name suggests – as freespirited as the woman it was created for.

www.miumiu.com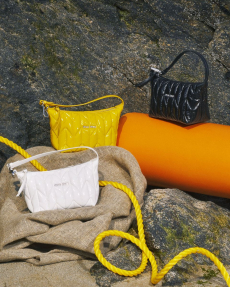 Fashion
Sergei Polunin in Depeche Mode's "In Your Room" music video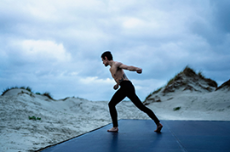 Sergei Polunin in exclusive music video performance to Depeche Mode's 'In Your Room', directed by Anton Corbijn In a new music video released today directed by Anton Corbijn, renowned ballet dancer Sergei Polunin performs a stunning contemporary dance to Depeche Mode's 1993 hit song In Your Room directed by Anton Corbijn The powerful performance, choreographed by ROSS FREDDIE RAY, is filmed on vast, windswept sand dunes in TERSCHELLING, HOLLAND and evokes Polunin's well-documented struggles within the confines of the ballet world and in his personal life, following his infamous rejection of the ballet establishment while at the height of his powers. It is a striking vision of a tempestuous figure who has so frequently courted controversy exorcising his demons alone against a harsh and unforgiving backdrop, providing the viewer an intimate glimpse inside this mercurial talent's conflicted world. This video performance, produced by award-winning production company Merman, is an exclusive extract from the forthcoming feature documentary DANCER II, the recently announced sequel to the critically-acclaimed 2016 film Dancer, which charts Polunin's meteoric rise to become the Royal Ballet's youngest-ever principal dancer, and his self-inflicted fall from grace. DANCER II, directed by Corbijn and produced by Gabrielle Tana, will pick up from where Dancer left off, exploring Polunin's return to ballet.

https://www.youtube.com/watch?v=zrMwdQesnn4
Fashion
RETRO ARTSY by Westwing Collection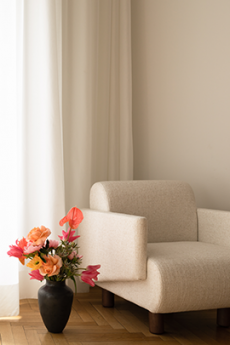 Westwing's latest collection, 'Retro Artsy by Westwing Collection' is made up of in-house designed collection pieces combined with timeless design and retro vibes. Cozy flair from the 1960s meets simple, elegant shapes."With our Retro Artsy collection, we want to create a home where you can easily relax and feel happy. Retro-inspired elements go hand in hand with simple abstract patterns and colorful objects to set highlights. There is a calm atmosphere - Modern art, splashes of color and a mix of materials bring joy to everyday life. " so Ale Tobler, creative director of the Westwing Collection. The collection is characterized by expressive pieces of furniture and artistically designed decorative accessories. Soft color schemes of cream-colored and natural stone gray in a mixture of terracotta tones and black meet different material optics such as trendy travertine and dark wood.

www.westwingnow.de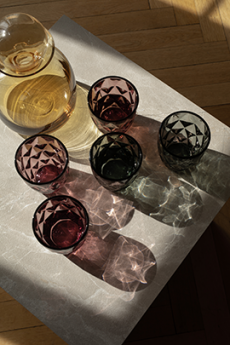 Fashion
MIU MIU MARITIME
Miuccia Prada toys with characteristics of a nautical atmosphere -colours, insignias, attitudes - to create a Miu Miu Maritime collection, refracting these archetypal and classic sartorial gestures into unexpected new forms. Silhouetted against twin expanses of blue like the sky and the sea - the Miu Miu crew of feminine sailors are captured by Johnny Dufort, poised on the concrete ramparts of the Plage de Bon-Secours at Saint Malo, a bathing pool jutting into the sea. As ever, these Miu Miu women are part of a collective, a group - here, they are a fleet, an admiralty, their clothing unifying them, signifying their bond.The clothes are fresh, spirited, evocative of mariner attireyet exaggerated by the lens of fashion. Traditionally masculine gestures - the flap collar, wide shoulders, an air of utility - are abstracted to be fused with the inherently feminine, with softly rounded sleeves, lace detailing, ruffles, bows. The coastline is not the end of the land, but rather marks the start of something new.

www.miumiu.com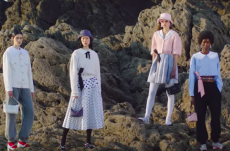 Creative direction by M/M (Paris), featuring Shin Hyeon Yi, Shade, Nina Pronk, Elisa Löhr and Topsy. Photographed by Johnny Dufort. Styling by Lotta Volkova.
Fashion
Berluti SS21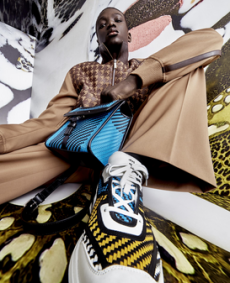 Berluti is introducing a new line with eye-catching braided leather details, displaying a new kind of savoir-faire and craftsmanship for SS21. Inspired by the Maison's ongoing collaboration with Brian Rochefort and by Rochefort's trademark texture play in his sculptures, Berluti's braided leather technique is featured on a selection of bags, small leather goods and sneakers. Using the iconic Signature canvas as a base -with its grained texture and its motif merging Berluti's logo-, new bags from the Summer 2021 collection include a large white logo crest printed on the front side of each piece, outlined by a braided calf leather stripe. Available in a black, white and yellow or a black, white and blue colour combination, the tricolor stripe is braided following a perforation pattern on the canvas, thus obtaining an exceptional visual and textural play through an innovative, luxurious technique imbued in Berluti's DNA. Berluti's braided leather pieces will be available both at Berluti stores and e-shop from May 2021.

www.berluti.com
Fashion
Fondazione Prada: Stop Painting
Fondazione Prada presents to the press the exhibition "Stop Painting" conceived by Peter Fischli, on view at the historic building of Ca' Corner della Regina. "Stop Painting" brings together a selection of 110 works by more than 80 artists and explores a series of specific ruptures within the history of painting in the last 150 years, intertwined with the emergence of new social factors and cultural values. The artist conceived this project divided in 10 sections as a plurality of different narratives told by himself in the first person. The show begins on the ground floor of Ca' Corner della Regina with a new site-specific artwork by Fischli that consists of a scaled-down model of the entire project, defined by the artist as "a sculpture of a painting exhibition". The exhibition unfolds on the first floor following not a chronological order, but a personal and idiosyncratic approach. At the beginning of the process leading to the conception of his exhibition the artist identified 5 radical ruptures in art history that correspond to moments of rejection and reinvention of painting: the diffusion of photography, the invention of the readymade and the collage, "the death of the author", the devaluation of painting as a commodity and the crisis of criticism in the late capitalist society.

Fondazione Prada presents «Stop Painting" at Ca' Corner della Regina, Venice from May 22 - November 21 2021.

www.fondazioneprada.org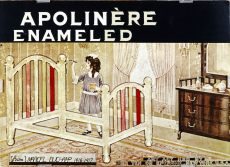 Alain JacquetLe déjeuner sur l'herbe, 1964Serigraphy on paper mounted on canvas 175 x 100 cm
Collection Mamac, Nice, inv: 988.16.1Photo Muriel Anssens © Adagp, Paris, 2021 © Alain Jacquet, by SIAE 2021
Marcel DuchampApolinère Enameled, 1916-1917 (1964 edition)Tin plate on cardboard, 24 x 34 cmCollezione Attilio Codognato, Venezia © 2021. White Images/Scala, Firenze © Foto Scala Firenze© Association Marcel Duchamp © Marcel Duchamp, by SIAE 2021
Fashion
Acqua di Parma: Per papà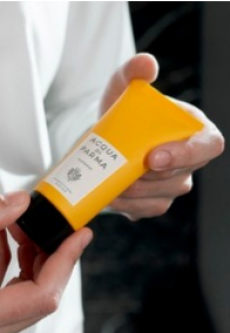 For Father's Day Acqua di Parma has prepared the most beautiful surprise for gift artfully designed for a special. This sophisticated toiletry bag created by the Maison for Father's Day stands out for its essential design, the sunny tones of Parma yellow and the hand-embroidered Acqua di Parma logo. Made with a practical and durable Italian fabric produced by recycling plastic, it is perfect for a sustainability-conscious man. This functional and refined accessory contains the ideal set for any trip, with products in travelling formats: Cologne in the 100ml Art Deco bottle and the Cologne Shower Gel in the 75ml tube. The final touch is the outer box, decorated with a refined striped pattern, sober and masculine. This is a gift designed for a father and characterised by Acqua di Parma's trademark attention to details. A true art that becomes an exciting ritual, to be experienced in all the Maison's Boutiques and in the most exclusive stores. Along with the toiletry bag, you can also choose your father's favourite Eau de Cologne in a very special package, the one that best reflects his personality and his natural elegance: Colonia, Colonia Futura, Colonia Pura, Colonia Essenza, Colonia Intensa and Colonia Club in the 100 or 180ml formats.

www.acquadiparma.com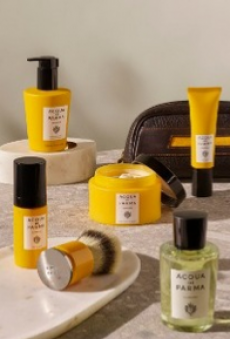 Fashion
Sensory Manipulation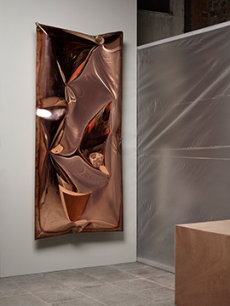 Ben Storms is a Belgian designer and craftsman whose work challenges sensory manipulation in terms of materials. By using state-of-the-art techniques, he transforms his sculptures into captivating shapes that defy the viewers' expectations. His talent comprises working with many different elements as he is equally a stonemason, sculptor, and woodworker. His practice connects traditional techniques with high-tech processes to create unique pieces of furniture with a sculptural character, noting that, "In my practice as a designer, I push materials to their boundaries, often questioning common notions. Does marble always have to look heavy? Can steel look soft? By creating shapes that verge on the impossible, I confuse the viewers, make them lose their balance briefly, and stimulate them to look at familiar materials with a fresh eye." The result is pieces like the Ex Hale, a marble table that mimics the shape of a monumental cushion. Its counterpart, In Hale is an enormous coffee table consisting of a massive marble piece that floats on a metal cushion. The artist developed the idea for the table while looking at a piece of marble that was considered leftover. By inflating sheet metal, he creates a three-dimensional cushion for the precious marble, which feels like it defies gravity. The marble used for his designs is carefully selected in quarries all over Europe. The marble is mainly left alone to show its natural beauty, only polished in certain places but overall left rough and unpolished on the lower side of the piece. The In Hale Wallpiece, two metal sheets, blown up in a cushion shape and scanned in 3D, after which a CNC machine mills the same form from a block of marble, demonstrates the multilateral talent of Storms. Through his vision, hard becomes soft, and sturdy becomes delicate.

www.benstorms.be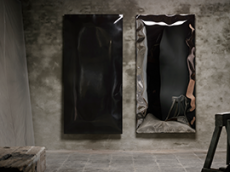 Fashion
Volume and Elaborate Capacity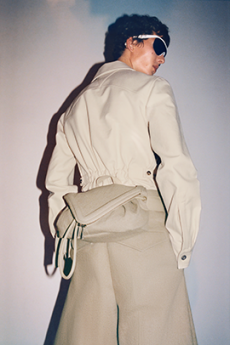 The Beak Bag is an integral part of the Bottega Veneta SS21 Salon 01 collection. It is a unisex belt bag, launched in various colors. The folded look of the Beak Bag creates a personal and padded effect for Salon 01. A tubular leather drawstring adapts the shape of the bag and emphasizes its volume and elaborate capacity. The design of the belt that wraps around the hips is made of a webbing strap and has a metal closure piece was inspired by the classic airplane seatbelt. This contrasts the soft, voluptuous look of the belt bag's center piece and immediately directs the eye to the creative statement piece. The bag that comes in various leather shades from petrol to cream is also available as a full-on denim version. BOTTEGA VENETA's creative director Daniel Lee's Salon 01 collection gives way to the idea of domestic comfort fits combined with glamorous silhouettes of the 60s. He was inspired by the nostalgia of books, videos and records in the creative process of making the collection. This concept translates to the thick, bold, mostly knitted fabrics and is accentuated by the expressive color palette of green, yellow, black, violet and browns. The Beak Bag's casual, effortless look and versatile color palette ties in perfectly with this philosophy. Lee himself summarizes his vision behind the new campaign saying: "I'm always interested in this idea, of how you can feel done up and elegant at the same time as feeling comfortable. That's really my kind of mission for BOTTEGA."

www.bottegaveneta.com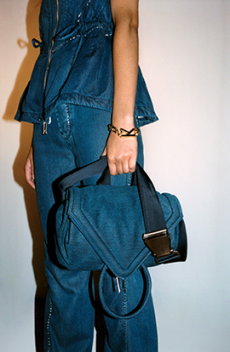 Fashion
Acqua di Parma x FILA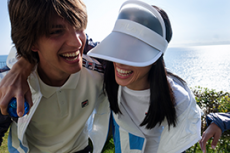 Two classic brands with Italian heritage join forces - ACQUA DI PARMA and FILA come together to celebrates FILA's 110th anniversary with a numbered limited edition set. With a heritage almost as long-standing as FILA, ACQUA DI PARMA has been a symbol of Italian excellence, craftsmanship and style since 1916 when Carlo Magnani created Colonia, a personal fragrance destined for timeless success. Synonymous with the most sophisticated Italian style, ACQUA DI PARMA today is a leading player in the international luxury landscape, a Maison that draws on tradition to reinterpret it, while innovating and evolving, exactly like FILA. FILA and ACQUA DI PARMA, meet under the Mediterranean sun to celebrate over a century of vibrant life.Available in 1.100 pieces, the kit includes the «Arancia di Capri» fragrance part of the well-known Blue Mediterraneo collection and a Fila terry-lined Tyvek windbreaker, a replica of the brand's 1976 Aqua style.

www.acquadiparma.com
www.fila.com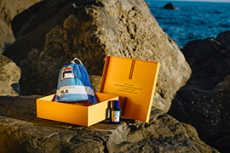 Fashion
Independent Femininity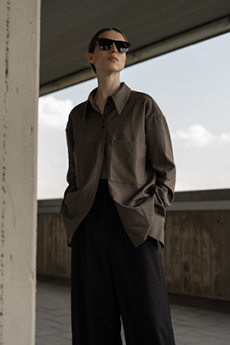 Following her guiding principles of holistic sustainability and respect for people, the environment and nature, Julia Leifert creates sustainable luxury wear for women. Her casually elegant, timeless designs stand for modern, independent and individual femininity in urban diversity and are made to empower. As an official member of UN Women Germany, part of the United Nations entity that works on gender equality and the empowerment of women, Julia Leifert's message is strongly dedicated to social justice. The production process is focused on environmental sustainability, waste reduction and the idea of circularity. All materials used are organic and natural, as well as carefully sourced within Europe and made as durable and recyclable as possible. In line with the objective to reduce air pollution caused by transportation, the production takes place within a radius of 150 km in and around the city of Berlin under fair and transparent conditions. Julia Leifert sets a high value on closely monitoring the entirety of the manufacturing process to ensure the maintenance of the company's standards of just working conditions and environmental compatibility. To avoid overproduction and waste of resources, there are no short-lived seasonal products, but products available as limited editions and can be pre-ordered and customized.

www.julialeifert.com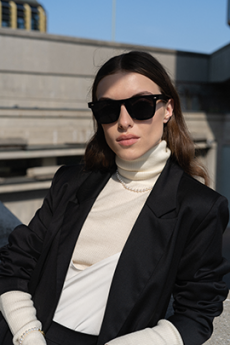 Fashion
Holographic Quest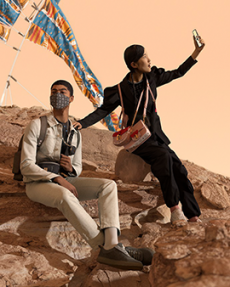 For SS21 the German fashion house, MCM, continues its way into a virtual future by presenting their latest collection entitled Techno House. Inspired by the merging between natural and digital realms, the newest collection celebrates the brand's visual inspirations and its unique design codes through a stylized nature-couture lens. MCM becomes the complete embodiment of utopian safaris in which reality and fantasy coexist, from lush arcadian landscapes to cyber-infused tundras. The collection presents a conceptual expedition through MCM's DNA by reimagining its iconic design through solid geometric patterns and abstract motifs. The color palette is inspired by African landscapes, from sand dunes and quarries to tropical rainforests and seafront oases, the earthy tones juxtaposed with firefly red and holographic blues. The collection features clean-cut tailoring, deconstructed sportswear and function-driven silhouettes; each design tells a story of MCM's heritage in a craft where form follows function and culture follows creativity. The latest collection introduces new silhouettes which explore gender-normative tensions in design through an epicene approach. The Tech Flower line is rejuvenating, a new rite of Spring, created by with holographic tendrils of intermingling florals and classic Visteos motifs, resulting in a wonderful contradiction of serenity and discord.

www.mcmworldwide.com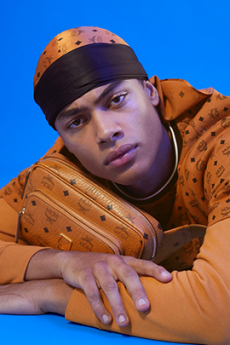 Fashion
Gallery Weekend Berlin: Adrian Ghenie at Juerg Judin Gallery
Adrian Ghenie, Rest During the Flight Into Egypt, 2016, (Detail).Los Angeles County Museum of Art (LACMA), Los Angeles. Generously gifted by the Abrishamchi Family Collection, M.2017.76
With his newest exhibition of paintings, Adrian Ghenie and the Juerg Judin Gallery conclude 15 years of collaboration, which began in 2006 with the group exhibition "The Cluj Connection", which was followed by a solo exhibiton within a year. This marked Ghenie's first appearance on the international scene. Since, he has established himself as one of the most successful painters of his generation – the internet generation. Ghenie's response to this unprecedented flood of information, images and the technical "anything goes" was (and remains), his focus on the traditional, almost reactionary medium of painting. He can distinguish himself from other figurative painters by his profound understanding and utilization of art history, that he never exhausts of citation and an increasing virtuoso pay with different stages of recognizability. Now, in the ten paintings of the exhibition We Had Everything Before Us, all completed in the spring of 2021, Ghenie for the first time turns to his friends, neighbors and the buoyant pre-pandemic scenes of his home, Berlin. As the exhibition title suggests, the focus lies on the coming of age and the ensuing "lack of history". It is about the moment when life is thought of exclusively in the present and future tense and the past tense seems a long way off.

www.gallery-weekend-berlin.de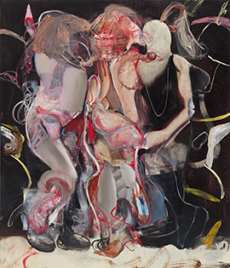 Adrian Ghenie, The Three Graces, 2021. © The artist. Courtesy Galerie Judin, Berlin
Fashion
Cartier: Tank Cintrée's 100th birthday
The iconic Tank Cintrée watch turns 100 – to celebrate this Cartier will present a new limited edition model limited to 150 numbered pieces. Every single one of them has already been sold before the official launch. This creation exemplifies the successful reissues of legendary Cartier watch designs. The new Tank Cintrée draws heavily from the original model, venturing into the 21st century. Its sleek curved design, vertically oriented case, and the elegance of its "eggshell" dial make it perfect for lovers of stylish aesthetics. The watch gives the original Tank a more elongated shape and a curved case. The watch owes its name to the curvaceous shape for comfortable wearing. Thus, the watch gently nestles around the wrist. Even though the case height now measures 6.40 mm, it has lost none of its unmistakable features: rail decor, Roman numerals, apple-shaped hands, pearlized winding crown with sapphire cabochon and bracelet with pin buckle. This is the aesthetic signature of a great classic in the art of watchmaking, which has not changed since its introduction in 1921 and is now equipped with a manufacture hand-wound movement, caliber 9780 MC.

www.cartier.com
Fashion
Givenchy: 4G Bag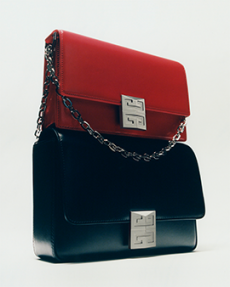 Givenchy introduces the «4G» bag. The latest design of the Maison was created by Matthew M Williams and is a sleek and graphic update on a classic shape. The rectangular 4G bag design comes to life in two versions: a flap bag and a chain bag. The two formats are conceived to adapt to multiple styles of wear. The 4G flap bag features a removable strap with Givenchy metal brackets that adjusts for over-the-shoulder or crossbody wear. The 4G chain bag version features the House's new signature G-link chain in silver- or gold-finished metal, slips through metallic hoops to adapt to shoulder or crossbody wear. Both shapes are available in full-grain box-calf leather and feature various colors from neutral black to ivory, cappuccino beige, to seasonal shades of avocado green. More vibrant variations include baby pink, red and dark khaki. Special finishes showcase an all-over 4G monogram. This is achieved through high-frequency debossing on the calf leather for a three-dimensional effect and comes in ivory, pink or black. Additionally, patent leather versions in black or sky blue have a crinkled finish. www.givenchy.com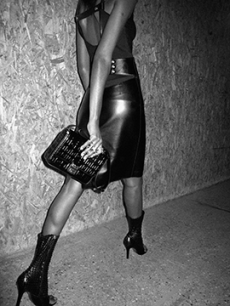 Fashion
Maserati Special Edition F Tributo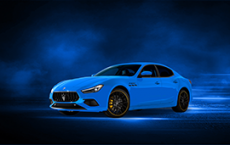 With motorsport in its genes and inspired by countless successes, Maserati celebrates its racing past with the new Special Edition F Tributo. Exactly 95 years ago, on April 25, 1926, the brand made its racing debut: on that day, the Maserati Tipo26, the first car to have the trident on its hood, won the 1,500 cc class of the legendary Targa Florio in Sicily. Driving was Alfieri Maserati himself. 28 years later, on January 17, 1954, the Maserati 250F made its racing debut - a car that wrote motorsport history. This time it was driven by Juan Manuel Fangio, who won the Formula 1 five times, making him world champion. His last title came in 1957 on the same 250F. Maserati is now taking this motorsport era as an opportunity to present the special F Tributo edition. The F stands for Fangio, who shaped this phase of international racing like no other driver and was closely associated with Maserati. Red is the color of Italian motorsport. In contrast, the bright and lively Azzurro Tributo is a reminder that blue (along with yellow) is the color of the city of Modena, the historic home of the brand. Other references to Fangio's 250F are the yellow brake calipers and wheels with yellow rims. This is because the racing car of yesteryear also had decorative elements in yellow. To complete the exterior, the Levante F Tributo is fitted with 21-inch Anteo wheels in black and the Ghibli F Tributo with 21-inch Titano wheels in gloss black. The front fender also features an edition ensemble in gloss black, while the trident logo on the C-pillar is deliberately in body color. The exterior accents are also reflected in the interior: the black full-grain leather from Pieno Fiore features decorative stitching in red or yellow.

www.maserati.com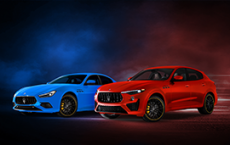 Fashion
Kaldewei receives iF Design Award 2021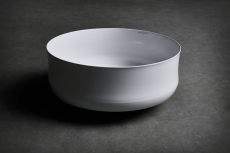 The MING washbasin bowl made of Kaldewei steel-emaille material impresses with its slender silhouette and a flawlessly glazed surface. Kaldewei has now been awarded the prestigious iF Design Award 2021 for the MING basin's trend-setting and high-quality design. The premium manufacturer was able to convince the jury of the design award with a distinctive product profile, which uniquely combines tradition and modernity with absolute material quality. Kaldewei's exquisite MING bowl captivates with elegant lines, extensive depth and a delicate rim. Its traditional contours are inspired by Chinese Ming vases and made of steel-emaille. This material is hundred percent recyclable and therefore particularly sustainable. Whether for a classically simple bathroom or experimental locations, the elegance of MING with its convex curved silhouette leaves room for visions that turn any space into a sensual retreat. Displaying an easy-to-clean finish, the Kaldewei Perl effect, is standard on all MING bowls.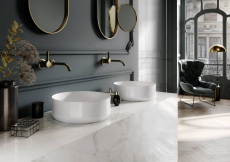 Fashion
Canada Goose x Angel Chen
Following their highly acclaimed collaboration for SS21, Canada Goose unveils its second collection with guest designer Angel Chen during Shanghai Fashion Week FW21. Angel Chen is widely known for participating in Netflix's "Next In Fashion" design competition show. She is also a Woolmark prize finalist and the first-ever Chinese designer to collaborate with H&M. For FW21; she was inspired by the traditional Snow Mantra Parka, combining her unique aesthetic with Canada Goose's functional know-how. This season comes to life with new silhouettes and feminine details like peplums and belts. New bold colors and remarkable Chinese hand embroidery create a diverse visual effect. Angel Chen's experimental approach to design and color, coupled with a fusion of Eastern and Western aesthetics, has enticed the brand to work with her as their very first guest designer. The designer used Canada Goose's heritage pieces to co-create a capsule collection based on an innovative design direction. Her experimental approach to color and proportion has not only made her a designer to watch, but a coveted person to collaborate with also. With a vision as unique as the clothes she conceives, she doesn't just push a proverbial envelope open; she lights the whole thing on fire.

www.canadagoose.com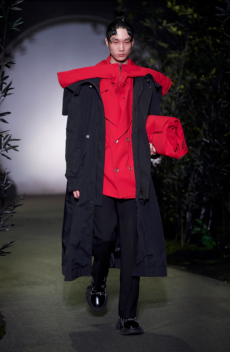 Fashion
CELINE 10 - PARADE
In cooperation with Creative Director Hedi Slimane, CELINE created a visual fairytale fantasy to present the FW21 womenswear collection. The virtual catwalk shown in CELINE's newest short film titled PARADE is set in the André le Nôtre Gardens at the Chateau de Vaux-Le-Vicomte. Slimane takes the viewer on what he defines as a utopian journey expressing a melancholic daydream of interrupted, yet eternal youth. The collection ties in with the narrative of medieval fairytale by drawing on contemporary elegance and Parisian chic, but also contrasts it through its modern streetstyle nonchalance. Hence, this season Celine presents a truly ready-to-wear runway collection, in celebration of vibrant youth and effortlessness. Utilitarian everyday wear is merged with high fashion luxury through a variety of unconventional combinations. Looks that layer metallic skirts and trousers with black hoodies, denim jacket or oversized plaid coats bring the spirit of Celine's FW21 collection to life. Youthful elements like sequins and baseball caps are paired with more formal elements like tweed and structured hoop skirts that embody elegance with slight extravagance.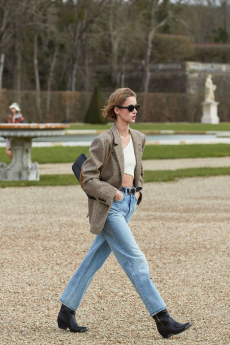 Fashion
FENDI Limited Edition Couture Capsule
Drawing from the themes presented during Kim Jones' SS21 Couture debut for the house, FENDI presents a Capsule Collection that translates the season's sensibility into ready-to-wear—adopting the collection's motifs of fluid androgyny and exquisite romance and presenting them through translations of critical silhouettes. The pieces will be available solely for two weeks in limited quantities at select boutiques across the world from mid-April. The FENDI Couture Collection explored the liberated British sensibility of the 1920s as well as historic Roman grandeur. Jones has drawn inspiration from the Bloomsbury set and Virginia Woolf's seminal binary-blurring novel Orlando. He expressed this notion in the collection through cady and wool-silk tailoring and crisp cotton shirting, alongside elegantly draped satin dresses and gowns; the conventional codes of masculinity and femininity are united in monochromatic harmony. Included are ballerina slippers embossed with Karligraphy beaded monograms or knee-high satin boots. These are evolved from the styles presented at Couture, while a new collection of baroque pearl jewelry, frozen in resin and embossed with rhinestones. Exclusive variations of the iconic Baguette and Peekaboo bags, trimmed with pearls or covered in prints inspired by the Bloomsbury Group's Sussex home of Charleston House. This reflects the timeless elegance introduced at Couture: a contemporary homage to British creativity and Italian glamour.

www.fendi.com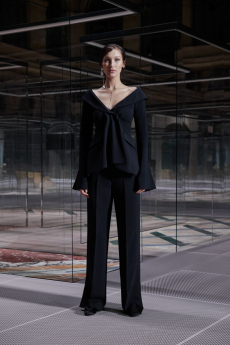 Fashion
BOTTEGA VENETA presents ISSUE
image by Elaine Constantine
Bottega Veneta swapped social media for a quarterly digital journal called Issue, of which it just released its Issue 001. The reveal of their journal explains why the Italian brand mysteriously vanished from all social platforms earlier this year. While other brands were launching Clubhouse accounts and joining platforms as TikTok, Bottega Veneta, one of the most popular labels of 2020, was making itself impossible to find. Daniel Lee, Bottega Veneta's Creative Director, chose to get off the platform because it oversimplifies the creative process and believes it's a homogenization of culture.

The content that lives on the digital journal is a mixture of creative campaigns and features a newly commissioned music video for Missy Elliott's 1999 classic Hot Boyz. Content like that is supposed to make the audience sit with it as you would watch a movie. For the journal's first Issue, Missy Elliott created a new record and posed for photographs by Tyrone Lebon; Biba's Barbara Hulanicki made sketches; Rottingdean Bazaar styled a photoshoot. The journal also contains more capricious hues such as balloon art, jello handbags, and shoe hedges. The mix of serious and playful content proves that Bottega Veneta is the perfect mixture of sophisticated and whimsical.

www.issuedbybottega.com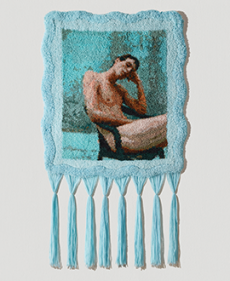 image by Bindi Steel
Fashion
Versace Home Textiles & Accessories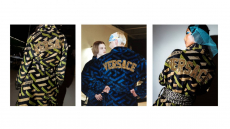 The new Versace Home Textiles & Accessories collection takes the brand's most recognizable designs and reinterprets them as a range of luxury bedroom, bathroom and living room accessories. The mythical Medusa logo is feature throughout the new collection. The house's eternal muse amplifies the Made in Italy bed sheets, comforters, and iconic terrycloth robes. As seen on the AW21 runway, the new signature Versace La Greca print is also incorporated into the interiors. The graphic Greek Key pattern adorns an array of interior pieces and home accessories. Staying at home is made more exciting with a nod to the coveted La Medusa handbag line – the references are seen on colorful coasters and realistic puzzles. Out of home, the recognizable Versace Home aesthetic is transferred onto luxury-to-go items.
Fashion
COLMAR A.G.E. X Morteza Vaseghi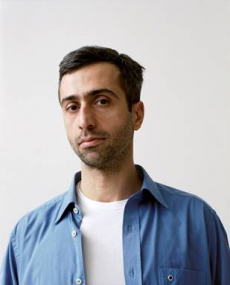 Colmar's innovation-focused label A.G.E. (Advanced Garment Exploration) was initiated by the Italian outerwear brand three years ago with the experimental goal to collaborate with international artists and designers. A.G.E. stands for modern, contemporary design and reinvention of Colmar's designs, which are historically rooted in ski-wear. For the third collection of A.G.E., which is an essential part of the FW21/22 collection, Colmar works with the internationally renowned designer Morteza Vaseghi. Mostly known as the co-founder of the magazines Recens Paper and Wallet along with Elis Olsen, Vaseghi transfers his fascination for printed pages in magazines to the design of clothing for the human body. As the Creative Director for Colmar's newest A.G.E. collection Vaseghi introduces organic, futuristic forms that express his progressive ideas of unifying human beings with nature, reconnecting the idea of modernity with the natural environment in the context of fashion.
Fashion
Louis Vuitton FW21
For this year's Louis Vuitton FW21 collection, traveling is essential, not in space but in time. To feel the perks of traveling, it's enough to reach back to the Golden Age, an era that forged the essence of our civilization. Everything is expressed so purely in Greco-Roman antiquity, the acme of an aesthetic whose primacy is uncontested. More than a journey, Louis Vuitton embarks on an odyssey with a FW21 collection that incorporates fabulous drawings by Fornasetti, the delicate, fanciful engravings of an enduring era. His imaginative strokes explore, illustrate and impart style. The story of humankind is also a story of the conquest of the body, heart, and mind. In the center stands humanity, with all its functional elegance, intellectual dominance, and earthly seduction. The astonishment of age-old principles endures and continues to guide us. One of them is contrapposto, which first appeared in the 6th century BC and lent statues a dynamic allure. Countless couture poses have been reprised since and still denote a certain stylistic tension in fashion.

www.louisvuitton.com
Fashion
CHANEL FW21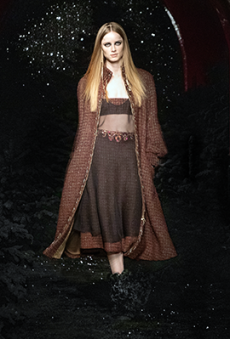 The latest collection is inspired by the légère intimacy and simplicity of Chanel shows of the past – models would dress themselves and do their own make-up - which predecessor Karl Lagerfeld told current Creative Director Virginie Viard about. "I don't know if this is because of the times we live in, but I wanted something warm, lively. I imagined the models doing a show for themselves, going from room to room, crossing each other in staircases, piling their coats up in the cloakroom, and going up to the next floor to get changed." The FW21 show was filmed at Castel, a legendary club on Rue Princesse in Paris.

Walking on the streets outside Castel, in the dark and mysterious salons or down the spiral staircases, the models exhume an exquisite air of Parisian chic. Staged by the duo Inez & Vinoodh, the show has a distinct sensual touch and contrasts between volumes, materials, and spirit. A long tweed coat with a chevron motif reveals bare legs wearing voluminous boots in black curly faux fur; a trouser suit in black tweed with small checks in blue lurex is adorned with thin braces in pearls and layers of sautoir necklaces. A white coat in patent sheepskin and lined with faux fur is coupled with "down jacket" style two-tone boots, with unzippable legs giving way to a pair of silver heeled booties to go dancing in. The salopettes-ski suits in white quilting embroidered with red and blue motifs, or in fuchsia tweed, are worn with strappy sandals embellished with chains, and little black bows or pumps adorned with a camellia, while delicate blouses in chiffon or crêpe de Chine are combined with pieces inspired by winter sportswear. For FW21, Virginie Viard was inspired by Chanel's DNA of cool Parisian chic and the ambiance of ski holidays.

www.chanel.com

Fashion
Maserati honors Maria Teresa de Filippis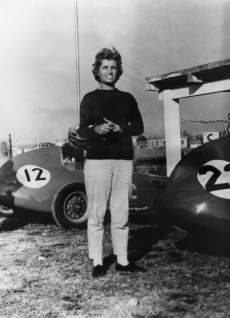 In honor of International Women's Day, Maserati celebrates Maria Teresa de Filippis, the first woman to qualify for a Formula 1 Grand Prix – driving a Maserati 250F. Five years after de Filippis death, Maserati releases a special video on the automobile brand's social media that is dedicated to her groundbreaking career, driven by passion and courage. The female race driver managed to assert herself in an environment that had previously been exclusively male. She earned the respect and esteem of her rivals and brought values to the race-track that still guide Maserati today: Excellence, elegance and power. She won the ten-kilometer road race from Salerno to Cava de' Tirreni, which ignited her dedication to motorsport and led to several victorious competitions in the years following. The key year of her career was 1958: Maria Teresa de Filippis made her debut at the wheel of a Maserati 250F at the Syracuse Grand Prix and then took part in her first Formula 1 World Championship race in Belgium. Maserati and Maria Teresa de Filippis became a winning combination, driven by perseverance and audacity. The story embodies the desire and determination to face technical, physical and personal challenges and turn them into opportunities.
Fashion
LOEWE FW21 - A Show In The News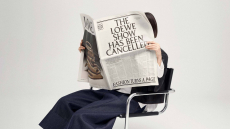 LOEWE presents the FW21 women's runway collection as a walkthrough with creative director Jonathan Anderson on its digital platforms as part of Paris Fashion Week. Embracing the reality of the physical show being canceled, due to the current Lockdown regulations, Anderson has created a printed newspaper to showcase the collection. Thus, he transcends the currently popular medium of digital presentation. LOEWE and Jonathan Anderson publish a newspaper supplement with attached articles and images of the collection, released globally in a selection of different broadsheet versions. Drawing on the naming convention established last summer with LOEWE's 'Show In A Box', the paper-based evocation of this year's canceled runway show is titled 'A Show In The News'. Alongside the images, the newspaper makes reference to literary traditions by featuring an extract of the newest publication of the prolific writer Danielle Steele, whose book copies have been sold over 800 million times. The idea behind the newspaper concept is also to reach beyond a fashion audience and create a lasting impression, giving the fantasy of fashion a physical presence in the non-digital realm.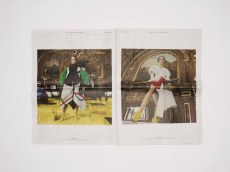 The FW21 women's collection is a full-frontal, visually saturated statement in shape and color, that breaks with the LOEWE formula and escapes its boundaries to create new ones. The vibrant, bright color palette includes acrylic hues and is juxtaposed in graphic compositions and mapped into abstract, draping silhouettes. Geometric shapes are a fundamental tool in the aesthetic form language of cuts and surface treatment. Sinuous lines alternate with straight ones, angles with curves, fluidity with firmness, while quilting, prints and jacquards emphasize the electric glare of the whole. The quilted coats, long tailored jackets and cropped trousers meet strict suede suits, long dresses and draped skirts, mixing angles with curves and fluidity with firmness. For accessories, the collection features color-block lug-soled boots, the Flamenco clutch in a bright, XL version and the new Goya bag as a statement piece. Moreover, the quintessential Amazona bag, first launched in 1975 captures the spirit of the season in nappa-calfskin and Anagram jacquard variations.
Fashion
Valentino FW21 - ACT
For Valentino's most recent collection, FW21 ready-to-wear, Pierpaolo Piccioli worked with the topic of punk in a more muted color palette of black and white with pops of gold. Having historically shown on the Paris show, Valentino presented their first co-ed FW21 collection at Milan Fashion Week. One year after the lockdown swept Italy, shuttering performing arts spaces and much of the cultural life in their wake, Pierpaolo Piccioli reopened Milan's Piccolo Teatro for one night only to stage a 66-look-show by the name Valentino ACT. "The fact that we decided to have it reopened, albeit just temporarily, it was a sort of a punk act," he said at a press conference held in the darkness of the auditorium.

"What we missed in the pandemic was above all the sense of sharing and of communality that culture gives us—not so much pasta and pizza." A spotlight illuminated the models in the otherwise dark theater as Cosima sang live accompanied by a string quartet. Pleated A-line mini skirts, pointed collar white shirts, turtlenecks, and swingy cape coats, paired with sturdy boots covered in rubber petals and macro studs to bring the 60s back to life in modern times. A daywear assortment of beautifully cut short wool capes was the collection's pivot, worn with bare legs and elegant stilettos "for sensuality," as Piccioli underlined. "It's the radical act of having the strength to be who you are; that's what I mean by romanticism today. It's a subjective, almost anarchic gesture, assertive of one's own identity—exactly like punk.", he concludes.

www.valentino.com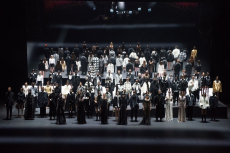 Fashion
SPORTMAX FW21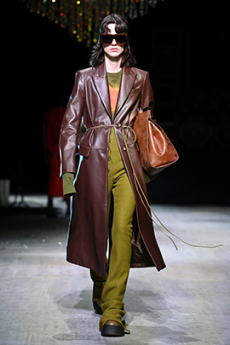 The SPORTMAX FW21 collection and digital Milan Fashion Week runway show embody a retro-futuristic ode to fierce womanhood in anticipation of 'All Tomorrow's Parties'. Driven by interpretations of Greek mythology and female imaginaries across historical epochs, the collection frames an artistic play on time and space. Narratives invigorating female figures such as a Greek or a Botticellian, Renaissance goddess, a femme fatale from the 1940s, a 1960s psychedelic spiritualist, an activist of the 1970s or a 90s techno lover emerge and intertwine on the SPORTMAX runway.

The collection is an ode to unapologetic womanhood and female emancipation, fiercely brought forward by females that embraced the unconventional and transcended norms and stereotypes throughout history. Moreover, the designs make reference to the uncertain, yet hopeful atmosphere that defined the era of the 1920s, seeing part of it reflected in today's Zeitgeist of stagnation and collective yearning for the future – awaiting the parties of tomorrow. The aesthetic form language of the SPORTMAX FW 21 collection juxtaposes maximalism and minimalism, femininity and masculinity and past and future. Inspired by Claude Cahun, the 20th century writer, performer and artist who trailblazed the gender-fluid and non-binary values that still endure today, the collection is characterized by a touch of androgyny clashing with glamour and austerity, as well as modesty and sensuality. Cahun's spirit endures in the flowing contours of the Roaring Twenties played out in silhouettes that transform the body into a human art form. Dominant shoulder shapes and slimming drapery that accentuate the bust meet skirts and trousers with extended hems and unexpected parachute shapes. Materials borrowed form the masculine world, such as leather, flannel and pinstripe wool collide with raw textures and edges, amped up by fringe and studied tie die techniques that express innovative, bold femininity. Transparent interpretations of knitwear achieved through soft mohair threads reoccur throughout the collection, suggesting an intriguing contrast of lightness. The largely monochrome color palette is electrified by vibrant shades of yellow, reds, fuchsia and blues. Sac-shapes bags, boots with biker detailing, statement jewelry, sleek gloves and contoured eyewear inject the collection with a sense of bravado.

www.sportmax.com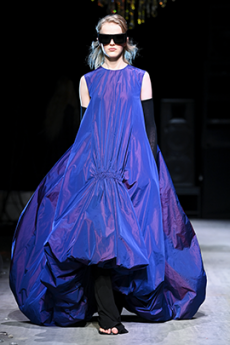 Fashion
Aesop x RÆBURN
Aesop and RÆBURN, the pioneer of responsible fashion, have collaborated and developed a sustainable bag for hand care on the go. Whether commuting, traveling, or simply on the go, the Adventurer Roll Up bag makes it easy to carry everything you need. As part of this partnership aimed to be sustainable by using recycled materials, both brands committed to the ethos of the RÆMADEInitiative, which is leading the way in recycling waste materials into responsible designs. The Adventurer Roll Up bag is a 300 piece limited edition item made from 1960s aeronautical navigation charts.

These silk pieces were selected for their motifs, each of which depicts a part of the world that has been particularly damaged by environmental degradation, such as Borneo or the Aral Sea. The manufacturing avoids material waste by making four bags from one card. Each of these Roll Ups also comes with its own serial number and a certificate. To mark the product launch, Aesop has partnered with Hypebeast, the leading online destination for fashion and streetwear, for the sale of 300 limited edition RÆMADE Adventurer Roll Ups. The bags will be available on selected online stores from March 1st, 2021.

www.aesop.com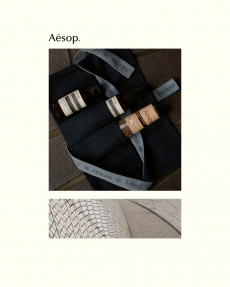 Fashion
Missoni FW21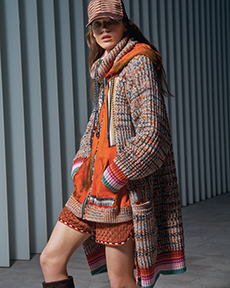 Missoni's FW21 collection is Angela Missoni's ode to today's women, dynamic and with effortless attitude, bringing a breath of freshness into the Missoni world. The more relaxed attitude to dressing that has become so much more important over the last year is blended with sport accents creating a collection that leaves its wearer total freedom to express themselves. A versatile collection allowing the wearer to mix and match according to the different needs of the modern, urban lifestyle. Despite the more relaxed nature, the collection strikes the perfect balance between elegance, sophisticated style without any constrictions. Knitted coats and trenches embellished with jewel-like resin embellishments reveal the silhouettes, sweatshirts and ponchos juxtaposed with culottes or slightly flared pants. The versatility of the collection is also epitomized in the choice of materials with wool or cashmere caftans combining languid elegance and practicality. The color palette of the collection is dedicated to solid tones, enriched with textures and details. It ranges from soft tones of warm shades of terracotta, cognac and beige to cold hues of gray and teal juxtaposed with bright pops of pink, yellow, orange and turquoise, as well as elegant black and white combinations.

www.missoni.com
Fashion
Salvatore Ferragamo F-Heel
The story of the F-shape heel is a very personal one for Salvatore Ferragamo. The idea for this counter-intuitive design stems from observing the curved stern of the ocean liner on which the founder steamed home to Italy from his days as shoemaker to Hollywood's greatest stars in the US. The F-heel defies the eye's perception of gravity, which leaves the foot seemingly suspended in space. Its uniqueness makes it one of Salvatore Ferragamo's greatest inventions.

The 2021 F-heel is the modern sequel to Ferragamo's timeless classic that adds new layers of sustainability and technical innovation to his original. The 2021 F-heel shoe shares the original's curved heel shape that ingeniously appears to leave the wearer's foot walking on air. It is crafted from leather, which takes its name after its origin, Napa California, in three vibrant colorways: Hedren green, Technicolor yellow, and black ornated with iridescent beads. Named after the classic 'F' in Ferragamo's cursive signature, this 2021 update is also keeping up with Salvatore's commitment to innovation. Each fabrication is entirely monotone, which is a first for the model; the upper, lining, and sole edge and the sole and rubber heel lift are presented in seamless nappa Technicolor hues or black.

www.ferragamo.com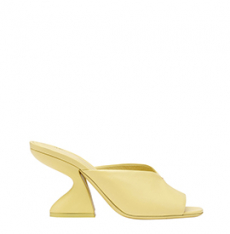 Fashion
COLMAR A.G.E. x MORTEZA VASEGHI
Colmar's innovation-focused label A.G.E. (Advanced Garment Exploration) was initiated by the Italian outerwear brand three years ago with the experimental goal to collaborate with international artists and designers. A.G.E. stands for modern, contemporary design and reinvention of Colmar's designs, which are historically rooted in ski-wear. For the third collection of A.G.E., which is an essential part of the FW21/22 collection, Colmar works with the internationally renowned designer Morteza Vaseghi. Mostly known as the co-founder of the magazines Recens Paper and Wallet along with Elis Olsen, Vaseghi transfers his fascination for printed pages in magazines to the design of clothing for the human body. As the Creative Director for Colmar's newest A.G.E. collection Vaseghi introduces organic, futuristic forms that express his progressive ideas of unifying human beings with nature, reconnecting the idea of modernity with the natural environment in the context of fashion.
Fashion
VERSACE x La Medusa Bag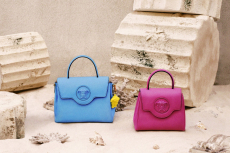 VERSACE introduces its latest accessoire line in the name of the brand's ultimate muse: Medusa. The ancient Greek icon of beauty and desire as a historic example of unapologetic attitude and fearless self-belief continues to enduringly guide the spirit of VERSACE's designs. Embracing this, each La Medusa handbag is adorned with the classic Medusa-head plaque, a replica of the plaque that was discovered on the doors of VERSACE's first headquarters in Milan. These VERSACE trademarks are combined with a bold, bright color scheme exuding positivity and lightness with an emphasis on the shade DV Blue. Donatella Versace worked to create the perfect shade of blue, inspired by nature and designed to bring happiness to the wearer. 'Blue is my favorite color because for me it represents freedom', the Chief Creative Officer says and expresses through the new Medusa bag in DV Blue. Moreover, all handbags of the collection are made in Italy from premium leather, which is selected to create a slouchy and unstructured finish. The texture-color combination gives the Medusa Bag a modern and youthful feel, which makes an ideal accesoire for the contemporary woman.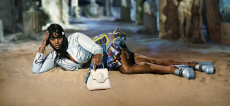 Fashion
Dior Spring SS21 Campaign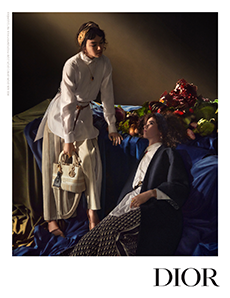 Dior presents its Spring-Summer 2021 read-to-wear looks by Maria Grazia Chiuri, which are revealed in a series of striking photographs. The campaign celebrates creation in all its forms, from Virginia Woolf's feminist essays to militant collages by Lucia Marcucci that enhanced the show's staging. The collection is captured in a campaign reflecting the unique power of a painting. The photo series highlights silhouettes with an almost sacred aura of mystery as if they were subjects of paintings punctuated with shimmering shades of blue, red, and gold.

Eline Kechicheva captured the series, and the images reinvent the Dior visual language by combining precious embroideries with paisley motifs and floral designs that blossom on dresses and trousers, as well as the essential Dior BookTote. Light, fluid pieces take on the deep blue of denim. Simultaneously, the revisited men's shirt is combined with the Dior Palto jacket, freeing movement with grace and elegance alongside the irresistible Dior Caro bag. The campaign reveals virtuoso compositions, an homage to the savior-faire of couture.

www.dior.com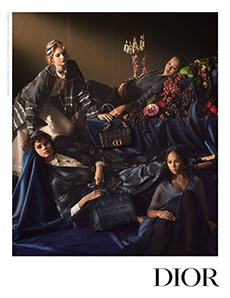 Fashion
DIESEL – 'WHEN TOGETHER'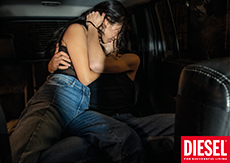 A portrait of desire, with absence fueling the fire. DIESEL presents 'When Together', a short film featuring eight real-life couples physically and emotionally reconnecting in bliss following periods of absence from each other's lives. The leitmotif of the film directed by documentary film-maker Cheryl Dunn is isolation. The couples are portrayed in separation by walls, streets, borders or seas, before being able to engage in the ecstasy of reunion. 'When Together' is the first campaign formulated under DIESEL Creative Director Glenn Martens and embodies an authentic tribute to the intensity of love and passion. The DIESEL campaign draws on contemporary fears of remaining in collective isolation and times of unforeseeable crisis by looking forward to a world in which true, unrestrained connection may occur once again. It emphasizes the importance of human connection after being deprived of it. 'When together' is yet another of DIESEL's powerful campaigns known to be boundary-pushing advertising sought to challenge the status quo by normalizing taboos, highlighting social or environmental injustices, or commenting on the absurdities of society and/or politics.
Fashion
Prada presents: "China Cabinet" by Theaster Gates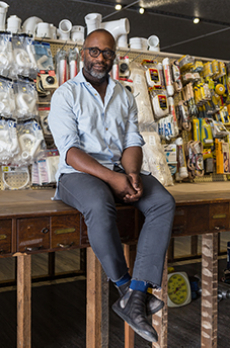 Prada exhibits the "China Cabinet," a project by Chicagoan artist Theaster Gates. Gates, who is not only a visual artist but also a performer, a professor, an urban planner, and a community activist, has reimagined the spaces of Prada Rong Zhai in Shanghai with his ceramics. For "China Cabinet", Gates built a three-chapter visual story on the building's first floor. The Prada Rong Zhai is a historic residence built in 1918 and restored with the support of Fundazione Prada before being reopened in October 2017.

In three chapters, the artist presents the underlying themes of reusing materials and architectural construction techniques. He references craftsmanship, spirituality, stereotypical imagery imposed on the African-American community, and symbols from the civil rights movement. The stationary objects' staging tells a story, the first part of which is a delicate display as if they were in an antique Chinese porcelain cabinet. The second part is a reconstruction of Gate's private potters' workshop and lastly, he displays the pieces as if they were in his private home, therefore, transforming the artist from a guest to a ghost to a host of the Prada Rong Zhai.

China Cabinet is on show at Prada Rong Zhai, Shanghai, from March 11th – May 23rd, 2021.

www.prada.com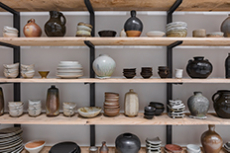 Fashion
DIOR MEN SS21: Amoako Boafo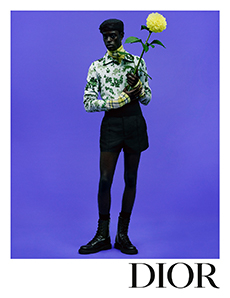 Kim Jones muse for the latest DIOR Men's campaign is Ghanaian painter Amoako Boafo, whose big-scale portraits of Black subjects using a finger-painting technique have skyrocketed in popularity the past year. The collaboration marks the first African artist to develop a line with the French Maison to date. According to DIOR's Artistic Director Kim Jones, the fashion line celebrates Boafo's intricate and vibrant portraiture, reflecting in the collection's powerful energy. Inspired by Boafo's expression, which entails flat color portraits complemented by vibrant backgrounds, the campaign incorporated his portraits into the collection and added textures, prints, and colors inspired by his paintings. Through careful styling and close collaboration with the artist, the fashion house was able to bring the images back to life by incorporating DIOR essentials such as the Oblique Motif, Dior Atlas sandals, Maxi saddlebag, and the artists' dynamic color palette ranging from pink to fluorescent yellow. The pieces are quintessentially vibrant and celebrate freedom, diversity, and the many facets of the contemporary man.

www.dior.com
Fashion
Bottega Veneta Salon 01 Campaign
The Bottega Veneta Salon 01 Campaign photographed by Tyrone Lebon brings the brand's SS21 collection to life. Featuring German artist Rosemarie Trockel and Uganda-born British actress, composer and playwright Sheila Atim, the campaign is centered around two charismatic, accomplished personas. Inspired by the nostalgia of books, videos and records Creative Director Daniel Lee gives way to the idea of domestic comfort fits combined with glamorous silhouettes of the 60's. This concept translates to the thick, mostly knitted fabrics and is accentuated by the expressive color palette of green, yellow, black, violet and browns. Lee himself summarizes his vision behind the new campaign saying: 'I'm always interested in this idea, of how you can feel done up and elegant at the same time as feeling comfortable. That's really my kind of mission for Bottega.' Lee's designs capture the Zeitgeist by translating contemporary reconceptualization of daily routine and home comfort in the face of a global pandemic to the context of luxury fashion.

www.bottegaveneta.com
Fashion
Saucony Originals: Happy Birthday, Jazz!
In celebration of the 40th anniversary of the Saucony Originals collection's most iconic shoes, the Jazz O' trainers, the brand launches two new models – Jazz 81 and Jazz Court - in tribute to its origins. Released in 1981, the historic Jazz O' model embodied the brand's ambition to create a unique, technologically advanced running shoe focused on aerodynamic profile, lightweight materials and ergonomic fit for ultimate athletic comfort.

The Jazz O' trainer has become the best-selling Saucony shoe of all time and until today continues to be the cornerstone of the collection and a staple in the world of running, having been awarded five stars by Runner's World, a bible for runners all around the globe. The anniversary releases represent a faithful reinterpretation of the original model, while enhancing comfort and fit by choosing premium materials and other special details. The keywords "see, touch, feel" express the innovative upgrades in design, material and fit.

www.saucony.com
Fashion
Marcell von Berlin SS21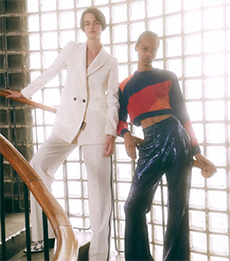 Marcell von Berlin, the brand by Designer Marcell Pustul, with flagship stores in both Los Angeles and Berlin, has released its SS21 collection. The collection is built on the idea of celebrating the cosmopolitan woman who is filled with a yearning and desire to follow her inner path through life with sensuality, joy and fulfilment.
This same feeling is expressed with extravagant prints, flame printed sweatshirts, minimalistic denim jumpsuits, clean lines and noteworthy inspiration from the 70s. In this SS21 collection a range of new handbags are premiered. Made with impeccable craftsmanship, the 'BERLIN' bag are made from imitation crocodile leather, the 'M-R1' bag and the 'MM Cargo' are also versatile accompaniments to each daring and colorful look in this new collection. A hand-painted abstract flame design was scanned and then printed onto the fabrics of this collection, prints that speak to the core DNA of the brand.
The 70s play a pivotal role in the Marcell von Berlin SS21 collection due to that particular decade's history of women's empowerment and liberation movements. "While working on this collection I was constantly visualizing women that inspire me," says Pustul, "women that have that fire and inner drive inside, women who are brave enough to not hide their emotions and live their lives to the fullest. These women are passionate, independent and play by their own rules, therefore the flame seemed like the best representation for them", declares Pustul.
As Marcell Pustul puts it "times are changing; therefore, the brand needs to evolve and adjust to the new climate in the fashion industry."
The collection will be available at the flagship stores in Berlin and Los Angeles as well as wholesale partners across Europe and the US from January 2021 onwards.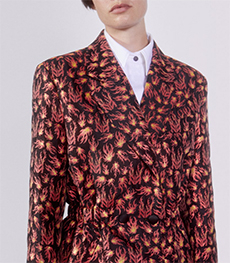 Fashion
DIOR Haute Couture SS21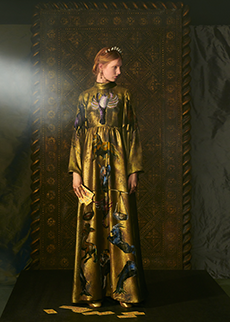 With the presentation of the Dior SS21 Haute Couture Collection, the onlooker finds themselves transported into a magical realm to which Tarot cards are the key. Maria Grazia Chiuri immediately felt a connection with the imaginary worlds that they contain and their power to entice us to explore the unknown while fearlessly looking deep inside ourselves. Grazia Chiuri uses the cards' visual language, the rich symbolic lexicon as well as the complex and fascinating characters and translates it into a series of extraordinary evening gowns, a testimony to Dior's excellence in craftsmanship and garment construction. Matteo Garrone, one of Italy's most high-profile directors, is responsible for the presentation of the haute couture creations. He also draws inspiration from Tarot cards, more precisely drawing on the visual force of the Visconti-Sforza tarot, a collection commissioned by the Duke of Milan in the 15th century. This deck is defined by its splendid and luxuriously decorated cards and their impressive yet enigmatic presence.

www.dior.com
CHANEL: Escale à Venise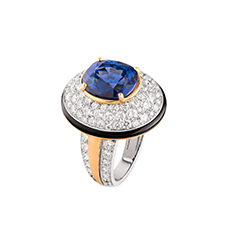 An assortment of 70 exquisite pieces of high jewelry provides a contemporary reimagining of Gabrielle Chanel's original discovery of the Floating City. One of Mademoiselle's most favourite destinations to escape to, 'Escale à Venise' boasts iconic CHANEL designs seen through the new lens of the world-renowned luxury French brand today. There is a sculptural quality to each piece of jewelry in 'Escale à Venise', with the highest quality stones forming an ensemble that is both visually bold and designed to be cherished. 'La Sérénissime', 'Gran Canale', 'Isole Della Laguna', 'Spirito Di Venezia' all add to the storied tapestry of high jewelry by CHANEL.
'Isole Della Laguna' is dedicated to Gabrielle Chanel's favourite flower, the camellia. 'Gran Canale' is inspired by the nautical world, the white and blue mooring poles used by the gondolas. These colors punctuate a three-strand sautoir necklace made of pearls and yellow gold links. 'Spirito Di Venezia' takes inspiration from the 2013 collection of CHANEL jewelry which took cues from Gabrielle Chanel's astrological sign of the lion. The winged lion from the facade of Saint Mark's Basilica is transposed onto the 'Constellation Astrale' set. The central star of which is set with 4.47 carat yellow sapphire which shimmers across a nebula or stars in addition to a bracelet and accompanying set of rings with a 4.25 carat cushion cut yellow sapphire.
To celebrate the architectural opulence of Venice, the 'Eblouissante' jewelry set is composed of pink and white geometric designs as a reinterpretation of palace facades and the polychromatic marble floors seen in churches. Reviving the Byzantine spirit of the mosaics that make up the 'golden basilica' are translated into a more contemporary piece. La Sérénissime is made of rose gold and platine structures, featuring a necklace with a perfect drop, a staggered motif set with baguette diamonds that pay homage to the quilting held dear by Gabrielle Chanel. A powerful construction, the new 'La Sérénissime' necklace features a 27,09 carat mandarin sapphire haloed by an assortment of diamonds. The 'La Sérénissime' ring bears a cross in onyx, yellow and mandarin sapphires and diamonds. The ring is topped with a 6.04 carat pink Padparadscha sapphire.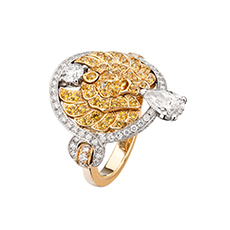 Fashion
LOEWE Men's FW21/22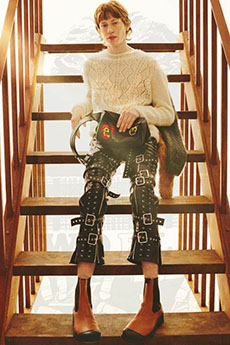 With his FW21 Menswear collection, LOEWE's Creative Director Jonathan Anderson pays homage to artist Joe Brainard. As Anderson explains himself, 'I have been drawn to Joe Brainard's body of work, especially his collages and his ability to create from everyday things. As an artist, writer, illustrator and poet, he developed his ideas and actions outside of convention and category. His work possesses a lightness and immediacy that I find very much in keeping with the present, and indeed with any moment.' The collection which he delivers is characterized by its light spirit, realised through clean silhouettes and precise cuts. Some of Brainard's works are revived as prints, but most notably, Anderson makes use of one the artist's favourite methods of working, collage. With his approach, Anderson revived iconic subcultures in an eclectic assemblage of iconic elements and tropes borrowed from subcultures ranging from mods to grunge. Artworks are printed bluntly onto the front and lapels of blazers. Leather bandage trousers, cardigans with culottes, extra baggy trousers, just to name a few, make each look a thoughtful and masterfully executed collage.

www.loewe.com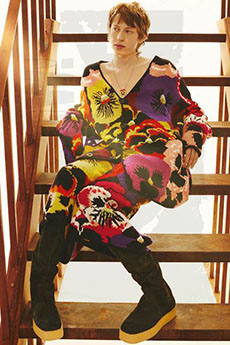 Fashion
Dries Van Noten Men's FW21/22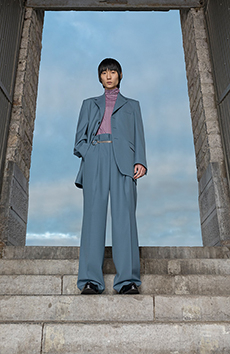 To make new what is old and cherished, time-honored and treasured elements of the Dries Van Noten wardrobe are reinterpreted for Paris Fashion Week. Clothing designed to evoke purpose in the wearer, while also revealing a tenderness or emotional depth. In a blend of sportswear and formalwear, Belgian tailor, Dries Van Noten, after opening a new store in Los Angeles last year, debuts a new take on modern menswear for its FW21/22 Men's collection.
An abstract purity about the line and shape of each garment rings true to Dries Van Noten's brand DNA, finding joy in the unassuming by way of soft and sharp contrasts. Cropped and elongated elements, trousers ranging from drainpipe skinny to relaxed and loose-fitting, along with pleated high waist trousers paired with oversized car coats display a dedication to versatility and expression in modern menswear.
Colors from petrol to lemon display the spectrum of earthy and warm colors such as alkaline, dusty pink, coffee, ochre, anthracite and cement. Along with traditional tie motifs, zodiac signs and classic shirt stripes, the collection is filled with skilful embroidery, patterns and prints. The collection also features a range of accessories which include a monogrammed metal ring, leather pouches, bucket hats in padded nylon as well as high-tech moccasins and knit legwarmers.
The garments are designed with both formal and casual settings in mind, the blurring of the two in recent times and 'dressing for our days' is noted as a muse for Dries Van Noten Men's FW21/22 collection.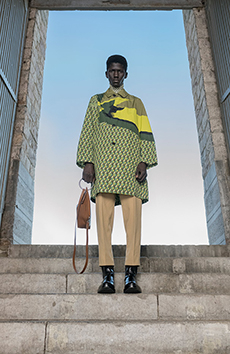 Fashion
HOMME PLISSÉ ISSEY MIYAKE FW21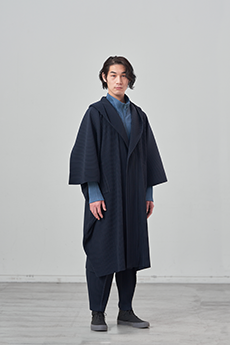 HOMME PLISSÉ ISSEY MIYAKE premiered its FW21 collection titled 'Never Change, Ever Change'. A title which captures the essence of the collection perfectly. This collection embodies the brand's intent to evolve, to capture the spirit of our times and to respond to our ever-changing lifestyles through design. At the same time, HOMME PLISSÉ ISSEY MIYAKE stays true to its roots, from design language to production. Classic and conventional pieces are re-interpreted through a modern perspective and infused with original ideas and technology, building a selection of new basics of the brand. The collection itself was an interesting mixture of the classics pleats and subtle novelties, which sometimes remained hidden from the viewer's eyes. It was the first collection, which featured a series produced 100% from recycled polyester fabric or a new fabric woven from yarn-dyed polyester threads, resulting in a materials that is warm like wool, but at the same time much lighter in weight and wrinkle-resistant. In their video presentation, the process of pleating the garments were central, offering an insight into the processes needed to create the very unique signature garments from HOMME PLISSÉ ISSEY MIYAKE.

www.isseymiyake.com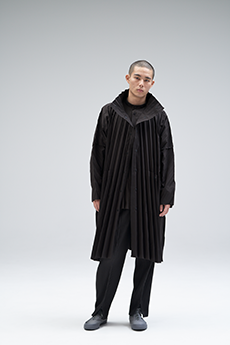 Fashion
Etro Men's FW21/22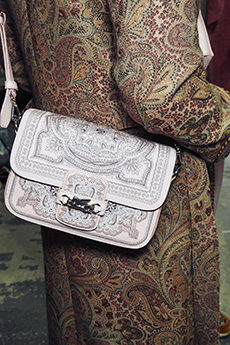 Etro has released their FW21 collection, an unconventional and personable message of hope and faith for a life-affirming collection of Menswear. The Creative Director behind the collection, Kean Etro, embraces an upbeat mood for his FW21/22 collection, marking the beginning of a new chapter at the family-managed Italian fashion house. Juxtaposing casual and elegant, the playful and ironic, blazers with cadet details and robe coats rich in fabrication are layers on color-blocked anoraks decorated with paisley patterns. In a time when a sense of freedom is so coveted, Etro is blurring boundaries and breaking established rules to bring joy into otherwise ordinary materials. Denim utility pants splashed with cashmere motifs are balanced out by sartorial elements, the sophistication of camel coats and double-breasted suits which feature deconstructed fluid silhouettes.
A sense of street-savvy interplays with pyjama inspired piping which details the shirts. Quilted jackets made from vintage upholstery textiles. The Pegaso logo appears enlarged on bomber jackets and oversized hoodies, to layer with maxi sweaters made from recycled wool and shirt collars made from an archival silk lining. Contrasts define the selection of footwear in this FW2122 collection, patchwork sneakers with neon laces, paisley and mandala patterns display a knowledge of classic and contemporary on a range of highly functional backpacks, pouches and cross-body bags. The collection also features special genderless vests made from a blend of wool and mohair, see now-buy now capsule collection putting the beauty of the androgynous in full focus.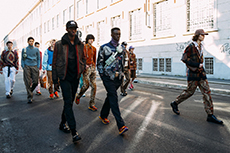 LES HOMMES FW21: 'FEMME'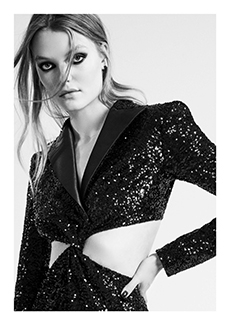 Designers Tom Notte and Bart Vandebosch have created a FW21 collection for Les Hommes that reflects the brand's core DNA. The collection consists of unique pieces built with a fusion of classic tailoring methods and sportswear sensibilities. The unification of opposites is the key to this collection, hybrid pieces bring together two seemingly opposite worlds. Signature leather, knitwear and nylon inserts fused with classic tailoring and sportswear makes for an elegant yet powerful silhouette. Hand-knitted knitwear is a key feature of the Les Hommes world. As such there is a big emphasis on creative and unique knitwear. The new essentials for the Les Hommes man are filled with energy and a bold sense of creativity.
Contemporary elegance, the lifeblood of Les Hommes, plays a vital role in the FW21 collection. The Les Hommes 'Femme' collection is just that; a fusion of considered, impeccable tailoring and ultra femenine party wear. The unique collision of these two worlds makes for a collection with glamour, femininity and a touch of masculine influence. Strength and confidence are the voices that speak to Les Hommes 'Femme'. The color pallet is exclusively black, with the exception of cobalt and camel details. The variety rests in the collection's materials, which bring a subtle yet noticeable depth to the clothing. The indulgent use of velvet, sequins, leather and patent leather unify to create an architectural silhouette. The shape of strong shoulders, couture inspired sleeves and more masculine elements contrast with ultra feminine shapes and champagne colored hardware to create the Les Hommes 'Femme' silhouette.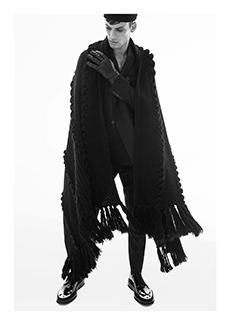 Fashion
C.P. Company Opens New Milan Flagship Store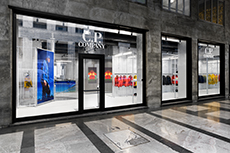 From January 2021, Italian sportswear brand C.P. Company, founded in 1978 by Massimo Osti, will open the doors of its new flagship store in Milan. This new store will replace the store at its previous Corso Garibaldi location. The new store will be situated at one of Milan's most famous streets for shopping, Corso Matteotti.

This new locale is open to the public with the intention of creating a very immersive atmosphere for customers rather than a pastiche retail experience. Featuring a wall of shelves and cabinets built at a 30 degree incline as well as continuous fixed hook hangers that run all the way to the front facing store windows. The front of the store overlooks the city's distinctive Corso Matteotti walkway.
As the old adage goes, "out with the old, in with the new." This move marks a renewal of the brand's dedication to its Italian roots as well as its dedication to staying fresh and creative in how it is perceived. With elemental materials used in the store's construction like concrete, silver and for the store's walls, iron. In contrast to these materials, portions of the store are awash with colors that recall the brand's garment dyeing technique; the new C.P. Company location is a lightning rod for fashion-centric city-dwellers all over Milan.
The new C.P. Company flagship store is located at Corso Giacomo Matteotti, 7 and is open from January 2021.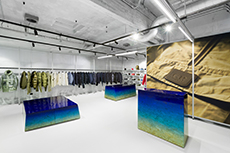 Fashion
Louis Vuitton x Urs Fischer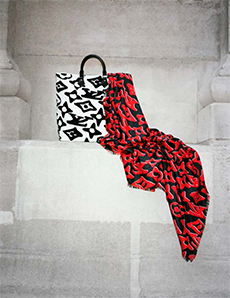 Louis Vuitton have tapped Swedish contemporary artist, Urs Fischer, for their latest all-encompassing collaboration. In addition to ready-to-wear the Louis Vuitton x Urs Fischer collection will feature accessories, shoes and seven special-edition bags. Arriving in two colorways, the collaboration features reinterpreted versions of the signature monogram of flowers and the LV initials, these artist impressions are what Fischer calls 'memory sketches'. The artist is known for a self-awareness and wry sense of humor.
Classic styles chosen for the collection include the Cabas, Keepall and Onthego, as well as two Neverfulls, Speedys and Pochettes Accessoires each covered in Fischer's creative reinterpreting of the house's motif. The tuffetage treatment applied to each bag creates a special texture and tactile relief on the velvet-like material, the end result is visibly unique to Fischer's artistic intentions in collaboration with Louis Vuitton. Also from inside of the artist's creative world, original characters emerge on a fine silk square flooded with a mirage of colors. Urs Fischer's art, ever on the verge of what contemporary art can be, has been exhibited from Notre-Dame to Madison Avenue, Hong Kong to Paris, and now at Louis Vuitton.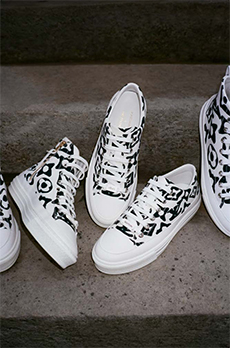 The Louis Vuitton x Urs Fischer Collaboration will be available at Louis Vuitton stores worldwide January 2021.

www.louisvuitton.com
FENDI: Women's and Men's SS21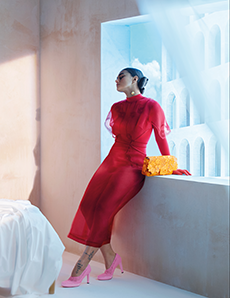 Perceiving the world outside from the indoors, the world outside calls back with an unmistakable Italian charm and cadence; Rome, the home of Fendi. In the new Women's and Men's SS21 campaign a digital window is projected onto the wall, through the window is a view of the globally renowned maison's headquarters in Rome; Palazzo della Civiltà Italiana.
The campaign is shot by acclaimed British photographer, Nick Knight, in his London studio. The set is dressed with curtains that fill with a Summer's breeze and float as if there is a hidden mysticism in the air. Modelling the Women's SS21 collection Mariacarla Boscono, Estelle Chen and Jill Kortleve are styled by Chaos Fashion, while Chun Soot and Henry Kitcher are styled for the Men's collection by Julian Ganio.
Designed by Silvia Fenturini Fendi, the Women's and Men's SS21 collection are color coordinated with the sparsely furnished set to reflect the different tones and shades of both collections. A palette of naturally occurring colors including honey, milk and wheat are accentuated by carefully placed notes of cardinal red and sky blue to complete the overall look. To complement the looks, iconic Fendi bags PeekabooISeeU augmented by the modern Fendi x Chaos tech accessories. Featured alongside the iconic Baguette bag for women and the Peekaboo Essential for men, new shapes and designs such as the Moonlight satchel bag and a new Fendi Eyewear collection are introduced.
Shadows visually stretch across the room to signify the ease and relaxation of Summer peaking its rosey fingers through the curtains. Familiar domestic touches like a bed or a wooden chair give the impression that the relationship between indoors and outdoors is at its most casual, seamless and enjoyable in Summer.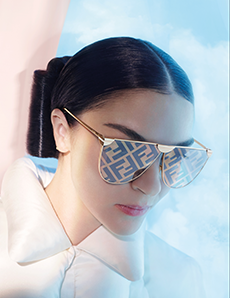 Fashion
Even in the Dark: Trinity de Cartier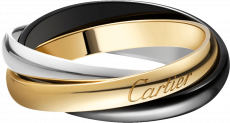 Historic jeweler, Cartier, have released a new version of their iconic Trinity ring. The Trinity de Cartier collection was designed by Louis-François Cartier in 1924 with three different interwoven bands; one in rose gold, one in yellow gold and another in white gold. It has become synonymous with that intangible passion that fuels and binds lovers to go to great lengths for one another; symbolic of the heart's longing for another, a soul's embrace that is beyond comparison or mortal description. 


The Trinity ring has a storied history, a conversation between Louis Cartier and his friend, French film director, Jean Cocteau, on the topic of Saturn's rings inspired the design. Another legend muses that the three colors are three interpretations of love's complex meaning. Yellow gold as a reminder of trust and fidelity, white gold to remind the wearer of friendship's integral role between lovers and the rose colored ring representing the passion that inspires love. The ring was only given the name 'Trinity' in 1998 and has evolved into an entire collection of Trinity de Cartier since; with bracelets and necklaces reiterating the grand emotional meaning behind the interlocking ring.
Now, Cartier presents a new Trinity ring, substituting the rose gold band with a black ceramic ring in the signature interwoven design. A Trinity de Cartier for a modern world, the same love inspired by passion is a love that can appear from out of the chaos of a changing world; a love that faces any uncertainty with faith in one another, navigating dark times to define its own future.

This limited edition Cartier Trinity ring will be available from January 2021.
Fashion
Fendi 'The Baguette Dance'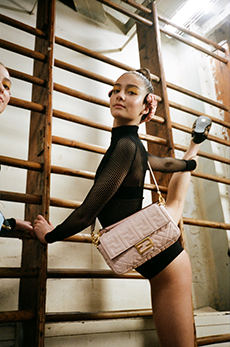 Iconic Roman fashion house, Fendi, continues their 'Baguette Friends Forever' series with a stirring emotional performance by a troupe of five skilled gymnasts from The Paris Centre. The Fendi Baguette is invigorated for The Baguette Dance, wearing the renowned FF logo embossed in a hypersoft leather that appears in five colors including black, pink, bright blue, yellow and red. The dancers grace a ballet ballroom with poise, vigour and an unparalleled energy spurred on by an uptempo synth pop beat. The Baguette changes hands between each dancer in tandem with the flow of their highly coordinated routine. The same playful spirit of 'Baguette Friends Forever' is enhanced and the first time the Baguette finds its soul and denotes friendship that is youthful and exists outside of the limitations of time in this quintet of 'FFriends!' from Fendi.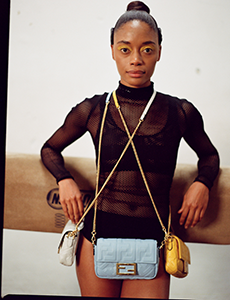 Dedicated to the joy that dancers evoke and the same feeling that strong friendships create; the fearlessness and energy of dancers deeply in their element follow a similar path to the curves, edges and accents essential to the DNA of the Fendi Baguette. The Baguette Dance not only pays homage to the overall beauty of the bag's design but it presents the world in which this bag was created; one of unrelenting joy and comradery. The exceptional dancers at The Paris Centre translate in movement a feeling which cannot be expressed in words.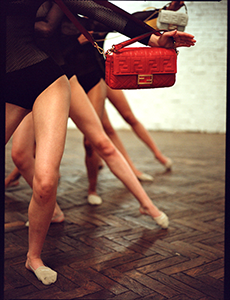 Conceptualized by the minds at Fendi, the Baguette Dance is not simply an homage to the Baguette design, it represents the Baguette in its purest form. 

www.fendi.com 
Fashion
Prada honoured with Creativity Fashion Awards 2020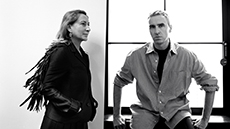 Prada is the new recipient of the 2020 Fashion Awards, presented by the esteemed British Fashion Council under the creativity category of this annual event. The Creativity category was set up to provide recognition to individuals and brands that have realized global impact through creativity in design, campaigns and collaborations, in addition to the massive task of shaping global fashion through innovation. Prada has and continues to fuse creativity and social responsibility making the house a worthy winner of such a monumental award. With the Prada Linea Rossa FW20 campaign, their substantial support of Italy in the Covid crisis, the Tools of Memory campaign in partnership with Sotheby's that donated its proceeds to Unesco, educational projects just to name a few, Prada has done a huge amount of good in such a bleak and uncertain time. Co-Creative Directors Miuccia Prada and Raf Simons were selected for the positive change they made this year within the fashion industry, a testament to the power of creativity.

www.prada.com
Fashion
Optical Precision. German Engineering.
Both Leica and Mykita belong to a group of industry leaders in their respective fields dedicated to the holding up of the high standards associates with the label 'Made in Germany'. For this collaboration, both houses bring together their areas of expertise, pairing Mykita's innovative product engineering with Leica's unique design language and expertize in lenses and optics. The results of this partnership are a range of glasses, defined by their reduced and functional design and precision engineering. The debut collection of sunglasses features two design series, the first being a concept of stainless steel whereas the second combines the steel with MYLON, a material innovation made using 3D printing technology. Apart from the design, the lens technology is another standout of this partnership, having been manufactured using all of Leica's expertize in this field and undergoing the rigorous quality control that all Leica optics are subjected to. The Leica optical collection features clean and timeless design, mirroring the established shapes of the sunglass line. The purposeful sleek design gives the glasses a timeless flair recalling the iconic design of the Leica cameras.

www.mykita.com
www.leica.com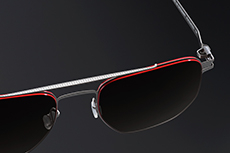 Fashion
Stone Island Miami
Stone Island certainly one of these brands, which have become deeply interwoven with European cultural history, whether it be Milanese paninari, British football fan or anything in-between. A household name in Europe, the house has recently found increasing success in the United States, partially due to celebrities such as Drake of Travis Scott being seen in Stone Island. To expand its presence in North America, Stone Island is opening its fourth store in Miami after New York, Los Angeles and Toronto. Situated in Miami's Design District, the store covers an area of over 3000 squared feet on two levels, hosting the Stone Island and Shadow Project collections. In typical fashion, the interior design follows the concept created by Marc Buhre, a German industrial designer and founder of the Zeichenweg TM architectural firm. Following the recent opening in Beijing and now Miami, Stone Island now counts 28 flagship stores worldwide exporting the brand's philosophy of experimentation and innovative design into the world.

The Stone Island Miami Store is located at 123 NE 41st Street, #107/207, Miami Design District, 33137 Miami.

www.stoneisland.com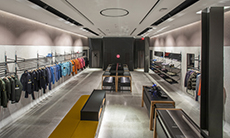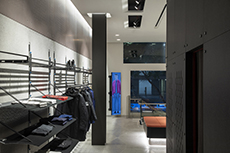 Fashion
Freedom of Travel meets Craftsmanship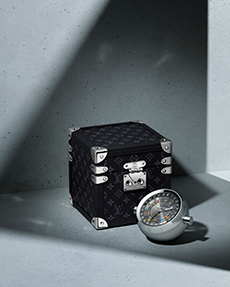 The freedom of travel meets the craftsmanship of watchmaking in Louis Vuitton's new Trunk Table Clock. Elevating the classic accessory to a monumental timepiece, the Maison reproduces the Tambour Moon Dual Time concave dial in a new fresh design and concept. It also features a double time-zone, suited to the urban globetrotter and a vibrant dial of multicolored flags. The 80mm diameter hemispheric steel case suspended in its trunk is a wonderful historic reference to 18th century navy chronometers, these devices were used for long-distance navigators for them to calculate longitude. The trunk is an iconic aspect of Louis Vuitton, in bringing this element into the watch design, the brand cleverly interweaves its own heritage and identity into its new timepiece. With this in mind, Louis Vuitton pays homage to the extraordinary pioneers of early travel, conceptualizing it in a contemporary design that is distinctly connected to the Maison.

www.louisvuitton.com
Fashion
Hublot 40 Years
Hublot and its CEO Ricardo Guadalupe invite friends and ambassadors of the brand to take part in the digital celebration of the Swiss watch manufacturer's 40th anniversary. In a 30-minute presentation, Guadalupe presented all the milestones that have shaped Hublot into what it is today. Despite its relatively short history, there surely is no shortage of memorable moments to look back on, from the diverse novelties and innovations to the groundbreaking partnerships with Fifa and Ferrari. And how would you retell Hublot's history without mentioning two key figures, the company's founder Carlo Crocco and Jean-Claude Biver, who emphasized the art of fusion between tradition and future. Throughout the presentation some of Hublot's most well-know brand ambassadors were connected live. They were truly representative of the wide-ranging and diverse Hublot family, from footballers Kylian Mbappé and Ada Hegerberg, Olympic sprinter Usain Bolt, three-star chef Andreas Caminada to world-renowned pianist Lang Lang. To mark the occasion, Hublot has also introduced its 'Classic Original 1980' a watch which has been reinterpreted to reflect the Hublot of today and as put by Guadalupe himself presents 'a brand-new contemporary version that celebrates Hublot's innovative approach of the last 40 years.'

www.hublot.com
Fashion
Take-out Gala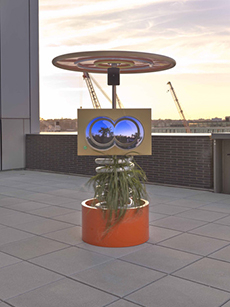 Museum Dhondt-Dhaenens is set to organize an extravagant take-out gala in collaboration with internationally regarded artist Rikrit Tiravanija. The Belgian modern art museum has gotten creative in the absence of its annual garden party, designing a free group exhibition, selling a range of different art works, now through the expo site as a result of new measures. In light of these restrictions, the museum is organizing an exclusive take-put gala to gather funds for the museum's upcoming year. Tiravanija and acclaimed chef Antto Melasniemi have created 3 original dim sum to be presented in a reusable take out box, designed especially with a monogram by the artist. With only 500 of these boxes available, each order grants access to an online gala, an ingenious idea that spotlights the thriving creativity at a time of such stasis and devastation.

www.museumdd.be
Fashion
Home Time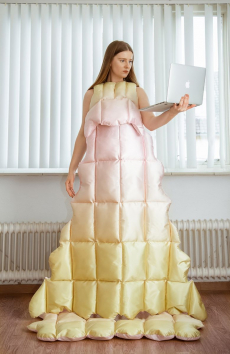 Latvian designer, Santa Kupca, presents her 3 part graduation project, the perfect antidote to the pandemic's omnipresent sense of loneliness and isolation. Entitled "Hesistant to RSVP", "Dolce far niente" and "Public Library", the graduate of the Design Academy Eidenhoven, references beautifully these current anxieties through a conscious set of garments. Graduating from the Identity department, Kupca responds to the entrapment of the home and the pressure of online communication, with garments that comfort and swaddle, replicating the feeling of a tender embrace. Each of the three pieces engages with certain aspects of the home, curating a quiet sense of intimacy, made irresistible by their duvet-like quality. To be worn over underwear or simply nothing at all, Kupca caters to the human form at a time where connection and intimacy are under strict regulation and monitoring.

www.santakupca.com
Fashion
Surreal Times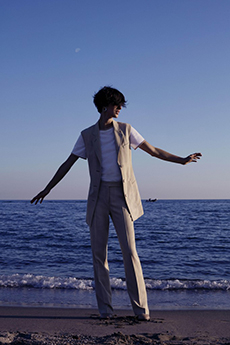 Salvatore Ferragamo responds to this surreal time in their Pre-Spring 2021 collection, a tangible sense of pride and consciousness shaping each look down to every meticulous detail. Featuring upcycled leathers, cashmere, recycled nylons and organic cottons, the brand deftly navigates luxury design with ethical and sustainable choices, creating a collection that is both mindful and stylish in its embrace of a positive momentum in the fashion industry. Mens wear and womens wear both display an exciting sense of flux, moving between clean minimal lines and soft tailoring to wild animated animal prints. The hybrid of giraffe and leopard print takes center stage in the collection, inspired by their Creative Director, Paul Andrew's extensive interrogation of the archive, dating back to the 1970s. Other innovative highlights include in a new almond-toed driving shoe, fitted with a never before seen double Gancini hardware. Reflecting on the collection Andrew commented "this collection was made in exceptional times, under exceptional conditions, through which we were all obliged to adapt and innovate… The result is a collection of which we are proud. We worked to turn the limitations of the period into positives by considering what is most essential".

www.ferragamo.com
Fashion
Creating an Icon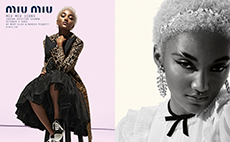 For Miu Miu's Icons Holiday 2020 Advertising Campaign, the brand examines what it means to be an icon. Mapping the transition from icons dictated by religious representations into a secular age, Miu Miu goes on a hunt to demystify and encapsulate the aura of a contemporary icon in their new campaign. Selecting their own cast of women, the luxury brand curates their own community of multifaceted icons, drawing from the realms of cinema, fashion and music. Recognizable in the campaign are the likes of Kim Basinger, Chloë Sevigny, Du Juan and Raffey Cassidy amongst newcomers: actress Emma Corrin, the musician and actor Jordan Kristine Seamón and Storm Reid, an actor who also opened the Fall/Winter 2020 Miu Miu show. In showcasing this intergenerational talent Miu Miu is expansive in their definition of an icon, an empowering expression of modern femininity.

www.miumiu.com
Fashion
Game Up
Pikachu animates Longchamp's iconic Le Pliage® for their new collection Longchamp x Pokémon. The adored Japanese character features across a range of bags as well as a scarf, inspiring a rare blend of French classicism and Japanese kawaii. The collection will be made available from October 13, 2020 in stores and online, but will be released exclusively in Japan from October 9, 2020 - paying homage to Pokémon's roots. For Kenji Okubo, President of The Pokémon Company, the collaboration "upholds Longchamp's tradition for quality and luxury but adds a fun and playful twist". Pikachu appears in two exciting designs, the first evocative of a retro video game, his familiar yellow figure prominent against a bold black and white print which spells out Long champ in a distinctly maze-like design, the second more subtly showcasing his silhouette embossed onto red, cream and black bags. Longchamp shows the potential of collaboration in this collection, producing new and unexpected possibilities, Pokémon bringing a vibrant and iconic motif to the House's colorful and diverse oeuvre.

www.longchamp.com
Fashion
"Claudia Andujar, The Yanonami Struggle"
Over the next eight years, Triennale Milano and Fondation Cartier pour l'art contemporain will join forces to create a cultural partnership unprecedented in Europe. They share a common vision of what contemporary artistic creation should be, dedicated to contribute to the development of a truly multidisciplinary and international program which creates bridges between all different facets of creativity, whether it be art, architecture, design, fashion, cinema, science or philosophy. Cultural exchange between the many European institutions to provide artists the necessary stage and support system in order to bring their meaningful perspectives of the modern world to life. The partnership will be inaugurated with the exhibition "Claudia Andujar, The Yanomami Struggle" followed by "Les Citoyens, Guillermo Kuitca" the coming year. Claudia Andujar's exhibition offers an insight into the struggle for recognition of the Yanomami, the largest isolated tribe in the Amazon forest. Curated by Thyago Nogueira, the exhibition showcases over three hundred photographs of the Yanonami, an in-depth photographic essay on their daily lives, which Andujar has been working on since the 70s. It showcases all of her prowess as a photographer and activist, whilst showcasing the Yanomami as complex and rich culture with its own intricate myths and rituals.

"Claudia Andujar, The Yanomami Struggle" will be open to the public from October 17 to February 7, 2021 at Triennale Milano.

www.fondationcartier.com
www.triennale.org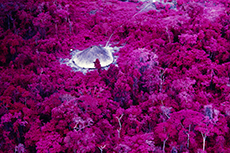 Fashion
Blue planet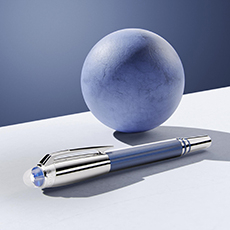 Montblanc delves into the deep blue, telling the story of our blue planet in its new collection of pens, Montblanc Star Walker. Echoing NASA's motto "follow the water", this collection revolves around the marine hues of the ocean, paying homage to the huge expanse of seas and oceans that connect our planet. The pen itself is composed of blue precious resin, a wonderful ode to water, and this connection to our Earth is enhanced further by the transparent dome at the top of the pen. The spherical dome represents the rising Earth above the lunar horizon, as viewed from space, the platinum-plated cap a nod to NASA once again, in its abstraction of an astronaut and the angled clip, a shooting rocket. Montblanc delivers a captivating tale for this collection, channelling our focus to the water that makes up over 80% of the world's oceans, not all of which have been mapped and explored. In wetting our appetite with a sense of purpose and adventure, we are compelled to write, bringing our own sense of discovery to the written page.

www.montblanc.com
Fashion
Maison Margiela Spring Summer 2021
For Maison Margiela, our current time has been a catalyst to cravings of connectivity and togetherness, their Spring Summer 2021 'Co-ed' Collection using dance as a medium to materialize a largely absent sense of intimacy. Through the vigor and vibrancy of the tango, chivalrous tailoring and dynamic drapery come alive, channeled through the impassioned movement of this paired choreography. Wet look effects heighten this sense of intensity, the ecstasy that comes from dancing in the rain, given a high end luxury sentiment by the historic Maison. Millefeuille jackets are layered with wadding, organza, butter muslin and tulle, given a sense of body through contrasting textures. Artisanal techniques also take on an alternative lens, industrialized and evolved through the House's creative vision. Picking up on traditional colors of the tango, black, red, white and grey recall the classic gentleman's wardrobe, the drama of this symbolic tradition, captured in the dark and foreboding hues of Argentina's most beloved dance. Building upon this visual reference, the collection's accessories feature beautifully beaded evening bags, harking back to the 1960s, alongside raffias and straw bags. Maison Margiela out does itself, in a visual feast that imbues each look with a fresh and dynamic take on such a lauded and celebrated cultural phenomenon.

www.maisonmargiela.com
Fashion
Through a Filter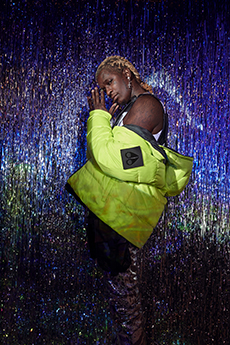 Driving us to action, Moose Knuckles' FW20 Campaign inspires their international buyers. Known for their high quality outerwear, the Canadian brand "Bring The Heat" in a campaign designed to bridge the gap between product and emotion. In reference to the latest campaign, the brand's Global Marketing Director Dominique Lagleva said "we're inspired by the fearless community of creators who've kept pursuing their passions despite the many barriers that stand in their way." With this adversity in mind, dazzling colors achieve a thermographic map-like filter, creating a digitized aesthetic startlingly in real life. Young Thug and Kehlani firmly roots the campaign in pop culture, referencing the music scene that is so enmeshed with the brand's identity. With the looks crafted by Kyle Luu and captured by Sandy Kim, Moose Knuckles produces a memorable campaign with an impressive and vibrant cast.

www.mooseknucklescanada.com
Fashion
"Spend More Time With The Great Outdoors"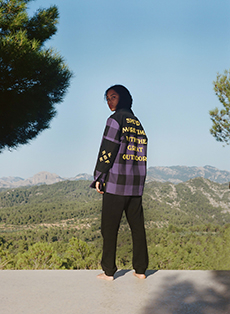 RSF has released an original buffalo check overshirt in an exclusive purple colorway, the brand's signature color as part of a second collaboration with Woolrich. Building upon an initial summer drop, where Woolrich and RSF released a collection of sunglasses, the two brands have teamed up once again, this time using the vast beauty of the outdoors as their inspiration. Creating a mini documentary, Milan-based creative Massimilliano Bomba, has created a pure set of visuals, inviting the viewer to venture out of the home and connect with the natural world. The mission statement "Spend More Time With The Great Outdoors" is boldly presented in yellow across the back of the shirt, a graphic and striking addition to the purple and black buffalo check pattern. The Buffalo Overshirt is now available through both Retrosuperfurture and Woolrich channels and at selected retailers worldwide. 

www.retrosuperfuture.com
www.woolrich.com



Fashion
Rick Owens Spring Summer 2021
In spite of being included as part of the Paris calendar, Rick Owens set his show in Venezia, Italy, just two hours away from his factory – with no audience, but the intimate cheers of Rick's Italian design crew. The choice is one of the most sustainable and coherent, sharing that unconventional mindset Rick Owens has made clear over the years. The show was held just in front of the Casino at the Lido, a rationalist building from the 30s riming with Palais de Tokyo – the historical show venue for Rick Owens – built for the occasion of the 'Exposition Internationale des Arts et Techniques dans la Vie Moderne' in 1937. "I spend my Summers on Venice's Lido, the site of Thomas Mann's novella 'Death in Venice'. The main character, a writer ascetically devoted to his craft, develops an obsession with a youth and ends up dying on the beach from cholera during an epidemic with desperately age-defying hair dye running down his face in the hot sun. The word 'quarantine' originated from this area's medieval response to the bubonic plague." Rick Owens speaks of his time thinking about the show, about the meaning of his vision. Often working with the juxtaposition of elements and an idiosyncratic use of references, beyond fashion. Like Fall Winter 2017 with its coats, skirts, sleeveless jackets layered and twisted over the body recalling sacred costumes: to channel the need for a positive new beginning rooted in a sense of collectivity, of gathering together, of humanity in its social form. The idea of a procession in name of a better world in spite of the dark times, of ceremony-like ritual that bonds together societies, a theme Rick Owens explored since then. "My last fall runway shoulder-freak-out wasn't about power, it was about defiance — defiance in the face of threat." Likewise for Spring Summer 2021 the exaggerated shoulders "are an exaggerated middle finger to doom" That's pure Rick Owens, and his declaration on intent is clear: in a moment of crisis you defy, you counter attack, opting for the bright rather than the dark. A dash of Bubblegum pink all over, red thigh high boots, "Neapolitan gelato" degrade stripe print on chiffon and crêpe, knits that double up, peel up and down "like a banana, covering or exposing at will". And the "grim gaiety" of tulle geo-ruffles sprinkled with trailing gazar ribbons.

www.rickowens.com
Fashion
Christian Dior Spring Summer 2021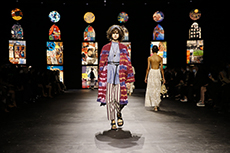 "To cut is to think, is to see […] Cutting structures language, but also clothing. It is an intervention into the traditional conceptions of representing and seeing a body or thing, and thereby produces a new sensation" The words of the late Germano Celant resonates in Maria Grazia Chiuri's latest collection for Dior. The renowned Italian art critic - who sadly passed away this year due to novel coronavirus health complications – is only one of the many devastating deaths leaving a very big void in the art realm. His seminal essays have been the founding structure of some of the most relevant discourses on art and architecture, a constant reference and inspiration. In 1996 he was the appointed curator for the first edition of Florence Biennale of Art and Fashion, stressing the idea of art as a constant evolving practice strictly connected to the contemporary world, as the expression of a shared creativity. The work of Italian visual artist and poet Lucia Marcucci has also been a key inspiration for Maria Grazia Chiuri. In the short documentary by film director Alina Marazzi made to celebrate the artist on the occasion of the show, Marcucci dives into her early work made between the 60s and 70s: "In 1964 I was given the chance to go to a historical printing shop to work on collages, true technological manifestos that at the time I called "visual poetry". I then also started to work on cinematographic poetry through collages of 16 mm films. Romantic movies, westerns, historical reports. […] Those were time of joy, of happiness, of playfulness. It was a time when artists believed deeply in what they were creating. It was both serious and playful. Subverting the status quo, in name of a completely different creation, tampering or rather exploring the languages used by mass media, these languages accessible to everyone, exploiting them, reassembling them, in order to surprise the viewer". The artistic messages of Marcucci's work, intertwined with the powerful image of a female artist operating during the time of extreme experimental ground in the Italian art milieu, were one of the starting points for Maria Grazia Chiuri's Spring Summer 2021 collection for Dior. As For Maria Grazia Chiuri each season is a complex set of layers where research and experimentation continuously reflects and reinterpret Dior's woman Romantic heroines, asser tive female leaders, resilient fighters, they are women who radically marked our history but paradoxically have been veiled by dominant male oriented culture, These are heroines emblematic of our time, now more than ever. The set design for the show also plays a poignant role: "Vetrata di poesia visiva", conceived by Lucia Marcucci as an in-situ installation, transforms the show venue into a grandiose stage punctuated by immense light boxes, nodding to the sacred dimension of the stained-glass windows in Gothic cathedrals, and creating an powerful encounter with Lucia Ronchetti's "Sangu di rosa" choral work with texts taken from the "Voceri" – the folkloric classical musical repertories associated with funereal ceremonies from mid 19th century Corsica.

www.dior.com
Fashion
Stone Island x Persol
Both Persol as well as Stone Island are two brands looking back on a rich heritage having contributed to the rich Italian design language as well as continuing to do so with their devotion to craftsmanship and the new technologies. For the first time, both companies now come together to combine their visions in a new pair of sunglasses. The inspiration for the Pilot Frame comes out of Persol's archive, more precisely the 1970s, evoking the exclusive style so connected with the brand. Produced with the same machines as back in the days, the new frame has been made with special attention to details, showcasing the full technical and stylistic capabilities of both brands. The classic shape of the classes is accentuated with technical details, visible screws, hand brushed metal providing a matt finish which constitute the visual counterpart of the shiny glasses. With a commitment to innovation and unafraid to engage in experimentation, without losing that distinct elegance, Stone Island and Persol show us what 'Made in Italy' can and should be in the 21st century.

www.stoneisland.com
www.persol.com
Fashion
Salvatore Ferragamo Spring Summer 2021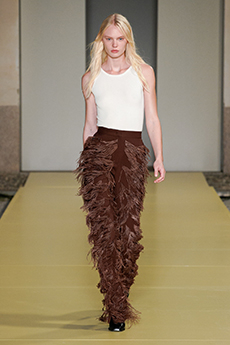 During the past few months, each of us has developed their own way of dealing with the lockdown and the social distancing measures. Some have taken the time to learn a new skill or to rediscover past hobbies. For Paul Andrew, Creative Director of Salvatore Ferragamo, this meant diving into classic Hitchcock movies. Watching these films in our current times was different than in the past, as the real world has seemingly become a strange and surreal place, not unlike the world depicted in Hitchcock's films. Out of these worlds grew the inspiration behind the SS21 collections, with Hitchcock homages to be found throughout. Technical artisanship meets ravishing color with each look exuding resilience and beauty perfect for the heroines and heroes of the uncertain times ahead. Aside from the technically sophisticated details, such as embroidery and hand finishes, to complement the strong and vibrant colors, Andrew chooses light and generous cuts offering the wearer the freedom to move. To fully offer the guests and viewers online the real feel of the classic films, the show was opened with short film, produced by Luca Guadagnino. This short film offered us a glimpse of the collection in a Hitchcock-tinged evolution of suspense and anticipation set in Milan.

www.ferragamo.com
Fashion
BOSS Spring Summer 2021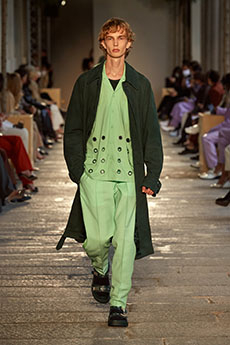 BOSS plays with eyelets in their SS21 collection, subverting the traditional expectation of these practical fixtures as decorative details, which run through entire looks from head to toe. Sandals feature these oversized eyelets as well as the hems of dresses and other aspects of the menswear collection. Greyish blues are accented by the metallic hardware, adding another element to muted subtler looks. These colors then interplay with blacks and creams in shirts, jumpsuits also inviting this retro appeal. BOSS also introduces a graphic print, an illustrative depiction of spring summer, flowers animating a cream background. Single pieces and suits imagine this print in motion, its fluid looping lines building an exciting dynamism into each of the looks, the flowers an ode to blossoming nature. Deep pinks of maxi dresses and men's suits are taken from the print, where select colours are integrated in the graphic design. BOSS presents Spring Summer, in a controlled yet wonderfully colorful display, the greens of nature, blues of water and a camel and beige neutral palette coming together in true artistry.

www.hugoboss.com
Fashion
C.P. Company Amsterdam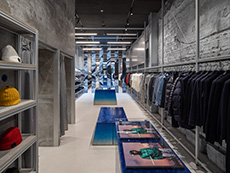 C.P. Company has come a long way since its founding in 1971, originally named Chester Perry by young graphic designer Massimo Osti. Initially renowned for its screen-printed t-shirts, the original Italian Sportswear brand is now well regarded for its entire range of clothing and accessories. As part of its journey, C.P. Company now celebrates its first flagship store in Amsterdam, an important marker in C.P. history. Located in Leidsestraat 23, the store is now resident on one of Amsterdam's most famous shopping streets, a hub of the local fashion scene. Designed as an experimental retail platform, C.P. Company set out to create an immersive experience for its customers, an extension of the brand's innovative approach to its clothing. The concept store features exposed brick work, 30 ° inclined shelving cabinets and a continuous hanger that runs futuristically through the store. Channeling an urban aesthetic, concrete and iron clad the walls, a grungy nod to contemporary streetwear culture. As C.P. Company's first store in the Benelux Region, it promises to be an exciting new venture for the brand and its loyal customer base here in Amsterdam.

www.cpcompany.com

Fashion
Fendi Spring Summer 2021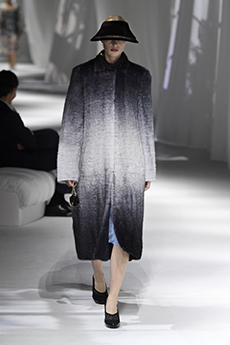 Through the looking glass, Silvia Venturini lovingly pieces together memories, nostalgia becoming a means to celebrate time spent with family and quiet more subtle observations gleaned during the surreal climate. We get the sense we are at once inside looking out and outside looking in, a hybrid space where reflections merge organically with real life as models meander down a white carpeted Milan runway. Within this myriad of stories, domestic life is made beautiful, the simplistic allure of linen and cotton elevated with sleek design. FENDI boldly strips itself bare in this collection, allowing minimalistic layering and soft silhouettes to speak for themselves. Formal shaping and structures are softened, tailored details becoming more relaxed through unbuttoned shirt sleeves, embroidered tulle and apron dresses, curating a sense of weightlessness. Neutral creams and whites sit amidst splashes of pale blue, reds and deep pink accents, giving way to more sombre office greys and blacks. Spring and Summer is imbued with a delicacy, a beautifully minimalist approach to the warmer seasons. Diaphanous dresses contrast excitingly with soft quilted jackets in a show that recreates the feeling of a warm summer breeze.

www.fendi.com
Fashion
AGL Presentation, Milan Fashion Week 2021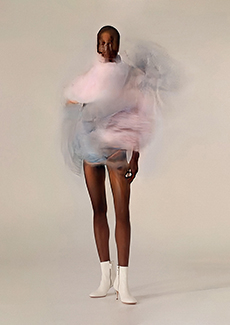 Through a distorted lens, models and a sea of entangled legs gently pulsate. Tulle silhouettes flow into heels that accentuate the feminine figure from the floor upwards. It feels as though one is coming in and out of consciousness, a rebirth somewhat, where AGL's shoes are presented as the only true constant. Some heels snake around the foot, some appear as denim sock boots, others cream leather. Moving up the legs, thigh high shoes present something of a Herculean athlete, metallic lattice fabrics, curating bold and mythological statement pieces. More paired back styles also have a classical Greek feel, studded straps connected along the back of the calf by thin red leather straps. AGL creates real magic, a collection which speaks to the contemporary moment, shoes built to empower their wearer to stand tall.

www.agl.com
Fashion
Stepping Back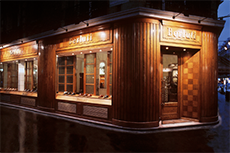 Maison Berluti celebrates its 125 anniversary in style, with an exciting collaboration with the Monnaie de Paris. Under the guidance of Creative Director Kris Van Assche, this union becomes a part of a myriad of successful collaborations, which have flourished since his appointment to the role in 2018. Marking this iconic year for the brand, their classic Andy shoe is reimagined as a penny loafer, an ode to the legacy of Alessandro Berluti, the Italian-born shoemaker who designed the brand's first lace-up shoe. The Andy, which was designed in 1962, for the infamous Andy Warhol, takes on the prep school aesthetic, an innovative twist on its initial form. In the early 20th century, the penny loafer's name was coined by a college demographic who would cleverly keep a penny in the half moon cut out of the shoe's upper leather strip for the pay phones. Paying homage to this history the Monnaie de Paris has crafted an ornamental penny, beautifully stamped with Berluti's crest. A limited-edition model, the shoe comes in four different color ways, all wonderful quality in their hand patinated full grain, uncoated, soft Venezia leather. Maison Berluti, returns to their roots, the references used, a wonderful nod to the fascinating evolution of fashion.

www.berluti.com
Fashion
20 Years of Perfume Wonder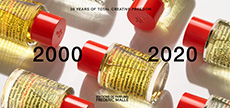 Frédéric Malle turns back time for their 20th anniversary, celebrating each and everyone of the 32 perfumes of Editions de Parfums Frédéric Malle. Revisiting the year of each fragrance's creation, the brand offers a set of limited editions, reviving past scents with new vigor and the buzz of this monumental landmark in the brand's identity. In true patriotic fashion, Frédéric Malle uses the brand's signature color red, on the bakelite cap of their 100ml bottles. Seven of Editions de Parfums Frédéric Malle's most popular perfumes are brought to the fore; Bigarade Concentrée, Vétiver Extraordinaire, French Lover, L'Eau d'Hiver, Musc Ravageur, Carnal Flower et Portrait of a Lady, made available for this very special occasion. Running through the packaging and bottles' design is a frieze designed by the Creative Director of The New York Times, Patrick Yi, consecrating 20 years of exciting and pioneering talent and creativity. This same imagery also decorates two travel sets which feature a selection of three perfumes for him or her. Completing the 20 year spectacle will be a limited edition discovery coffret, gifting a fortunate perfume lover with 12 emblematic scents from the collection. Twenty years of perfume connoisseurship.

www.fredericmalle.com
Fashion
Inner City Magic
Virgil Abloh curates an eclectic whimsical Tokyo show for Louis Vuitton's Men's Spring Summer 2021 collection. Re-imagining the typical runway, models roam through an abandoned packing district, somewhat scattered as they meander through a dark and smoke filled landscape; sometimes in groups, sometimes as individuals. Huge inflatable balloons suspended over the show are held by men in branded Louis Vuitton boiler suits and bandannas, inflatable characters are also strapped on to models, whose outfits casually blend into large and imposing figurines. Virgil Abloh is inspired by Afrofuturism and surrealism, rethinking the black imagination, in his interweaving of black culture through flags, music (ska and two-tone), spoken word and dolls inspired by his own Ghanaian heritage. These dolls appear in various forms, wrapped around shirt collars, hanging from suited shoulders, peeking out of pockets and hand held by selected models. Abloh creates something of a quasi futuristic dream scape, models wearing asymmetric and uni-banded sunglasses in glittery balaclavas and khaki trench coats; forming a unique and captivating vision that feels as much an ode to childhood as it does the dystopian contemporary narrative. Shipping containers, onto which are projected dancers' silhouettes and musicians, form the backdrop of the show, defiantly resisting the typically "beautiful" norms of fashion runway shows. Interspersed with the live show are aerial scenes of Tokyo, archival film, live footage of the band and cartoon sketches of Louis Vuitton's animated characters; intertextuality is skeletal to the show and of course Abloh's thinking adding depth to the show that only elevates his bold an eccentric garments and looks.

www.louisvuitton.com
Berlin Brilliance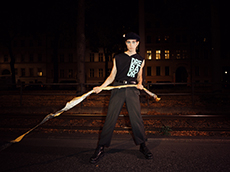 Bartending is rendered as an art form by 7585 in their new capsule collection launch 'Dream Baby Dream'. Fittingly taking place at their favorite Berlin bar, the bar top is turned into an avant garde impromptu runway as models strut brazenly to the sound of booming techno. Made intimate by the space's capacity, the launch is also an homage to the unity of Berlin creatives who have come together at such a critical time. The collection which has been designed and produced locally is also modelled by unique Berlin artist personalities, designs which were made in collaboration with the aforementioned "Dream Baby Dream" bar. This collection is a celebration of ethical fashion, craftsmanship and honest materials. Embracing the forward thinking essence of Berlin, all garments are unisex, seasonles spieces designed to be timeless statements of creative integrity. 7585 X DBD is all about locality, the organic cotton coming from a local supplier and the high wash resistant flex print folia from a local manufacturer. The collection is made up of wearable pieces all in black, except for one white piece with a black star/sun, an ode to the Berlin techno music scene.

www.7585berlin.com
Fashion
The Golden Age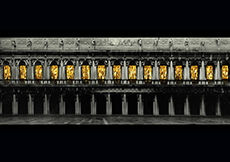 L'età dell'oro translated as "The Golden Age", is the title of Fabrizio Plessi's new exhibition sponsored by the House of Dior. A pioneering name in Video art, the Italian artist has reached global acclaim, exhibiting internationally across the world's most prestigious museums and galleries. Scheduled to open just before the Venice Film Festival, whose date has now moved due to current circumstances, his exhibition will continue. The exhibition will be held on the façade of the Correr Museum, a historic site in the city's iconic Piazza San Marco. Plessi's exhibition defiantly intersects nature and artifice, the traditional and futuristic and primitive and technological, making him somewhat of an alchemist in his melding together of unexpected and contradictory elements. Golden sculptures also pay tribute to Serenissima, a beloved city of the artist. In its support of the exhibition, Dior continues its commitment to culture, supporting iconic talent such as the likes of Plessi and his new and exciting exhibition.

www.dior.com
Fashion
No Place Like Home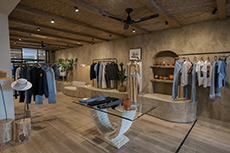 Lois journeys home in its new retail concept CASA LOIS, a true embodiment of the tranquility of rural Spain. Started in Valencia, Lois' dream of going international was realized when it established itself in Amsterdam. However despite this duality becoming a critical part of a contemporary Lois, its Spanish roots and Mediterranean aesthetic still remain formative to the brand's identity. At a time where the home has never been more important or gratefully acknowledged, Lois channels domestic comfort in its new approach to the retail experience. Customers are redefined as guests and Lois becomes host of its idyllic Finca, a traditional Spanish house in the countryside. Natural materials, organic shapes and earthy tones curate a charmingly authentic setting, treating retail as an immersive and cultural experience. Lois Galería boasts a wonderful interior, entirely custom-made, where built in seats and a strong sense of Spanish heritage transports their customer into sunny Spain. Lois Galería is at Gerard Doustraat 74, Amsterdam.

www.loisjeanstore.com

Fashion
Salvatore Ferragamo Fall Winter 2020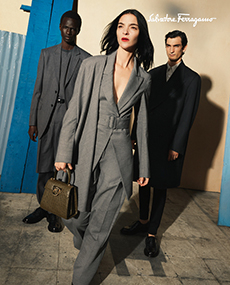 A shifted perspective informs Creative Director, Paul Andrew's vision for Salvatore Ferragamo's Fall Winter Campaign 2020. Its season's shoes, ready-to-wear and accessories taking on a less obvious position in the campaign, in a considered move which sees its models and accessories decentred in a plight to curate a different kind of story. As viewers we are encouraged to seek out Ferragamo's autumnal pieces, amidst a scattering of brightly coloured, blurred shapes, dispersed through the depths of each photograph. In doing so Andrew draws us into the narrative, encouraging us to look for the stand out pieces we admire most. There is something ostensibly painterly about the campaign, recalling the works of Miro or even Picasso in their bold coloured palettes, with models taking on the role of muse in their art historical renderings. In revising what a campaign should make us feel, think and say Andrew "invites the viewer to appreciate the craft and beauty in individual pieces", showcasing the House's depth and creative ingenuity effortlessly. Art is sold as part of our vernacular, the dynamic between humans and clothes a visual interplay of colour, texture and light.

www.salvatoreferragamo.com
Fashion
NEW HAW- LIN SERVICES X PB 0110
Philipp Bree was inspired by a conversation early last year with creative duo HAW-LIN Services, that touched on his conceptual understanding of objects. Elevating them from minor aspects of our vernacular, Philipp sees personal and beloved items as sites of higher meaning. Philipp is now pleased to present the results of these explorations, HAW 7-11. Jacob Klein and Nathan Cowen, with whom Philipp has been working since the start of PB 0110 in 2012, have designed a range of models that can be worn very close to the body. Distinguished by their reflectivity, accessories are designed to be worn closely to the body, feeding into his narrative on the intimacy of our chosen items and the relationships we nurture with them. The collection will be available online and in selected multi brand stores world wide.

www.pb0110.com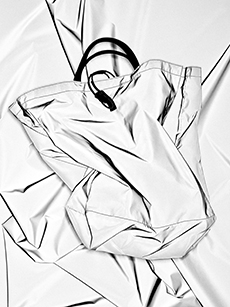 Fashion
STONE ISLAND SOUND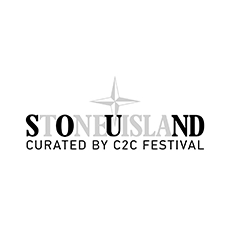 Stone Island and C2C Festival are coming together to create an exciting new project, STONE ISLAND SOUND. Born in the early nineties, C2C has been a historic figure in the contemporary music and art scene since the very beginning and this upcoming collaboration pays homage to its rich musical roots. Curating playlists, record releases and soundtracks to be played across all Stone Island stores, this new initiative centres contemporary music production as a way to promote local scenes and communities. Reflecting the cultural nuances of avant-garde, new pop, irregular sounds and original music productions, Stone Island stores will act as a kind of abstracted map, spotlighting the colourful and chaotic world of genres that make up the contemporary music scene. After premiering in stores, the music will then land on Bandcamp, Buy Music Club, Spotify, Tidal and other platforms, extending the reach and accessibility of its various contributing artists across these music channels. STONE ISLAND SOUND creates a community that starts in its stores and has the power to connect across the world.

www.stoneisland.com

Fashion
Louis Vuitton Crafty 2020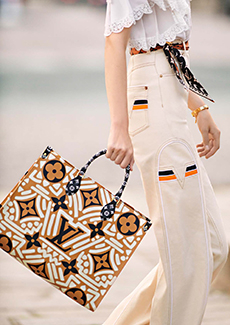 Graffiti meets neo-expressionism in Louis Vuitton's Crafty Collection 2020, its nod to a vibrant art history symbolic of the brand's continued commitment to cultural monuments. Taking inspiration from the two artistic movements, Louis Vuitton travels back to the 1980s, immortalizing the transition of these urban underground trends into New York museums and galleries.

Ultra graphic prints have art deco appeal, the two colour schemes, cream and red and autumnal cream and caramel reviving the House's most iconic pieces – Onthego, NéoNoé and Boite Chapeau Souple. The Archive holds instinctive appeal in this collection, its print also a blast from the past, paying tribute to the long and successful history of the brand and its synonymous print.

The Crafty Collection will be launched in Louis Vuitton stores at the end of July, spanning a full selection of trainers, accessories, ready-to-wear, travel and more.

www.louisvuitton.com
Fashion
The Future is Female
Established in 2006, Cartier's Women's Initiative was set up. Its mission, 'Driving change by empowering women impact entrepreneurs'. Acknowledging the repercussions of systemic gender inequality, Cartier has used its influence and platform to produce an annual international entrepreneurship programme, targeted specifically at women-run businesses.

Open to international applicants working across any sector, Cartier is dedicated in its commitment to sustainability, only accepting submissions that promise a strong and sustainable social or environmental impact.

With its deadline set for the 31st July, the initiative has launched a new award to sit alongside its longstanding seven regional awards. The exciting new launch of the Science & Technology Pioneer Award for its 2021 edition, is yet another step for the initiative, branching out into new terrain and providing more talent with the support and industry intel to bring their businesses to the next level.

Pictured below two of the seven 2020 laureates, Adriana luna (Mexico)and Anna-Sophie Hartvigsen (Denmark) 

www.cartierwomensinitiative.com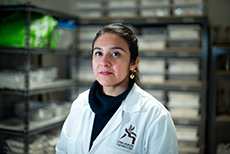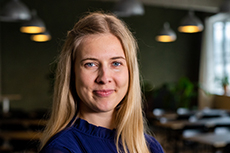 Fashion
Santoni Men's Spring Summer 2021
Riviera del Conero, Marmitte dei Giganti, Sibillini Mountains, places narrating the love for their own origins, Santoni's soul resides in the genius loci of Marche region, at the heart of Italy. Its waters, its green mountains, the breeze of summer days. Nerofumo, Lava, Notturno, Adriatico, Sirolo, Terra Bruciata, Morro, Quercia, Urbino, Fabriano, Arancio Santoni are some of the shades that create an emotional visual narration of Santoni's own native landscape. Named "Origini", the Spring Summer 2021 collection introduces TRAMA: a modern highlight of the house's craftsmanship with intertwined motives created on calfskin to confer a sophisticated tridimensional effect. The video also reframes some of Santoni's iconic styles, like the double boucle in hand distressed red leather: merged in the primordial settings where the house's values were founded, its fields, its hills. The collection presents a refined elegance at times embracing sportswear, sleek silhouettes and a contemporary edge. And Santoni's signature flair.

www.santonishoes.com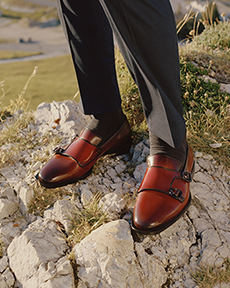 Fashion
Dior Men's spring Summer 2021
As young child Kim Jones lived in the African continent, following his father traveling for work as a Hydrologist. Ethiopia, Kenya, Botswana, Tanzania and Ghana, the latter was one of the countries that most left a mark on the British designer's memory. When in December 2019 Jones re-encountered the work of Ghanaian-born artist Amoako Boafo at then newly opened Rubell Museum during Art Basel Miami it was the staring point of a creative dialogue. A dialogue about origins. About the respective take on Africa and blackness, celebrating the story of a country rarely told, celebrating both artists' identities. Blossomed in the Dior Homme Spring Summer collection. Presented as a two-acts short film, edited and soundtracked by legendary video artist Chris Cunningham (Act 1) and directed by Jakie Nickerson with music by Max Richter (Act 2), it first and foremost tells the story of Boafo's characters and his portraiture style, his finger-painting technique and the subtle atmosphere surrounding the celebrated "Black Diaspora" artworks. One particular painting inspired Jones at the very beginning: a young man wearing an ivy shirt in all its flamboyant stillness, and mirroring Monsieur Dior's very own obsession with gardens and foliage. It's a genuine connection where the Boafo's gestures are transposed – literally and metaphorically onto garments expressive of the maison's Haute Couture techniques. Manière stripe, Dior oblique embroidery on tulle; embroideries executed by Atelier Vermont referencing the Archive piece; hats created by Stephen Jones; knitwear intarsia literally translating Boafo's specific works; ribbed knits incorporating jacquard patterns recalling the rich structure of the canvas. As Kim Jones phrased: "We looked at the idea of focusing on his life, his subjects and his portraits, creating something that is very Dior but portraying an artist that I greatly admire" It's an emotional journey enriched by the artistic direction of the camera work and soundtracks accompanying the tale of a synergy. The deem light, the sea waves, the colors, the brushwork, the voices.

www.dior.com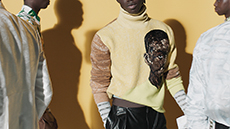 Fashion
Yohji Yamamoto Men's Spring Summer 2021
Global warming, social movements, health emergencies and the inexorable advent of consumerism. Yohji Yamamoto has always reflected on the current world through a poetic and idiosyncratic language. Expressing feelings and thoughts with words embroidered, hand painted, patched, knitted on the garments has been a signature of the Japanese maestro through the years. For Men's Spring Summer 2021 he collaborated with Japanese photographer Takay to create a video imbued of that melancholy and poignant feelings we have been touched with season after season. Men's Spring Summer explores the brands' codes, such as deconstructed and oversized lines, hand painted elements, the mix of sensual and tailored, where multiple layers of fabrics – linen, wool gabardine, denim – build a collection true to Yohji's vision for Menswear. Uniforms for Yohji's army fighting the current crises, in a journey accompanied by Yohji's own voice and lyrics. As the video ends, we capture a glimpse of the maestro himself, as we would if we were present at the physical show venue. He wears his signature hat and a coat. At its back lays - embroidered in English - a word he has never been afraid to mention: "fragile". Thank you Yohji-san for the unwavering intellectual honesty.

www.theshopyohjiyamamoto.com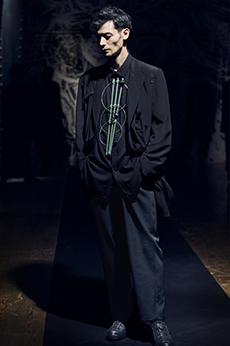 Fashion
Balmain Sur Seine
With the ongoing pandemic and in times of social distancing rules, the question for most fashion houses in the world is the same: how to stage a fashion show? The shift to digital seems like the most convenient solution. Certainly this alternative brings with it its own set of drawbacks, most prominently the lack of flair of the traditional fashion show. At Balmain, having models walk down the catwalk without an audience was not an option. In contrary, the French house took the garments to the people, to the Parisian public on the banks of the Seine.
On a boat heading down the river and completed with a musical performance by French singer Yseult and a surprise dance performance, the project titled 'Balmain sur Seine', honoring the house's 75th anniversary, showcased pieces from current Creative Director Olivier Rousteing alongside works of his predecessors, such as Oscar de la Renta and Pierre Balmain himself. With only a very limited number of journalists present, in order to respect social distancing rules, amongst the viewing public, this event presents itself far more democratic than the traditional show and acts as a beacon of optimism in these difficult times. As put by Olivier Rousteing himnself, ' After this period I wanted to bring back this optimism that this brand has been known for.'

www.balmain.com
Fashion
Pasha Community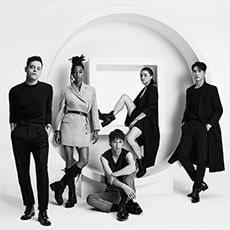 The story of Cartier's Pasha watch is one of fashion's more interesting origin stories. There are many fairy tales about its origin, one such being that the Pasha of Marrakech approached Louis Cartier to create a waterproof watch that was fit for a king. Whether this story is credible or not, we know that the Pasha has been an iconic waterproof timepiece in history since its official release in 1885. Now with the release of its new Pasha watch, Cartier has brought together a community of unique and creative celebrities to celebrate the new model. Rami Malek, Troye Sivan, Willow Smith, Maisie Williams and Jackson Wang were all captured as new ambassador's of the watch by the photographer Craig McDean.

"Since its creation in the 1980s, the Pasha watch has embodied a certain idea of success directly linked to its extroverted design, power and graphic nonconformism. It is as edgy as ever and in tune with today's new generation of creators. These new Pasha ambassadors owe their success to their differences, creativity, connection, multidisciplinary talents and generosity."
Arnaud Carrez, Int. Marketing & Communications Director, Cartier International.

www.cartier.com
Fashion
Fendi Renaissance - Anima Mundi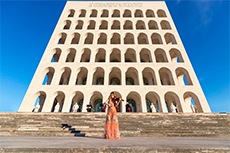 This week, on June 20, a unique live streaming event took place presented by Fendi alongside the Accademia Nazionale di Santa Cecilia. The wonderful performance took place at the Palazzo della Civiltà Italiana, also the Fendi headquarters, where the orchestra of the Accademia Nazionale di Santa Cecilia and star violinista Anna Tifu, dressed in three of the maison's impressive couture looks, performed "Summer" from Antonio Vivaldi's "The Four Seasons". In a wonderful collaboration of music and fashion, this project brought together two institutions that are deeply connected to the city of Rome.
Expressing their excellence and creativity through classical melodies that are only accentuated by the impressive garments and breathtaking surroundings.
The concept of the project stemmed from the longing to express an uplifting message of rebirth through the play and intersection of art, fashion and music after the recent months of isolation and to share this sense of joy and positivity with people all over the world. Interestingly the event coincided with the summer solstice, a happenstance that symbolized the desire for a new, positive start together as one, global community.

www.fendi.com
Fashion
The Shade of It All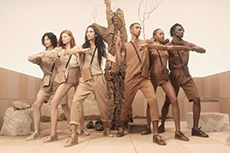 Christian Louboutin is a story of someone who literally built an empire with a pair of shoes. Not just an empire, but a legacy that we're sure will surpass most other brands on the market. Louboutin has always shown himself to be a concept-driven artist of fine calibre. Therefore when he launched the nude collection back in 2013, it was apparent that this design was not about skin color, but about a concept, an artful representation designed to elongate the leg, blurring the line between the foot and the shoe. First launched with five shades and now growing to eight, the endlessly versatile Nudes have been reinvented repeatedly and show no signs of stopping now. The collection is and always has been an ode to inclusivity, regardless of skin color and now, of gender as for the first time the collection tailors to mens and unisex. Classics like the Louis Junior sneaker and Pool Stud slide appear in a selection of nude shades, however the highlight is the inclusion of the Loubilab pouch, a crossbody bag with a built-in wireless charger for both men and women. Iconic women's accessories such as the Elisa have been given a new nude-y revamp. The collection sees a number of fine accessories suitable for anybody, regardless of gender, skin color or identity, Louboutin has cast themselves as being a brand that sees past boundaries and in turn catapults itself into the future, ahead of the game.

eu.christianlouboutin.com
Fashion
Chanel Cruise Collection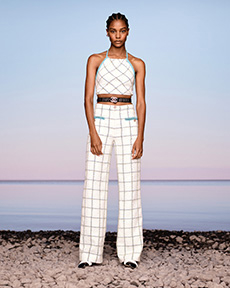 Take a trip around the Mediterranean with Chanel's latest collection. Refined simplicity and rich in fluidity, the collection was conceived for those who travel light. Consisting of several easy to wear, multipurpose items that work perfectly mixed and matched for an ideal and stress-free holiday wardrobe. "Initially I had Capri in mind, where the show was supposed to take place, but didn't happen in the end because of lockdown," says Virginie Viard, "So we had to adapt: not only did we decide to use fabrics that we already had, but the collection, more generally, evolved towards a trip around the Mediterranean… The islands, the scent of the eucalyptus, the pink shades of the bougainvillea." And a free, laid-back allure inspired by the legendary actresses of the 1960s when they would holiday on the Italian and the French Riviera. Discover the 'Balade en Méditerranée on chanel.com.

#CHANELCruise
www.chanel.com
Fashion
Celebrating Power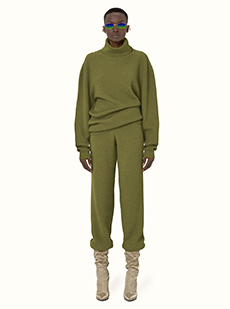 A woman who has leaped far further than ever expected, Rihanna started the 2000s as a fledgling popstar, and now walks into the new decade as a highly successful creative entrepreneur, having integrated inclusion and freedom into the world of luxury fashion. The lady herself has become more than just a brand, but a persona – an ethos. To some, Rihanna is a complete belief system – a way of life – and that way of life is Fenty. The brand's first Ready-to-Wear release of the decade, 2-20, is all about bringing opulence and attitude to the everyday. Rihanna has become a symbol for diversity, with her countless renegade interactions with the media, preaching body positivity, and a general devil-may-care attitude. The new line is pleasing to the eye, and will indeed appeal to the masses. But as with everything the artist does, it is also rich with emblems of empowerment, managing to represent far more than good looks. Fenty's trench-inspired parka plays on symbols of power, appealing to aspects of utility to put a fresh spin on a vintage design. The collection exudes femininity, freedom, and sexuality, each element playfully balanced and contrasted.
The utilitarian corset dress brings a new meaning to female power by blending the notorious shapewear garment with the desires of the modern woman: sensuality collides with comfort and elegance. The fusion of these aspects with function, together with the flavor of streetwear, plays out through a palette of lemon yellow and burnt paprika hues. The mix of materials and styles pencils an effortless image, commensurate with the complexities of being a woman. Every aspect of the brand celebrates the female spirit and its negotiation of contradictions, from the structure of silhouette itself to the representation of models, casting with an authentic appreciation of inclusion. With Fenty, we find freedom through comfort and utility – this latest drop a deeper dive into what it means to be a woman today: rich with self-awareness, dimensional and knowing.

www.fenty.com
Fashion
Healing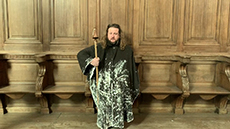 The art industry has endured a huge loss this year leaving artists, gallerists and curators scrambling to adapt to the new world changes. Thankfully the past couple of months have seen cultural industries reopening, first, in China and more recently galleries and museums have begun to reopen all across Europe. The pandemic has meant that museums have had to rely more on their online presence, showing virtual exhibitions and online gallery tours. Brussels-based collector Alain Servais has said, "Art is not made to be seen online—except, for the art that is designed to be seen online." The work of Johan Tahon is rich with emotion, the physical space occupied by his work exudes a powerful presence, one that is difficult to even describe let alone experience through a screen, one must be able to witness the physicality of his work in order to experience it fully. Following the cancellation and postponement of several shows, Tahon has announced a slew of upcoming exhibition dates scross Europe and further east. In collaboration with Belgian consulate in Guangzhou, Tahon's upcoming solo exhibit, Mercury Orb will be presented in Y Space Gallery, Guangzhou (CHN) June 5 - July 15. Exhibiting in Amsterdam, Brussels, Solothurn and Otegem over the next year, enthusiasts will find plenty of opportunity to witness Johan Tahon's artwork in a number of different settings.

www.johantahon.com
Fashion
The Standard Project
As fashion has come to a virtual halt, designers and brands are claiming excitement at this production reduction and cancelled-collections, happy to rethink the way the industry is. In truth, the nature of the fashion industry causes unimaginable damage to the environment, and the current method as we know now is completely unsustainable. Since 2019, the Standard Project has offered an alternative to the fast fashion system. They believe that good design has a place in everyday life. Stripping designs down to their essence and reviving them with pure looks and materials, The Standard Project identifies essentials and reinterprets them according to the idea of having a permanent collection of items. Creating basic, unisex t-shirts and beanies, their collection goes past the basics of fashion. Tailoring to everyday needs with products like a titanium pure design bike, filter coffee light roasted from Guatemala and a soft woollen blanket with monochrome black stitching. Employing the 'slow fashion' process, all of their products are ethically-produced with sustainability and good design at the heart of its identity.

www.standard-project.com
Fashion
Equine excellence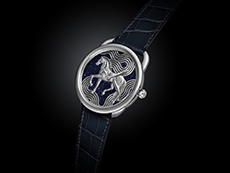 In a celebration of the classic Arceau watch designed by Henri d'Origny in 1978, Hermès presents a new expression of the French maisons' creativity and expertise. Imagined by artist Gianpaolo Pagni, the "Cheval Cosmique" composition combines graphic undulations with the silhouette of a horse from Émile Hermès' private collection. Produced in two limited series of 24 each, the watch is powered by a mechanical self-winding movement which, like the dial, case and bracelet, is developed in the Hermès Horloger workshops. Renowned for its unparalleled craftsmanship, Hermès dazzles on the dial of the Arceau Cheval Cosmique, adorned with a sculpted equine silhouette and waves in engraved gold, highlighted with a dash of black lacquer, set against an aventurine or mother-of pearl and enamel background beautifully paired with an abyss blue or Chantilly alligator strap.

www.hermes.com
Fashion
Mordechai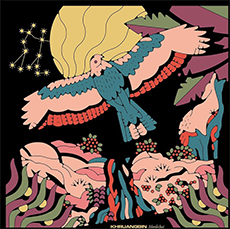 Texas trio Khruangbin challenges the outdated convention of musical genres. Their unique sound influences reflect their message of refusing to be pigeonholed into one particular genre or label. During this time we find ourselves searching for new content, looking for the perfect soundtrack to comfort in these times of isolation. The thai-funk band has recently announced the release of their new album, Mordechai, coming June 26. Known for blending global music influences, the band's sound is a fusion of classic soul, dub and psychedelic. Fusing a range of sounds, the band's name symbolizes the international set of influences that shaped their formation. The genre of Khruangbin's music is mostly instrumental, with their accent often described as soul, surf, psychedelic, and funk, providing soothing sounds and melodies.

www.khruangbin.com
Fashion
Formale Eccezionale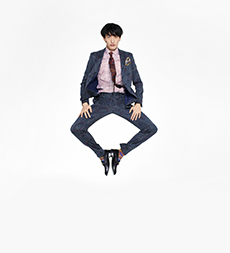 Even the most unfashionable of men, those without a conscious thought to their wardrobe, even these men understand the power of a good suit. Like most excellent fashion compositions, a well-made suit has the power to shift not only the world's view of a person but how they view themselves. Yet self-expression is a key player in putting one's best foot forward and expressing one's personality and individualism. Etro's capsule collection presents four suits, characterized by formal construction and enriched by unexpected interpretations, colored details and special prints of paisley or jacquard. Combining traditional elegance with eccentricity, the Italian brand stays true to the maison's identity as it puts forward a new apparent antithesis of the eclectic Etro male wardrobe. With four different designs in the capsule collection, Etro reinforces its attention to detail and dedication to fabric research and tailoring processes, since 1968. The formale eccezionale is launching in June 2020 both online and (hopefully) in-stores.

www.etro.com
Fashion
Fendi Outdoor Collection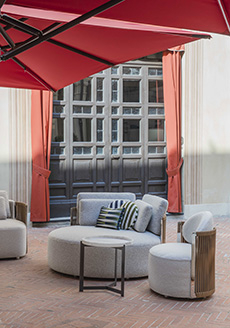 Summertime is the season for relaxation, for travel and for a little luxury if all things permit. With so much uncertainty in the current moment about what both our near and far future holds for us, it's difficult to plan for the future. Stuck in this waiting state, we turn to ourselves and our homes for entertainment and luxury. Fendi casa has always provided luxury for the home presenting pieces that embody the Italian maison's fine heritage of craft and opulence. The new Thea chair combines a romantic design with the iconic leather braiding on the backrest, with all-over FF logo pattern inlaid in the set. While the new Versilia chaise longue presents a solid Iroko wood frame. Offering a selection of seating options including the sofa, loveseat, armchair and chair that further completes the range, ideal for summer lounging and luxury from home.

www.fendi.com
Fashion
Brands Giving Back: Prada
On top of donating funds and manufacturing masks and hospital gowns, Prada has announced its support for a new research project, Proteggimi. Financially supporting research with San Raffaele Hospital in Milan, the project will seek to explain the disparity in the impact of COVID-19 on men and women and to assemble data, broken down by sex.

Prof. Salonia, director of the San Raffaele Urological Research Institute and a lecturer at Vita-Salute San Raffaele University, explained, "if we are to understand whether testosterone levels are linked to the severity of the illness, and to assess any long-term impacts on the overall health of men who have recovered from the virus. We hope this research will produce its first results in the next few weeks."

www.pradagroup.com
Fashion
Brands Giving Back: Zegna
As Italy is under lockdown, companies are scrambling to aid those at the front line. Italian luxury menswear group Zegna has entered the battle with the ongoing pandemic, repurposing two of its factories in Switzerland and Italy to manufacture 280,000 hospital suits, as well as announcing a €3 million donation to Italy's Civil Protection Agency. Aiming to help doctors, nurses, researchers, and volunteers operating on the front-line as well as donating to the Piedmont region in northwest Italy. "The pandemic we are all facing is a call for people around the world to take action. Each of us must do our part, in every way possible, to stop this global emergency," says Gildo Zegna, CEO of Ermenegildo Zegna.

www.zegna.com
Fashion
Cartier Watchmaking Encounters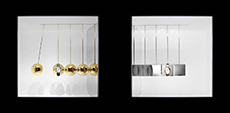 With the closure and cancellation of events and conferences companies are doing their best to dream up new ways to host in the online sphere. In the absence of a major watchmaking fair this year, Cartier is launching an international website dedicated to this year's watchmaking novelties. "In the current context, we believe it is important to preserve our interactions with all our clients around the world through various touch points, and thus be able to offer them an experience entirely dedicated to our Maison's watchmaking creations. ", says Arnaud Carrez, Marketing and Communication Director at Cartier International. Visitors will be able to first discover Pasha, the brands cult watch featured in a whole new interpretation. A design highlight of Cartier, Pasha will be this year's watchmaking statement for the Maison, starting with a launch in China this summer, followed by a worldwide activation early September. The platform will be live starting April 25, and will be available in French, English and Chinese.

www.cartierwatchmakingencounters.com
www.cartier.com
Fashion
Moose Knuckles Gives a F**k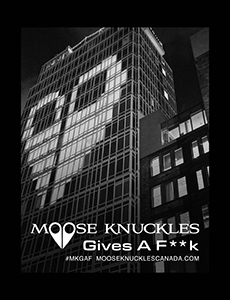 The last few months have been heart-rendering to say the least, but these poignant times have also showcased incredible acts of solidarity. We have witnessed countless examples of generosity from businesses of all sizes in support for the fight against COVID-19. Brands are using their influence to do some good, and canadian brand Moose Knuckles is no different. Firstly the outerwear brand held a ten-day sale in support of overburdened medical professionals, then launched a collaboration to commission creatives in New York City and Paris to reimagine the brands Lead Jacket into art. The unique creations will then be available to purchase via the brands website. To alleviate the effects of the indefinite isolation of the masses, Moose Knuckles has also transformed it's Instagram account into a source of inspiration, engagement, and entertainment. By employing teams of local businesses and freelance creatives, the initiative supports industries that are severely affected by the pandemic. "This crisis is bigger than business and profits. We can think about that later. At the moment, our main focus should be on looking after each other." - Ayal Twik, CEO.

www.mooseknucklescanada.com

Fashion
Les Parfums Louis Vuitton x Heures d'Absence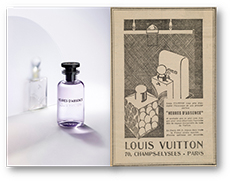 In 1927, at the height of the Roaring Twenties in all their creative effervescence, Louis Vuitton launched its first perfume, Heures d'Absence. Named after the country home the Vuitton family acquired in the Seine-et-Marne region in the 1920s, the perfumes recipe has been lost and no living person knows what the original perfume smelled like. However, we know that it was a perfume that reflected the time of its creation, celebrating the new modes of transport that were then emerging, a scent to inspire you to shake off the blues and seize the day.

Now, in an attempt to not recreate but reinterpret the classic perfume the maison creates a perfume with a profusion of fresh flowers, an ode to nature and allegorical figures of joy. "Everything is done in service of the flowers, there's no element to rein them in or disturb their message," the Master Perfumer explains. Warm vanilla notes of Peruvian balm amplify the sophistication of the fragrance while a floral apotheosis with a hint of Sri Lankan sandalwood gives a rich juxtaposition. These elements along with sambac jasmine and may rose compose a melody that feels never-ending.

www.louisvuitton.com
Fashion
Bally AW20 Purity of Form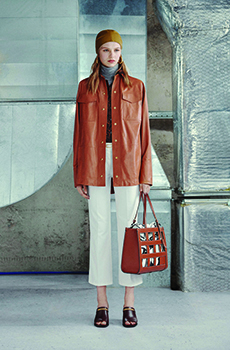 On the back of seasons of brightly colored fashion pieces and statement-makers, Bally has made the move towards a more organic aesthetic with a collection entitled 'Purity of Form' for Fall 2020. The reflection of the theme is not only seen throughout the minimalistic designs but also in the ethos, Bally is emphasising the quality of materials and emphasizing a deep respect for the environment with this collection. Through the use of clean lines, neutral tones and sculptural silhouettes the range highlights the Swiss brand's heritage while giving it a modern twist. Soft shapes are understated whilst luxurious layering exudes an elegant and simplistic look. Abstract prints inspired by European modernist art marry archival Swiss textile patterns in an unexpected yet effortless mélange. Soft knit cashmere cardigans and roll necks meet the sharp tailored silhouettes of heritage-printed silk shirts and split-seam pants. A favorite of ours is the graphic chevron patchwork coat with hand-cut segments. Presenting artful accessories, such as the new signature 1851 hardware across the versatile Vestige collection of quilted leather totes, chain handle shoulder bags and subtle mini bags. Calling themselves 'architects of leather', Bally's passion and talent for leatherwork is highlighted with oversized leather shirts and high-waisted leather skirts that land beautifully amongst the textured materials and fluid lines of the collection.

www.bally.eu
Fashion
Editions de Parfums Frédéric Malle - New Dawn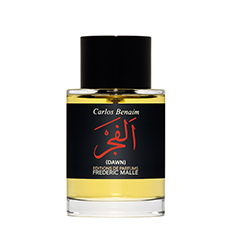 Mystic daybreak, a song before sunrise. As night dissipates we are blessed in those precious moments before the morning sun brings first light. Diffused yet powerful, the second perfume by Editions de Parfums Frédéric Malle is an allegory for the serenity and solitude of the day's first moments. Inspired by travels through the Middle East, the aromatic and complex scent is luxuriant and bold, yet layered with nuance. Deceptively simple, its magnificent texture is faceted by a host of supporting characters: a refreshing opening of rose and lively pink pepper. Referencing the region's unique culture and language of scent the laudanum and vibrant frankincense bring extra warmth as oak moss provides a dark focal point. Widely considered to be America's greatest living perfumer, Carlos Benaïm's extensive career and Moroccan heritage inform an esoteric take on the traditions of Middle Eastern perfumery. The rich notes of the perfume begs us to take pause and enrich moments by allowing the aroma to take hold, like a moment of prayer.

www.fredericmalle.com
Fashion
Cartier Women's Initiative

Back in 2006 Cartier launched the Cartier Women's Initiative, an action that made a commitment to women in reaching their full potential. Open to women-run and women-owned businesses that aim to have a strong and sustainable social and environmental impact, the initiative has accompanied 240 promising female entrepreneurs from 56 different countries and has awarded over 3 million USD to support their businesses. Announcing the 21 finalists of the 2020 edition, we see for the first time ever countries such as Australia, Benin, Denmark, New Zealand and Sweden represented in the program. By providing them with the necessary financial, social and human capital support to grow their businesses and build their leadership skills Cartier shines a light on the achievements of these women. Cyrille Vigneron, President and CEO "At Cartier, we believe it is crucial to support young businesses and start-ups through to a more stable period. And this is what we intend to keep doing, fully aware that these women are making a concrete and durable impact, therefore paving the way for a better future."

www.cartier.com
www.cartierwomensinitiative.com
Fashion
Acqua di Parma Home Collection
Through our senses we can be transported through time and space to a moment of the past. A pleasant memory or a moment of happiness brought to the fore with the taste, touch or smell of something reminiscent. There are certain sensations so powerful that for a moment, we can feel as though we are somewhere else. Indeed staying home is the best thing for us right now, but transporting oneself does not have to be physical. Acqua di Parma's new home collection is designed for life's every moment, to allow you to create the ideal space from the comfort of your own home. A collection of candles and diffusers full of stimulating compositions based on typical moments of Italian living. With Spring finally stepping in, transport yourself with the fine fragrances of the Italian brands candles and diffusers. Luce di Colonia, Buongiorno, La Casa sul Lago, Caffè in Piazza, Oh, L'amore, and now two new Acqua di Parma creations: Aperitivo in Terrazza and Profumi dell'Orto. Create a sensuous ambiance as refined aromas such as tomato leaves, verbena and a lively spicy scent of pepper spread through your home.

www.acquadiparma.com
Fashion
Max Mara Art Prize for Women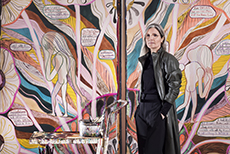 British artist Emma Talbot explores themes of human existence, environment and gender using flowing lines, decorative patterns and light materials that encapsulate the viewer into a dreamlike world of her creation. Often hand-drawn or painted onto silk her ideas come to realisation with a mixture of drawing, painting and sculpture. In her proposal to reimagine the work of Gustav Klimt for the 21st century, Talbot's work questions deeply rooted positions of power, governance, attitudes to nature as well as representations of women, through a slightly personal lens. The proposal takes its starting point from Gustav Klimt's Three Ages of Woman (1905), a painting which features a naked elderly woman standing in apparent shame. Talbot's reimagination involves animating the older woman as someone who overcomes a series of trials similar to The Twelve Labors of Hercules. Through her modern-day trials the artist plans to counter prevalent negative attitudes to ageing. Having been awarded the Max Mara Art Prize for Women, Talbot will hopefully spend six months in Italy on a residency planned for later this year to research and create a new body of work to be exhibited in 2021. Awarded in alternate years since 2005, the Max Mara Art Prize it is the only visual art prize of its kind in the United Kingdom. Chaired by a panel of art-world experts including gallerist Florence Ingleby, artist Chantal Joffe, collector Fatima Maleki and art critic Hettie Judah the ingenious initiative was created to support UK-based female artists who have not previously had a major solo exhibition.

www.maxmara.com
Fashion
DIOR Future Relics by Daniel Arsham
Opened October 1946 in a time of rationing and derivation following WWII, Christian Dior's couture house was established with a hope to allow women to rediscover joy, elegance and beauty. Soon enough his name became synonymous with French luxury all over the world and still is to this day. The french maison has long been a household name that still resonates across women and menswear. This season's SS20 menswear featured the stand-out work of contemporary artist Daniel Ashram. An unforgettable runway, the set had been transformed into a sugary pink space adorned with monolithic sculptures that spelled the word DIOR. Now, Artistic Director Kim Jones and Ashram are collaborating once again. Together they are bringing life to some of the maison's classics—the treasured inspirations and objects of Christian Dior himself. The range features a selection of objects given a timeless and contemporary twist, including Monsieur Dior's 1951 book 'Je Suis Couturier' which has now taken shape as an eroded jewelry box studded with crystals. Transforming these objects into must-have editions to your personal art collections each Future Relic is housed in a custom art crate, delivered with a pair of white gloves, a certificate with numeration and a specially crafted sand timer all colored as per the menswear SS20 show's decor. Every item is handmade in Ashram's New York atelier and are only available in Dior boutiques.

www.dior.com
Fashion
Moose Knuckles SS20 Campaign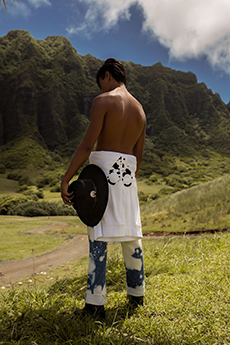 On a voyage of discovery Captain George Vancouver met with King Kamehameha I and soon confirmed their friendship by saluting each other with a touch of their noses, as is Hawaiian custom. As a parting gift, Vancouver gave five long horned cattle to King Kamehameha who then made it kapu (off-limits) to harm or possess the cattle. Decades later the people of Hawaii discovered that these animals had to be tamed and so the hawaiian cowboy tradition was born. Canadian outerwear brand Moose Knuckles embodies this relationship and shared culture and beliefs in their new SS20 campaign titled, Surf Rodeo. Since 2013 the brand has been embodying a message of family, and community using honest materials and premium hardware that highlight the Moose Knuckles values. Designed and directed by the Hawaiian creative, Taylor Okata, the storyline of the campaign video embodies the Hawaiian way of life, portraying a group of friends on an adventure that leads them to a beautiful horse ranch and ending the day with a sunset surf session. Combining modern silhouettes with traditional western aesthetics, the collection consists of lightweight, padded jackets, parkas, fitted down jackets and high-end, country-inspired pieces - all in a color palette inspired by the grasslands of the Canadian Prairies. Featuring graphic prints, fringe silhouettes and custom python and kangaroo cowboy boots made by the Alberta Boot Company the western sensibility is celebrated throughout the collection. Shot on the North Shore of Hawaii by photographer Alana Spencer, the video combined cowboy vibes with more metropolitan influences for the Spring / Summer 2020 collection and featured siblings Evan and Alika Mock resulting in an authentic and warm sense of Ohana or 'family feeling'.

www.mooseknucklescanada.com
Fashion
Borbonese's Fall Collection 2020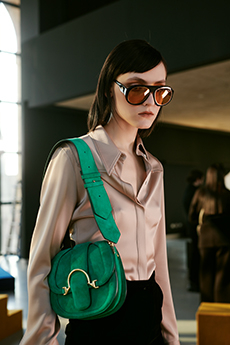 Picture a timeline that showcases the evolution of women's fashion over the last century, a combination of the key moments and trends that have shaped fashion today. Borbonese's Fall collection stems from this concept, embracing iconic design details for the brand's 110th year anniversary. Accessories such as the 110 bag and thick-framed sunglasses seal the message. Dorian Farantini and Matteo Mena have fashioned themselves a parallel dimension where time has f bundled together into one capsule collection that is reflected in solemn silhouettes, 70's style patterns and 80s power-tailoring.

www.borbonese.com
Fashion
Milan Fashion Week Women's - Recap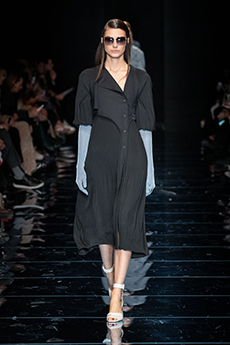 SPORTMAX

Following Sportmax's 50th anniversary year fashion director Grazia Malagoli led the brand into the future with a strangely optimistic perspective. Unlike the usual discourse surrounding our uncertain future the show titled, 'A brighter future' confronted the imminence of hyper-technological future. Boots that extended far beyond the knee, ultra scenographic eyewear and seductive 3D silhouettes kept with the structural mood and futuristic tone. The blend of materials and shapes brought a soft sensuality while the floral patterns and jacquard motifs brought a sense of levity to the structured collection.

www.sportmax.com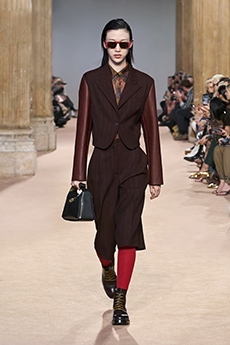 Salvatore Ferragamo

The nature of femininity in the current climate is becoming increasingly diverse and flexible. In contrast to the Jungian archetypes of women, Salvatore Ferragamo's fall collection explores what it means to be a woman today. The moods range from soft and romantic utilising sheer and cashmere, to pragmatic and powerful with details like chain fringes and bold shearling personifying the diverse and flexible nature of female identity. A strong cultural depth along with up cycled leather accessories embody the 'Metamodern woman' in this futuristically fluid collection.

www.ferragamo.com
BOSS

Celebrating a new age with reworks and restyles of their seminal BOSS aesthetic the brand showcased a future-focused Fall collection in a show titled 'Generations'. Following the current trend-wave of fringe, a warm selection of glossy fabrics, utility accessories and hand-woven leathers blended the mens and women's looks seamlessly. The fresh-faced models presented the collection with elevated outerwear and fluid jersey pieces in a lilac-colored show space accompanied by an energetic live orchestra. A new interpretation of their tailored history 'Generations' granted a fusion of iconic aesthetics with an avant-garde twist.

www.hugoboss.com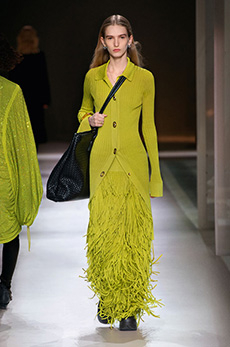 Bottega Veneta

Amongst a sea of fall colors and autumnal moods Bottega Veneta's Daniel Lee presented a ready-to-wear collection that exuded confidence with rich waxy palettes punctuating black. The deep color pops of scarlet, kiwi and lollipop were played in controlled repetition. The show emphasised vitality and movement not only with color but with elongated silhouettes, knit dressing and jersey for both day and evening. Feeding into the current fringe 'moment' that reigned over Milan last week Bottega Veneta's use of the ornament was by far the most audacious and indeed, memorable.

www.bottegaveneta.com
Fashion
Paris Fashion Week 2020 - Berluti Men's Fall/Winter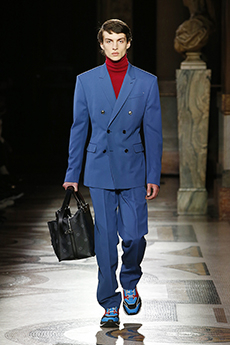 Arriving at the majestic location of Opera Garnier we were welcomed by magnificent flowers, adorning the staircase, the rich, inebriating perfume merged the atmosphere into a symphony of colors true to Kris Van Assche's Berluti. Blue, crimson red, purple, fuchsia, but also Prince of Wales checks rendered in green or yellow. Tailored silhouettes together with relaxed suits paired with sneakers. Kris Van Assche's Berluti plays between past and future, classic and modern. An extreme savoir-faire especially shown in the full patina leather suits becoming the iconic element of the maison. Recent Berluti's beautiful collaboration with Parisian based art gallery Laffanour, resulting in 17 vintage chair designed by Pierre Jeanneret - the legendary cousin of star architect Le Corbusier - added with the Berluti patina in jewel-tones, echoed in some of the looks for Fall/Winter 2020/21. Van Assche ability to plays with classic codes through a rebel soul.

www.berluti.com
Fashion
Milan Fashion Week 2020 - Prada Men's Fall/Winter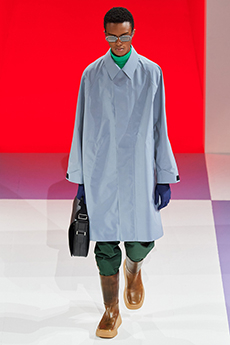 The overarching theme of the Milan Men's Fashion Week was to redefine masculinity and find an answer to the question what it means to be a man in the decades to come. For Prada, the modern man draws from tradition, but is equally transformed, leaving behind existing and clearly defined gender roles. A fantasy and fresh take on classic masculine heroism. His wardrobe should represent this new spirit. Inspired by classic pieces, the Italian house boldly combines traditional materials with the modern and technologically innovative fibres, creating a deceptive contrast. Pieces might look inherently traditional at first sight, but novelty methods of production allow Prada to create extreme and previously unachieved shapes and a series of varying silhouettes undermining and ultimately fracturing our lacklustre idea of male power and force. The collection was presented in a setup reminiscent of the metaphysical paintings of Giorgio di Chirico. The essence of the classic Italian piazza is transformed into an enigmatic porch with a equestrian statue at the centre. Purposely totally unheroic, fabricated from cardboard, it becomes an embodiment of the underlying thought. Appearing and disappearing through openings, the models seem to wander through the space, blurring the line between what is exposed and what is concealed.

www.prada.com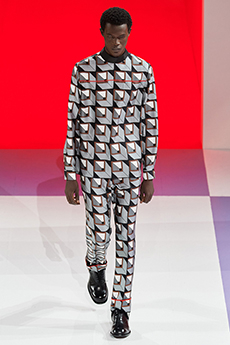 Fashion
Paris Fashion Week 2020 - Hermès Men's Fall/Winter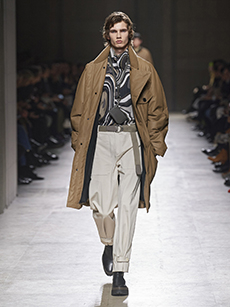 An understated elegance can be a radical gesture. Véronique Nichanian's aesthetic for Hermès has been always driven by the craftsmanship savoir faire of the Maison and a that classic yet innovative wardrobe we have seen season after season. Nichanian for Hermès Fall-Winter 2020 expressed this vision on a further level. Extremely minimalist, clean and casual silhouettes combined with beautifully tailored suits and outwear at times layered. The color palette also spoke the same language: charcoal, hazelnut, camel, ecru, ebony. The leather pieces have always been the quintessential element for the Maison: technical calfskin for sweatshirts, rubberized lambskin for parkas reversible in printed Toilovent, zipped windbreakers in deerskin, babylamb for blousons with high collar. The collection used rich psychedelic patterns for knitwear named Rêve Hypnothique, adorning beautiful turtle neck pullovers in 180's wool Sensual but whispered, Nichanian's latest collection is an ode to the deep core of Hermès where "the evening is surrounded by nuances of brown and black".

www.hermes.com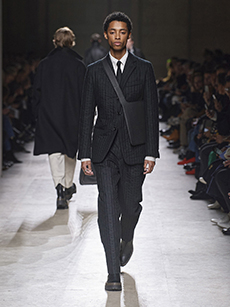 Fashion
Graphic By Nature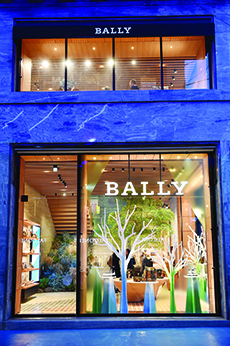 After having opened its doors last year, the spotlight falls once more on the new Bally flagship store in Milan. Situated in Via Napoleone, one of the centres for luxury retail in Milan itself, the store hosted the unveiling of the SS20 collection during Milan Men's Fashion Week. Among the guests were notable friends of the brand, from Italian actress and model Elisa Sednaoui to a multitude of influences like Linda Tol, Ami and Aya Taiki and Noah Lee. The Bally House proved the perfect location to amplify the collection's underlying philosophy 'Graphic by Nature', illustrating one of the Swiss brand's pillar, the intricate interaction between design and the nature that surrounds it. For this special occasion, the brand teamed up with Stefan Beckman, who transformed the store into a digital Alpine forest, shimmering in Spring hues and adorned with the native flora. An immersive installation, the transformation was not solely visual, but an immersive experience featuring a soundtrack consisting of lyrics, beats and birdsongs.

www.bally.com
Fashion
American Dream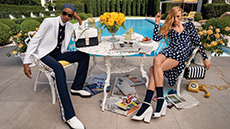 Michael Kors belongs to one of the most visible brands originating in the United States, and has developed into a household name all around the globe. As the expressed by Michael Kors himself, 'my spring collection is a celebration of the best American style, a mix of ease and glamour that is inherently American.' Photographed by the Dutch duo Inez van Lamsveerde and Vinoodh Matadin, the new campaign showcases the Kors's take on timeless American style with all its layers of sophistication and romance shot in Beverly Hills, a location itself synonymous with luxury and the successful American Dream. Crisp tailoring is juxtaposed with soft and romantic dresses whilst small indicators, like stripes and stars provide a visual reminder of the brand's American origins. The global ad campaign will launch in January and the images will appear not only in traditional print but also in numerous digital outlets.

www.michaelkors.eu
Fashion
Celine opens Haute Parfumerie Boutique in Paris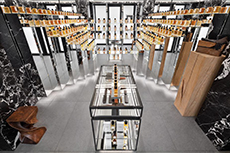 In the heart of Paris, at 390 rue Saint-Honoré, now arises the home of Celine's new Haute Parfumerie Boutique. Following the unique Hedi Slimane's architectural design concept for the maison's stores launched in February 2019, the Haute Parfumerie Boutique juxtaposes natural materials and a strong sculptural connotation where Noir Grand Antique marble – a black marble quarried in France is at its centre, reconnecting with Celine's French heritage while recalling a 21st century Brutalism. The multitude of mirrors together with an infinite amount of perfume bottles displayed as a floating large organ - a virtual modern cathedral designed by Hedi Slimane himself - confer a further mise-en-scène for the artworks (acquired or specifically commissioned for the store) of relevant contemporary artist such as Luisa Gardini, Rochelle Goldberg, Camilla Rayman, Søren Sejr. A stratification of materials, surfaces, images hosting all the maison's perfume creations and the new Celine's spirit.

www.celine.com
Fashion
Acqua di Parma: Signatures of the Sun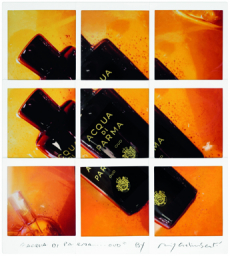 For more than a century Acqua di Parma has been capturing a sense of lively and inspiring fragrances, bottling them in small yet artful glass bottles and distributing them far and wide. Now, with the help of Italian instant-visual artist Maurizio Galimberti, to evoke an adventurous collection of ten perfumes. 'Signatures of the Sun' favors more delicate olfactory elements like the sparkling citric notes of mandarin, flowering notes of neroli or osmanthus, a special flower that blooms commonly in the sunlight of south-east asia.
Their perfume, 'Sakura', is a flower of rebirth that comes from Japanese cherry blossoms. The floweing of the sakura is celebrated every year all over Japan, it is a symbol of new energy. With a long-lasting spice and a counterpart of sambac jasmine rest on a sophistocated musk base note. Each of these fragrances embodies the retainance of newfound energy, like dawn's first light opens one's eyes the sensations evoked in Acqua di Parma's latest collection are just as subtle and sweet. Galimberti's kaleidescopic works bring to mind the many ways in which sunlight is reflected and enhanced, each fragrance's glasswork also captures this joyous and ephemeral beauty.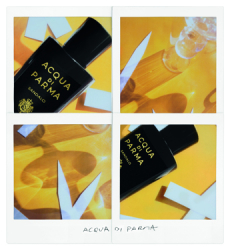 Fashion
Louis Vuitton SS20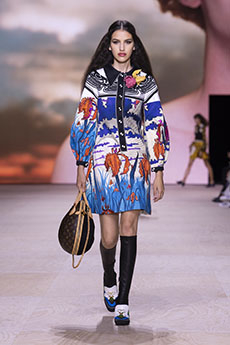 A VHS tape re-imagined as bag. The name of iconic movies morphed with a witty style placed on totes. Nicolas Ghesquière's time machine brought us at the very origins of Louis Vuitton. La Belle Èpoque, or the golden age in France after the end of the Franco-Prussian war in 1871 till the Great War. A period of stability and optimism.

Leather and silk skirts reminiscent of the end of 19th century silhouettes with bell shapes flared smoothly over the hips from a small waist and gradually widened at the hemline. It is a time when the Victorian era crinoline disappeared and corsets were worn only in the evening and formal occasion. The change of dressing codes reflecting the woman emancipation at the time is a strong inspiration for Ghesquière.

We also saw beautiful painted motifs looking at Art Nouveau and using Marcel Proust beloved cattleya orchid – which metaphorically symbolized the sensual and erotic desire in "Swann's Way" - pinned on lapels. The symbol of a new era, of a new spirit, of blossoming. The vibrant colours – blue, red, orange, yellow, to mention few – composed like fragments of bucolic Art Nouveau illustrations on several look.

Nicolas Ghesquière tribute to that fervid time in Europe is reflected in the atmosphere created by singer Sophie's otherworldly performance in an extended version of "It's Okay to Cry, specially made for Louis Vuitton and screened on a humongous backdrop at Cour Carrée inside the Louvre.

When exiting this magic show venue the light of Pei's pyramid casted an enchanting atmosphere. Briefly after it started pouring rain just like the final moments of Sophie's video performance.A moment of energy, beauty and the multitude of facets of Nicolas Ghesquière's genius.

www.louisvuitton.com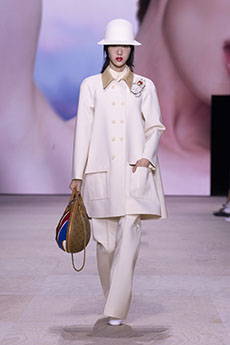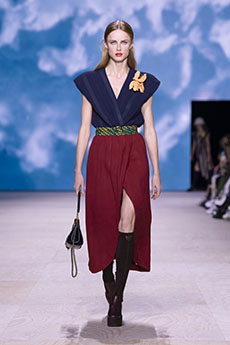 Fashion
Valentino SS20
Crisp white cotton declined in evening gowns, shirt dress to be worn with shorts and lace bomber jackets. Pierpaolo Piccioli worked on the beauty of this color, undisputed symbol of Summer and that light hearted elegance the maison Valentino has been representing since the last years.
Piccioli knows how to conquer the crowd with his romanticism in a strong modern key: a tulle purple majestic gown, a sequined one, so light at touch you could hardly believe it is sequins, and the acid green, permeating the entire collection and bringing that fun and joy we have been savouring season after season at this iconic Italian maison. At a closer look , during our re-see; we saw all that Valentino atelier savoir faire in terms of craftsmanship.
Pierpaolo Piccioli has been working always on the evolution of the gown, on its lightness, on the absence of body constrictions. He has been always putting women at the centre: the women who wear his creations, the seamstress, the women who have been part of the Valentino family for so long. And the models who walk the show: Adut, Awuol, Tiziana, Tomiwa, Evie, Mathilde, all eighty carefully mentioned one by one.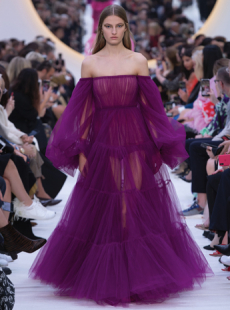 As we enjoy looking at the details of each look at Valentino's headquarters in Paris, Piccioli appears in front of us on his way to the office. We could not but warmly congratulate him in person. Grazie Pierpaolo for delivering once again a beautiful vision on womanhood.

www.valentino.com
Fashion
Yohji Yamamoto SS20
When exactly one year ago we interviewed Yohji Yamamoto in his Paris headquarters top floor – an apartment-like space filled with stunning Jean Prouvé furniture – he told us how, loosely paraphrasing his words, it is never about black or colours but about darkness and light.
The Spring Summer 2020 collection unfolded around all this with a crescendo of light as the models walked in look after look.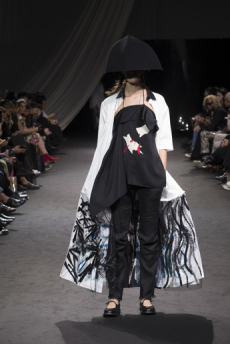 It was not only the succession from black to write looks. Looking closely the construction of each garment delineated carefully this vision: constructed in soft black cotton canvas, hand painted with big brush strokes creating a subtle see-through and adding a hardened structure.
When two looks of 30 meters hand knotted write silk crepe and hand painted in a multitude of colours – the colours Yamamoto addressed his entire career as "light": a particular shade of yellow, purple, blue, red – entered the space at the Grand Palais we all felt deeply moved.
It was a poignant moment unfolding in a crescendo of intricately constructed looks that filled the room with awe: masterfully tailored long dresses with cut-outs elements at the waist depicting fallen pieces put back in an attempt to recompose what was broken.
The Japanese vision of seeing what is broken as beautiful through Kintsukuroi comes to mind.
Declined also in embroidered half cut-out flowers as if captured in the motion of falling, to find further Yohji Yamamoto's reflection on Mother Nature's fragile status. If his blazer as seen during his exit had No Future embroidered at its back, his peculiar ironic nature tells us that this is not a message but a question we must answer ourselves.

The last looks were an overwhelming surprise: white canvas long shirt dresses with their bottom structured as mimicking 18th century robe à la française, with intricate hand embroidered sequins motifs at its inner side and hand painted brush strokes from the outside to further "hide" the embroidery work.

Yohji Yamamoto worked on several layers. Transparencies surfaced with a dark and erotic atmosphere. This is a collection that touched us deeply. Thank you Yamamoto-san
Fashion
BOSS SS20: 'BOSS Individuals'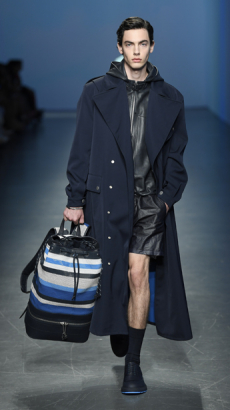 Presenting their men's and women's collections for SS20, BOSS has held individualism in high regard. The sophistication and sleek presentation so synonymous with BOSS is renewed for the arriving decade. Dressing is an intensely personal ritual and relies heavily on the individual traits of the wearer. Realizing this, they travelled from their atelier in New York to the restless fashion mecca of Milan, where it held a runway show for its highly personable collection. Guests in attendance included G-Eazy, Chloe Bennet and Jason Lewis. The focus was on accented style and understated comforts, this collection remains true to the essential nature of BOSS while evoking an openness to Spring frivolities and calm Summer nights.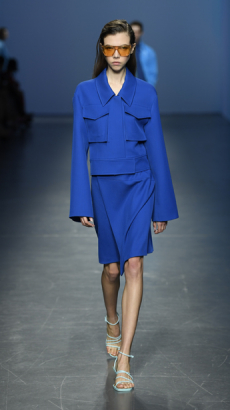 'BOSS Individual' suits are tailored into more relaxed shapes while their sportswear is precisely tailored and dressed up. The women's SS20 line is filled with jackets nipped at the waist and wide-leg pants prioritizing comfort without sacrificing the signature BOSS styling. With fluid silk wrap skirts or maxi dresses there is a living sense of freedom as this collection breezes down the runway. With a flash-flood of seasonal colors interplayed with detailed craftsmanship and neatly tailored suits formal wear is elevated for the next decade and beyond. Whether it is the lightweight technical cloth on pants made for sport or the silk and cotton yarn open-knit sweaters, the SS20 collection delivers enough variety to truly encourage individualism on even the hottest days of Summer.
Fashion
Saint Laurent SS20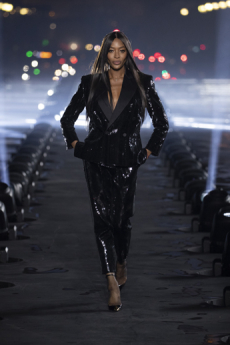 A sudden storm moving forcefully, all of us under the glass roof over the seating, the light projected forming a sea of beams that played together with the Tour Ei¬¬ffel light spectacle. Saint Laurent always reserves a set design worth the rain and cold of an outdoor late summer show in Paris. As the model stormed in we saw the natural confidence of Vaccarello. Vertiginous shorts worn with blazers, at times declined in velvet or in black sequins rigorously matched with high knees boots or strappy sandals.
The looks converged increasingly towards an evening atmosphere - Vaccarelllo's signature - in all its alluring connotations: second skin trousers paired with off-the-shoulder tops, long dresses lusciously embroidered, gold lamè, black, green or burgundy chiffon with gold motifs. Additionally the show displayed sharp tailoring, or as Anthony Vaccarello likes to call it "couture tailoring", as he skilfully showed us season after season. The last suit, in black sequins, was worn graciously and fiercely by Naomi. Which icon could better embody this atmosphere? Thank you Anthony for always being true to your vision.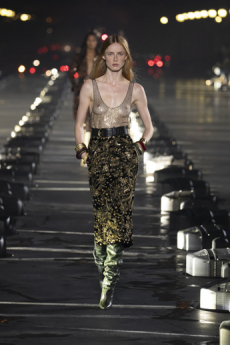 Fashion
NYFW: Sies Marjan Spring 2020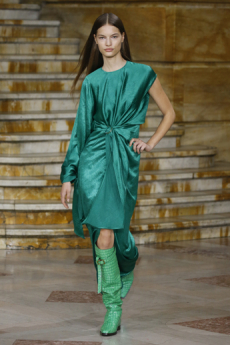 At the Hall of Records in Lower Manhattan during New York Fashion Week, Sies Marjan unveiled their Women's collection for Spring 2020. They took their time and basked in their designs, the underlying theme of their show? A refined appreciation for taking one's time in the knowledge that comfort and an excess of time are the only true luxuries. The collection's color palette is inspired by nail polish and make-up, two applications that require patience and careful consideration. Creative Director of Sies Marjan, Sander Lak spoke on his collection, saying "it celebrates the beauty of having the time and freedom to create and consider your choices."
Materials like untreated denim are tailored as if it were wool into the shape of fine suits whereas the dresses boast sophisticated fabrics. Double duchess satin, reptile-embossed silk and lacquered crocodile-embossed leathers evoke power and aesthetic prowess. Visually the dresses for Sies Marjan's Spring '20 collection are as effortlessly regal as they are tailored with precision. Vibrant colors won over the onlooking crowd, rich emeralds and devilishly alluring reds remind the eye of shimmering lip gloss. Walking the line between conservative and contemporary Lak's vision for Spring 2020 is a vivid and amorous display of craftsmanship for those that take their time in life. Although it might seem pared down at times, this is a cornerstone of the collection. To surprise without outdoing oneself is not an easy task, Lak stated that he has "a desire for the beauty of wealth and time, but never in excess."
Fashion
NYFW: Longchamp SS20
Only a handful of days ago creative director of Longchamp, Sophie Delafontaine, envisioned and presented a sunburst of retro elegance with her SS20 Runway during New York Fashion Week. An artist adored by Los Angeles, Judy Chicago, is the easel this art rests on. The colors brought out in this collection encourage the same freedoms that entice on late Summer afternoons when the sun has not yet fallen on a hot day. Sky blues and dreamy yellows that reminds you of the first small flower to push through the grass, the truest colors of Summer can be found in Delafontaine's collection. New York was privelleged to host some fine Paris tailoring and Longchamp delivered.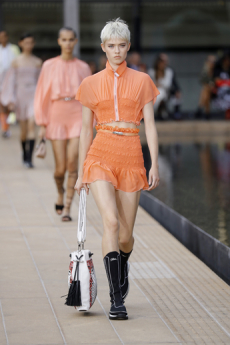 The classic Roseau bag returns in new contortions, the Le Pliage bag, originally designed by Philippe Cassegrain in '93, is dramatically downsized, appearing in 'mini' and 'nano' variations. Putting the right foot forward, Longchamp takes on footwear from contemporary boots to classic laced designs. Lots of rosey faces were in attendance including Kate Moss, Victoria Swarovski, Flaviana Matata, Kendall Jenner and Julianne Moore. All looks appear unquestionably complete as they burned up the runway. Along with nylon crop tops with transparent skirts, floral appliqués and high-cut shorts, this show was for the women that make the very most of Summer. A plateau of different colors and fabrics flowed as the models walked for New York, each step seemingly bringing Summer closer and closer until you could practically hear crickets singing from their warm blanket of Earth beneath the runway.
Fashion
Bally Haus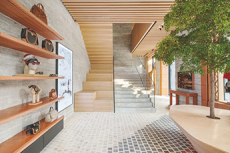 For a brand like Bally it is crucial to be present in certain cities all around the world. Milan, the epicentre of Italian fashion, can definitely count itself among these prestigious locations. For this reason, the Swiss brand opens its first Bally Haus in the heart of the North Italian city.

As Bally CEO Nicolas Girotto explains, "Bally's flagship in Milan is a celebration of our brand identity." Indeed, the building is an embodiment of the house's aesthetic codes and principles. Bally Haus was designed by Casper Mueller Kneer Architects with the aim of capturing all the qualities which Bally has continously stood for, in order to not onlt create a new retail location but a true home for the brand. Its tranquil state of permamence recalls the Swiss brand's legacy and craftsmanship, incorporating Swiss pillarts of art, architecture and natural materials.

The internal tiled-ceramic façade reflects the tiles from founder Carl Franz Bally's original home, whereas the large illuminated windows are patterned to pay homage to the historic storefronts seen in photograph's from Bally's archives.

Bally Haus brings Swiss excellence to Italy and infuses it with the identity of its new Milanese home. To celebrate the opening of the store and to position it as veritable flagship store in Italy's fashion capital, Bally Haus merchandise will be availble exclusively from the store.
Fashion
CELINE Haute Parfumerie
In 2004, Hedi Slimane helmed a trio of scents at Maison Dior, the first new fragrances launched by the Parisian Maison since 1947. Now at CELINE, as new Creative Director, Slimane continues his olfactory project with the launch of the first Haute Parfumerie collection, the house's first return to the world of scents since its 1964 Vent Fou for women.

The collection, comprised of 11 perfumes, draws upon the rich tradition of French perfumery reviving the tradition of the 'couturier parfumeur' at the French Maison. The newly created scents reflect the characteristics and stylistic codes, which have defined Slimane's career. Deliberately avoiding the labels of masculine or feminine, the compositions are a harmonic blend of traditionally masculine and feminine notes, challenging outdated notions of identity and masculinity.

Based on the Slimane's olfactory jounal, the collection has a very sentimental and emotional core with each perfume reminiscent of a distinct memory, emotion, place or encounter. The complex and sophisticated scents, harmonize natural and high-quality materials, capturing the Parisian Spirit and the elegance of its couture heritage.

The first nine perfumes from CELINE's first Haute Parfumerie collection will become availabe in the Fall 2019, with the remaining two fragrances being launched in 2020.

www.celine.com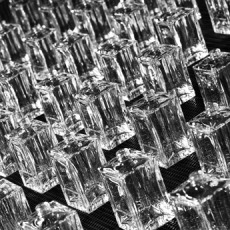 Fashion
Bang & Olufsen x Saint Laurent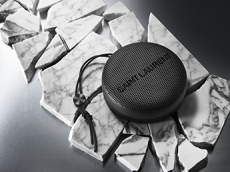 Where design meets functionality, Bang & Olufsen have never lacked or compromised. The audio giant, holding their design instincts close to their chest has landed a dream collaborator in Saint Laurent. The all black collection has subtle, luxurious twists that serve to remind Bang & Olufsen's customers that they have sought out and found the most optimal quality.

The 3rd generation Beoplay A9 home speaker has room-filling sound and was originally designed to compliment tidy furnishings and simplistic décor. Without rocking the boat, Saint Laurent respects the under stated nature of the A9 home speaker while reminding the customer that they have invested in the very best. The legs that the larger home speaker, A9, stands on are transformed from wooden to aluminium with a finish in gold or in jet black anodized mirror.

Bang & Olufsen's A1 Bluetooth speaker was designed to project sound on all sides for upmost ambiance. 360 degrees of sound emanate from its aluminium grill, the high gloss Saint Laurent logo printed in black. The A1 model says two things about the wearer; they have respect for timeless design and they have a love for music that demands the best sound quality wherever they go.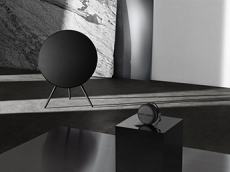 The only downside is how limited supplies are. The collection is only available at two physical locations. The speakers have been entrusted to Saint Laurent's Paris store at Rive Droite and in Los Angeles, California at their Rodeo Drive store. This is an overdue example of Bang & Olufsen knowing and owning their true value with respect to both design and quality. While stocks last these rare speakers can also be ordered online.

www.ysl.com
Fashion
Prada Play Matchmaker
Whether you fell in love with Prada's banana bowling shirt or their action packed short sleeve button up's make your head one thing remains true, we will be seeing a lot more Prada pairings. Their 'Double Match' personalization service opens in Germany next month offering customers the freedom to mix and match a variety of iconic Prada prints.
Playful and Prada is by no means synonymous, however, when you button up a shirt that has two very different styles on either side and it's Prada, it is a completely undeniable statement of fun and fashion. Worn well by Jeff Goldblum and Pusha T, Prada asks their customers, what is life without a heavy splash of color? Is the sky not blue? Is the grass not green? For those among us who stick to wearing black, Prada encourages even more personality and customization. Don't just buy off the rack, mix and match your Prada.

The Double Match personalization service will be available soon in select German stores.

www.prada.com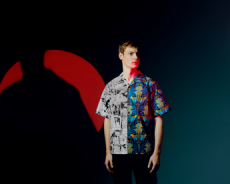 Fashion
Dream It Real
In fashion, every new season is a new beginning. The old collections disappear as they are replaced with the new looks. The turnaround can be quite drastic, so it is crucial for brands to showcase the new season's aesthetic. Often the first point of contact between the brand and its customers, the campaign, enveloped in a thought-provoking narrative, sets the tone for the new season.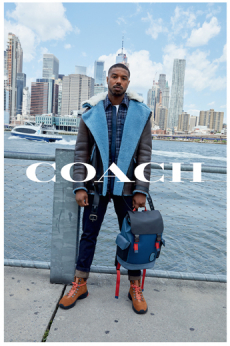 Inspired by the 21st-century dreamer, chasing infinite possibilities in the city of New York, Coach unveils its new look and feel for the house. Alongside Michael B. Jordan and Kiko Mizuhara, the Coach family is extended by Yara Shahidi, Jemima Kirke, Lolo Zouaï, Miles Heizer and new Coach ambassador Liu Wen.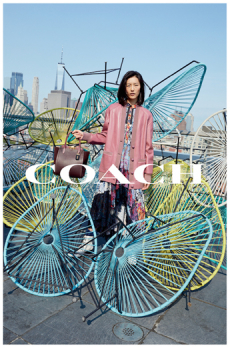 The unique essence of this diverse cast is captured by famous photographer Juergen Teller, who once more proves his ability to reveal his subject's authentic personality and humanity. Shot in iconic landscapes around New York City, the campaign accentuates the house's heritage and connection to the city as well as the city's unapologetic and free-spirited attitude.

www.coach.com
Fashion
Riders of the Knights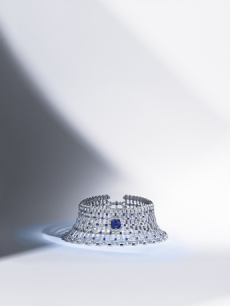 The female struggle for political rights is largely associated with the popular movement of the early 20th century, as it laid the foundation for the position of the modern woman in society. But, there have been strong women, whose struggle for self-determination and independence well predates the last century.

Inspired by medieval heroines, such as Eleanor of Aquitaine or Elizabeth of England, who boldly transcended social limitations in an attempt to shape their own destiny, Francesca Amfitheatrof creates Riders of the Knights, Louis Vuitton's newest Haute Joaillerie collection. The collection is an homage to these women's determination and independence, mirroring their inner radiance and noble intentions in a dazzling display of thousands of diamonds and precious gemstones in rich and deep colors.

Reflective of their noble status, the carefully crafted pieces evoke the magnificence of dynastic jewels and sovereign power, in a breathtaking presentation of exquisite craftsmanship and materials with The Royaume alone featuring about 1600 precious stones. The collection's strong aesthetic is loaded with symbolism, drawing upon medieval architecture, codes of chivalry and heraldic crests, with each of the 50 pieces telling a story that speaks to the confident and successful Louis Vuitton woman of today.

Exceptional and imposing, Riders of the Knights is no a tale of boundless wealth and male power, but a celebration of female courage and strength that has changed the course of history.

www.louisvuitton.com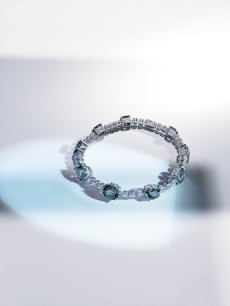 Fashion
New DIOR Boutique on the Champs-Elysées
For a brand of DIOR's magnitude, it is a question of prestige to have a presence in certain select locations worldwide. This becomes even more important if said location happens to be the birthplace of the house. With the majestic display of its new boutique on the world's most beautiful avenue, the Champs Elysées, the house of DIOR pays homage to the French capital and its special bond city.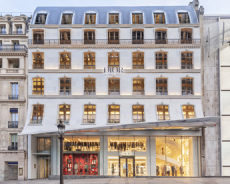 The three-story space is a reflection of core DIOR values, a testament to the house's savoir-faire and a journey to the heart of the House's modernity and heritage. In a tribute to the DIOR's iconic address, the façade of 30 Avenue Montaigne is reprised on an immense, entirely handmade drape at the heart of the Champs-Elysées.

Inside the store, a staircase unfurls like a ribbon in an ode to the curves so loved by its founder, whilst pristine white toiles usually locked away in the DIOR ateliers compose a poetic fresco.

The new boutique adorned with symbols of Christian Dior offers a timeless and contemporary atmosphere for its customers to discover the houses Men's and women's ready-to-wear and accessories, as well as jewelry and footwear, fragrances and Dior Maison designs. Additionally, the store features an in-store workshop offering a broad range of new personalization services, completed on the spot within an hour. Animated with new launches and pop-ups, DIOR presents an immersive and innovative concept of luxury.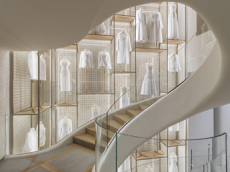 For the opening of its new boutique, DIOR presents an exclusive preview of the Check'N'Dior collection with two exclusive variations of the DiorCamp and a silk scarf in tropical toile de Jouy specially designed for the Paris address.

www.dior.com
Fashion
SCHUELLER DE WAAL Haute Couture Fall/Winter 2019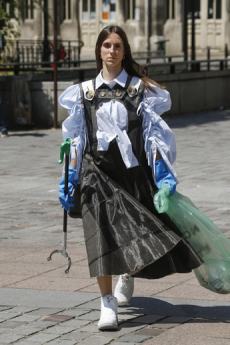 Dutch Design studio SCHUELLER DE WAAL continues to unfold their story of 'Fashion Therapy' and opts once again for a different kind of presentation during Paris Haute Couture 2019/2020. In collaboration with Pik Pik Environnement, they present the first Collaborative Cleaning Initiative named 'Litter'.

Rather than changing a location to be able to accommodate a fashion show, SDW Studio created an initiative that has a positive effect on the location itself. Dressed in an eclectic range of cleaning uniforms, a group of 50 models, cool kids and volunteers started picking up trash in the public square in front of the town-hall in an upbeat cleansing fashion performance.

The workwear inspired overalls pick up on the concept of re-purposing. They are made from patchworks of leftover fabrics and past collection pieces in an effort to avoid the unnecessary waste of resources. The collection is a clashing combination of couture and workwear, recontextualizing past pieces whilst supplementing the insufficient samples and leftovers of luxurious fabrics with re-creations made from office-and household materials.

Most of the cleaning uniforms were finished off by safety shoes by the Dutch brand EMMA Safety Footwear, chosen for its Corporate Social Responsibility mission.

www.schuellerdewaal.com
Fashion
Givenchy Haute Couture Fall/Winter 2019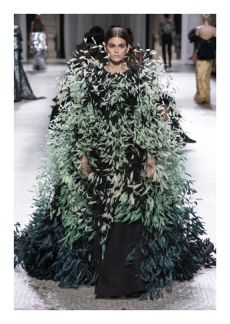 Haute Couture represents the high point of fashion, the merging of the finest craftsmen and the finest materials, with its essence deeply rooted in time-honored traditions. In a bold and beautiful collection, Clare Waight Keller interweaves the threads of the gilded past into a radical future.

For the first time, the designer imbues her modern approach, instilled throughout her previous experience in prêt-à-porter, with a glamorous and elaborate aesthetic reminiscent of the chateaux, villas and stately homes, which stand at the origins of the grand tradition of Haute Couture. With Noblesse Radicale, Waight Keller inflects the traditions of Givenchy Haute Couture with new textures and volumes.

In line with haute couture's traditions, the collection shivers in delightful embellishments. The exquisite materials, inspired by impressions of the past, from flowering wallpapers and rich upholstery to heraldic silverware, in combination with elaborate displays of precious beading and sequins, feathers and lace dissolve into the modern contrast of deconstructed evening wear. Old techniques and conventions meet modern materials and construction, accentuating a vibe of rebellious grandeur which defined the whole collection.

The looks are finished off in a daring retort to pomp and ceremony, with crested mohawks, pearl chandelier earrings and decadent palladium crowns blooming with curling 3D petals. This show connects the past and present and relates the elements of fantasy and indulgence that have made couture such a compelling practice with a hint of rebellion.

www.givenchy.com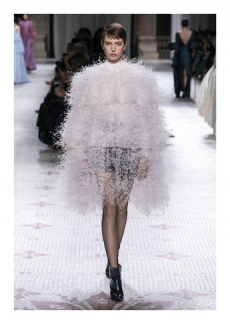 Fashion
Jil Sander Men's Spring Summer 2020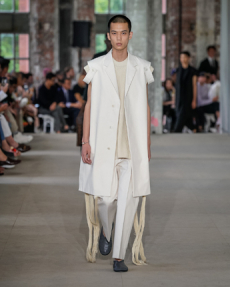 Upon the sand, upon the bay/"There is a quick and easy way" you say/Before you illustrate/I'd rather state:/"I'm not the man you think I am". The sound of The Smiths permeated the whole room. There was a translucent wall as a backdrop. Just behind you could see the shadow of dozens of flowers, along its whole perimeter.

Are they the same flowers that will blossom when planting the few seeds received as show invite? I haven't asked Lucie and Luke Meier, but I am pretty sure they are.

Season after season the couple has been building a strong coherent identity for Jil Sander. A modern minimalism with delicate features. Just think of Mario Sorrenti's Spring Summer '19 campaign for the house: the poetry of the soft breeze walking on a summer day in Japan.

For Spring Summer 2020 Lucie and Luke Meier confirmed that fluid tailoring and relaxed silhouettes: linen shirt-jackets, Japanese cotton V-neck shirts, organic banana fibre trench coat, a sleeveless canvas knee-length overcoat. Particularly beautiful the cotton sweaters with long hand-crocheted fringing kissing the floor, paired with sharp oversized pants or precise tailoring. Botanical prints and floral jacquards make their entrance in the monochromatic palette dear to the brand – burgundy, off white, black, sand – with new colours like Klein blue.

The contrast between the beautifully fragile and the modern effortless rendered perfectly the vision of the Meier couple's for Jil Sander.

www.jilsander.com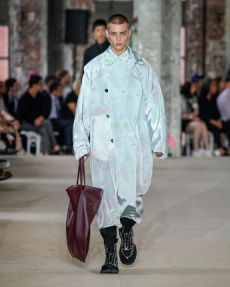 Fashion
Celine Men's Spring Summer 2020
In a pitch black room just one spotlight is directed on one person only: Hedi Slimane, almost silently shaking hands to everyone who respectfully wanted to congratulate after his first Celine Menswear dedicated show. The surreal, almost religious atmosphere is the perfect mirror to the designer's credo: a creative mind far from any compromises.
Hedi Slimane's multifaceted imagination created also the set design, a mobile squared box covered with theatre-like red velvet curtain to reveal a structure made of metal and beaming lights. A stage-throne where the first model seated till the humongous mechanism approached slowly the centre of the catwalk.

The collection expressed one of Hedi Slimane's favourite references: the 70s, the disco culture of the time. High waste flared denim, sequins jackets, short black leather perfecto, red or gold varsity jackets. But also tailored slim suits in dark brown, khaki, black and at time – see the first look - reminiscent of Savile Row.

It felt almost as if we just were walking out of a student protest of the time. The rebellious and nonconformist attitude in the air: sentences written by artist David Cramer and printed on t-shirts, bomber, bags added up: "I still don't know if this is getting me anywhere" or "I have nostalgia for things I have probably never known".
Kramer, an American artist working with words and building them together in form of slogans as part of his mostly figurative paintings and graphic drawings, collaborated for the first time with Slimane. There is a strong 70s research in Kramer's work, with a confronting nostalgic humour.

Hedi Slimane's rock and roll "i-don't-care" looks marched at the rhythm of Bodega's original track "Name Escape" composed for the show.

www.celine.com
Fashion
Valentino Men's Spring Summer 2020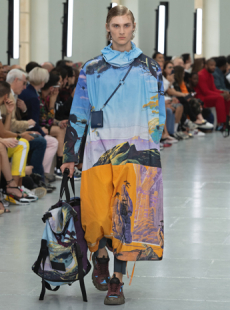 Fantastic landscapes with graceful stones of otherworldly colours. Imaginary islands with beautiful creatures and a moody heavenly atmosphere. Artist Roger Dean - who designed album covers of the most progressive English rock bands in the 70s and 80s - channelled the Pierpaolo Piccioli' s vision for Valentino Menswear Spring Summer 2020.

It's a collection where different elements come together as in a long travel, at times as a free spirited meandering of human mind with all its colourful facets: the breezy capes, the flowing silk shirts paired with pant with sporty details and the updated version of the Rockrunner Plus sneakers.

At a closer look the couture embroideries and beading on shirts and outwear don't fail to amaze us. The collection is an ode to the free-spirited Pier Paolo Piccioli's own mind that we already had the pleasure to witness constantly during Womenswear.

The accessories carefully played around the idea of a camping mood are revealing beautiful mixes of textures: technical fabrics, suede, butter soft leather. One in particular caught our attention: the small squared boxy bag declined in different colours and prints. Reminiscent of a insulated lunch bag, it's already the new it-bag.

www.valentino.com
Fashion
Tambour Slim Rainbow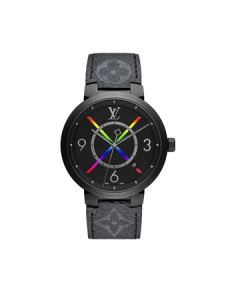 Virgil Abloh is a disruptor in the fashion industry and nobody embodies the rise of streetwear quite as he does. As the streetwear trend was slowly taking off, it was designers such as Virgil Abloh that elevated it to the next level, bridging the gap between the established high-end fashion and the newly emerging luxury streetwear.

Streetwear arrived at Louis Vuitton with Abloh's appointment as new Artistic Director in 2018. As expected, he immediately made his presence felt and injected the French heritage brand with an urban vibe through his different approach to design and references to street art. F

or the new Tambour Slim Rainbow, Abloh references back to leather accessories of the Fall/Winter 2019 collection, translating its aesthetic to the watch. With a fluorescent rainbow X, the dial's motif perfectly captures the spirit of the leather goods and accessories, also defined by the contrast of bright and fluorescent colors on a black background.

The simple exterior might be deceptive, but this watch is yet another proof of Louis Vuitton's expert craftsmanship and watchmaking expertise. In meticulous steps, the 42 layers forming the bright X-motif are hand-transferred color by color, a process so time-consuming that it requires the same number of hours than the rest of production.

www.louisvuitton.com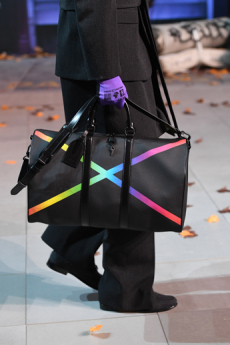 Fashion
Marcelo Burlon County of Milan Spring/Summer 2020
Italian fashion has a certain inherently elegant quality that has been established by its grand houses and their rich tradition. Marcelo Burlon does not fit this mold of Italian fashion. Traditional Italian elegance is replaced with a gritty urban aesthetic, closer to streetwear than couture. Marcelo Burlon takes a techno-approach for his new season, starting with his choice of materials. Modern fibers, such as iridescent coated nylon and paper-like resin tech cotton are crafted into garments suited for the hyper-accelerated needs of a contemporary lifestyle.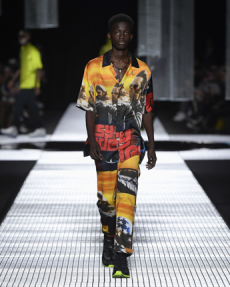 Throughout his collection, sometimes evoking references to '90s acid culture, Marcelo Burton continues to refuse the pre-set rules and lets extremes collide, showcasing them side-by-side. Technical cycling garments, do not just inject an element of body consciousness, but also infuse traditional tailoring techniques for an eclectic hyper-modern look. To underline his techno-approach, Edoardo Tresoldi build a modern and impressive wire mesh cathedral as a runway for the show.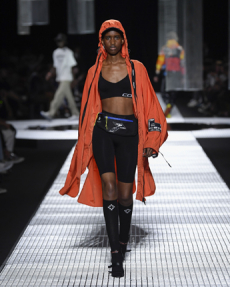 Additionally, Marcelo Burlon used his platform to denounce Italy's increasingly xenophobic political climate. In an effort to give back to the community and in support of tolerance, Marcelo Burlon sets a sign by casting a considerable number of first-generation Italians of African descent and inviting 300 local kids to the show.

www.marceloburlon.eu
Fashion
Giorgio Armani Spring/Summer 2020
Amongst all the seasons, summer has a special place, after all, it is the most liberating of all the seasons. Giorgio Armani tries to capture this summer spirit with his eponymous SS20 collection. For this occasion, the first time in nearly 20 years, Armani's mainline menswear show returns to the decade long headquarter at Via Borgonuovo in Brera.

The SS20 collection was built around tailoring, through which Armani has achieved his legendary status. In line with the lightheartedness associated with the hottest season, we see a more relaxed and lighter interpretation of the tailored suits, balancing and harmonizing the world of formal attire with the more sporty one. Nonetheless, the label maintains its sartorial essence, limiting the more elaborate escapades into athleticism to the Emporio line.

The collection is defined by looser silhouettes, fitted around the shoulder but loose around the body. Armani seeks to replace the rigidity of the suit with freedom of movement and comfort, implementing light materials and looser fits. The chosen color scheme is unusually intense for the label, implementing a variety of bright hues in combination with the brand's staples Armani blue, white and black.

www.armani.com
Fashion
M1992 Spring/Summer 2020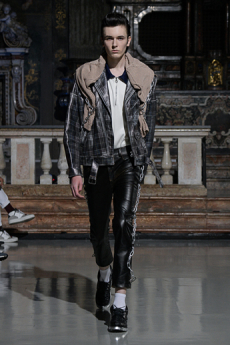 References to the world of celebrity cult and fame are found throughout Dorian Tarantini's newest collection for M1992. Keeping with the fame theme, paparazzi, limousines, private jets and holiday destinations become photo prints repeating themselves on shirts across the whole collection.

In his work, the designer deliberately adds a dose of tackiness, as the allover Swarovski glitz, challenging the slim boundary between glamour and tackiness, so closely related to the world of fame. Adding to the overall fame theme, Tarantini's work has a very apparent '50s and Sixties aesthetic. M1992 combines the sharp tailoring reminiscent of the '50s rebels with a '60s-inspired silhouette, to create neat garments and faultlessly tailored suits evoking a genuinely rebellious vibe. This quality is underlined by the use of buckles and chains to outline the sharp silhouettes.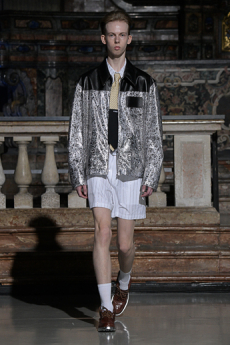 The necktie acts as the starting point for the designer's creative journey. In collaboration with Neapolitan manufacturer Marinella, Tarantini presents his new take on the most corporate and conservative men's accessory, revealing a surprisingly progressive quality in it. The collaborative aspect does not only limit itself to the ties, but also includes an adjustable case for a tablet. In collaboration with HP, this multi-functional bag will be limited to only 80 pieces available through an online contest.

www.m1992.eu
Fashion
A Ferragamo Homecoming
For his first men's collection, Salvatore Ferragamo's Creative Director Paul Andrew puts Florence center stage. The city, so synonymous with the house itself, sets the new aesthetic direction, the style code for a new era. Andrew's vision for Ferragamo is inspired by Florence, at once gloriously ancient with rich traditions and at the same time stunningly modern and forward-looking.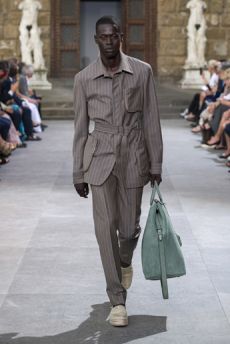 In his new collection, traditional sartorial menswear codes are infused with more modern stylistic elements in order to articulate Andrew's envisioned multigenerational concept. With a high-craft and high-tech approach, innovation and quality craftsmanship remain the beating heart of the house, in combination with unconventional and inventive ways of mixing materials and manufacturing.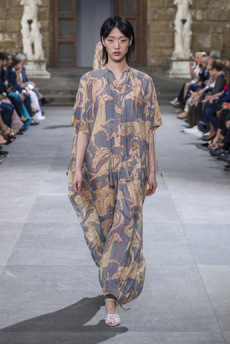 With a mixture of skins, natural and synthetic fibers, the collection's broad palette of earth tones and natural shades is contrasted with saturated incursions of candy pink, luminous mint green and deep night. Through his collection, Paul Andrew presents his personal vision of the modern Ferragamo man, who distances himself from inflexible gender norms and takes the freedom to redefine the classics for a new era.

www.ferragamo.com
Fashion
Berluti Shadow
Nowadays, everybody is wearing sneakers. Previously reserved for certain youth cultures and athletes, the sneaker has evolved into an absolute must-have item in every shoe closet. Following the likes of other global brands, Italian shoemaker Berluti presents its first ever sock sneaker, the Shadow.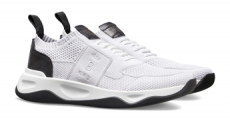 The brand's forward-thinking and innovative attitude takes shape in a sneaker, defined by its impeccable lightness and durability, deriving from the use of durable and light nylon knit. The Shadow collection is Berluti's latest undertaking to present a sophisticated alternative to formal footwear. They merge Berluti's outstanding know-how and craftsmanship with the contemporary athleisure aesthetic and a modern attitude.

Available in classic black, navy and minimalist white the sneaker suits a variety of tastes and urban styles, whilst guaranteeing core Berluti 'Made in Italy' values.

The shoes will be available in stores and online.

www.berluti.com
Fashion
Max Mara Resort 2020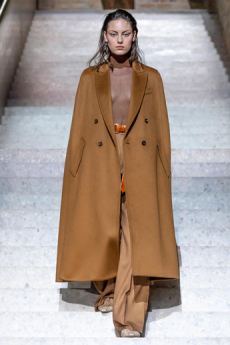 Over the last thirty years, ever since the fall of the Berlin wall, the German capital has experienced a period of renaissance. Countless creatives and visionaries have left their mark upon the city to shape it as one of Europe's true hubs for art, architecture and design. All the recent contributions to contemporary culture revive the avant-garde spirit established a century ago by the radically modern Bauhaus movement. No other city seems more adequate to mark a new beginning.

His fascination with the German capital has influenced creative director Ian Griffiths' selection of Berlin as the Max Mara Resort 2020 destination. Both of his Berlin idols, Marlene Dietrich and David Bowie are everpresent throughout the show. They become eponymous with Max Mara's new brand spirit, defying imposed conventions, being classic not conservative. Max Mara presents itself edgy and refreshed by employing hand-made looking fabrics and using the idea of frayed selvages as fringes.

The Neue Museum Berlin, with its priceless artifacts, offered the perfect scenery for this tribute to Berlin, as it syncs with the collection's sandy and earthy color palette and gave inspiration for the first Max Mara jewelry collection designed by Reema Pachachi. Expertly crafted pieces, such as the pure white Berlin coat, a tribute to Meissen porcelain, were rounded out with a selection of sculpted bracelets, necklaces and earrings.

With the selection of this historical location and the Marlene Dietrich-inspired performance of German singer Ute Lemper, Max Mara pays homage to the past. The collection itself acts as a springboard into the future and modernity, redefining Max Mara's effortless chic for a new generation.

www.maxmara.com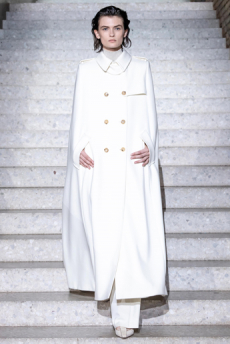 Fashion
The New Essential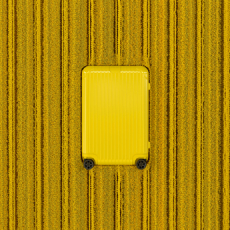 Certain occasions require more than just a simple party. In honor of their 120th anniversary, German luggage manufacturer overworks its visual identity and embarks on a whole year of celebrations. The aim is to remind people of who they are and what they stand for.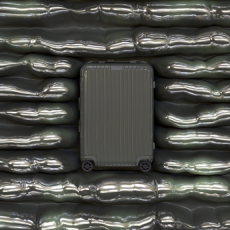 The reimagination of their staple RIMOWA Essential is just a first step of this transformation. RIMOWA recognizes the traveler's needs to make a statement even when traveling and revives the Essential in four distinct hues. As expected from RIMOWA, the colors were not chosen at random, but are reminiscent of the journey, often forgotten behind the focus on the destination. Each color is inspired by the fleeting impressions of the places in between, often only to be seen from the ariel view. The new colorways of the freshly monochrome Essential include Coral, Slate, Sage and Saffron yellow.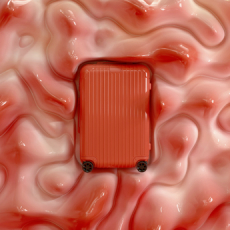 The RIMOWA Essential will be available in three sizes starting June 6th at RIMOWA stores and online.

www.rimowa.com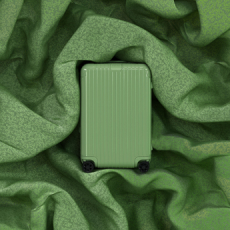 Fashion
Cartier Santos-Dumont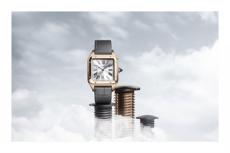 French manufacurer Cartier pays homage to the rich history of its iconic Santos-Dumont model. First created in 1904, Louis Cartier designed a modern wristwatch, exclusively suited to the needs of Brazilian aviation pioneer Alberto Santos-Dumont.

Ever since being unveiled to the public, the design, exuding simplicity, innovation and elegance, has always remained true to the original. The square-shape, reminiscent of the geometry popular in Paris at the time, is paired with an unadorned alligator leather strap. Practicality remains central to this classic. To achieve this, Cartier enchanced its performance with a high-efficiency quartz movement featuring an autonimity twice as long as traditional movements. The Santos-Dumont model is available in two different sizes and three shades in hues of rose gold and steel.

www.cartier.com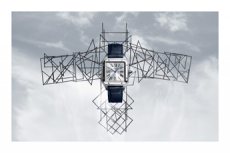 Fashion
Everything is going to restart
When did we enter this state of war with each other? The feeling of defeat used to be rare, a symptom of testing the limits. Now, it feels more like the kind of dull ache you'd develop if you lived in a house with leaky pipes; a vague, tolerable heaviness that doesn't go away. British designer Claire Barrow offers some hope that the end is in sight. The third installment of her Xtreme Sports mini-collections, Les Sports Extréme, pours thought on the theme of battles – both political and personal, socially and for the sake of the self. Her multidisciplinary entry point to art has fostered an illustrative capsule clothing line and short film, created by regular collaborator Daniel Swan, soundtracked by a self-authored song that jars lines from Les Misérables and new phrases that feel urgent to our time, fractured with the ad-libs and manic laughing of a characterful cast.

"You sometimes forget that the battle is still ongoing," says Barrow, "things just seem hard now. There's still hope, but I can't help feel defeated by some of the evils. I wanted to embrace that despair in the collection a little." The chaos that comes with losing control translates to the casual silhouettes of T-shirts, hoodies, silk wide-legs and scarves. Barrow breaks a dominant night blue base with innocent licks of baby pink, blue and yellow – sweet tones marred by distressing, patched with crying baby faces. Fantastical and historical figures form the intricate illustrations: dreamlike drawings of knights and teddy bears, pigeons and mermaids, clinging tightly to one another, hands held to harness the strength of a circle, while the rising figure of Lady Liberty, as immortalized by Eugène Delacroix, waves a flag into the new dawn. With their graffiti signatures, rips and ragged stitching, the Trash Barricade tees speak of resistance and division, imploring all around to declare their loyalties with the question, "What side are you on?" stamped at the back of the body.

"I was interested in how things are still left open, even after conflict," Barrow says, "nothing is ever really resolved. Like the French Revolution: the people won, but we are still entrenched in the same discussion as we were then." For once, someone is wrestling with the grey area, rather than falling by the fault lines of the black and white; with that, Barrow serves the solution of solidarity alongside the still-raw wounds of rivalry, hopefully a sign that peacetime will soon come.

www.clairebarrow.com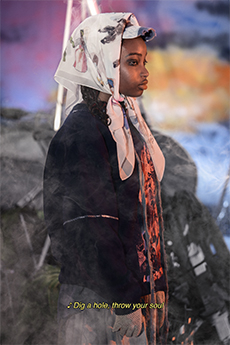 Fashion
Carhartt Urban Book Release
When thinking about the expressions of urban youth cultures, cities standing at the forefront of seismic cultural shift, such as New York or London, pop in most people's heads. Amsterdam is often overlooked, despite being at the forefront of one of the street's most visible artistic embodiments, graffiti culture. Before the influences from across the Atlantic reached and popularised this visual urban language across Europe, Amsterdam had its own home-grown graffiti culture. Punks, hooligans and other rebellious movements alike, spread their message on the city's walls. Their styles were as varied as their messages, creating graffiti unlike any others.

In collaboration with Carhartt WIP, FRESHCOTTON releases Amsterdam On Tour by grafiti artist Again, to investigate the early roots of this phenomenon. They focus on the city's original scene starting from the 70s, lasting until 1985. 30 different artists offer a glimpse into this insane scene, dominated by the fully tagged tunnels, benches and trams, in an unique collection of words and images.

In addition to this publication, Carhartt x FRESHCOTTON also releases a limited edition capsule collection, perfectly capturing the spirit of the scene, available only at selected Carhartt stores and freshcotton.com
Fashion
A Magical Place Where Devils are Good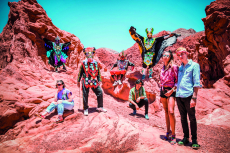 The only connection that matters is the one with mother earth. In the middle of the Argentinian Andes, near the frontiers of the west, is a small town where everything is the opposite in order to re-define meaning. This place is called Uquía, which is located between Tilcsara en Humuaca and contains many different cultures and ethnical groups who already live together in harmony for ages. These people have one happening in common: Carnival! The northern Carnival connects everyone and is a festive whereon devils are good.

This magical place formed the ultimate podia to tell the story of the Premiata Spring / Summer 2019 collection. In this town can you find the impressive Iglesia San Francisco de Paula, a church that has two versions the other one is located in Havana, Cuba. The church is a magical place because it is on the Salinas Grandes, a large salty plateau located 3350 meters above sea level that emerged from a lake that dried up during the Holocene. This exact point is able to bring light, earth and sky all together in a magical way, so at night you can admire one of the most bright starry skies in the world.

Besides the great variety of cultures and ethnical groups, also a fusion originated through the years. One that is dominated by colorful devil costumes, adorned with mirrors to keep real evil spirits away. The Carnival is a ritual in which each individual and the community itself will re-connect with the purest joy in life. Premiata decided to support this very special celebration to maintain the survival of these authentic cultures.

www.premiata.it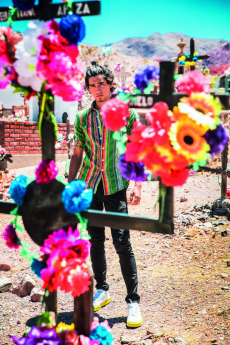 Fashion
Louis Vuitton Womenswear Fall 2019/2020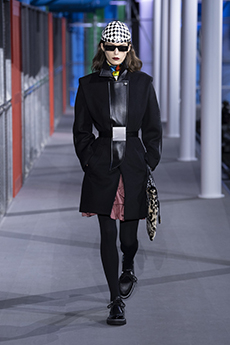 Not many knows that when in 1977 the iconic Centre Pompidou opened its doors the Parisians were so shocked that the museum had to arrange clowns and jugglers playing in front of its doors to loosen up the mood and invite more visitors in. The citizen didn't like the radical architecture designed by Renzo Piano and Richard Rogers – at the time partners – featuring a stile later defined "Bowellism", where the cable and pipe systems usually kept inside a building were infact exposed.

When entering the Louvre's Pyramid, slowly approaching Louis Vuitton's show venue Cour Carrée, we saw a humongous blue pipe running across the courtyard. Little we knew that inside the temporary structure built for the show we would find all the elements and colors of Centre Pompidou's façade, more pipes, hundreds of them, as set for the show. A Museum in the Museum.

Nicolas Ghesquiere mentioned the beauty of controversy as his inspiration, the need to address colliding elements and the famous Pompidou colors came back in the clothes: the yellow, blue, red, all together.

The collection had a strong 80s references, with its graphic ruffled shoulders and dresses, the ankles boots worn with tights, the silver and glitters, the high-waist carrot shaped trousers and frill skirts. The iconic damier motif was presented in skirts and leather caps.

A bit 80s disco, a bit punk, a bit 80s power feminism. Ghesquiere presented the modern thirst for diversity and an eclectic look far from a put-together one.

The accessories presented some interesting novelties hinting to architectural references and a classic attire: like the flat large bag appearing in look 9 in grey and declined in brown in look 16, apparently Ghesquiere's favourite bag of the season.

It was a daring collection and we are looking forward to see Louis Vuitton's client picking and mixing elements.

www.louisvuitton.com
Fashion
CELINE Fall/Winter 2019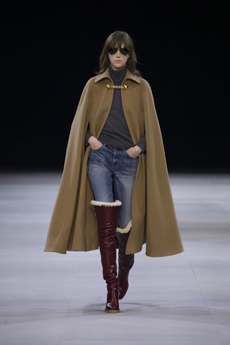 At the Winter 2019 show in Paris, Hedi Slimane premieres his winter collection for Celine. Whilst distancing himself from his predecessor, Slimane still manages to meet the brand's iconic style somewhere aptly in the middle. A solid and stable collection displays a wearable collection of blazers, jeans, sweaters and skirts with a consistent thread of colour and fabric throughout.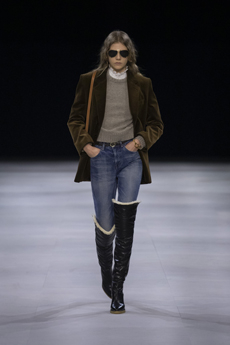 It would be hard to miss the references to the 70s. The palette is unmistakably so, camels outer-layers are naturally paired with browns. Creams and denims all tie together with thick knee-high boots. Scrunchy leather boots, wide lapel blazers and aviators play up to this feel also.
Although Slimane's typical staple is largely subverted by virtue of not having included his characteristic tight and short style, his touch is palpable and present. Leather jackets, the occasional dash of sequins and soft trimmings are identifiable and for a first collection, it is harmonious and marks a strong, clear foundation for evolution in the brand.
Fashion
Boggi 's Conscientious Collection for the Casual and Sophisticated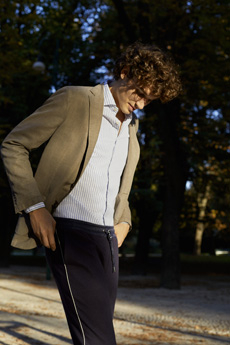 Boggi's SS19 collection firmly repudiates a common misconception that elegance is a necessary sacrifice in favour of practicality. The collection asserts that sophistication can be achieved in one's leisure time, featuring lightweight pieces with crease-proof properties. Promoting versatility, breathability and comfort, two strong marks of the brand's identity – simplicity and class – are neatly woven throughout the collection with vintage designs in wool, linen, soft knitwear and silk.

An exciting aspect of the collection demanding mention is the eco-sustainable fabrics. Garment dyed jackets and flowing long-sleeved shirts are exceptionally made from biodegradable fibers extracted from eucalyptus trees targeting the environmentally conscious Boggi Milano man and offering a newfangled language and approach to fashion.

In the formal-casual line, the completely unlined pinstripe suit is made from bouclé fabric, interweaving red and navy blue yarn. Other suits come in sienna red earth and ice grey. The highly popular bestseller polo-shirt is available in an updated range of colours and fibers. Another highlight is the reversible raincoat: one side, high-tech water-repellent and windproof fabric and the other wool. This use of hybrid elements is replicated in the exceptionally lightweight Aria jacket-shirt. Textured printed jerseys atop jackets add a third dimension to the piece, and monochromatic, warm, earthy colours are split up with detailed, decorative patterns.

Designed with a sense of practicality and understated class, the collection is ideal for Spring weekends of outdoor exploration and urban travel.

www.boggi.com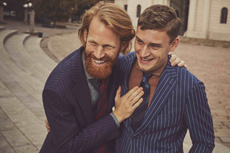 Fashion
Illuminated Forms
"It was the night /A giant saved me / Changed me into a love machine / I can't take this hell, i a not your prisoner / i was a love machine /soft and hard" SebastiAN's original track created for Anthony Vaccarello's Saint Laurent Fall 2019 channels the spirit of the collection: the 80s nightlife, the enchanting Betty Catroux, Bianca Jagger (monsieur Yves Saint Laurent's own muses), the time when the clubs were the place where designers, artists, socialites and most of the creative crowd would meet.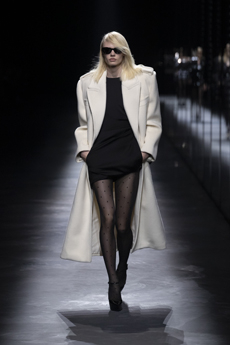 Anthony Vaccarello presented a strong vision for Saint Laurent gradually evolved season after season into an enchanting identity celebrating the Maison's historical codes and imbued of Vaccarello's own signature. The first looks already set the mood: long wool coats, dazzling tuxedo blazer with boxy sculptural shoulders, beautifully tailored. Anthony Vaccarello calls it the "couture blazer". And it channels that famous masculine look Monsieur Yves himself merged in the Woman's wardrobe.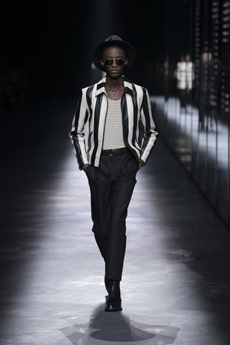 But the collection also featured the vertiginously short minidresses Vaccarello is known for in the last looks that stormed in the catwalk as a totally different happening hinting the most deepest night ahead: fluorescents with matching shoes. Looking at their silhouette you can see a reinterpretation of some lines from the iconic 1971 collection by Yves Saint Laurent, clearly addressed by Vaccarello who has been constantly researching the archives. The light installation inside the venue between Matrix and the Tour Eiffel light spectacle – the latter usually accompanying the show during summer time – was a magnificent set for a magnificent collection.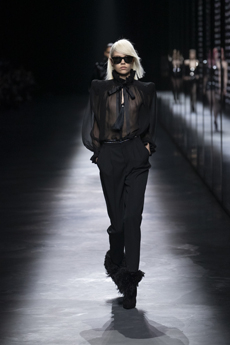 Fashion
It's All About Glamour
MaxMara makes crystal clear in their Fall / Winter line that women need not suppress their glamorous side in order to be taken seriously. The old age debate has been settled. Not only does glamour empower women but it is all about the clothes and how they make you feel that allows you to shine and ultimately triumph.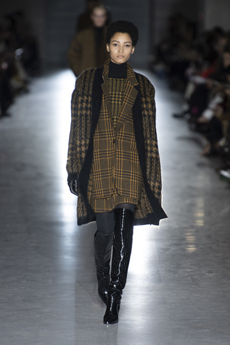 Defying all conventions of dress, the collection exhibits strong silhouettes at the shoulder that expand wider, boxier and leggier down the form. Artfully bound in leather, plush alpaca, camel and cashmere, all the fabrics sink into one another and are fabulously topped off with statement thigh high boots.
Skirts appear cut from men's pants, hanging softly both above the knee and grazing the ankles and svelte polo sweaters put the power in power dressing.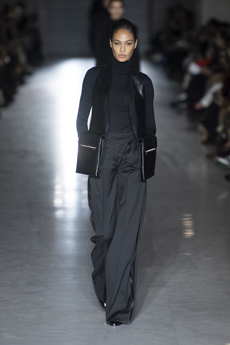 For the working women, beautifully tailored utility vests, jackets and cargo shorts are adorned with multiple zips and pockets. Technicolour total looks bring a refreshing lightness and positivity to the line. MaxMara at their very best, designing and making clothes that put you in the mood to take on the workplace, the party, the world, even when you do not at first in the right state to do so. The collection presents the best and boldest of women's ability and potential in universally flattering tones and movable, soft fabrics.

www.maxmarafashiongroup.com
Fashion
Zegna Brings Italy To Manhattan
Down Manhattan's 4 West 57th Street in the historic Crown Building, Zegna launches their three-story high global store. A world leader in luxury menswear, Zegna have enlisted renowned architect Peter Marino for this bold chapter in Zegna's history.

Within this expansive retail space of 600 square maters, customers can begin their virtual journey through the Zegna world, following the ever-changing ephemeral installation all year round. Façade metallic strings overlay two stories of glass, illuminated by LED lights when the sun goes down. The effect is an emotional fil rouge shadowing the visitor right from the external window display to the very heart of the store.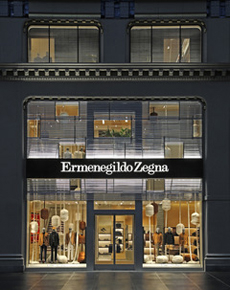 The ground floor presents leather goods and shoes, all uplifted by neutral tones of cerused ashwood, mahogany and vals stone. An unusual wooden box structure envelops the entire space, creating an aesthetic thread that runs seamlessly between the three levels.

The third floor showcases Sartoria, Luxury Leisurewear, Couture and a specially designed personalised room: the open space hosted by a master tailor to assist meet all needs. A glance around reveals a fusion of modernist and vintage elements with matte teak and laquered wood. Extra details include a welcoming Italian bar, a Gardella lounge chair on a geometric patterned carpet and historical photos that surround the space.
An intimate environment showcasing bespoke clothing speaks right to the brand's heritage; the very notebook Ermenegildo Zegna carried on his founding trip to NY in 1938 inspiring the collection. Now, a new generation of American men can uncover modern luxury rooted in quintessential Italian style.


www.zegna.us
Fashion
A Transatlantic Aura
Longchamp, NY Fashion week Fall/Winter 2019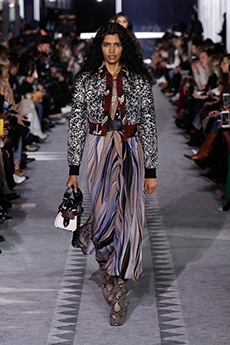 Creative director Sophie Delafontaine led us through a beautiful independent journey of self-discovery that embodied the free-spirited aura of traveling women. Longchamp its Fall / Winter collection is characterized by an intrinsic rock 'n' roll attitude with influences derived from places located between Paris and New York. In order to emphasize the spirit of travel, the models parade across a carpet that is inspired by a traditional landing strip designed by Andrée Putman.

The 70-year-old Longchamp brand founded by Jean Cassegrain and still owned by the Cassegrain family, is the ultimate symbol of effortless Parisian femininity. Over the years, the brand continuously translated this characteristic into a contemporary version. The nomadic character is realized in silk dresses and pleated skirts made out of embroidered tulle or delicate woolen mesh. This dreamy bohemian look is interspersed with fresh, cool contrasting pieces that consist of black leather tops and architectural coats with graphic or Apaloosa prints that indirectly represent New York as vibrant, world metropolitan city. Details like grosgrian ribbons and hard silver studs give the elegance a sturdy rock edge. Delafontaine lets contrasts blend together by mixing textures, silhouettes and patterns and matching them with dynamic extremes. Several Bauhaus artists whom are central worldwide this season indirectly inspire this approach.

The sense of division and coolness is a prevailing feeling today in metropolitans. This feeling is clearly present, especially in Longchamp's new handbag collection, La Voyageuse. A vivid compact silhouette executed in many colors and fabrics available in two sizes for both travelling short and long distances and is therefore a preferred travel companion.

This collection represents the idea of ultimate wanderlust and freedom. The attitude is owned by strong, independent women who effortlessly combine style and influences without any fear.

www.longchamp.com
Fashion
The Saddlebag is back
True house icon, and ultimate symbol of Dior's unique and long-established mastery in crafts. Creative director Kim Jones reinterpreted Dior its iconic saddlebag into a fantastic new modern version for the summer 2019 collection. The design came up for the first time almost 20 years ago in 2000 in the Women's Spring-Summer 2000 ready-to-wear show. Its saddle-shaped form can be promptly recognised. Jones added a Jacquard strap featuring the inscription "Christian Dior". The bag is finished with a raw industrial- inspired buckle specially developed for this occasion by designer Matthew Williams. This typical adornment is created in Florence, Italy and reflects the finesse of the house's leather goods.

www.dior.com
Fashion
The Sophisticated Unconformist
Unconformist, powerful and assertive, this Spring/Summer 2019 capsule from COS is catered for the sharp, sophisticated working professional seeking to build upon a staple wardrobe, channelling creativity and unapologetically making a statement in the process.
The sculptor's hand is palpably discernible, the garments clearly envisioned with the wearer's form in mind, regarding the body as the crucial central canvas to be built around. Conceived of in three dimensions, the pieces caressingly float and fit the shape of the wearer. We see this thematic pattern replicated in the absence of busy, fussy decorations, rendering the collection a stark, simplistic, modest and unostentatious slate, nonetheless creative and unconformist in attitude.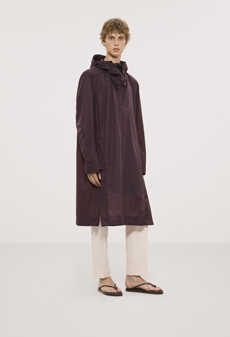 An understated, unaffected, minimal palette of clean whites, strong blacks and varying blues is realised to its fullest potential, a direct result of Anna's propensity to resist high frequency turnover trends and to reject external logos, prints or patterns. Peter Saville contributes the only patterned item; a limited edition silk scarf incorporating graphic prints. In this manner, the collection is fit for studio work, formal meetings, after parties and can be maintained for a lifetime.
Fashion
An 'It' Bag Revived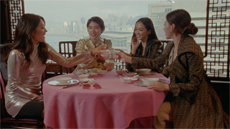 Fendi's 'Baguette,' one of the original 'it' bags, is back for Spring/Summer 2019. And while the Men's Fashion Week show in Milan showed that even the boys are loving it, there is no shaking the little bag's status as a feminine classic. With three storylines to its name and a host of stylish starlets among its fans, this is definitely a bag to unbox for a night out with your girls. Fendi's new #BaguetteFriendsForever project celebrates the revival with three friendship-themed shorts set in Shanghai, Hong Kong and New York.

The first episode — The Baguette is Back— is set in Shanghai and stars actresses Tan Zhuo and Qiao Xien, as well as fashion influencers Yu Wei and Yoyo. The Missing Baguette, the Hong Kong instalment, follows Taiwanese DJ Dizzy Dizzo, Japanese model Hikari Mori, Korean DJ Peggy Gould and 'it' girl Yoyo Can as they search the city for their objet du désir.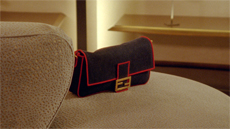 The One and Only Baguette, set in New York, sees influencers Caro Daur and Natasha Lau and models Ebonee Davis and Melissa Martinez, racing to buy a Baguette. 

All three films are scored with Groove Armada's My Friend.

The accessory — designed by Silvia Venturi Fendi in 1997 and subsequently seen on anyone who was anyone in the Nineties — made a strong resurgence during the brand's S/S19 womenswear show, embellished and embroidered, fashioned in brightly-coloured, 'FF' detailed leathers and befitting any socialite's wardrobe. For the men's show this month, the baguette was re-imagined in nylon and leather cross-body iterations, with the classic hand-held style appearing on the catwalk in shearling and faux fur.

www.fendi.com

Fashion
Hermès Fall 2019 Men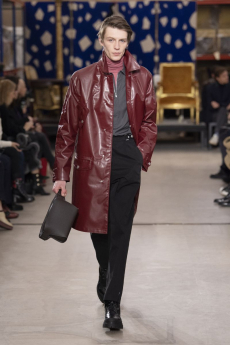 French pioneer of modern architecture Auguste Perret and his spectacular reinforced concrete aesthetic welcomed us at the Hermès show last Saturday, after a difficult day for France with the Yellow Vest protest that fired across the city.

When arriving at the venue, housing the Mobilier National - the French national supplier of furniture to the royal family first and every official building – the guests were thrown into an ecstatic moment of appreciation: the show was set in the storeroom where all the magnificent armchair and sofas from Art Deco to Louis XIV were laid one after the other.

This landscape of emotion created the perfect setting for Véronique Nichanian's collection. As magnificently as the upholstery in the background, Nichanian created a modern and extremely sharp Menswear both in the silhouettes and in the intentions.

It is rare today to see a Fashion house not to be tempted to create pieces draw from the current need for the extreme. Admirably Véronique Nichanian stays true to her aesthetic creating a collection made of refined gestures that doesn't renounce to address a smart and young audience.

Take the beautiful leather carrot pants declined in all colours, from blue to caramel. Combined with knitwear or with leather bomber jackets with geometric contrasting elements. Or the oversized shearling and leather trench in a splendid burgundy tone.

Suits appeared sharp and worn with them with a roll-neck or zip-neck jumper in iridescent colourful hues underneath, giving a smart take on suiting.

It was fun to see a dragon silhouette on bags reminiscent of the Chinese Zodiac

The alluring power of heritage once again flame in this iconic Frech maison

www.hermes.com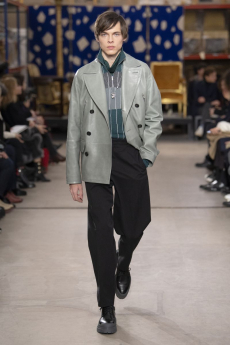 Fashion
Berluti Fall 2019
When Kris Van Assche was appointed new creative director at Berluti, the legendary Italian brand famous for its custom made shoes, there was a lot of excitement and anticipation for the new breeze this visionary designer would be able to bring.

We have been all following him in the developing of his codes along the years: the fascination to the New Wave music, the nod to a new modern tailoring with that sharp body-conscious blazer ushed further for the last collections at Dior Homme inspired by the Bar Suit.

Kris Van Assche knows how to take the elements of a brand's heritage and bring them into his own aesthetic. For his Berluti first show he worked on emotional elements dear to the brand: the white marble table used by Berluti's artisans since 1895 to polish the renowned shoes, photographed and used as print for shirt, coats, sweaters. You can see every mark left by the coloured shoe polish in the years, the craft, the spirit of the time.

The appeal of manipulated leather was used since the fist look: a brown leather suit with a patina finish (a technique known for the famous shoes of the Maison), a beautiful grey double breasted overcoat matched with a relaxed pinstripe suit marbled shirt + tie combo, smart bags.

The vibrancy of the colours found on the iconic Ferrara headquarters' marble table were back in the suits and coats: ruby, brilliant green, blue, ochre, also carefully declined on few female models. The majestic show location of Garnier Opera resulted the perfect set for Van Assche's new modernity, where backstage all his old and new supporters warmly welcomed this new course.

www.berluti.com
Fashion
Paris meets Munich
Parisian Cartier opens a new pop-up Boutique in Münich this week. A traditional Cartier store divided into three different themes, all characterized by classical Parisian charm and designed by famous Parisian interior architect Laura Gonzalez.

First you enter the bar, which gives you the feeling of stepping into a typical bistro in Marais. The luxury velvet, marble and oak details underline the elegant and chic French aesthetics and give you the feeling that you never want to leave.

The second entry is into the salon; an area that breathes the so-called savoir-vivre feeling. The mirror wall in combination with an extraordinary monumental chandelier and dining table are the perfect combination between a typical French romantic Burgundian lifestyle and the Parisian metropolitan spirit. Artistic atmospheres and individual design furniture give this boutique an innovative touch and translate the classical French/Parisian concepts into a new experience.

Lastly you arrive at the boudoir in which two large chaise longues and dark green color scents immediately attract attention. Iconic Cartier images through time adorn the walls in a playful way and take you through the empire of Cartier as a jewellery maison.

The Paris apartment is located on the fourth floor of the current boutique's house at the Maximilianstrasse and will remain open until Fall 2019.

www.cartier.com
Fashion
Pop-Up Store In Berlin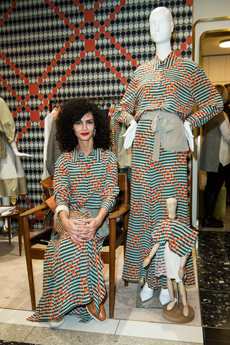 Another Berlin-based label, Nobi Talai, took the opportunity to launch it's pop-up store at KadeWe during Berlin Fashion Week. The store will be open to the public until February 16th. Designer Nobieh Talaei - inspired by the aesthetics of the Danish designer Finn Juhl - found inspiration in his famous designs such as the Circle Rug or the Pelican Chair for her S/S 19 collection that is being sold at the pop-up. As with all her designs she is forging a link between tradition and modernity, creating a collection for the urban explorers of today.

www.nobitalai.com
Fashion
Mr Porter Collaborates with Off-White
In a partnership with Off-White and under the direction of founder Mr Virgil Abloh, Mr Porter premieres an exclusively available 44-piece capsule collection 'Modern Office.' As indicated by the title, the collection revises traditional sportswear dress codes, synthesises them with the game-changing luxury Italian streetwear of Off-White, all the while underpinned by a refreshing exploration of modernity inspired by an upcoming generation of workers and their environments.

Bold and intrepid yet comfortable and minimalist. The skate sub-culture is retained through the individualistic, personalized style items and that sense of independent-minded, carefree disregard subsequently permeates the collection. Flux is revealed through the utilisation of a synergy of wool, felt, heavy canvas and cotton highlighted by muted, tonal colors and graphic visuals.


Mr Porter will debut the collection 'Modern Office' on 21st January 2019 as part of a thrilling collaboration available only at Mr Porter.

www.mrporter.com
Fashion
Walks of Life by Ermenegildo Zegna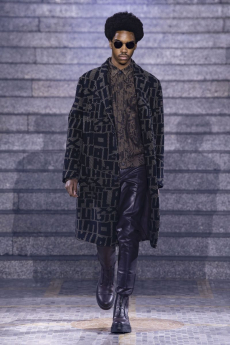 For the Fall/Winter 2019 show of Milan fashion week, the hall of Milano Central turned into a metropolitan catwalk for Ermenegildo Zegna. The brand wanted to make a statement to the many borders throughout the world that are still narrowed. This metropolitan orientated collection expresses the awareness of the pursuit for an open and multicultural world.

Sections are mixed and hybridized: like shirts and jackets merged into functional one-pieces. The silhouette is central, personal, and must be easily wearable but formal. Outerwear is voluminous and expressive, while coats are longer and look more slender and geometric shaped. An interesting mix of patterns and fabrics portray the coalescence with weaves of cashmere, paper, and leather lead to interesting bold visual abstractions. The chosen color palette is characterized by white, Felt, Commissar and Warsaw grays, Beluga black, Notte blue, khaki, Syberian green, lit up by touches of Absinthe and Citrine quartz and amalgamated. These are all made out of exclusive modular solutions with the use of fusion and manipulation. More information can be found under the slogan #UseTheExisting.

All the looks can be completely customized and personalized all over the world with the iconic My Cesare.

www.zegna.us
Fashion
Giorgio Armani x SANG WOO KIM
Artist first, model second, Sang Woo Kim has collaborated with Giorgio Armani on a special digital project — to creatively interpret FW18 from behind the scenes.

Born in Seoul, raised in London, Kim studied in and dropped out of London's finest schools. Fine art is his first love, where his instinct began to drive his inspiration. Sang Woo translates literally to: each other, helping. While discovering his own identity through art Kim's confidence sky-rocketed as his peers began to dress and shoot him for their personal projects — as a result of helping others, he found himself.

Through this collaboration, I wanted to capture and transmit with my photos this shared feeling of romance, masculine sensitivity, and elegance, and in a completely uncontrived way; thus staying true to the vision of Mr. Armani.

With the decadent, stark and supreme Armani/Teatro space as his stage, Kim gently opens the curtain on the wonderful world beyond. Marvelous boots, stunning mitts, and cheekbones galore Kim's contemporary flair fills the pages with a human vulnerability so vivid and honest — successfully curating the theatre of Giorgio Armani with his artistry and vision.

www.armani.com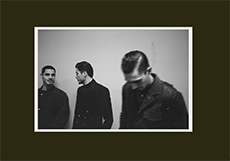 Fashion
Rick Owens Spring Summer 2019
A humongous burning pyre in the shape as a conic towers standing in the middle of miroir de l'eau of Palais de Tokyo. Rick Owens Spring Summer 2019 felt beautifully unsettling. It was inspired by the biblical Babel Tower and the architectural Tallin's tower as mentioned in the show notes. Architectural as the clothes envisioned by the designer with intricate layered structures that at times seemed as out of Russian constructivism illustration.

Draped, twisted, tore. This is Rick Owens in its purest form. The intrinsically constructed cut-out leather dresses and capes together with more fluid signature's pieces carefully composed the images of a procession in name of – as Owens addressed himself – a better world in spite of the dark times. Some of the models carried torches: high priestess, but also soldiers with a menacing armoire and fragile new adepts. It is the ceremony-like ritual that bonds together societies according his words during FW2017 show. Also this season it all felt into place. Owens' dark vision nevertheless felt beautifully auspicious amongst the sea of current uninspiring fashion gestures.

www.rickowens.eu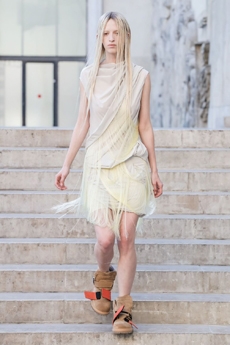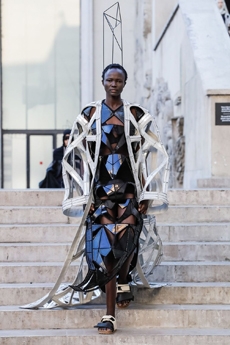 Fashion
Y/Project Spring 2019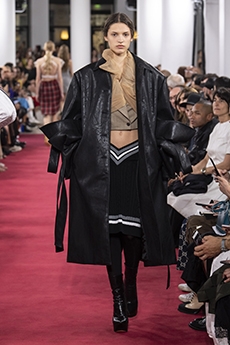 It is rare to see designers who have the guts to challenge their comfort zone as much as Glenn Martens has constantly been doing. For Y/Project Spring 2019 the Belgian designer went one step further.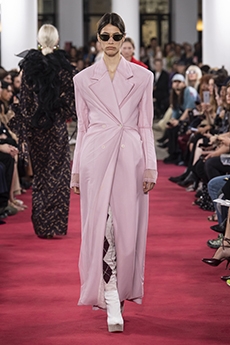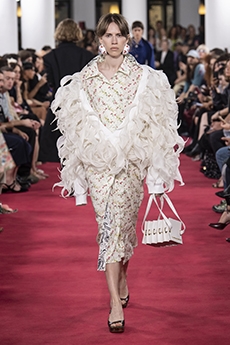 Deconstructed and juxtaposed pieces gave space to new sophisticated silhouettes: the pants merged with long skirts at its back, mimicking the motion of a fluid skirt in a frontal wind blowing motion when the fabric adheres to the legs. The imaginative power of Glenn Martens is superb and definitely this is one of his most ambitious collection showing us a deep knowledge not only in staying true to his poetic but also in cut and costume history.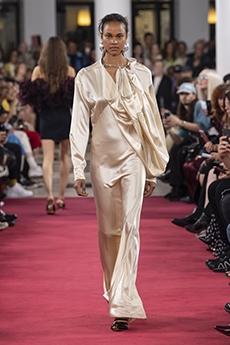 Cable knit skirt with a deep V waist line, oversized sweatshirts with an incorporated bra, tulle overlaying garments like skirts, dresses and coats. But it's in the surprising glamour of the finale that the audience was literally taken into awe: a fluid silk satin dress, a suit with its blazer cut on the shoulder line all adorned with contrasting feathers in tulle reminiscent of a dramatic '30s Marlene Dietrich boa.

www.yproject.fr
Fashion
Highlights from Milan Fashion Week
Jil Sander Spring 2019
Was the outside inside or inside outside? Who knows? What is for sure is that Lucie and Luke Meier made another lasting impression with the Spring 2019 collection for Jil Sander.

Enter centre stage: the former beloved Milanese Panettone factory. Traditional white tiles adorn the now forlorn walls; operational buttons and levers exist as relics of the past. This was a setting that conveyed function, sense and a certain pragmatism that epitomizes Jil Sander.

Chiseled, sharp, asymmetric two-pieces began the carousel. As time transpired the looks grew in their femininity - sharp minimalism developed an asymmetric funk before evolving angelically into loose, airy ensembles. Rich greens and deep milk chocolate brown rose to crisp innocent white and luxurious caramel tones.

A common trend for Spring 2019 will undoubtedly be the ever-trusty pocket, which infiltrated another runway here in Northern Milan.

www.jilsander.com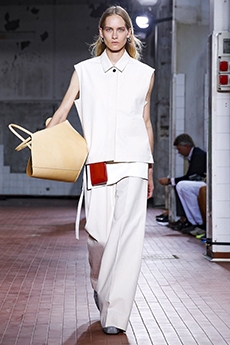 Byblos Spring 2019
The regeneration of Byblos is here. Manuel Facchini made a welcome return to the Fashion week circuit in Milan this week with an incredible collection that twisted space atmosphere into something sporty.

Self-expression community experiment Burning Man influenced the Byblos Spring 2019 collection - the annual gathering in north-west Nevada's, Black Rock Desert dedicates itself to anti-consumerism, communal effort, radical inclusion and leaving no trace.

These influences have birthed a special utilitarian collection that creates a sexy survival atmosphere by translating the colorful Nevada horizons into a playful and ironic space hippie typical of the desert melting pot.

Bonus points for the speculation of an active-wear collaboration.

www.byblos.it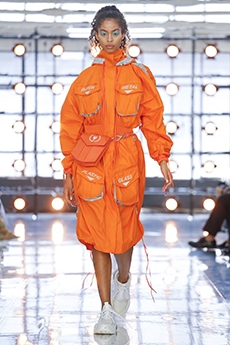 Fashion
Breathing Change: Highlights from NYFW
The Row Spring 2019
Calm, free, fresh, angelic. The Row. In 2019 so much attention is fostered toward creating originality in fashion. So much so that this very idea often breeds stale, unoriginal, regenerated mush. Mary-Kate and Ashley Olsen are the antithesis of this very process. Allowing their serene collection to speak for itself as guests interact solely with their collection directly, quietly and intimately.

www.therow.com
Eckhaus Latta Spring 2019
Eckhaus Latta push new limits. Together Mike and Zoe fuse cool with raw. Spring 2019 combines digital prints, fluttery plaid dresses with dip dyed and tie dyed pastels on gimmick free, real, authentic models that live the brand. Eckhaus Latta is growing up.

www.eckhauslatta.com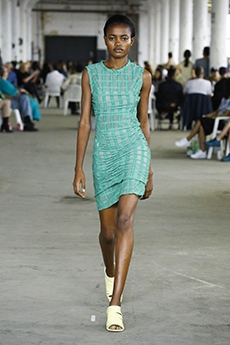 Sies Marjan Spring 2019
Sander Lak's sixth Sies Marjan collection is his most mature to date (at least according to his stepdad). Cargo elements and nautical stripes pay homage to memories of his father with a bold variety of textures that echo Sander's journeyman child hood. The intense emotional occasion reached a crescendo as Sanders' mother took to the runway with a smile.

www.siesmarjan.com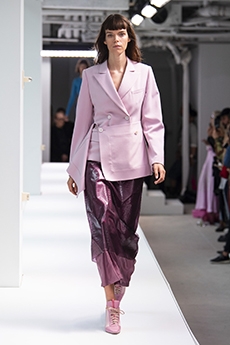 Coach 1941 Spring 2019
Leather goods may be Coach 1941's main bag but that hasn't stopped Stuart Vevers' from using spring 2019 to playfully modernize their practical approach. Iron Dinosaurs, gritty ground, and Disney motifs New York 2018 was not a typical Coach runway show.

www.coach.com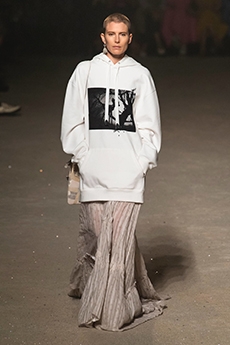 Fashion
Prada opens a new boutique at Via della Spiga, Milan
Italian fashion house Prada is pleased to announce its opening of the new clothing boutique at Via della Spiga in Milan. The new 400 sq m corner store, designed according to Prada's aesthetics, showcases a large, beautiful and fresh interior with large windows, inserted in the stone frame of the building. All display elements are made exclusively for Prada by Osvaldo Borsani and Giò Ponti.

While the first floor is dedicated to leather goods, accessories and footwear collections, the second floor will stock the clothing collections. To celebrate the opening of the Via della Spiga store, from the 10th of September on, the Italian fashion brand will offer the Prada Sidonie bag — from the Prada Resort 2019 collection — in two styles, made of city calf leather in a different range of colors.

www.prada.com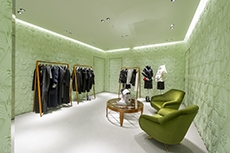 Fashion
Joey Fung and her mother Kam in new Fendi campaign
Joey Yung is one of the most popular singers and actressas in Asia at this moment. She became one of the most best selling Asian female singers of the 21st Century after she released her debut IEP in 1999. Joey Fung won numerous music awards and released almost 40 albums. In 2013 she proudly performed at the Royal Albert hall in London, becoming the first Chinese singer to perform on that stage. Joey Fung was ranked 63rd on the 2014 Forbes China Celebrity 100, making her the most influential Hong Kong-based female singer that year.

She participated in the Hong Kong Peekaboo Project and customized the Peekaboo, which pays homage to her mother Kam Fung. Kam Fung is not a public figure and did not appear on TV shows or TVC, but made an exception for this special Fendi project.

www.fendi.com
Fashion
Back to the 80's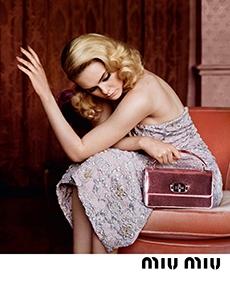 In the new Fall/Winter 2018 Advertising Campaign Italian fashion House Miu Miu presented a series of pictures with British fashion model Adwoa Aboah, Georgia May Jagger, Kesewa Aboah, Ariel Nicholson, Zoe Thaets — all of them shot by British photographer Alasdair McLellan.

The starlets company was joined by Hollywood's renegade spirit Raffey Cassidy, Rowan Blanchard and Elle Fanning. All of them posing in iconic clothes from the season: denim total-look, drape coats, polka dot dresses and shoes with socks.

The reference comes from the 80's and hairstyles of famous singer Cindy Lauper and Bonnie Tyler. In the movie "Steel Magnolia" Dolly Parton explains: 'The higher the hair, the closer to God'. But what if she was wrong? There is something devilish about the exploration of the contemporary beehive. What if bad girls want to wear high hair too?

www.miumiu.com
Fashion
Suitcase with the secret: Off-White&Rimowa Collaboration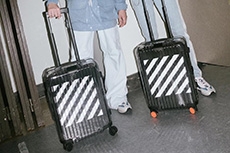 The king of collaboration Virgil Abloh — founder of the Off-White brand and Creative Director of the men's line of French fashion house Louis Vuitton — continues his cooperation with German brand Rimowa.

After the Off-White fashion show for Men's Spring/Summer 2019 at Paris Fashion Week, the two companies officially launched their partnership. Virgil Abloh presented a new transparent case with a ribbed surface, calling it a new level of design. " It's like 3.0 of personalisation.

It's not just putting your initials on it but allowing another layer to come in play.'' — said Virgin. From July 2nd everyone has the opportunity to buy the limited-edition case online and at selected RIMOWA and OFF-WHITE stores in the US and Asia.

www.rimowa.com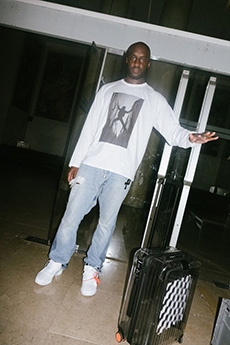 Fashion
Breathing Change: Highlights from PFW
Creativity, newness and powerful vibes of change. This is the fresh air anyone could breath if looking from the Tour Eiffel during the Paris Fashion Week, which has celebrated masculine elegance as well as the debut of several designers at the lead of iconic brands.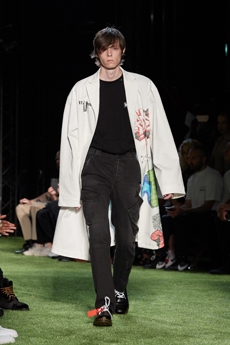 Maintaining a structured and industrial look that runs over wide denim trousers and T-shirts, Virgil Abloh's personal brand Off-White brings flashes of American pop and underground culture. Particularly, the use of graphics ornamentations pays homage to graffiti of iconic artist Dondi as well as The Simpsons prints underline the statement of a subversive yet relaxed contemporary appeal.
New Louis Vuitton's Creative Director makes a great debut, defining a precise and sophisticated new vocabulary for the brand. A bright (off-)white palette spreads into an extended prism of colours, prints and graphics.
From red poppy flowers taking over anoraks to the renovation of zoot-suit monochromatic looks, Virgil Abloh presents a collection that clearly speaks the language of Millennials, without compromising the distinctive notion of masculine elegance.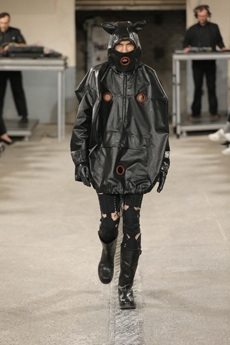 On the other way around, Belgian designer Walter van Beirendonck irradiating collection playfully works on structures and subversive imaginaries. On the one hand sparkling primary colours, graphics and patterns run over oversized sweaters and outerwear staples, underlining the label's eclectic identity. On the other hand, a fetish-like abundance of leather marks the rebellious outlines of blue electric jackets and black pants.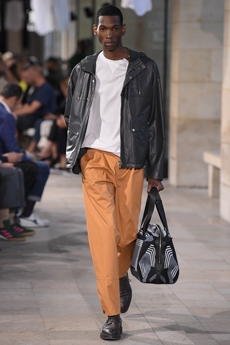 A free dialogue of lines, shapes and drawings introduces to the fluid collection presented by Hermes for Fall 2018. Working on textiles such as cotton poplin or technical calfskin and a colour palette that includes monochromatic staples in pop orange, english green and greyish tones, the proposals define a sober yet self confident masculinity.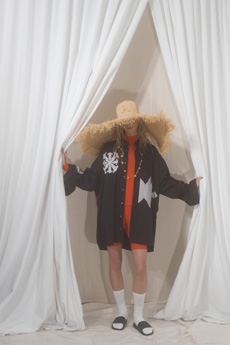 Inspired by Hawaii, travelling and island living, Yoon Ahn's label Ambush creates a collection focusing on natural materials, such as cotton, wool and linen. Moreover, the jewellery range unveils literal pearls of wisdom on earrings, bracelets and rings, keeping in mind the ebb and flow of waves that mirror the motions of life experience.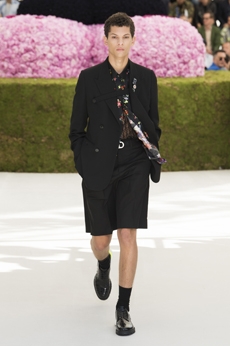 Another promising beginning has been signed by Dior's runway. With Kim Jones interpreting the codes of Monsieur Dior himself, the collection is a dual tribute to fantasy and Dior's creativity. Both urban and soft, finding a balance between floral motifs, embroideries, delicate colours and streetwear structures, Jones spaces between the House iconic past, Dior's personal life and celebrate the birth of a new out-look.
Fashion
Diesel's Red Tag Project by Glenn Martens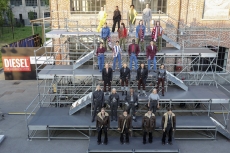 On the 16th June 2018, Diesel presented its second instalment of the Red Tag Project by designer Glenn Martens of the label Y/Project.

This platform aims to host international designers that will create exclusive capsule collections, then distributed by selected retailers. According to Renzo Rosso, founder of Diesel: "Glenn comes from Belgian training, so he has this practical-yet-surreal, Margiela-like sense.

But then he's young and modern, and knows how to appeal to a global, educated consumer, while simultaneously being able to experiment with denim". Showcased on a stairway at Milan's Fabbrica del Vapore, the Red Tag Project collection will be distributed and curated by Tomorrow Ltd.
Fashion
Automotive masterpieces with Idris Elba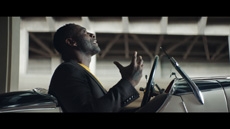 This September, Grand Basel, the show for automotive masterpieces that presents vehicles in combination with art, design and architecture, is starting a global tour. Therefor, actor Idris Elba is looking for answers about what gives cars their soul in a new film he's starring in made for Grand Basel.

The new film features four of the event's exhibitions that reflect the past, present and future. Exceptional automobiles will be presented in extraordinary settings during the contemporary exhibition concept where sophisticated culture, aesthetics and technology engage with international audiences.

The Grand Basel show will be from 6 to 9 September 2018 in Basel, Switzerland. After that the show will be in Miami Beach from 22 to 24 February and Hong Kong 2019.

www.grandbasel.com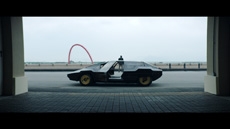 Fashion
Karl Lagerfeld first flagship store opening in New York City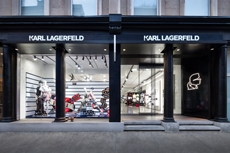 Sited at 420 W. Broadway in New York in the heart of SoHo shopping district, KARL LAGERFELD celebrates the opening of their new flagship store, the first one in the United States.

The open feel of the boutique is best intensified by its 3230 square feet, where the overall interior design takes inspiration from Karl Lagerfeld's private home and studio. Marble finishes, velvet chairs and vintage mirrors create a unique atmosphere, while others elements, such as the red border around the carpet's edges, tell little stories about the wide imagery of the iconic designer.

The New York boutique will include KARL LAGERFELD and KARL LAGERFELD PARIS ready-to-wear collections for both men and women, as well as accessories and footwear.

In addition to that, Karl Ikonik, the playful collection featuring Karl Lagerfeld and Choupette graphics is also presented. Yet besides clothing, the boutique will also introduce a collection of cosmetics, realised in collaboration with Australian Beauty brand ModelCo.

Keeping the eye focused on future initiatives, the house will surprise customers with the launch of the special collection KARL LAGERFELD x Kaia, which will be available from September 2018.

As Paolo Righi, CEO of the brand, declared: "Opening the first KARL LAGERFELD store in the United States is an exciting milestone in our brand's continued growth. […] New York is an international fashion capital with a modern spirit and energy that make it ideal setting for our new flagship."

Innovative, timeless, contemporary. The World of Karl is an open invitation to observe how the future of high-end retail experience looks like.
Fashion
Shine on: Christian Louboutin launches their new sparkling Lip Glosses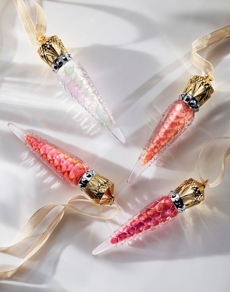 There is no need to say that Christian Louboutin knows exactly what glamorous women want: to shine as stars do.

For this summer and as a gift to fashion lovers, the iconic designer introduces a very sparkling collection of high-shine lip glosses.

Loubimirior is a glassy vinyl presenting a very slick finish. Enriched with Vitamin E and shea butter to improve idratation and reducing fine lines on lips, this glossy lacquer intensifies lips' fullness and natural beauty, as well as it can be layered over any Lip Colour for a bold effect.

With its irresistible color-changing effect, the Loubilaque Lip Gloss is available in four different shades featuring a metallic finish on lips, which is highlighted by irridescent glitters and pigment pearls.

Yet Louboutin takes the gloss formulas to the highest level thanks to an attentive focus on the teardrop applicator's precision and functionality for both the versions, which are additionally enriched with a delicate feminine scent.

As if they were jewels reminiscent of Art Deco movement, the lipstick cases' design represents one-of-a-kind treasure to wear as a pendant. Indeed, the vial is carved with a marmaid tail pattern and enclosed with a turret-like crown, which is in turn threaded with a delicate silk ribbon.

Loubimirior and Lubilaque lip glosses set up the make-up rules for the upcoming season, irradiating summer days with their brightly feminine and super seducing features.
Fashion
Highlights from Paris Fashion Week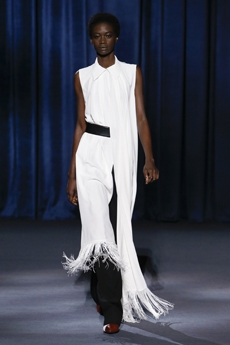 Berlin 80s underground scene is the leading mood for Clare Weight Keller at Givenchy, whose collection takes inspiration from cult movies such as The Hunger and the documentary B Movie: Lost and Sound in West-Berlin, 1979-1989. Several faux furs, leather jackets and psychedelic prints dominate the collection, which unveils asymmetrical cuts and laboured fabrics elaborating an effectively sophisticated youth couture.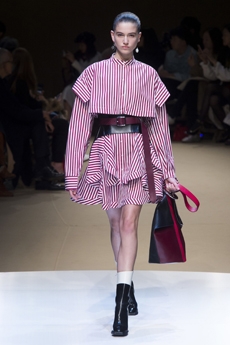 In Alexander McQueen's show, models of various ages tell a new narrative for Sarah Burton. As when caterpillar become butterflies, similarly this collection speaks of a powerful metamorphosis. The designer's tailoring heritage reaches the next level, presenting precious details such as insect and wing decorations on transparent dresses. Structured shoulders and bustiers are in balance with more rounded, almost romantic ruffles, as well as subtle silk fringing on a opulent evening dress enhance the idea of a fluid movement and distinctive femininity.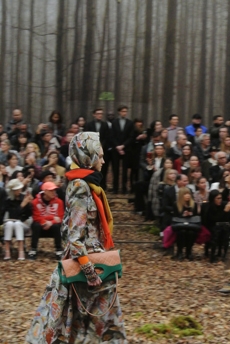 Literally overwhelmed by natural world, Karl Lagerfeld unveils a collection in-between Eighties moods and forest references. On the one hand multicolor or black and white leaves prints, oxidised gold leather details, iconic tweed looks and vintage outlines would suggest a classy yet totally wearable proposal. On the other hand there is an interesting presence of flowing billow-sleeves over ultra lean coats or on elegant evening dresses in lace, which adding romantic feel to the overall collection.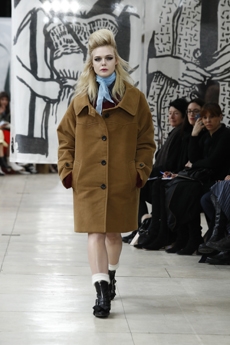 Regardless of the Sixties references of the collection, Miu Miu establish a "kind of alphabetical system, a language for expressing and defining oneself". With Elle Flanning opening and closing the show, Miuccia Prada presents several versions of vintage oversized jackets and coats, mohair sweaters, mini-skirts, tweeds and iconic bobby socks, which recall the girlish brand's youthful signature alternating flaming and playful pastel colors.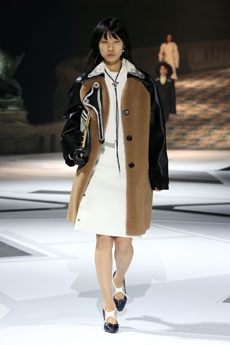 Women and their right are more and more at the centre of social debate. Therefore interpreting femininity is the main theme at Louis Vuitton for Fall 2018. With a collection that somehow renovate classic elements of 19th century military uniforms and turn them into skirt-suits, shearling jackets and peplum tops, Nicolas Ghesquiere's contemporary approach to fashion unveils a very sophisticated notion of elegance.
Fashion
Highlights from Milan Fashion Week
Hogan Galaxy is nothing but an open invitation to take an interstellar journey on another planet. Presented in an (almost) parallel universe, the new luxury sneakers in a iridescent material are characterized by the Maxiplatform H222 motif, while rainbow platforms sign the structure of glossy metallic leathers. In addition to the chunks in purple or green, the H340 and Interactive models are realised with an innovative dipping technique enhancing the psychedelic spirit of the collection.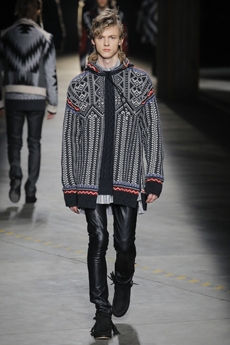 Travelling around the globe allows people to better incorporating a multicultural sense of community. Delving into Renzo Rosso personal archive, the youth memories and relics collected during his travels in the Eighties set the mood for both men and women collections of Diesel Black Gold. Tribal elements and embroideries recalling Mexican and Peruvian culture on sweaters and jackets accentuate a sense of adventure, although keeping minimal the overall aesthetics.
Angela Missoni loads the patterns of her collection with a nostalgic interpretation of the late Seventies. Trough multiple layers, strong color-contrasting patchworks and stripes, the range is is a rich, intense storytelling. From flowing coats, jackets and dresses narrate different cultures spacing between Italian, Jamaican and Scottish as well as they make reference to the historical brand archive to celebrate the 65th anniversary of the Fashion House.
Jil Sander develop a collection that elaborates a human-oriented vision preferring simplicity to hyper technological communication. Authentically minimal, the proposals do not stiffen the body, instead they achieve a state of fluid elegance trough the delicateness of organza and wool that gently wrap the silhouette. White and more pleasantly white, the color palette includes also precious pieces in navy blue, soft grey and black. Some of the coats and skirts are enriched by floral motifs or softened by round curves, while ribbed knits highlight the dominant mood embracing beauty in the most genuine sense.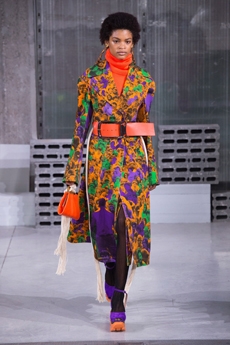 Dresses are tool that can change the body and the environment around us. Trough a thoughtful collection named Techno-Primitivism, Francesco Risso brings the individual and the collective to Marni's ethical considerations. Bright hues in blue and acid green take over belted coats, knitted tunics are presented with large trousers, dresses in a vintage 30's look and eventually a felted coat made of recycled materials highlight the contemporary need for utilitarian and sustainable aesthetics.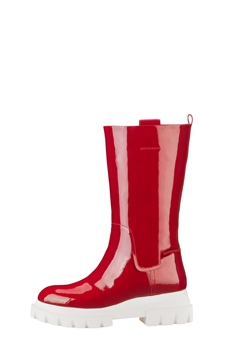 AGL is a brand about women. With a presentation held in via della Spiga, Milan the proposals for Shoewear presented by the three sisters are truly devoted to light. Stand out of the collection, the Daylight are classic lace-up, which are reinterpreted trough the language of the brand and achieve a contemporary look with the decisive use of white over the minimalist shape. Luxurious materials and several colors introduce the Warm Light rain boots, while the extravagant Full Light/No Light speckled over-the-knee stiletto boots with a soft bootleg are dedicated to women with a powerful identity.
Fashion
Highlights from Milan Fashion Week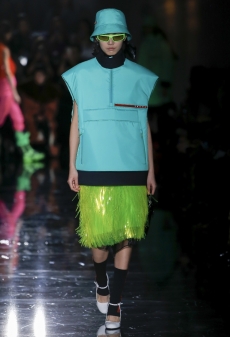 With over 64 fashion shows, Milan Fashion Week is likely the most outstanding event of the year. From the 20th to the 26th February, several brands have unveiled their energetic womenswear proposals for Fall 2018, once again consolidating designers' ability to interrelate the world of fashion with art and topics of sociological relevance.

Radically political, Prada presents a neo-retro-futuristic collection narrating the Milan's night cityscape and focusing on how women feel when walking alone during the night. Set in the newly constructed Tower by OMA, everything is intensified by the darkness of the floor, where models wear layered looks, featuring workwear elements combined with organza, tulle and tweed. Fluorescent digital prints as well as new Prada neon signs illuminate the atmosphere and work as signage over technical materials. With her collection, Miuccia Prada once again use the artistic mean to mark an important statement strongly standing up for women and their freedom.
Alessandro Michele loves reinterpreting past cultures. With his new collection set in a claustrophobic operational room, the designer invites us to be overwhelmed by the complexity of the creative process. With models carrying baby dragons, chameleons and severed heads, Gucci Cyborg is a complex imaginative ensemble of fine materials and vintage quotations. Showcasing knitted balaclava, lurex jackets, feathered sleeves, organza dresses combined with iconic american Paramount Logo or cult movies like "Faster, Pussycat! Kill, Kill!".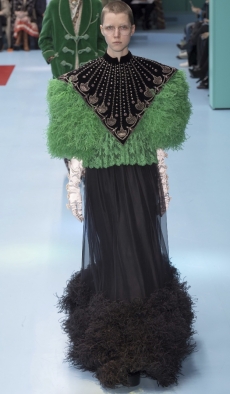 Apparently, truth is out there. An extraterrestrial fantasy leads the mood of Moschino by Jeremy Scott, who gives form to a conspiracy theory according to which Jackie Kennedy was an alien. Therefore, face-painted models with vintage 60's looks in pop neon and pastel tones on skirts, pumps and pillbox hats playfully underlining the bright spirit of the brand.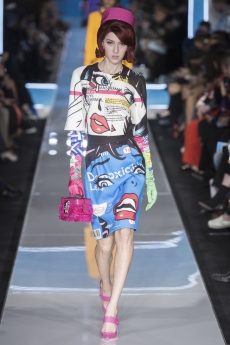 One of the most recognizable aspects of cyber punk aesthetics is the one of imagining hyper technological future landscapes intersecting vintage design features. Skin and earthy tones in brown and pale olive green determine the romantic outlines of shouldered dresses and pleated skirts. With their collection presented in Milan, in a similar way Fendi re-elaborates different elements from the structured looks from the eighties and the vertical silhouettes of the Forties to underline and re-define a conscious and self-confident femininity.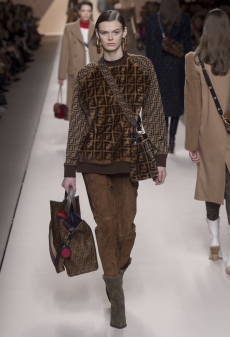 Fashion
Weather beating – The Pacific Jacket by Woolrich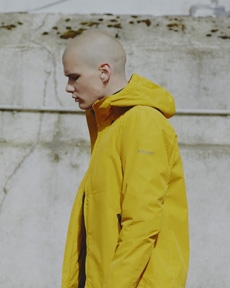 For Woolrich, Spring 2018 is a full immersion in versatility.

The Pacific Jacket has been specifically studied to be the ideal high-perfomancewear for outdoor activities.

Made of breathable and water repellent technical fabrics, the jacket features an adjustable hood, waterproof zippers closing the pockets and ribbed cuffs over long sleeves that exhibit a printed logo on the arm.

Light and protective, this jacket has been conceived thinking of the diverse weather conditions as well as keeping strong the link between function and contemporary design.

www.woolrich.eu
Fashion
Highlights from NYCFW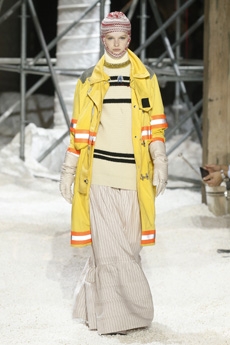 Playing with American culture and inspired by everyday heroes, Raf Simons for Calvin Klein presents a layered collection, sporting long skirts, overcoats, balaclavas, knits. From Sofia Coppola's 2017 The Beguiled to Nasa's aesthetics, Simons' references emboss a rich symbolism on Calvin Klein's minimalistic style, interlacing elements from workwear: cropped jackets, prairie dressed and looks reminiscent of an industrial milieu.
Mentioning baseball without including New York would be an oxymoron. With its 'Sports Tailoring', Hugo Boss celebrates the American's favourite sport and translates it to high tailoring. There is a focus on making extra sizes and volumes for cashmere coats, puffer jackets and raincoats. Baseball graphics along with Hugo Boss initials adorn shirts and jackets, while flashes of neon yellow are added to classic wool pieces in brown and grey, which elaborate a new imagery for American elegance.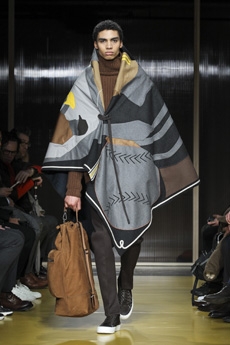 Aligning fashion with art and architecture is likely one of the diktats of Mary-Kate and Ashley Olsen, who presented their collection at their showroom in Manhattan's West Village. For the occasion, the studio has been transformed into an exhibition space where 13 sculptures from artist Isamu Noguchi were displayed to enhance The Row's vision. Monochromatic and earthy-toned, the collection unveiled relaxed knitwear dedicated to non-conformist women of the 20th century.
Bondage-style straps and neon orange iconic bob wigs. The reference to Luc Besson's cult movie The Fifth Element is immediate. Over 20 years since the release, Jeremy Scott pays homage to heroine Leelo (marvellous Milla Jovovic) delivering a bright collection with sharp lines saturated by kaleidoscopic prints and tight moon boots. Make-up by Kabuki and hair-styles by Eugene Souleiman was the perfect backdrop.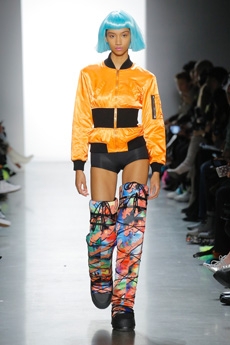 For Zadig & Voltaire, Art Director Cecilia Bonstrom focuses on sensual femininity, with white T-shirts and tight vinyls. The collection features both men and women's looks in oversized soft sweaters in red and creamy hues, as well as leather jackets interpreted in new different cuts. To complete the outfits, relaxed blousons are worn under sculptural trenches, while jackets add a touch of balanced androgyny to the full range.
Fashion
KENZO Fall/Winter 2018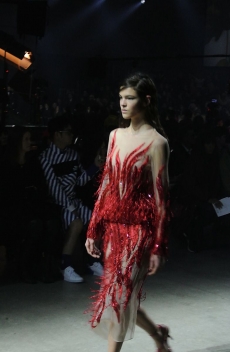 A young woman stands up in front of her best friend's family gathering. That same day he shocked everyone when arriving with dyed blond hair. At the end of the evening she is having a letter in her hands, a handwritten note to herself.

With a soft and emotional voice she reads: "I know I felt like this before, But now I'm feeling it even more, because it came from you. Then I open up and see the person falling here is me, a different way to be. I want more, impossible to ignore. Impossible to ignore"

As the girl ends reading, they both walk under a shower of confetti, a metaphor of the shower of dreams we all somehow experienced in our youth. A girl and a boy. They have been friends forever. They are Carol and Humberto, or better known as Carol Lim and Humberto Leon.

In the past seasons Kenzo's creative directors have been looking at the roots of the brand and his founder Kenzo Takada. See the Spring Summer 2018 with its references to musician Ryuichi Sakamoto and iconic model Sayoko Yamaguchi, both muses of Takada back in the days.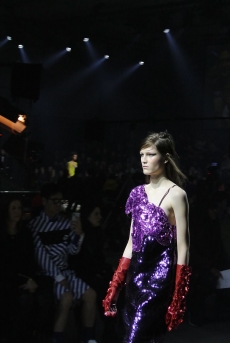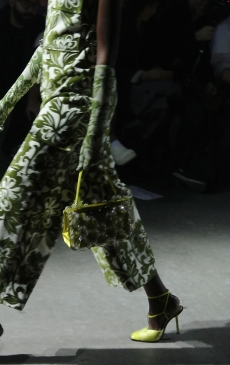 This season, Lim and Leon looked at their own story.

Arriving at the show's venue we found a cinematographic set at the centre of the runway. Seconds before the lights went on too little we all knew that a live-shot movie was about to start, telling a story inspired by that time when Humberto Leon truly bleached his hair at his sister's wedding in '98.

As the real-time shooting was ongoing the lineup of models stormed in.

The 90s subtly permeated through the entire collection. But also that atmosphere we find in the oeuvre of one of the most acclaimed Hong Kong director: Wong Kar Wai. Knitted vests, boxy silhouettes, and a clash of prints with checks and florals. But also high waist pants paired with lengthened bomber jackets: the menswear collection hinted at a myriad of classic references. The use of technical nylon with an iridescent finish together with leopard print faux fur coats delivered still a youthful approach.

For Womens there was a sense of romantic nostalgia, with floral velvet and silk satin cherry blossom dresses, the latter styled with knit twin set. Bustier dresses in heavy denim were matched with t-shirts where accessories reminiscent of a vintage dimension with clasp bags were declined in satin, leather or with crystals beading.

As those final words from actress Ayumi Roux impersonating young Carol were no other than the lyric of Cramberries's Dream, also chosen as closing soundtrack of the show, we join in remembrance of the recent and unexpected passing away of its lead singer Dolores O'Rien.

www.kenzo.com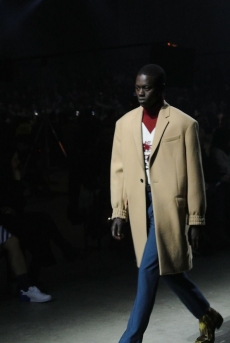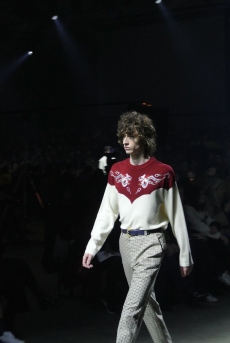 Fashion
Louis Vuitton Menswear Fall/Winter 2018
Just few days before the show it was announced that Kim Jones would present his last collection for Louis Vuitton Menswear.

For many reason it was certainly a surprise. Who more than Kim Jones delivered year after year beautiful collections true to one of the oldest French Maison's identity while bringing it to hype amongst the younger crowd? Last year's Louis Vuitton collaboration with Supreme is only one of the acts in this sense.

After 7 glorious years, first appointed as Menswear artistic director in 2011 by Marc Jacobs -at the time creative director of the brand - he developed a signature style with a travel allure, the latter being the main recurring elements in Louis Vuitton heritage.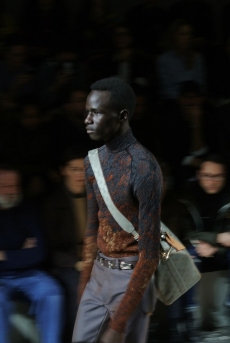 For his last collection at the brand Kim Jones used once again his travels, this time in Kenya, where areal photographs are directly featured on prints. Their colour palette with warm dry tones - recalling natural rocks, lavas, and infinite landscapes - running throughout the collection. It delivered a classic and elegant style while using sportswear elements like leggings worn underneath shorts and zipped blousons.

Gloss materials from fabrics to a spectacular python coat and pants (that on a closer look during a visit at the showroom resulted incredibly butter soft) together with organza overlay on coats and shirts – tracing a fil rouge with previous' season Hawaiian organza t-shirt – epitomise Louis Vuitton's delicate and refined definition of luxury .

Kim Jones picked from many themes: the American rodeo, the Siberian temperatures with an intarsia mink, a safari attire and the world of hiking and climbing with hints of neon yellow and orange.

The show arrived at its peak when iconic top models - and friends of Jones - Naomi and Kate joined the runway, dressed in glazed monogrammed raincoat.

A beautiful finale as ode to a new beginning.

www.louisvuitton.com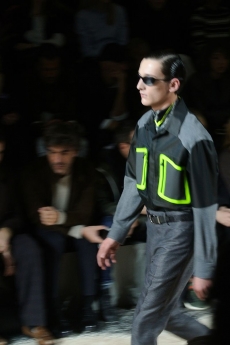 Fashion
Dior Homme Fall/Winter 2018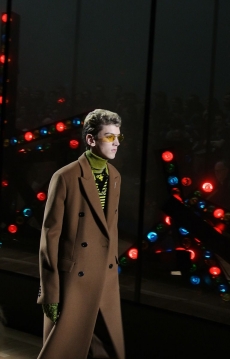 Kris Van Assche has been inspired by music since his young age channelling the New Wave and the 90s into Dior Homme's identity.

The set at the Grand Palais with 3 tall glass cases enclosing an installation of intermitting disco light and fog machines, set a rave mood on the sound of Alphaville's "Forever Young". But it's the first looks which disclosed a broader perspective on Van Assche's Fall Winter 2018 for Dior Homme: variations on suiting.

Sleek and extremely slim, with the blazers narrowing at the waist point.

It was an inspiration drawn from Monsieur Dior himself and his iconic Bar suit. With an horizontal seam on the wasp-waisted cut and the recurring stitched eyelet on blazers,

Van Assche delivered a beautiful perspective on suits with a distinctly modern elegance and cool emphasis.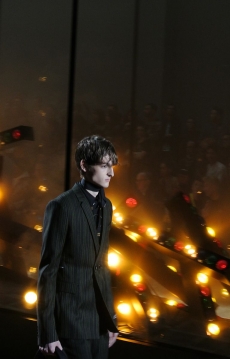 A myriads of subtle but significant details constellate the several looks on the theme: crossed lapels with a buttoned edge, three-buttons or double breasted with diagonal overlapping conferring a geometrical shape, two buttons with the reinterpretation of tribal graphic images part of that 90s culture.

The collection featured also sporty and relaxed looks with puffer jackets, wool coats, high waist denim trousers, simple. The choice to leave all the shoe laces untied conferred a certain naïve feel, a youthful gesture, recalling the unconventional, the unplanned, the head in the air of a young self.

As ultimate gesture echoing the heritage of the house permeating equally the Mens department: enlarged label stitched on blazers' sleeves featuring "Christian Dior Atelier"

www.dior.com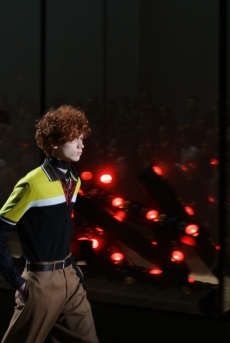 Fashion
lala Berlin X König Souvenir
lala Berlin teams up with König Souvenir for the release of a collection of 10 limited edition pajama sets, featuring digitally printed silk made by artist Corinne Wasmuht.

The collaboration splices the experimental vision of the urban firm with the 2017 König Souvenir project, which aims to give artists the opportunity to transfer their work into other medium. The 3D artistic approach that characterizes Wasmuht's work is therefore communicated by the prints and cut of pajamas, which intensify the multidimensionality of the perceived image.

Presented trough a dance performance by 13-year-old Hip-Hop Dancer Leonie Ozeana, the collection comes alive, creating a transition between reality and dreams, art and fashion. The limited edition collection will be available from the 20th of January at König Gallery.

www.lalaberlin.com
www.souvenir-editions.com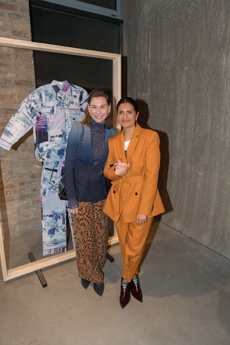 Fashion
Dior Denim by Kris van Assche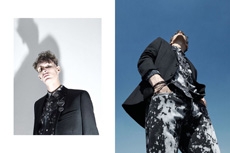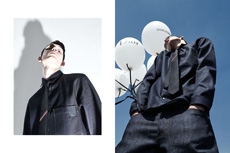 Perfectly in line with Kris Van Assche's minimalistic aesthetic, Dior Denim Spring Summer 2018 collection gives space to the reinterpretation of the men suit.

The Dior's proposal defines the outlines of a urban man, without compromising its timeless and smooth elegance.

Crisp shirts and silk neckties strengthen the Double Denim's concept, which is firmly enhanced by bold graphics and sheepskin collars, as well as precise cuts and a silver-embossed logo tab. Despite the opulent of details, such as the season's club kid slogans or the roses embroideries, the look stays balanced. Parts of the collections are also the straight leg 5-pocket jeans, denim shirts and jackets in an array of pale tones, varying from raw indigo to vintage black.

Moreover, exclusive pieces customised with London, Paris, New York, Los Angeles, Hong Kong, and Tokyo initials will be released with the collection and sold in 6 pop up stores around around the globe.

www.dior.com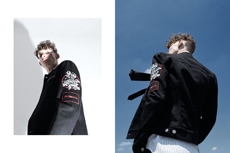 Fashion
Moncler's Florence Boutique Opening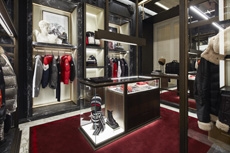 With three windows creating access to Via degli Strozzi and Piazza della Repubblica, Moncler has inaugurated the opening of its new boutique at the very heart of Florence's main shopping area.

The space, which dedicates 160 out of 328 square metres to the sales, stands out for the presence of decorative elements that contribute to highlight a pleasant and sophisticated atmospere. Grigio Carnico marble at the entrance welcomes you to the store, whilst chêne fume wood paneling and a herringbone white Calacatta marble floor creating a balanced contrast with the display areas, whereas metal, glass and mirror details are presented.

Hosting all the Moncler collections including Moncler Grenoble, Gamme Rouge and Gamme Blue lines, the boutique will work as a strategic point for the brand's retail development plan, which confirms its strong presence as a milestone of the Italian fashion market.

www.moncler.com
Fashion
Dior Lady Art Bag #2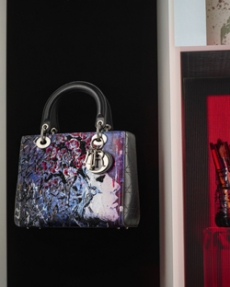 Last year Dior invited a handful of British and American artists to reimagine the classic Lady Dior Bag for a limited edition. As the project was a great success, it is back now, featuring another ten artists from all over the world of different ages and origins.

Giving "carte blanche" to the artists, they could freely transfer their creativity into Dior's leatherworking language. Everything, from the fabric, to the charms, size, color, jewelry, handles and stitching could be adjusted by them.

The artists Friedrich Kunath, Namsa Leuba, Spencer Sweeney and Lee Bul created the new versions of the Lady Dior Art Bag. On Dior's website, one can watch a series of videos highlighting their individual artistic identities and inspirations.

www.dior.com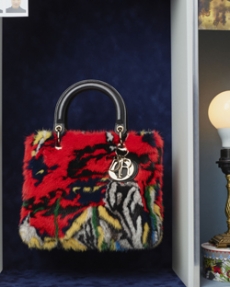 Fashion
Moon Boot x Moncler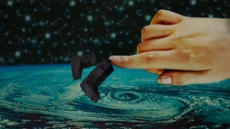 Two brands that are somehow synonymous with winter in fashion, just announced a collaboration with each other. The French outerwear brand Moncler, that connects the extreme demands of nature with those of city life, breathes life into a collection with Moon Boot, the iconic brand for aprés ski shoes. A capsule collection that fuses the stylistic elements of both brands, creating minimal to opulent boot models.

They are playing with colors, but a brillant black, that blends the classical with the traditional, is always prevalent. The collection is featuring boots in complete black, characterised by the typical Moon Boot tone-on-tone graphics, in sand, kaki, with shearling wool or a greige canvas effect. Various typical designs have been revisited concernig content, proportions and height.

The softness and exclusivity of silvery fox fur transforms the pieces in something even more desirable and timeless. With this collaboration a simple winter and sports shoe has become an iconic object and must-have of modern times offering cosy wintertime chic.

www.moncler.com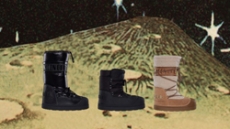 Fashion
Moncler Collaborates With Lifestyle Brand Kith and Asics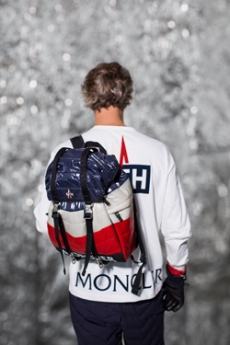 It seems like the luxury outerwear brand Moncler can't stop to make common cause with other great brands. After a collaboration with Junya watanabe, Balenciaga, Katrantzou, Sacai, Ami, Virgil Abloh and Craig Green, the brand now presents two more. For FW17/18 the brand has collaborated with New York-based lifestyle brand Kith.

The main collection includes a range of T-shirts, sweatshirts, graphic outerwear made from iconic lacquered nylon, trousers with thick-weave biker padding jackets and waistcoats of clean geometric lines. This is topped by accessories like gloves, backpacks and balaclavas, and, not to be missed when collaborating with Kith, footwear. The footwear comes in a variety of boots made of nubuk or calf leather with shearling lining.


The color palette represents the colors of the French flag, deployed in linear and geometric form for maximum style and renewed appeal. The collection is a match of names and symbols of both Moncler and Kith.

The second drop of the collection is the collaboration with Asics featuring exclusive sheepskin-lined suede trainers, named KITH x MONCLER x ASICS, blends different manufacturing techniques in unique pieces. Ranging in calf and suede leather, the shoes are available in navy red and off-white colors.

The launch of the main collection will take place on December the 2nd in Moncler and Kith stores as well as online. From December the 8th the second part of the collaboration with Asics will be available.

www.moncler.com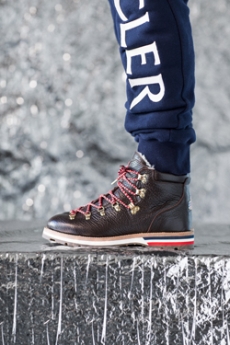 Fashion
Kenzo: To Keep And To Hold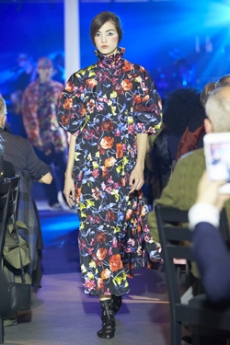 Kenzo Takada's impact on the fashion landscape is one that can still be felt far and wide. The designer's ground-breaking success paved the way for many other foreign designers to venture towards the French capital, often times with nothing more than dreams in their suitcases and insatiable ambition fuelling their drive. Current creative directors Carol Lim and Humberto Leon have always strived to keep that feeling of openness alive since joining the brand in 2011.

By honing in on the boundless energy and creativity that characterised the maison's founding father, the pair's creations honour the house's legacy, including its original spirit and visual language. La Collection Memento No 1 – rooted in pieces that were created during Takada's journey – is a new series that echoes the now-established brand's history, celebrating its rich archives with pieces that are Kenzo through and through. What's more, this isn't a one-off – it is merely the first chapter of a story that is bound to keep us coming back for more. It was Takada's collaboration with image maker Hans Feurer on a ground-breaking advertising campaign that inspired the first instalment of this retrospective. Shot in Lanzarote and featuring modelling icons Sayoko and Iman, the campaign challenged the boundaries of fashion advertising and artistic imagery, ushering in a fresh take for Kenzo's collections.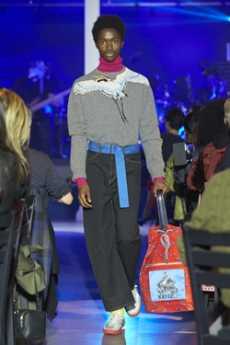 The floral prints of that very collection serve as the foundation for Lim and Leon's modern interpretation, spurring them on to delve even deeper into the archives – a veritable treasure trove of references for any self-respecting fashion enthusiast. Knitwear and dresses from Fall 1981, and a wool beret from ten years before, inspired the tailoring evident in the women's collection. High collars on ruffled smock dresses and floral prints are combined with iconic Kenzo detailing, like lion, elephant and wild animal prints paired with platform sandals and socks. For menswear, warm winter down coats are shown alongside cotton poplin printed pyjamas. Reversible coach jackets with eagle jacquard and varsity jackets walk alongside each other, and denim backpacks from the darkest corners of the archives are transformed with the addition of Kenzo's floral prints from Fall 1983. In advance of the in-store arrival of La Collection Memento No.1, the American duo also announced the launch of their new unisex sneaker, the Kenzo Move. With the versatility of sneakers for everyday life, including their ability to stand their ground for all occasions, the Kenzo Move follows the same trajectory as the collection itself. An archival tiger motif adorns the sneakers whose simple, clean lines are the perfect pairing for the accompanying bright colourways. Bright red and flashy pink, cool mint, blue and black – these will be pounding pavement near you before you know it!

www.kenzo.com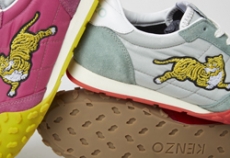 Fashion
"Hermès à tire-d'aile. Le monde de Leïla Menchari" exhibition opens at Grand Palais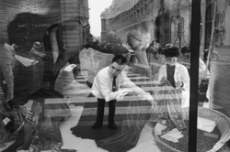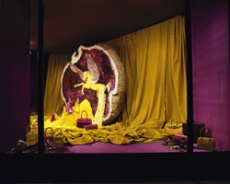 Imagine a Hermès bag completely covered in coral, placed at the centre of a theatric scene, surrounded by a universe in soft pink, pale orange, mother-pearl and a constellation of rose coloured marine flora. It's just one of the enchanting worlds created for Hermès by Leïla Menchari, who for over 55 years has been delivering magical representations of the vision around Hermès, the heritage, the craftsmanship, all in a window. First in '61 as assistant to Annie Beaumel – director of window displays at the Faubourg Saint-Honoré store, and then in '78 when she took over the position together with being appointed director of the silk colours committee for the Maison. Leïla Menchari, a beautiful enchanting woman born in Tunisia, who studied at the Écoles des Beaux-Arts in Paris, captured the imagination of Robert Dumas and his son Jean-Louis. A liaison built on respect and trust. Leila, with her fantasy, with her travels, and exotic vision. Hermès, with its craftsmanship, the know-how and discipline. If a Kelly bag would take generally 15 hours to be crafted, it would turn to 50 hours for the ones produced ad hoc for Leïla Menchari's spectacular window displays.
"The workshops have never said no to me, always "we'll see, Leïla, we'll give it a go." But it wasn't easy to get them to fully understand my madness: you can't explain a dream!" Leila Menchari explains how she was given total freedom both in creation and budget. A so-called carte blanche. For Leïla Menchari a window display is a like a small pièce de théâtre, but without the possibility of dialogues, movements or actors to explains the image. During the opening evening of the exhibition at Grand Palais she explained her vision and nature: "I am touched by grace, by the passion for nature and the "extraordinary" in life. Everything becomes extraordinary. This vision gave me a different way of looking at things, with a high degree of surrealism". When asked if the exhibition was maybe driven by a dose of nostalgia, she gracefully answered: "Nostalgia is fundamental for memory" This is Leïla Menchari, the globetrotter, the dreamer, the collector, and – as nicknamed by her great friend, the French author Michel Tournier – the "reine mage". The exhibition will be held till the 3rd of December 2017.

www.hermes.com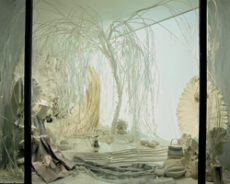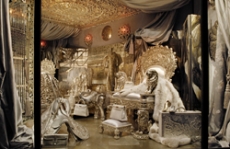 Fashion
The Lady Dior Art Bag
The iconic Lady Dior bag was born in Dior's workshops in 1995 and made famous in 1996 when Princess Diana was showing her admiration for it on a visit to Paris. This instantly recognizable bag carries the house's inimitable style but is also open to interpretation and artistic reinvention. Last year, the maison invited a handful of British and American artists to reimagine the accessory with a limited edition. After the big success of this project on the runway, Dior decided to make it even more diverse and creative by inviting ten artists from around the world, of different ages and backgrounds. The fashion house gave "carte blanche" to the artists to transfer their creativity into Dior's leatherworking language. Everything, from the bag's fabric, to its charms, size, color, jewellry, handles and stitching were all adjusted to the artist's specifications. The outcome is a great collection of exceptional bags, which makes it hard to choose only one Lady Dior Art Bag.

www.dior.com
Fashion
Hermès Women's Ready to Wear Spring/Summer 2018: A Playful Colour Story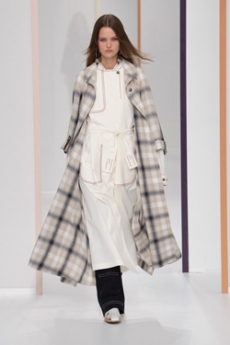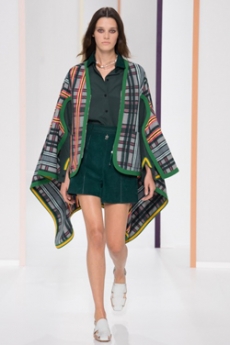 For the Hermès Women's Ready to Wear Collection SS18 Nadège Vanhee-Cybulski was inspired by the classic bourgeoisie codes of the French maison and the 1990s. Playful deconstruction and reconstruction were the leading motives for the designs. Well-known Hermès silk-prints reappear on blouses, pants and coats shaped into feminine and modern silhouettes. An equestrian touch is added by a saddle blanket, reinvented as a cape, and colourful tartan prints. Neutrals and earth tones add a modern feel to the collection. Elegant dresses are wrapped around the models in a special way and indicate femininity. The modern and artful pieces are honoring the savoir-faire of Hermès and the cheerful colours make us wait for the warmer season with anticipation.

www.hermes.com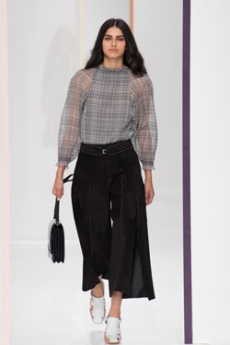 Fashion
Chanel Spring/Summer 2018
This season we all encountered a surprise upon our arrival at the Grand Palais: an humongous waterfall along a three story high rock wall, with tropical plants and a wooden bridge that appeared to be taken out of a 90s adventure blockbuster movie.

This time, Karl Lagerfeld decided not to disclose the theme in the invitation card, adding to the build and usual anticipation that we all feel each season.

Water gently falling from the rocks of Etienne Russo's Villa Eugenie, built in the last two weeks, welcomed the guests entering the venue. The models stormed in the water dramatically increasing its course, stridently taking over the scene.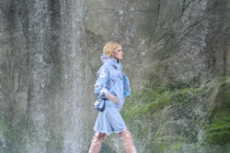 Drops of water dancing in the space played with the shining textures and transparencies of this season's offering. The collection was particularly fresh and fluid with PVC raincoats, hats, capes, and boots intrinsically matched and layered over fringed tweed often embellished with lurex threads.
Karl Lagerfeld delivered an extraordinarily varied collection where cropped tops, oversized jackets, miniskirts, over-the-knees boots and half gloves created a vortex of colours and textures. There were long floating dresses in printed chiffon in several shades of blue mimicking the water's fluid course, striped denim skirts with PVC fringed underskirts, culottes pants made of patent leather shorts elongated in tweed. Just like in every Chanel show, the atmosphere was mesmerizing but this season the sun shining inside the Grand Palais over the water felt like a fairytale, one to be remembered.

www.chanel.com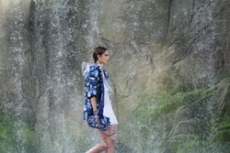 Fashion
Desert Winds: Dior Cruise Collection 2018
Artistic director Maria Grazia Chiuri never fails in making her collections a feminist statement. For Dior's cruise collection 2018 she took inspiration from the desert and the unique work of the American artist Georgia O'Keefe. Chiuri describes her as a modern shaman, who painted the sands of New Mexico with such a majestic and solemn look. Her paintings are illustrating the search for the inner self and diffuse a soft but strong feminine identity, which is strongly connected to nature. Maria Grazia Chiuri came across O'Keefe on her quest for inspiration, when she became interested in the desert. For the collection's campaign, the actress and muse Jennifer Lawrence was phtographed by Brigitte Lacombe, an ongoing collaborator of the house. The series of images was created in a setting of organic outlines and a gentle atmosphere. A laid-back wanderlust mood and modern western spirit is transported through the photographs, which are embodieing the singular femininity of the Dior cruise collection 2018.

www.dior.com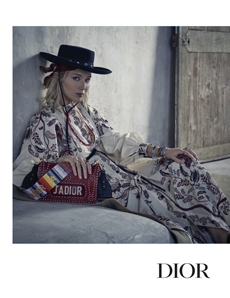 Fashion
Lacoste Spring/Summer 2018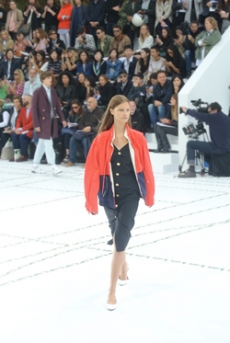 Lacoste celebrates its 85th anniversary with a collection full of humour and new declinations of their iconic polo shirt. Creative director Felipe Oliveira Baptista draws inspiration from classic French cinema from the mid 90s with two particular titles : the controversial Kassovits's "La Haine" and Eric Rohmer's "Conte d'été" exploring their portrayals of youth and the clashing realities between these two very different movies. 

Oliveira Baptista questions the themes of formal and informal, of classic and sportswear in a play between contradiction elements and codes. If for women the polo shirt becomes an off the shoulder mini dress that wraps around the body, for men it appears oversized worn over denim.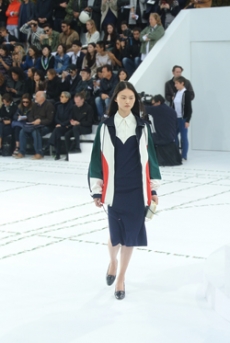 The 90s reappear in the windbreakers, pea jackets and tracksuits reminiscent of the youth of that time, now released in high-tech versions. This is a collection where the beauty is in the cuts and its new sensuality and where the sportswear pieces made from openwork mesh nylon create a new sensuality. A celebration of the heritage of the brand, the iconic colours red 240, navy 166, white 001 and green 132 reissued together with pastels of the 80s, with the crocodile logo inhabiting the buttons of a piped cardigan or "climbing" over the shoulders of a dress.

A playful approach full of Lacoste's history and its contemporary innovation.

www.lacoste.com
Fashion
Philipp Plein Spring/Summer 2018
The Philipp Plein show, held at the Hammerstein Ballroom, was one of the hottest tickets of New York Fashion Week. Crowds lined up around the corner on 34th street hoping for a spot to witness the VMAs-worthy spectacle.

The tone of the show was Alice in Wonderland goes BDSM goes streetwear - coincidentally, a mix of most of the trends we've seen in recent years. The over-sexualized collection, complete with leather garters, dark lipstick, whip-like hair, and forgotten pants, caters perfectly to millennial listeners of Fifth Harmony and present-day MTV: truly an Instagram-worthy show.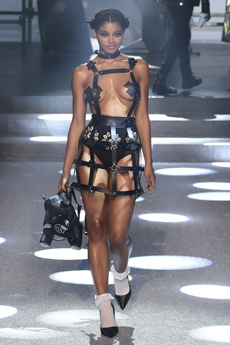 Despite lacking in the subtlety department, the show didn't disappoint on an entertainment level. Most likely costing in the seven figures, Philipp Plein brought dazzling star power: Nicki Minaj sat front row, Future provided the raw soundtrack, Teyana Taylor's swagger lit up the runway... Anywhere else, this would have felt dramatically out of place. But in New York, where one can see a Yeezy show before rushing off to Carolina Herrera, perhaps anything goes.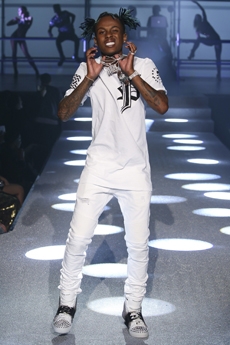 Fashion
Camper's Techno Odyssey
Camper's latest campaign is spearheaded by Romain Kremer, who has created a techno odyssey made up of surreal set pieces and vivid imagery. Six new alien-like personalities bring to life the A/W 2017 campaign, enlarging the Camper universe and telling a new part of its story: dreamlike characters are pictures with avant-garde designs, infused with the drama of over-saturated monochrome tones and colour-blocked, graphic shapes. Photographer Daniel Sannwald and makeup artist Isamaya Ffrench are the ones responsible for creating the high-impact, memorable images which were shot in London.


Avatars Thelma and Serena lead the march for women, Rex and Brutus for men, and unisex favourites Dub and Drift for the androgynous crowd. Viewers can step into Camper alluring new world on many different platforms, all around the globe: in-store, in print, on digital platforms, and their website.

www.camper.com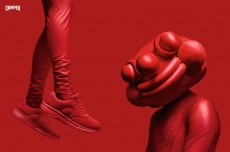 Fashion
UGG x Jeremy Scott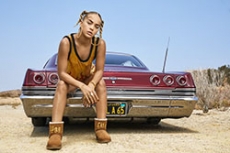 Jeremy Scott has made a name for himself thanks to his fun-filled approach to fashion, which shuns minimalism and opts instead for boisterous, eye-catching and attention-grabbing designs. You may love them or you may hate them but one thing is for sure: they are excellent conversation starters and some may even be your guilty pleasures.

This September, the outspoken American designer and creative director of Moschino partners up with Californian brand UGG®, putting his own spin on iconic styles. Inspired by and paying homage to cool Californian spirit and vibrant Los Angeles pop culture throughout the ages, the capsule collection is comprised of eight silhouettes featuring bold flame designs, jewelled hardware and Swarovski® crystals on the sheepskin footwear that is now recognised the world over. The limited edition collection includes UGG® footwear for men, women, kids and babies.

And if the designs themselves didn't turn heads enough, the collab's ad campaign is sure to do so: musician Lil Yachty and model Jasmine Sanders star in the campaign shot by Marcus Mam outside Los Angeles and are seen rocking not only Scott's designs for the footwear brand but also custom pieces created exclusively to complement featured styles.

www.ugg.com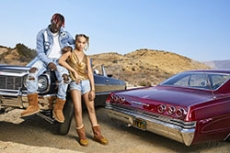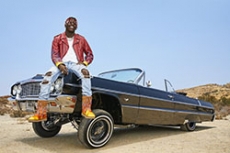 Fashion
Loewe Spring/Summer 2018 Menswear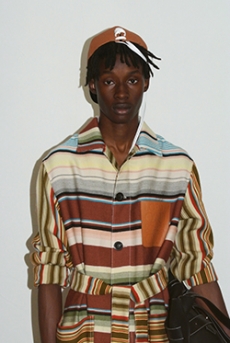 A sea of Mimosa flowers. This tiny yellow common Mediterranean flower welcomed us in the HQ of Loewe in Paris.

Stripes – multicoloured or bitonal – fresh cotton, canvas with the signature's leather details. Loewe Menswear Spring Summer 2018 it has all that summery allure of Spanish Riviera.
Sometimes you would see "Loewe Beach Club" or "Summer Love Loewe" on tees, maxi totes with nautical references in cord or raffia.

Jonathan Anderson choose Salvador Dalì's hose in Catalonia as place for the seasonal lookbook shooting, the surrealist and playful atmosphere.
It's a fresh and youthful collection with a relaxed feeling compared to the previous season but keeping Anderson's signature: the little objets trouvé as key chain and charms, tapestry details, the anchor motif and spectacular details.

As Loewe Menswear collection is evolving season after season finding its audience, its market and vision, we keep seeing that exquisite naiveté and a nostalgic sense of memoire retrieving that Anderson has been working on for a while now.

www.loewe.com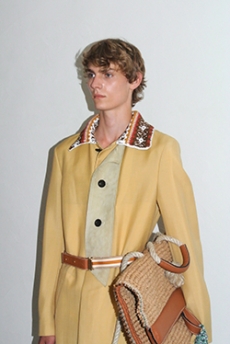 Fashion
Sacai Spring/Summer Menswear & Women's Pre-Spring 2018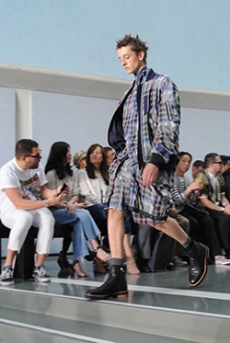 Chitose Abe's new collection for Sacai is a tribute to the duality of genders, the investigation in terms of Men/Women clothing. This season the show was featuring men's Spring Summer together with Pre-Spring Womenswear.

As the models walked in squads, there was a strong sense of group, of subtle genderless interpretations.
Like the beautiful Menswear checked looks entering the spectacular venue of Cité de la Musique together with their female counterparts. Oversized sporty for him, layered - at a time short - dress for her.
Abe's playing with different elements between the formal and the sporty, the sculptural and the sleek almost in an ode to freedom at its core.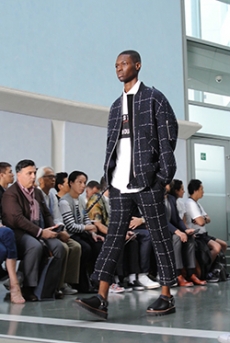 There was a lot of that deconstructed and cut-ups from Abe's DNA. But also a new streetwear simplicity declined for both sexes. Oversized, sculptural jackets with fringes hinting to Western Americana with sculptural bell sleeves for her or a sporty silhouette for him. The beautiful declinations of checked looks, a signature pattern for Sacai's vision, were the most outstanding in terms of layering and transparencies play. The collaboration with pioneer conceptual artist Lawrence Weiner and his typographic artwork was another take in terms of that freedom of expression Chitose Abe reaffirmed looks after look.

"STATIS AS ON VECTOR ALL IN DUE COURSE", featured almost as graphical pattern on full looks in black over white and vice versa felt minimal but once again provocative.

www.sacai.jp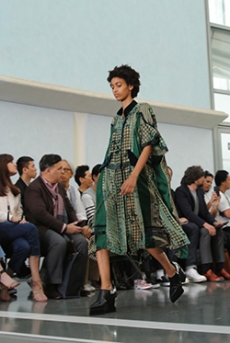 Fashion
Dries Van Noten Spring/Summer 2018 Menswear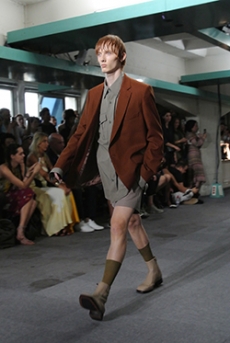 The fluidity of a soft blazer, a silk kimono wrapped over relaxed pants and a shirt. A confident look without being loud. A soft toned collection, with a hint to workwear and a beautiful relaxed tailoring.

This is Dries Van Noten at his core, the Dries Van Noten who voices the darkness of life and doesn't feel the urgency to talk always in bright coloured notes. The Dries van Noten from the early years.

It is always extremely overwhelming to experience a show of this celebrated master. The integrity and the strength of his poetic vision. For this season the show was held in the historical offices of the iconic left wing French newspaper Liberation.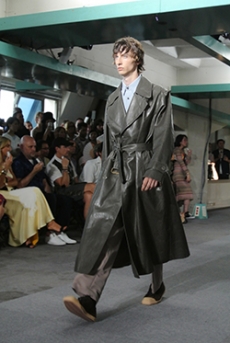 As we climbed up to the venue at the top floors of the 8-storey building from its parking ramps, we were gradually feeling this atmosphere, the weight of history, of knowledge and of thoughts.

Mustard, khaki, or zabaione as the show notes pointed out, the colour palette led to an elegant but youthful menswear collection true to the brand's signature.  

Shorts with linen boxy shirts, oversized and slouchy sky blue blazer paired with a shirt in cerulean shade and classic pants, belted trench coats.

It's that relaxed attitude in Menswear that several designers have been embarking on lately, that cool oversized look that Dries van Noten has created 25 years ago.

www.driesvannoten.com
Fashion
Wood Wood Spring/Summer 2018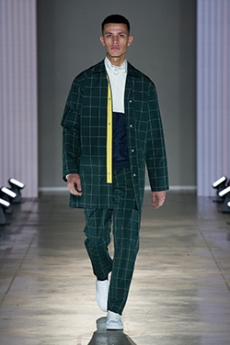 Wood Wood takes a trip to the Italian province of Campania for its Spring Summer 2018 collection. The Italian coastlines have provided many a designer with tons of inspiration in the past and continue to do so regularly: steep mountains rise from the Tyrrhenian Sea and rugged sceneries intermingle with country landscapes giving birth to this season's colour palette.

While journeying through the picturesque island of Capri the designers were greeted by the incomparable carefree and comfortable way of local life. It wasn't long before they were infatuated; could it have been the food, the wine or the late night dinners? It could have well been all of the above, elements that compose that general feeling of Mondanità that we so lack nowadays.
Vintage signs and powerful quotes from noted Italians such as Federico Fellini and Ettore Sottsass, manifest themselves in the print stories and graphics of the Spring Sumer 2018 collection that harken back to Anthony Minghella's "The Talented Mr. Ripley".

For Wood Wood's Mondano collection, Italian stlye and bright colours intermingle, creating a fresh and optimistic offering that stays loyal to the brand's attitude. Streetwear is mixed with contemporary detailing and performance styling. Formal suiting is blended with contemporary sports and streetwear codes in a bright and optimistic colour palette dominated by bright reds, yellos, deep green, orange and grounded by the addition of beige and brown.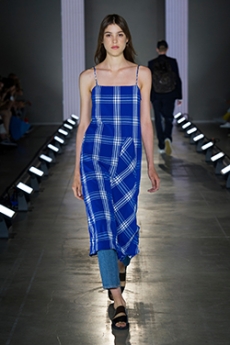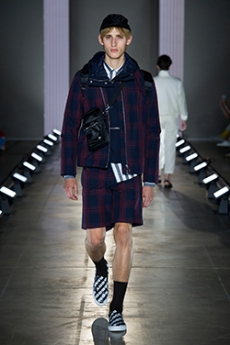 Fashion
Paul Smith Spring/Summer 2018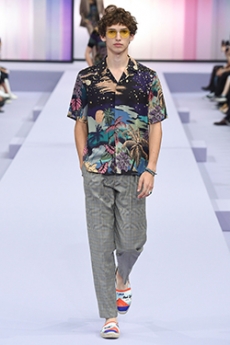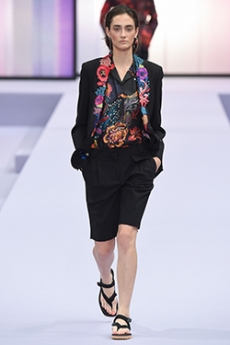 An air of positivity and optimism breezes through Paul Smith's bright Spring/Summer 2018 collection for men and women. Inspired by Paul's early visits to 70's New York where he would source Hawaiian shirts from SoHo and his signature floral prints that these inspired later, this was a collection that professed its love to summertime.

Floral and aquatic motifs formed the core of the adornments for this season seen embroidered on tuxedo lapels or hand-painted on leather and appliqued onto tote bags. Technical outerwear developed with performance-wear in mind also play host to the marine print bringing modernity and functionality to the fore. Elsewhere a midnight beach scene on landscape jacquard appear on a bomber jacket for men and is reinterpreted in a blazer for women.

Patch-worked floral print dresses play with louche summer shirt collar shapes and Japanese carp dive across silk georgette slips. Patterned lining take on new life on a brushed cotton two-piece suit for women where tropical flowers are revere printed, giving the impression of sun-bleached fabric.

The tailored shapes for men and women are a nod to Paul Smith archive pieces from the 80's given new life in a colour palette that spans from the soft pastel hues of cornflower blue and dusty pinks and takes us all the way to midnight tones and French navy, culminating in a crescendo of striking yellows and hot turquoise.

www.paulsmith.com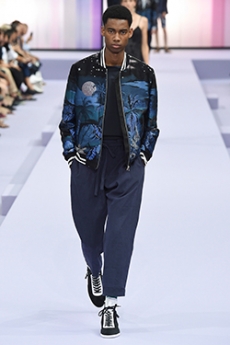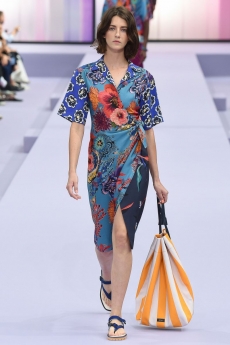 Fashion
Marni Spring/Summer 2018 Menswear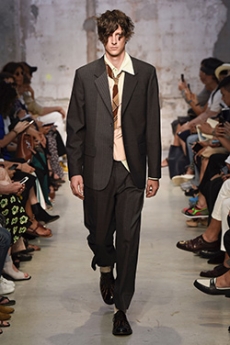 "Lost and Found" – the tile of Marni's Spring Summer 2018 collection that leaves so much to be imagined and so much more to be discovered. Convoluted as the meaning of that phrase may be, for Marni it acted as the catalyst for a collection that preaches the enjoyment of life through self-discovery.

In his second collection as creative director for Marni, Francesco Risso offered a collection of wearable clothes with a non-conformist touch. An air of randomness characterises the collection of roomy trousers and shirts that appear to have been de- and then re-constructed, sometimes held together with the fabric swatches for a DIY allure.

Sailboat prints and Hawaiian motifs make an appearance alongside garments of a more bookish, almost nerdy, nature that stay true to the brand's retro tones. As Risso himself put it, this season's pieces 'surf the typography of a city'. This is office wear on holiday, where a tie on the beach is just as relevant as sailboats on a suit and Jamaican accents paired with a dash of the 20s. Knits appear shrunken and unfinished with their misaligned stripes.

Rules appear to have been thrown out the window here as the Marni man dresses himself freely, as if he were a collector of moments who may intentionally leave items behind only to retrieve them later. Perhaps even finding himself along the way.

www.marni.com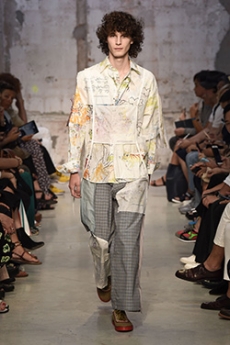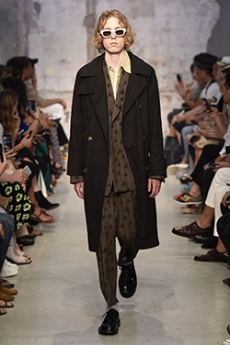 Fashion
Ermenegildo Zegna Couture Summer 2018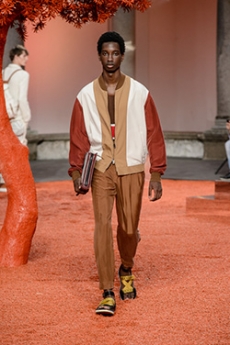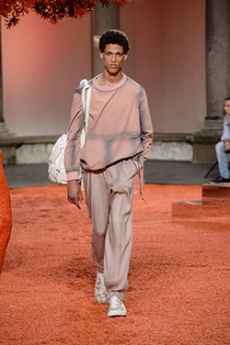 For his debut Summer collection, Artistic Director Alessandro Sartori embarks upon an exploration of fantasies both conscious and sub-conscious while clashing innocence and sensual masculinity. In a futuristic garden outfitted with tangerine lawns in the historic courtyards of Milan's Universita Statale, outdoor life crossed paths with the indoors for a collection permeated with fluid fabrics and delicate silhouettes uplifted by colors.

Sartori's interplay of proportions sees classic shirts replaced by deconstructed tops in various volumes, double tank tops and scoop neck sweaters that play with active yet tailored trousers and joggers. The sporty allure of the collection is further enriched by oversized handmade pockets, hoods and the iconic Triple Stitch logos.

The collection appears almost weightless with the inclusion of fluid washed silks, Century Cashmere and pure mohair while giro inglese and mesh jacquards along with perforated and intarsia leather give hints of an ethereal substance.

Delicate and naturally-inclined the color palette features shades of walnut, deep cypress green and bleached aqua and optical white is afforded some much-welcomed color flashes.

This season's offering remains quintessentially Zegna but looks to the future nonetheless. It's a fresh take on the fashionable man's wardrobe that allows for personality and individual style to seep through while remaining routed in Ermenegildo Zegna's timeless allure.


www.zegna.com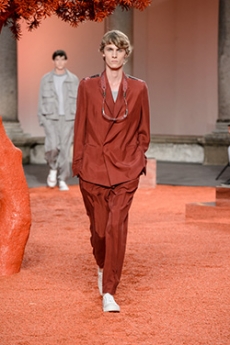 Fashion
COS RE-OPENS ITS KURFÜRSTENDAMM STORE
COS is going back to where it all started by re-opening its Kurfürstendamm store in Berlin. Back in 2007, the Kurfürstendamm store was the first COS store to open on the German market and has since then evolved into eighteen stores.

This time, the Kurfürstendamm store is set over two stories and 625sqm, offering the full collection across COS womenswear, menswear and children's wear. COS wanted to create a dynamic yet timeless space and has therefore preserved the building's original architectural features while mixing it up with modern updates. The stores interior goes in line with the brand aesthetic by combining functionality and design, creating a contrast interior of blonde wood against concrete and marble.

www.cosstores.com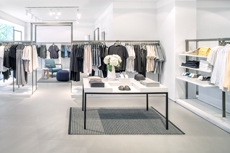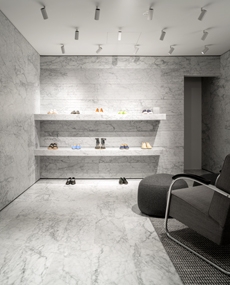 Fashion
Ermenegildo Zegna launches Bespoke Atelier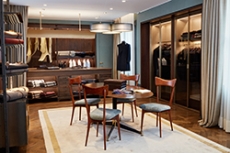 March 15th 2017, marks a pivotal stage for Ermenegildo Zegna, as it announces the opening of the first Bespoke Atelier. The space is dedicated to the label's bespoke service and is locate at the top floor of the Zegna building in Milan's renowned via Montenapoleone.

The stand-alone project revolves around the idea of intimate elegance with a distinctly Milanese feel and treats its bespoke services with a precise ritual. The experience begins right at the entrance where clients are welcomed by a valet and ushered in the Atelier which is conceived to comply with aesthetics and functionality of traditional tailoring ateliers: an apartment cum workshop with the public and working areas connected yet separable.

The large space is furnished with both vintage and new pieces as well as pieces that hark back to Zegna's very own history. Warmth and charm intermingle with a domestic feel making this a truly unique tailoring experience that strengthens the dialogue between the Milanese brand and its customer base of men of discerning taste who aim to have their wardrobe made according tot heir own desires, demands and lifestyles.

www.zegna.com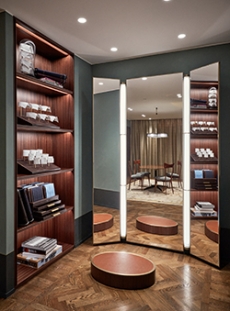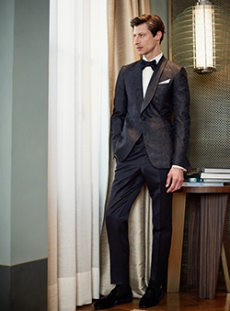 Fashion
Alexander McQueen Fall/Winter 2017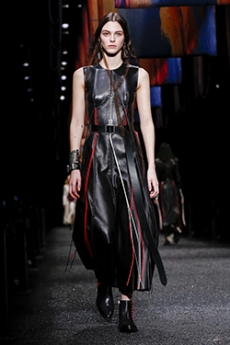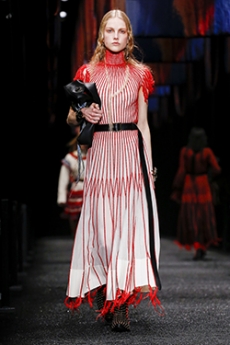 Describing Alexander McQueen Fall Winter 2017 as romantic and ethereal would certainly be an understatement.

Inspired by the fascinating tales of Celtic traditions like the Cloutie wells and the medieval tales of King Arthur, the collection recalls the beauty of the shores in Cornwall, its magic ancient rituals and enchanting stories.

Knit and washed leather dresses are pierced with trailing of coloured lacing in silk, resembling the tradition of fastening a strip of cloth on a tree as votive offering, the wishing tree.

This long and feminine silhouettes underlining the female body recall the English mediaeval soft dressing as found in 16th and 17th century art depicting the beautiful tragic stories of Lady of Shallot and Queen Guinevere.

Sarah Burton gives us a full vocabulary of spectacular fabrics, embroideries, finishes, enabling us to dream about the rich landscape of myths and cultures of Cornwall. It's as we could see the wind blowing on its coast, the ribbons and the hypnotic vision of million of threads floating in name of life.

A tweed interlaced with bright coloured twisted yarns and chiffon stripes of fuchsia, crimson and green. The medieval-inspired needlework cross-stitching embroidered on the fluent dresses and finished with silk trailing threads, floating around as the body moves: wildlife, witches rituals, letters, and even the date of birth of Lee McQueen.

It is a touching collection, youthful and powerful. The last sequence of evening dresses in silk tulles with an overwhelming embroidery work, glass beads, stones, fringes, loose thread and the house favourite feathers, give the final emotional blow for this magic collection

www.alexandermcqueen.com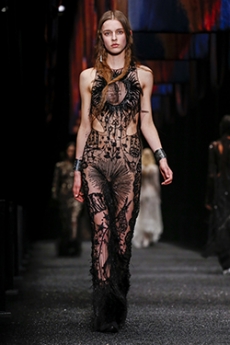 Fashion
Mugler Fall/Winter 2017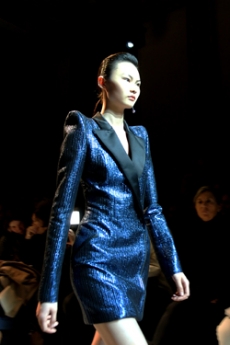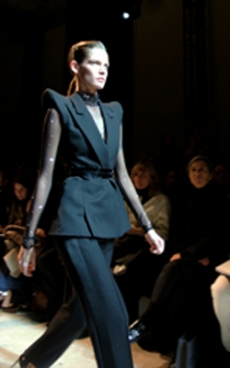 Natasha Poli storming the catwalk in a blue patent leather blazer with arched shoulders and slim pantsuit. The atmosphere was fierce and as the models powerfully marched in one after the other, the message that creative director David Koma surely had in mind was clear: effortless and daring, Mugler's woman will not be unnoticed.

Don't be mistaken: this is a powerful and confident woman who will embrace her body, in all the declinations, with no fear.

David Koma created a collection constellated mainly with evening looks. Vertiginous minidresses with cut-out star details at the bottom hemline or embroidered on the bodice, hourglass silhouettes with pleated lamé in acid green and electric blue, a long white gown with pleated contrast silver lamé. But also power suits with sharp sculptural shoulders in contrasting colours, pants-blazer combo in white, silver, black.

The last look, a dress deconstructing the idea of a smoking suit into an evening gown, said it all: Koma is in search of reinventing the house codes, keeping the identity of this iconic brand strong.

www.mugler.com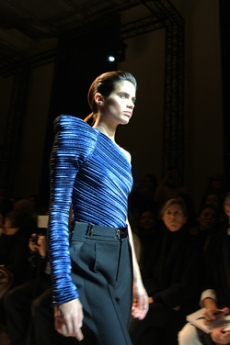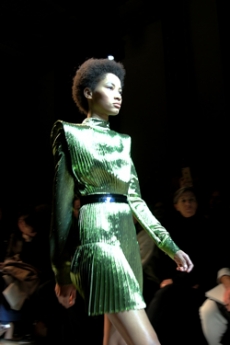 Fashion
UNDERCOVER Fall/Winter 2017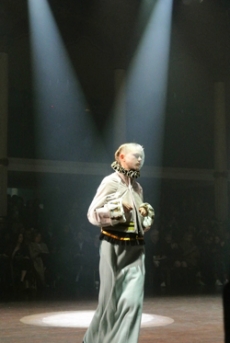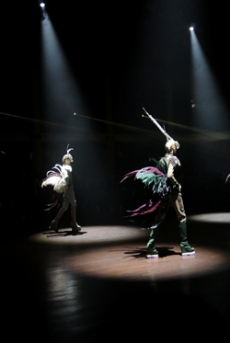 The Faun, the nomads, the young rebels. But also the aristocracy and new gracious creatures. Jun Takahashi's imaginary world for Undercover Fall Winter 2017 had the feeling of a long distant fairy tale fostering castles and princesses with gargantuan costumes and an ethereal atmosphere.

Like voices from afar, whispering a secret message, the sound of wind chimes as hung to push the spirits away, turning at the very end in a mesmerizing voice, singing on an incredible piano melody. Radiohead Thom Yorke's fantasy, created ad oc for the show, was the perfect stage for Takahashi's Utopia.

It was not just a spectacle. It was a beautiful collection where the clothes stood strong, masterly styled, layered and carefully balanced. Knitwear in long dresses, tunics and sculptural coats as out from Coppola's brash "Marie Antoinette". Fur trimmed puffa jackets and long velvet skirts. Sweatshirts with metal studs, embroidered with unicorns and insects. A beautiful crimson red, moss green, shades of cerulean blue and a bold yellow, painted this beautiful story. A story of humanity itself. The platform shoes and boots, reminiscent of the faun's goat legs pushed this narrative image even further, in an enchanting atmosphere.

The Undercover show was a breeze of fresh air during a fashion week heavily politicised.

www.undercoverism.com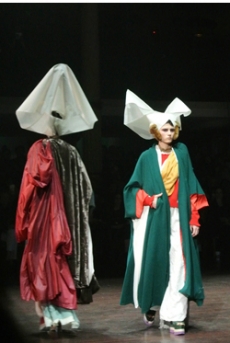 Fashion
Louis Vuitton Fall/Winter 2017: Forging Frontiers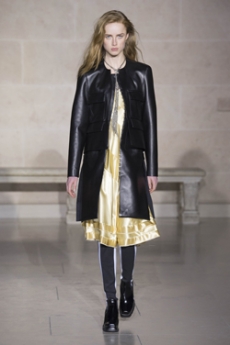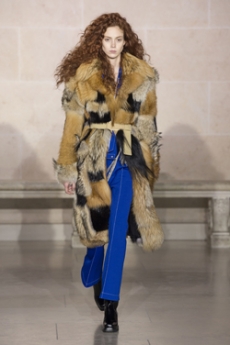 Nicolas Ghesquière had one goal in mind for his Fall/Winter 2017 collection as head of Louis Vuitton – pushing boundaries like the legendary French fashion house has been doing since its 1854 beginnings. Frontiers are meant to be broken down and Louis Vuitton has been at the forefront of innovation, know-how, design and travel, all elements that set it apart from its counterparts are continue to characterise its offerings every season.

Ghesquière wanted to re-create that very sense of boundarylessness that doubled as more of a directional seasonal messages rather that an array of options for city living. This was an evocation of the nomadic, where the city blends with distant landscapes, the masculine blurs with the feminine and Louis Vuitton heritage meets a thirst for the future. A new play of stylistic lines emerges: great American sportswear classics and Slavic accents, inspirations from fashions of the past translated into the world of today, urban classics fused with the magnetic pull of folklore.

This may come as no surprise but beautifully-treated leather was central to this collection: super polished or crackled giving the impression of age and wear. What was perhaps more noteworthy is the attention that designer paid to fur this season. Short-sleeved, patch-worked jackets were paired with relaxed, cropped flares but could up the ante when thrown over an evening dress.

Ghesquière's evening wear offering moved away from last season's dramatic naked dresses. He opted instead for knee-length slip dresses with elaborate pleats, lace insets, sheer details and fabrics with clashing prints in an attempt to infuse the collection with an easy-going, laid-back attitude.

www.louisvuitton.com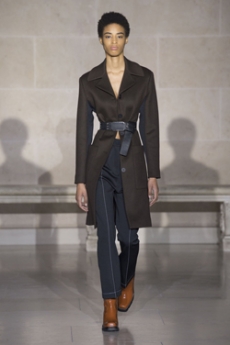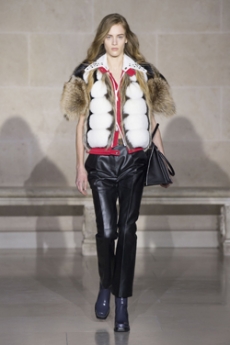 Fashion
Raf Simons presents his Fall 2017 collection for Calvin Klein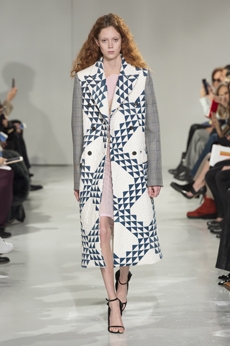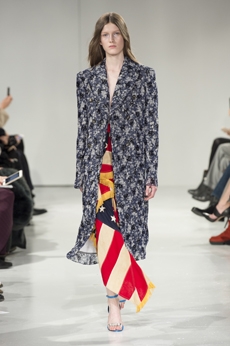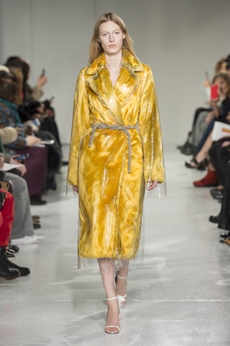 Raf Simons' debut collection for Calvin Klein was a hotly-anticipated event in this year's New York Fashion Week calendar.

Remaining true to his allegiances, Simons enlisted the help of friend and artist Sterling Ruby, giving him free reign to imagine artwork appropriate for the iconic brand's headquarters. Ruby imagine America.

Raf Simons and Calvin Klein Creative Director, Pieter Mulier created a collection that featured both women's and menswear for Fall 2017 and is in itself an homage to America. "It reflects the environment" said Mr. Simons. "All of these different people with different styles and dress codes. It's the future, the past, Art Deco, the city, the American West... all of these things and none of these things. Not one era, not one thing, not one look. It is the coming together of different characters and different individuals, just like America itself. It is the unique beauty of emotion in America."

This was a collection in which each piece communicated with the rest; one material impacted another and one style impacted the upcoming ones even in the same silhouettes making for a collection that echoes the essence of diversity.

Marching band uniforms, plastic coated protection, power broker tailoring and antique handcrafted quilting, workwear and westernwear made for this unique parade. The collection finds equal merit in folk and function, food court and courtroom in a romantic and filmic outsider's view of the uniqueness of America.

www.calvinklein.com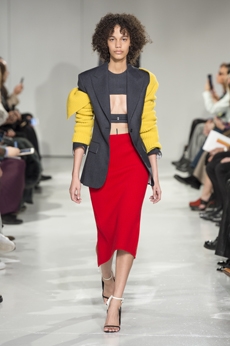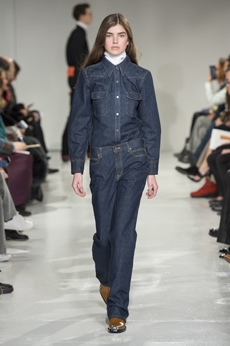 Fashion
Ermenegildo Zegna's Defining Moments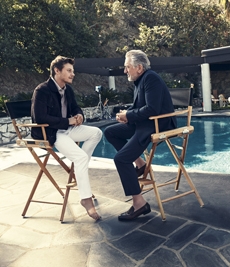 Every story worth being recounted begins with a defining moment. Ermenegildo Zegna's latest campaign focuses on just that: precious interactions, settings and conversations that trigger potentially life-changing reactions for its participants.

Robert De Niro, an actor known and revered the world over requires no introduction but it is safe to say he is no fashion ad regular. Alongside him, American Honey break-out star McCaul Lombardi whose performance generated Hollywood buzz at the end of last year. Actors of different generations, with wildly different experience levels but with an affinity that transcends age.

The campaign, shot by film-maker Francesco Carrozzi sees the actors interacting both with each other and the Zegna garments they have chose to wear and recalling their Defining Moments. De Niro's mentors, his philosophy of risk-taking and what draws him to a role are all put to the table. Lombardi appears genuinely awe-struck and profoundly respectful of his older, more experienced counterpart as he shares his experiences.

A free, real and passionate exchange that bridges a generational gap and lies at the heart of Ermenegildo Zegna's philosophy. A merging of the intensely artisanal and industrial elements that form the brand's DNA and expresses its values.

www.zegna.com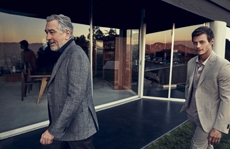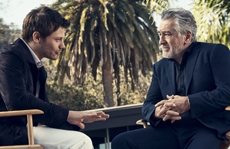 Fashion
Christian Dada Fall/Winter 2017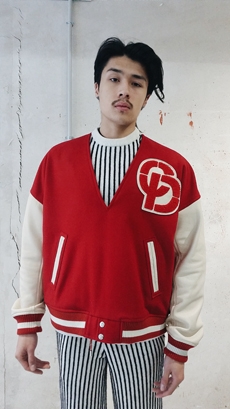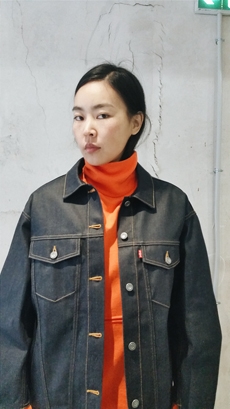 "It was boundless blue, almost transparent. I stood up, and as I walked toward my own apartment, I thought, I want to become like this glass. And then I want to reflect this smooth white curving myself. I want to show other people these splendid curves reflected in me" The melancholic closing words of Ryu Murakami's Almost transparent blue - one of the most striking Japanese contemporary novelists exploring the themes of youth and drug abuse - echoed in Masanori Morikawa's new Fall Winter 2017 collection for Christian Dada.

Puffer jackets in aluminium silver as reminiscent of drug wrappers, Coca Cola-red sweatshirts with Heroin written in the same typography as the iconic American drink, sweaters in psychedelic orange and blue tones serving as glimpse of post-drug hallucinations.

Morikawa's collection is imbued with duality - certainly the epitome of youth itself – and that uncertainty and struggle of reaffirmation of young individuals. We see relaxed men's cut shirts that reveal an incredible heavy textile at the touch, deconstructed jackets that show the lining on the outside, lurex raw materials, all surprisingly soft to the touch.

The T-shirt and leather sweatshirts in collaboration with former English fashion designer and illustrator Charles Anastase, all point in the same direction.

Yet Morikawa presented a collection with a composite of Japanese nostalgia. Like the summer nights spent wearing Jinbei – but here transposed in leather and denim – or those high school times – with the tartan motifs from school uniforms juxtaposed here with urban silhouettes. Christian Dada is beautifully grown up and we are looking forward to seeing the evolution of the brand.

www.christiandada.jp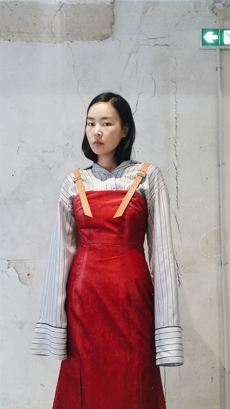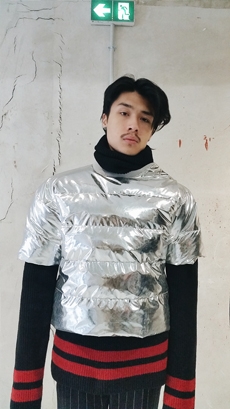 Fashion
Loewe Fall/Winter 2017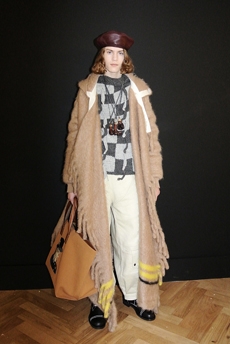 A small trumpet as an earring, a shopper completely covered in off-white cable knit wool, a thin leather belt with an ominous brass nose on its centre. The collection of objets trouvés that populated Loewe Menswear Fall/Winter 2017 is not a new element for the quirky mind of creative director Jonathan Anderson.

The mix of fun, classic, and urban elements is something we have seen season after season where individuality has been the key. Beautiful leatherwork as rooted in the brand's Spanish heritage, but also Anderson's favourite hints to fishermen and sailors' daily-life. Presented in the Parisian showroom the collection is the image of a further complexity and playful daring attitude from the English designer now in his fourth year at the helm of Loewe.

It was certainly the beautiful shearling one of the spotlight of the collection. In deep cobalt blue with black leather details, in denim, or in a striped rainbow coloured version, to pump up our gloomy mood in rainy, cold Paris.

Mixed and matched tartans and handbags with imaginary propaganda newspaper titles gave a further energising accent to a splendid collection full of craftsmanship and a romantic post-industrial atmosphere.

www.loewe.com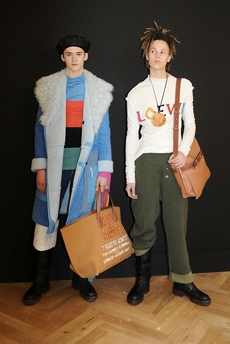 Fashion
SANKUANZ Fall/winter 2017: the chemistry collection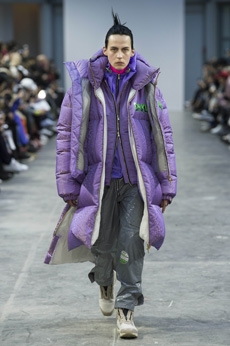 Standing for the reversal of an established system and breaking away from political correctness, that is what epitomises the Sankuanz Fall/Winter 2017 collection that explores space and chemistry.

Designer Shangguan Zhe's latest collection holds man's relationship with space and chemistry at its core, proposing garments that overlap with the idea of consuetude. Military uniforms with raw edges, primitive top-stitched suits and parkas, jumpsuits with industrial strap and bio-chemical protections, just a few examples of Zhe's research-based project. Zhe, indeed, created his own textiles mixing industrial materials and aramid fibers, usually used for spacesuits to give birth to his undoubtedly contemporary and updated vision.

Silhouettes are completed with accessories like visored bucket hats, pop military backpacks and high-top sock sneakers in a color palette that is everything but boring.

www.sankuanz.com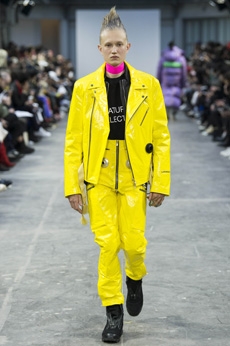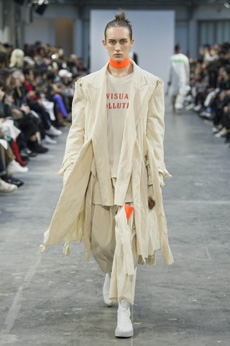 Fashion
GmbH Fall/Winter 2017: When a thought becomes you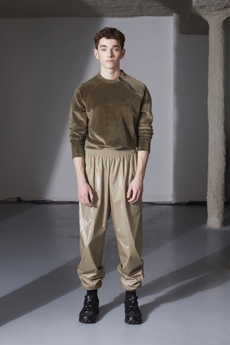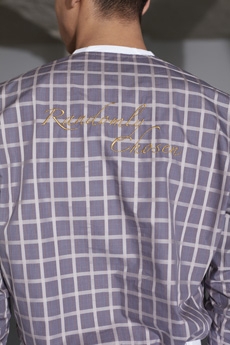 In a Society of Limitations where people are together yet alone, GmbH addresses the situation with an inclusive Fall/Winter 2017 collection dedicated to different shapes, gestures and manners.

The collection paired fashion with sustainability featuring bi-colour cropped GmbH biker jackets reworked from recycled, reversible Helly Hansen puffer coats, cropped jersey hoodies and fine knit athletic bodies of partially recycled fibres. A shot of glamour is given by tight lycra and velvet long-sleeved jumpers in a color palette inspired by artist Alexandra Bircken. Moreover traditional carpenter's guild trousers and gold embroideries enrich the outfits for an even more personal touch.

As GmbH declared: "These are directives for care and wear, eine wahre Geschichte, eine Warengeschichte, a true story a history of wares."

www.gmbhofficial.com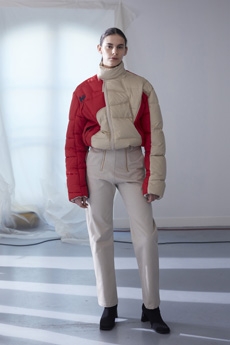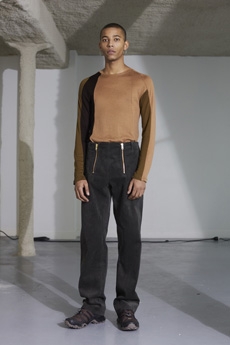 Fashion
BILLIONAIRE Fall/Winter 2017: Texas under spotlights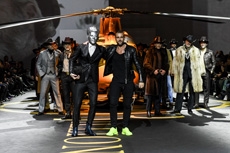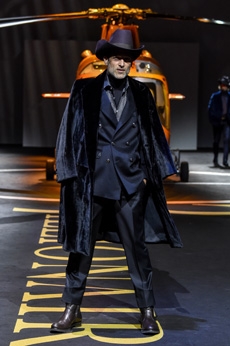 Once upon a time, soap opera characters served as primary sources of style inspiration and this season Billionnaire by Philipp Plein travelled back in time to pick up the trend. Remember Dallas?

Set in Texas, the show reached cult phenomenon status and was Philipp Plein's moodboard for Fall/Winter 2017. The Billionnaire man is a wealthy and stylish globetrotter: skiing in Aspen and gambling in Monte Carlo. The collection reflects the attitude of a character that isn't shy about showing off his personality.

Snakeskin jackets, chinchilla bombers and full-length overcoats feature alongside astrakhan and crocodile skins as the ultimate statements of elegance whether on the slopes or in the city. Trousers are high-waisted and denim takes centre stage in trousers and double-breasted jackets.

From knitwear to eveningwear the attention to detail is meticulous, fully conveying Plein's references: classic Texan hat included!

www.philipp-plein.com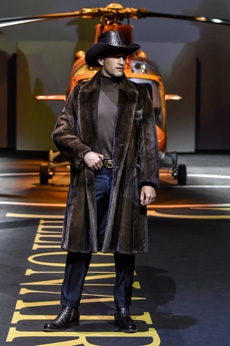 Fashion
Jil Sander Fall/Winter 2017: Between High Fashion and Mother Nature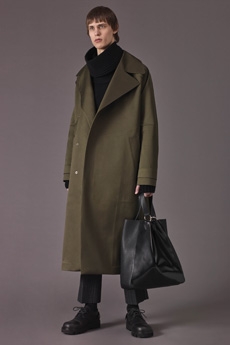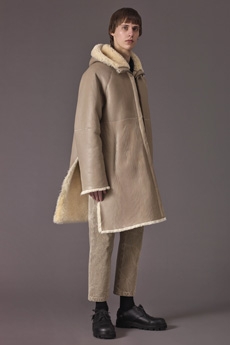 The uneven fight between humans against a powerful and merciless nature is the chore of Jil Sander's latest collection that brings us an incredible taste of glacial novelty for the upcoming Fall/Winter season.

Inspired by 'Independent People' by Nobel Prize winning author Halldor Laxness, the collection plays with the colors of Icelandic landscapes ranging from chalk grey to yellow. Shades of ice, brown and lava are chosen to give life to coats, parkas, heavy felts and comfortable shapes designed to face the harsh temperatures of Nordic winter in style. Military cotton and heat-sealed waterproof wool make coats and blousons, put together by big Velcro stripes.The collection's prints are a new take on glitch art that plays with disintegrated images.

"Rather keep your mind free and your path your own"said Laxness, and Jil Sander looks to have learned the lesson perfectly.

www.jilsander.com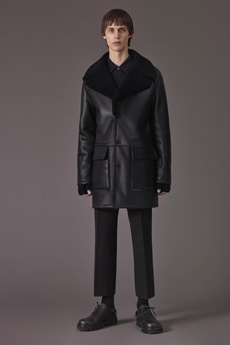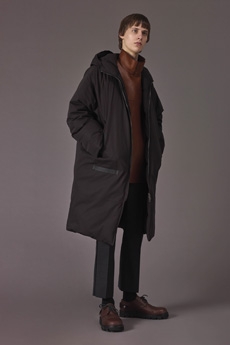 Fashion
Rocking it with Dior Homme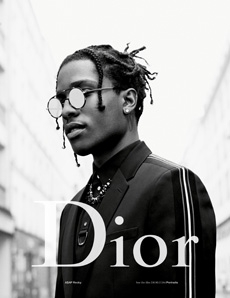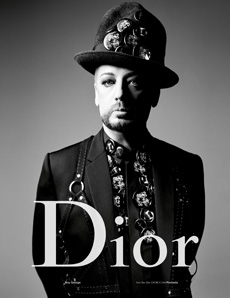 A utopian sense of refined grunge has always characterized Kris Van Assche's creative direction at Dior. For Dior Homme Summer 2017, Van Assche's dynamic energy is reflected through a new generation of four inspired characters: A$AP ROCKY, Boy George, Rami Malek and Ernst Klimko.

A 'do it Yourself' attitude runs through the brand's creative direction this season, a path that the four diverse Dior Homme personalities will follow, eventually converging to personify the house's vision of Homme. The campaign's four faces may embody different disciplines of modern art but through Van Assche's direction, they provide an all-encompassing, cohesive undertone for the French house's men's collection.

Interestingly, hip-hop is made elegant in this line giving birth to intriguing pieces such as the dark floral garments designed by Japanese artist Toru Kamei.

Shot through the streets of Paris and in studio by photographer Willy Vanderperre, the campaign pairs heritage and an innovative rock, raw-edge mood that will undoubtedly make it a key player in Dior's already impressive campaign portfolio.

www.dior.com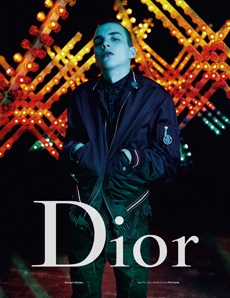 Fashion
Schiaparelli's Haute Couture moment has come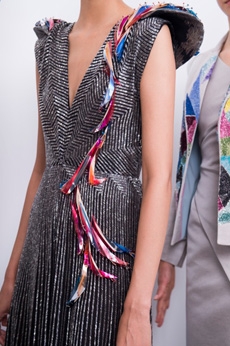 Schiaparelli Maison, Chanel's historical rival is definitely back on the scene after a long hiatus. This January marks a milestone for the celebrated maison as the French Chambre Syndicale de la Haute Couture decided to enlist Schiaparelli among the 15 fashion haute couture brands existing in the world.

Ravaged by the aftermath of the war, Elsa Schiaparelli closed her iconic Paris "Schiap Shop" in 1954, the very same year that saw the release of her autobiography "Shocking Life". It was only three years ago that Italian businessman Diego Della Valle decided to revive Schiaparelli, believing in the power of its indomitable style and unparalleled innovative techniques.

Alongside stores of long-established brands in the field such as Chanel, Givenchy and Dior to name a few, Elsa's shop in Paris' Place Vendome is opening its doors again to pick up where it left of, starting a new chapter in haute couture history.

www.schiaparelli.com
Fashion
LOUIS VUITTON CELEBRATES 30TH ANNIVERSARY IN BERLIN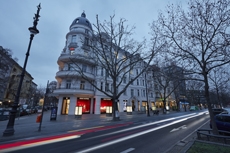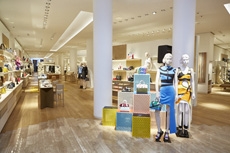 France and Germany join in for the celebration of 30 years of Louis Vuitton, the brand synonymous in everyone's mind and many hearts with élégance française.

Louis Vuitton celebrated its birthday with the opening of its latest concept store in Berlin's Kurfürstendamm. Celebrities and influencers from the world of fashion were present to mark the joyous occasion. A combination of craftsmanship, savoir-faire, continuous innovation and heritage - all keywords for the long established brand as well as the city that played host to its celebrations.

Berlin incomparably contemporary dynamism and Parisian haute couture give birth to 'amour toujours'.

www.louisvuitton.com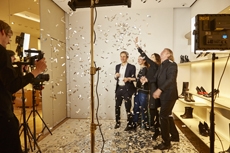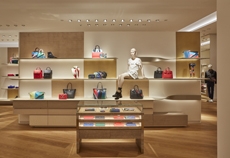 Fashion
DIESEL creates ALRITE: the timeless watch that takes art to the street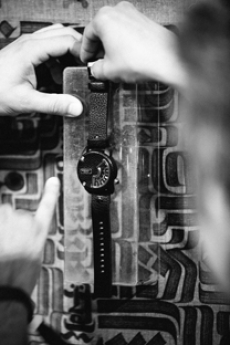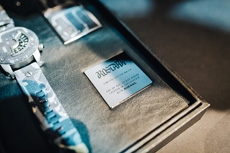 To do good and in an innovative way has always been considered one of Diesel's mottos. This winter and in collaboration with Fossil, the Italian brand has undoubtedly hit its target with its latest project: the Diesel ALRITE timepieces.

Cut out from 150 square meters of original artwork by Rostarr, who collaborated in the design of this accessory, ALRITE is literally a work of art that endures the passage of time while paying homage to both art and Diesel's DNA.

The 555 pieces that make up this Limited edition collection are completely unique and each different from one another, making for one-of-a-kind watches. This feeling of exclusivity is exactly what this hand-wrapped genuine leathers watch brings to the wearer by intertwining the aspects of time and timelessness.

Moreover Diesel ALRITE teams up with Sotheby's to reinforce the message of not only bringing art back, but also doing so for a good cause. Three pieces from this unique collection will be auctioned via e-bay for charity. Funds will be donated to the Only The Brave Foundation that has been working with Diesel for many years to fight against social inequality and working on sustainable development across the world.

"Create products that draw the line between pragmatic and fashion forward" this mission has been definitely brought to life.

www.diesel.com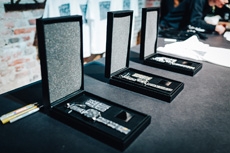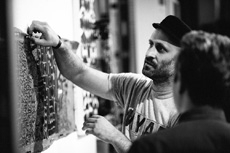 Fashion
PIRELLI CALENDAR 2017: An Unfiltered Emotion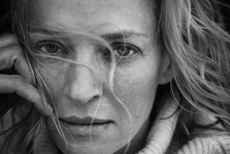 "In a time when women are represented in the media and everywhere else, as ambassadors of perfection and youth, I thought it was important to remind everyone that there is a different beauty"

'Emotional', the title chosen by Peter Lindbergh for the 2017 edition of the iconic Pirelli Calendar. No other word could strike such a chord in women's hearts that, nowadays, find themselves fighting against unrealistic beauty standards imposed by society. Fighting to fit in a world in which all things beauty are accompanied by a certain degree of fakery.

Pirelli Calendars have always been seen as conveyors of a specific message of perfection that could be hardly afforded by us, mere mortals. Following Annie Leibovitz's thread of last year, Lindbergh decided to let beloved actresses shine through their nakedness. Not a nakedness imposed by the lack of garments but by the absence of filters.

The choice of abstaining from Photoshop editing is indeed the leading theme of the 2017 Calendar, which includes actresses like Uma Thurman, Penelope Cruz, Nicole Kidman, Kate Winslet and Julianne Moore in all their natural feminine splendor. The beauty that speaks about the courage of being yourself in your own sensibility.

Lindbergh's message wants to reach all women who feel worthless, despicable, and inadequate in a way that only an artist of his caliber could achieve.

www.pirelli.com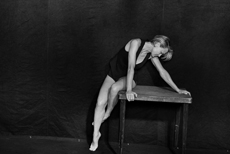 Fashion
Milan Fashion Week - Gucci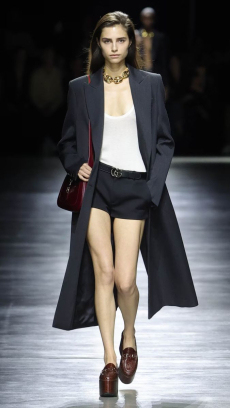 At Milan Fashion Week, Gucci presented its SS24 collection titled Ancora, which also marked the debut of the Maison's new creative director Sabato De Sarno. To celebrate the collection, the brand created and placed installations in major cities all around the world. In Milan, the Ancora collection can be seen on billboards, posters, and even on trams around the Italian city. As the name Ancora, meaning again, suggests, this collection marks Gucci's return to its origins; the brand, its character, and its history have come full circle, and this collection celebrates Gucci's origins and its commitment to the future, always maintaining its visionary and distinctive spirit. As a whole, the show, the garments, and the concept behind the collection were an ode to the city of Milan as a place of beauty and carnality. As Creative Director Sabato De Sarno has said, the colors in the collection represent the passion that has always driven the brand, but more than that, they represent the history and the people who have contributed to making Gucci what it is today. It is a history of inclusivity, freedom, euphoria, and fascination with beauty. Gucci's Ancora collection embodies all these characteristics, and it pays homage to the brand's past and to its future.
www.gucci.com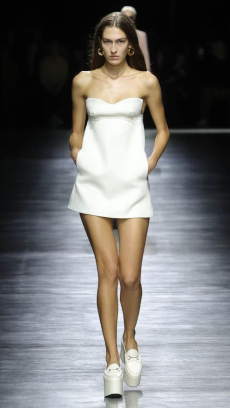 Fashion
Milan Fashion Week - Armani
Armani's SS24 Women's collection pays homage to summer as a condition of the spirit. The lightness of thought and echoes of an otherworldly essence imbue the garments and the outfits of the collection. The spirit behind Armani's clothing for SS24 is playful, feminine, and ethereal. It is a thought picked up along the journey and caught in the air, which materializes in items made with light and breezy materials. A radiance and an all-pervasive breeze are what make this collection unique, through weightless fabrics that are discreetly illuminated by touches of iridescent elements, lightly embroidered and interwoven to create an impalpable sensation. The body and its shapes take center stage, thanks to flowing jackets modeled to the bust, and shirts and crop tops that reveal hints of skin. The trousers flow with the silhouette, and the skirts are long and ample, meant to emphasize each step. These outfits are accompanied by flat shoes and breezy foulards; the bags are in stark contrast with the clothing, minimal yet capacious. The color palette reflects the etherealness of the whole collection with warm beiges, deep blacks, and cool hues that match together perfectly to create a collection that is an ode to feminine etherealness.
www.armani.com
Fashion
Milan Fashion Week - Prada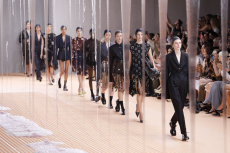 Behind the inspiration for Prada's SS24 collection presented on September 21st at Milan Fashion Week is a reinterpretation of a handbag design originally conceived by Mario Prada, Miuccia Prada's grandfather and co-founder of the brand. The whole collection exudes the spirit of Mario Prada, a traveler at heart with a deep intellectual curiosity. Indeed, the brand was developed based on inspiration that he collected while traveling around the world and learning about different cultures; Prada's garments and accessories are precious items meant to enrich everyday life. In Milan, Mario Prada worked with skilled artisans and craftsmen to develop the products and the designs that would make the Maison famous for years to come. For the September 2023 fashion show, Mario Prada's handbag design is reinterpreted and reimagined in a collection that reflects the contemporary enthusiasm for Eastern artistic aesthetics. The bag to which the collection owes its inspiration is an evening bag featuring a hand-carved fastening depicting a mythological figure. In the SS24 collection, this style is replicated in nappa leather and re-nylon. Overall, the collection embodies and reflects Prada's 110-year long history, and is a testament to the Maison's commitment to high-quality craftsmanship and design.
www.prada.com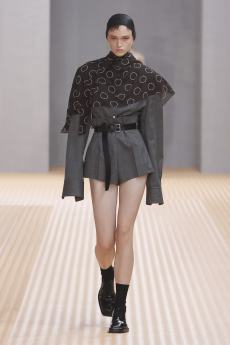 Fashion
Milan Fashion Week - Diesel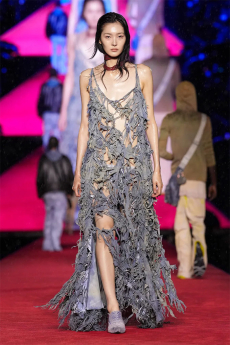 The Diesel fashion show, held on September 20th at the Milan Fashion Week presenting the brand's SS24 collection, was an ode to the brand's creative spirit. The brand's newest collection takes as its main inspiration partying and letting loose. One's truly authentic self and the beauty of freedom are reflected in the garments of the collection and in the attention and care that went into the fashion show. The main pillars of the collection are impact, experimentation, play, and pleasure. Diesel hits the nail on all these characteristics, presenting a unique collection that showcases once again the creative spirit and ability of the brand's creative director, Glenn Martens. The brand's love for denim, pop, and artisanal craftsmanship is pushed to the limits with unique distressing effects on every garment, devoré denim, and floral prints. Utility pieces feature zip-up denim and cargo pockets held together by straps, adding an edgier side to the pieces. Through this collection, the House of Diesel once again confirms its ability to surprise, engage, and innovate. Every garment and outfit is a pop culture statement, staying true to the brand's pillars and yet always innovative. The feel of the collection is that of a fading film poster, nostalgic yet always relevant and reflective of pop culture.
www.diesel.com
Fashion
G-Star RAW x Sven Marquardt Opens Berlin Art Week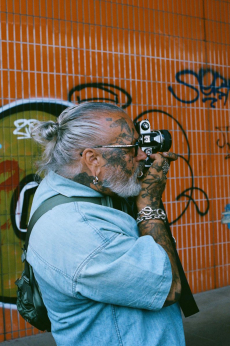 The Dutch denim brand G-Star RAW opens the Berlin Art Week by partnering with photographer and Berlin nightlife icon Sven Marquardt. The exhibition, named "11+1" is composed of 12 portraits representative of Berlin's iconic nightlife scene. They represent the city's vibrant club culture, which is perfectly captured thanks to G-Star RAW's denim, specially leveraged for this project to capture the essence of Berlin's character. Sven Marquardt's unique view of Berlin's zeitgeist is evident in every portrait of the exhibition. The photographer has carefully selected 12 talents that embody the essence of the city through different personalities and fashion styles, really capturing one of the characteristics that make Berlin unique: its endless possibilities for self-expression. To make this project come to life, G-Star RAW has taken inspiration from the individual outfits of each personality that participated in the shooting. Each piece in the collection, which comprises 26 different styles, embodies the brand's expertise in working with denim and showcases the skills of the G-Star team in crafting denim pieces. The looks in the photo collection have different styles, from avant-garde leather looks to casual ensembles. Overall, Sven Marquardt's partnership in creating a photo collection with G-Star RAW perfectly captures the unicity of the city of Berlin, establishing itself as an iconic collaboration.
www.g-star.com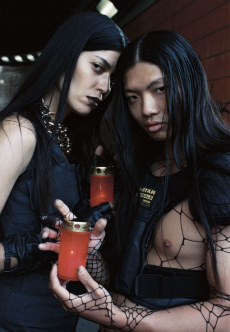 Fashion
Zegna x The Elder Statesman Collection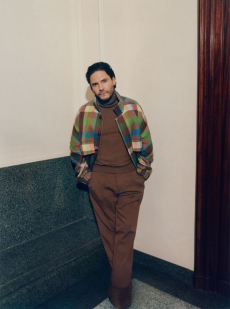 After an exclusive event held in February in Paris, Zegna unveils their new collection in collaboration with the LA-founded luxury lifestyle brand The Elder Statesman, with Spanish-German actor Daniel Brühl as the face of the collection. The launch of the collection was celebrated on September 6th at Maxfield in Los Angeles. The partnership between the two high-end brands is centered around Zegna's Oasi Cashmere, inaugurating a platform to encounter progressive and responsible cultures and visions, which reiterates Zegna's commitment to sustainably sourcing Oasi Cashmere fibers, certifying them as 100% traceable by 2024. The two brands share a devotion to craft and material excellence, resulting in a collection that aims to expand horizons to take a new stylistic path forward. Zegna's designs are reimagined in the vibrant colors and patterns that characterize The Elder Statesman. The campaign featuring Daniel Brühl has been filmed at Zegna's historic Wool Mill, located at the heart of the Oasi Zegna natural territory in the Italian Alps, which fully embodies the brand's values and commitment to impeccable craftsmanship. This unique partnership enhances the essence of Zegna's Oasi Cashmere, catering to a new audience and representing an evolution of the Maison's founding philosophies, centered around sophisticated craftsmanship and uncompromising luxury. The collection is available September 2023 in key Zegna stores globally, in The Elder Statesman's retail channels, and in selected wholesale partners.
www.zegna.com
www.elder-statesman.com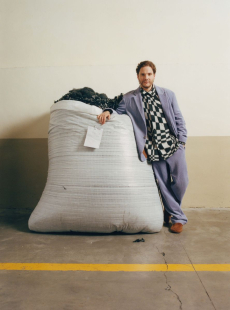 Fashion
CARTIER MINI BAGS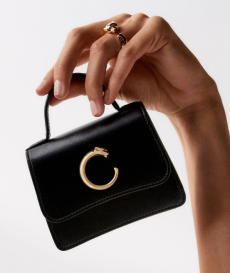 The artistic vision of Cartier has continuously amazed us through timeless charm for modern women for a long history. Ranging from watches and jewelry to accessories and fragrances, the creative territory of the French Maison Cartier is infinite. Introducing a new micro bag collection, Cartier suggests new proportions for the classic handbag line through a minimalistic and elegant touch. The Cartier mini bags are another form of exceptional artistic expression as well as the core message that speaks to all women. The brand's iconic identity was distinctively expressed on the three micro bags that come in one hand, featuring the metal logo punctuated with enamel or the resurfaced metal logo C with a panther's head of Panthère de Cartier collection, perfect for making a statement as well as serving a piece of jewelry. Along with the jeweled clasps, the bag collection features a simple rectangular shape, a curved-edged flip, and an elegant chain strap that lifts the look to be timeless and chic. Also, the strap is available with either a leather or metal chain, giving the wearer multiple ways of styles - either worn on one shoulder or cinched around the waist. As tiny as it can be in Cartier's collection, these small bags are both portable and casual, giving them a touch of lightness. Additionally, the fabric comes in either soft or hard-grained leather, depending on the model whose color ranges from black, cherry-red, or pale pink. Three different designs of the mini bags are all unique yet faithful to Maison's emblematic codes. www.cartier.com
Fashion
Hublot Sponsors the Polo Gold Cup in Gstaad.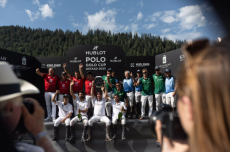 Gstaad hosts the Polo Gold Cup from the 17th to the 20th of August, 2023. Hublot has been collaborating with the city of Gstaad to organize this event since 2006, making this partnership fruitful and everlasting. This partnership emphasizes Hublot's friendship with Pierre Genecand, the director of Gstaad Polo and the Gold Cup. Hublot's history of precision and synchronicity pairs perfectly with the values of polo and those of the city of Gstaad. For four days, the Saanen Airfield, featuring a breathtaking panorama, was transformed into a polo field for the most important tournament of the summer. The Hublot Team, composed of highly skilled players, has also participated in the competition. The beautiful location of Gstaad is distinctive because of its panoramic views and mountain scenery, making it the perfect spot to represent the unique character of Hublot. The collaboration between Hublot and the Gstaad Polo Cup was made possible by partnerships and ambassadors representing the brand's commitment to bringing watchmaking to the highest possible quality. Hublot was the official timekeeper of the Gstaad Polo Gold Cup, an iconic collaboration between the watchmaking brand and the prestigious sporting event.
www.hublot.com
Fashion
100 Years of Colmar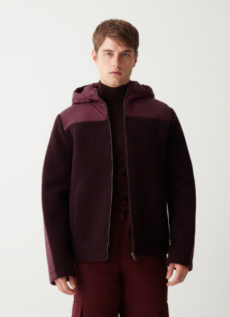 Colmar, the Italian outerwear brand from Monza, celebrates its 100th anniversary with the FW23/24 Colmar Originals collection. Colmar, which has kept true to its brand identity throughout its history, for this collection, showcases an evolution in fabrics and colors, experimenting with new textures and palettes. The brand has always been a pioneer in the employment of high-tech materials and, since 1950, has been collaborating with professional athletes to enhance its research. The new fabrics offer the possibility to meet the functional needs of every customer, always ensuring the best quality of the garment. Because the concept of seasonality plays such an essential role within Colmar, the FW23/24 collection is structured into three main themes: Entry Season, Cold Season and Frozen Season. The color chart is modern and adapted to the current fashion with brighter hues like red and yellow without disregarding the more classic, basic shades such as cream, white and beige. The color palette has an important place in this collection, as each seasonal concept is expressed in a specific color that distinguishes it from the others, thus adding an extra layer of meaning to the collection. The brand has evolved with the times, and sustainability has come to play a central role in Colmar's ethics. The brand crafts its garments with sustainable materials that are recycled and biodegradable, thus reducing the impact on the environment.
www.colmar.com
Fashion
Skincare brand MUTI celebrates National Simplicity Day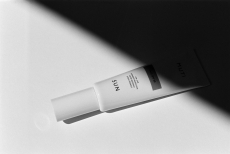 Embracing the beauty of simplicity, the German minimalistic skincare brand MUTI celebrates the day of simplicity with great joy, which falls on July 12. National Simplicity Day serves as a gentle reminder to take a step back from the muddled world of contemporary life and adopt a minimalistic attitude. As the brand says, the day is also MUTI's birthday because it reflects its core philosophy, skincare minimalism, suggesting minimal beauty essential for those who love simplicity. MUTI was founded in 2014 in Munich based on its simplicity philosophy. Modern. Unique. True. Intelligent. Those are what MUTI stands for and aims to achieve. The brand focuses its products on the essentials, simplifying the day-to-day skincare routine without making any compromises. The brand pursues the skincare minimalism that differentiates itself through its products, ingredients, application, and design. The brand provides a few essential products that are so well thought out, and perfectly complementary to each other. Its beauty essentials are available regardless of gender, skin type, and skin need. Its Ingredients are few yet effective and high-quality, while its design is sophisticatedly timeless. All these elements are designed to simplify your skincare routine that reflects its philosophy "True Beauty. Made Simple." In particular, MUTI's products are clean, vegan, and fragrance-free and do not contain harmful ingredients such as silicones, mineral oils, parabens, paraffin, PEGs, microplastics, essential oils, and drying alcohols. The minimalist product range includes the CLEAN, FACE, and ADD lines, with a range of highly effective serums as well as a Line of sun protection products, SUN.
www.muti.de
Fashion
Berlin Fashion Week – LITKOVSKA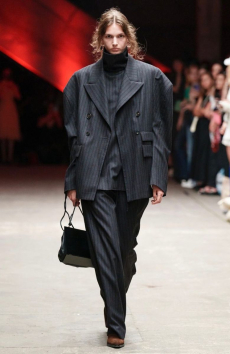 LITKOVSKA, the Ukrainian label captured an avant-grade chic during Berlin Fashion Week. Titled On Air, the collection highlights its raw and touching form that defines contemporary silhouettes. Also, daring cutouts of the outfits create dynamic looks enhanced by neutral tones and distinctive color contrast. The designer focuses on volume and detail in the garments. The delicately layered and draped garments are both chic and modern, designed to be timeless pieces. Overall, the collection features effortless versatile pieces which can be everyday luxury wear such as oversized high-neck dresses, structured shirts, and trousers with draped details. Also, there are a series of gorgeous matching sets in various materials like denim two-pieces, oversized suits as well as sweatshirts, and matching pants. Its color palettes include ivory, pastel pink, and red, as well as brown, white, and black, setting an elegant tone for the overall look. Sophisticated prints appear on both the oversized dress and blouse in red, giving a contemporary contrast, while intricate striped patterns feature an array of pieces such as shirts, trousers, and blazers, which make the looks classy, chic, and flattering. In addition to the garments, the collection features unique accessories and jewelry in horse shape, reminding of shepherds of the Carpathian Mountains while nodding to Ukrainian tradition and history which crafts little horses out of cheese for children as a special gift as well as talisman. While symbolizing their community, craftsmanship, and protection through the collection, the brand intends to share such blessings with the audience, wearers, and the fashion industry.
www.litkovska.com
Fashion
Louis Vuitton Resort Store x Kampen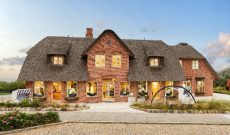 Louis Vuitton Resort Store x Kampen Maison Louis Vuitton opens a resort pop-up on the North Sea island of Sylt, Kampen in Germany. Launched on July 1st, the pop-up store showcases the Maison Louis Vuitton women's Summer Capsule collection, "LV By The Pool", which consists of ready-to-wear, accessories, bags, and shoes, inspired by the beauty of the island known for long beaches, the old Frisian architecture with its thatched roof houses in Sylt. Enhanced with North German serenity, this collection offers summer vacation essentials that are both casual and luxurious, featuring a wide range of accessories such as silk scarves, sunglasses, and jewelry as well as summer dresses, beachwear, and swimwear. The color palette mainly adopts ocean blue, white, and beige which invites you to dive into the summer vibe and travel to the peaceful island of Kampen. Visitors not only can experience a unique ambiance at the store but also see the exclusive Neverfull handbag specially designed for the collection, featuring the signature Monogram of the brand in various colors as well as the imprint of Sylt in the center of the bag. In addition to the ready-to-wear, the collection provides towels and cushions that feature multiple patterns and graphic designs that embody the brand's aesthetics. The new Louis Vuitton Resort Store on Sylt will be available until September 2, 2023.
www.louisvuitton.com
Fashion
Dior Launches its SPA at Grand Hotel Timeo in Taormina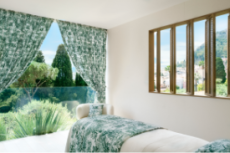 The partnership between Dior and Belmond Hotels culminates in the opening of the "Le Jardin des Rêves Dior" Spa at the Grand Hotel Timeo in Taormina, Sicily, to celebrate the 150 anniversary of the property. The hotel has hosted countless literary and artistic figures over the years in this splendid location with views of Mount Etna. The collaboration between Dior and the luxury hospitality brand unveils a new wellness experience thanks to the two Dior treehouse treatment cabins offering guests exclusive skincare treatments. The garden of Timeo, designed by an English gardener and wildlife conservator Florence Trevelyan at the end of the XIX century, is the perfect majestic location for fostering a spirit of inspiration and relaxation. The entrance to the treehouse cabins is adorned with curtains with the Maison's iconic Toile de Jouy; the same pattern is replicated on the wallpaper inside the cabins. The interior design is intimate and refined, blending seamlessly with the surrounding gardens. The cabins have been designed by Thirtyone Design + Management to offer the guests privacy and serenity during their treatments. The signature treatments are created drawing from the expertise of Dior skincare, targeted towards the blossoming of senses during the summer. Beauty-enhancing treatments using the Dior Prestige product line are also available, targeted at regenerating aging skin. The pop-up spa will remain open between June and October 2023.
www.dior.com
Fashion
Kaldewei wins the Best Award for the Key Piece Meisterstück Oyo Duo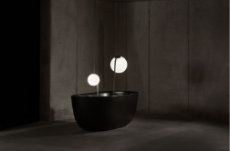 The German brand's Luxstainability® concept combines design and sustainability in bathroom architecture, resulting in innovative luxury products. Because of this concept, the brand has been awarded various international recognitions. The egg shape design of the Meisterstück Oyo Duo freestanding bathtub designed by Stefan Diez has been awarded the prestigious German Design Award of 2023 and, shortly after its launch, has become one of the brand's best-selling products. The Oyo Duo is a double-walled bathtub that guarantees durability and displays 100 percent circularity. The bathtub has now been recognized internationally as well, winning the iF Design Award and the Red Dot Award. The iF International Forum Design, the world's oldest independent design institution, has said about the Oyo Duo that "There is no comparable product made from this material." The Meisterstück is inspired by Japanese porcelain manufacture and is made of fully recyclable steel enamel. The designer has combined the two main elements at the core of Kaldewei, sustainability and resource conservation, in a sculpture that integrates harmoniously with the bathroom. This piece again confirms Kaldewei's leading position in the international design sphere. The use of recycled materials and the central place of sustainability in creating this design bathtub make the piece more impressive.
www.kaldewei.com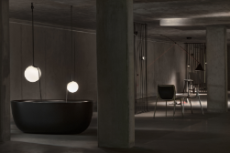 Fashion
The New Maserati Tridente Membership Programme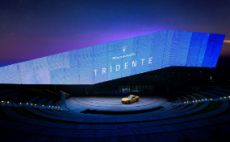 On June 28, 2023, in its hometown of Modena, Maserati presents Tridente, its new exclusive membership program, which takes inspiration from the brand's signature style based on Italian luxury. The program will be launched first in Italy and the rest of the world in the second half of 2023. Tridente is the first membership program by Maserati, and it aims to provide all brand fans with a tailored experience focused on exclusive content; indeed, the only condition to access the program is to be a loyal fan of the sportscar brand. The Tridente app is at the core of the membership program, combining five main elements: editorial storytelling, Maserati exclusives, cultural encounters, curated driving experiences, and international events. There are three tiers to the program. Blue, Platinum, and Diamond. The Blu tier is for all fans of the brand and grants access to previews of new collections. The Platinum tier is for those owning a Maserati car, and it comes with perks such as exclusive cultural experiences and personalized gadgets. Finally, the exclusive Diamond tier is accessible only to those possessing the Supercar Project24 or a GT2 race car; Diamond members gain access to an array of luxury experiences, for instance, a private consultation to customize their sportscar. Maserati's aim through Tridente is to continue its legacy of luxury and exclusivity, as well as offer its customers an immersive experience in the history and personality of the brand.
www.maserati.com
Fashion
Chase The Thrill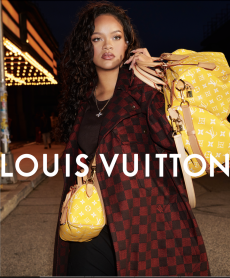 The mysterious creative Pharrell Williams's first campaign for the luxury fashion house Louis Vuitton elegantly debuted with a collaboration with the beloved singer and actress Rihanna. Williams combines his contemporary vision for the future of the Maison with the new Speedy: an adaptation of the emblematic Speedy bag. The campaign represents the union of two everyday icons: a luxury bag founded in codes of reality, embodied by an artist of universal human appeal.

The Speedy Bag, the first bag Williams owned, is met with the cosmopolitan nucleus that inspired Pharrell Williams' early education in luxury: New York City and everything that saturates every borough of the lively city with a particular essence and aura that permeates the luxury fashion world. the new Speedy conjures through the inimitable savoir-faire of the Maison a visual language evocative of the codes and stylistic attitude of Canal Street. It is an everyday icon conceived for every walk of life.

Williams's construction of the campaign, including the imagery that accompanies it was planned to the tiniest details. Shining the spotlight on a pregnant Rihanna, the campaign comments on the passing of time, creation, and re-imagination. The temporal cycle of birth, life, and death finds solid footing in the transformed silhouette of the new Speedy– imbued with the singular energy of the old Speedy that drew Williams in the first place.

Created by Gaston-Louis Vuitton in 1930, the classic Speedy leather travel bag – originally known as the Express – was borne out of the era's infatuation with speed and cars. The design catapulted it into icon status. For nearly a century, the Speedy has been the subject of numerous artistic interpretations and remains an emblem of Louis Vuitton, now with a baby sister that is even more ambitious.

www.louisvuitton.com
Fashion
New Jewelry by Louis Vuitton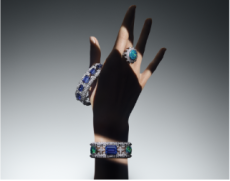 Louis Vuitton presents its newest and most extensive high jewelry collection, Deep Time, which intends to celebrate our planet's natural features and the fragility of life. The Maison's classical jewelry themes and designs revolve around playing with the logo, and in this collection, this takes a step further. The timelessness of gemstones inspires the title and the feel of the collection, and each piece captures the interconnectedness between past and present. Deep Time has been designed by Francesca Amfitheatrof, Louis Vuitton's artistic director for Watches and Jewelry. The pieces are grouped into 16 themes spanning two acts: Geology and Life. In Geology, the jewelry captures our planet's evolution through Maison's signature style and logo, and the items aim to embody a natural feature through the evocative colors of the gemstones and the design of the piece. Geology features precious gemstones such as the Colombian emerald, which represents the Earth's formation. Life focuses on the life force driving creation. The jewelry belonging to this act captures the history of evolution, with themes ranging from Fossils to Flowers. The themes of Life all bring forward a juxtaposition of different textures, making each piece unique. Life's pieces are incredibly versatile and are meant to be worn in multiple ways; this aspect is at the core of Amfitheatrof's creative directory, which strives toward transformability.
www.louisvuitton.com
Fashion
CHANEL at the Biarritz International Film Festival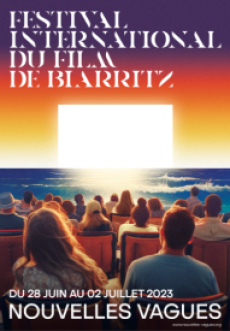 The House of CHANEL has strong ties with the city of Biarritz, to which it has even dedicated a fragrance. This year, the brand is supporting the first edition of the Biarritz International Film Festival, Nouvelles Vagues, by hosting a dinner at the Hôtel du Palais on the opening day of the festival. The festival will last five days, from the 28th of June to the 2nd of July. The leitmotiv of the festival is youth, to which the screenings, concerts, and exhibitions are dedicated. The films participating in the festival explore the place of young people in our society or recount stories of youth. Among the jury, composed of young multidisciplinary artists under 35 and film students, is actress and CHANEL ambassador Lyna Khoudri. The trophy of the festival also emphasizes the partnership with CHANEL. Students from the École Boulle designed it for the Paurier Desrues, the first House to join the Fashion Métiers d'Art in 1985. Established by CHANEL, the Fashion Métiers d'Art is a prominent organization that recognizes the skillful work of Maison's partner artisans. The festival will be an unprecedented cultural event, an occasion to bring together guests from a wide arrange of cinematic backgrounds in the beautiful backdrop of the city of Biarritz.
www.chanel.com
Fashion
Collaboration launch between Marsèll and Diomene by Damir Doma
The Italian brand Marsèll has footwear as the focal point in its pursuit of defying the boundaries of tradition while simultaneously using traditional high-quality Italian manufacturers for their production. Operating with a similar framework, the younger clothing brand by Damir Doma has as its core eliminating the superfluous, producing timeless pieces of clothing with their signature element of floral embroidery. This powerful detail works well in distinguishing the brand.

Through a deconstructive process, the item that emerges from this collaboration is a malleable piece in the hands of the user, which is placed at the heart of the creative process. By marrying Marsèll's focus on materials and innovative techniques and the simplicity of Diomene's clothing, the result is a timeless collection adaptable to human emotions, the element at the collection's core. Two of Marsèll's shoe models are coupled with Diomene's signature floral embroidery. The footwear resulting from this collaboration now accessorizes Damir Doma's third collection, once again reiterating the connection between Marséll's timeless footwear and Diomene's simple clothing items, putting the individual user's experience of the footwear and clothing at the heart of the experience.

www.marsell.com
Fashion
Men's Milan Fashion Week – Gucci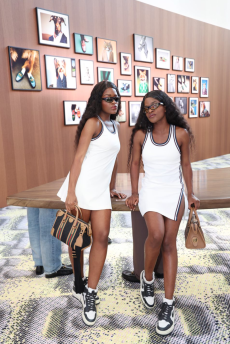 On the occasion of its SS24 men's collection during Milan Fashion Week, Gucci took the opportunity to celebrate 70 years of the iconic Gucci Horsebit loafer with a multi-faceted, expansive showcase at Spazio Maiocchi. First conceived by Aldo Gucci in 1953, the Horsebit – a miniature of the metal clamp of a horse's bridle – has become a signifier of the community embodied by Gucci. The casual but elegant Horsebit loafer came to signalize a transitional period on the way to a more liberal mentality toward conventional dress codes, as the loafer was adopted by a great variety of individuals over time.

Titled Gucci Horsebeat Society, the celebratory exhibition was shaped by Spazio Maiocchi's Creative Director and curator Alessio Ascari into a multi-disciplinary experience: enabling a full immersion into the iconography of the Horsebit Loafer through transformative reinterpretations that featured ten international artists, designers, and creatives. Inspired by the equestrian roots of the Horsebit, the Gucci Horsebeat Society re-imagines the tradition of the country club in a contemporary space fused with the spirit of artistic counterculture – a concept which materializes in a multi-dimensional 'house'.

www.gucci.com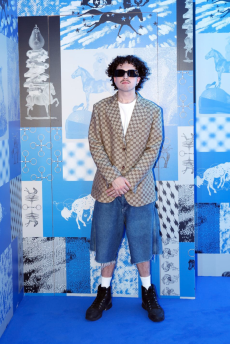 Fashion
L'Art de la Table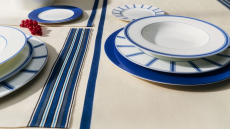 Mealtime is about more than just the food. It is complete with memories with friends and family around the table, an appreciation for the love and time devoted during preparation, and time to relax and reenergize from the day's activities. All of this centered around the table setting. This is the focus of Loro Piana's latest décor collection. The "L'Art de la Table" collection celebrates the every day, quintessentially Italian table. In the perfect balance between elegance and functionality, tradition and creativity, the collection achieves simultaneous tastefulness and timelessness.

Cups, plates, and bowls of varying sizes are handmade in Italy in the prized bone porcelain – each piece takes three days to make. The finest and sturdiest materials, like cotton, linen, and polypropylene make the fabric accessories such as placemats, napkins, and runners suitable for outdoor locations. All the products creatively complement each other, sharing the distinctive Loro Piana multicolored stripe in caraway and blue on a white or beige background inspired by Maison's "The Suitcase Stripe" from the 1970s to 1990s.

The vases and glasses for water, wine, and cocktails are an exemplary display of handcraftsmanship guaranteed by six generations of artisanal know-how. Crafted from hand-blown and beveled Murano glass, their simple, impossibly fine parallel lines and opaline reflections have the appearance and feel of velvety needlecord fabric.

With a touch of Loro Piana's refined style and savoir-faire and the Italian traditions of exquisite artistry and craftsmanship, L'Art de la Table complements the art of conviviality. The exclusive tableware collection is available in select Loro Piana boutiques, pop-ups, and the Loro Piana e-commerce website.

www.loropiana.com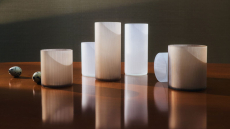 Fashion
Sailing into Summer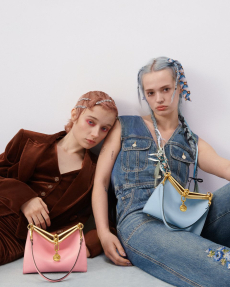 Inspired by the wide and endless world of seafaring, Etro's Vela Bag is an elegant and refined handbag. The first bag designed by Etro's new Creative Director Marco De Vincenzo, it is crafted from luxurious and smooth calfskin leather. Taking the sharp silhouette of a sail its dynamic contours mould into a strong, rounded body as if by the winds of the sea themselves. The bag now sees a line extension with the Mini Vela Bag. The new, smaller version launched on the 7th of June, just in time for the turn of the season.

The Mini Vela's bold, minimalist design follows the success of the original Vela. The innovative flexible V-shaped closure is finished with the iconic intricate chain detail and a medallion engraved with the Etro logo and Pegaso. The new bag is launched with a maximalist twist, released in an array of candy pop colors such as playful shades of pink, orange, sky blue, and lime green for an energizing, the 90s, and Kidcore culture-inspired addition sure to brighten up the summer wardrobe. An adaptable strap makes the bag perfect to be worn as a shoulder or crossbody bag.

The Mini Vela Bag is available on the Etro website, in Etro stores, and selected retailers worldwide.

www.etro.com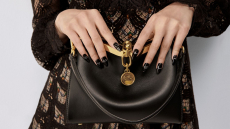 Fashion
How much D can you handle?
There is something magnetic about Diesel's "D." The power with which it seals style into a uniform of self-expression and sartorial irony. The way it rebels against the established luxury market with a call for individualism. The way it plays on the cult of fashion, weaving values of freedom, individualism, and fun to create an anti-conformist code. In the end, everyone deserves a really good D.

This is the vision of Diesel's Prefall 2023 campaign, Dieseltopia. Creative Director Glenn Martens, Art Director Chris Simmonds, and photographer Marili Andre fashion a safe, communal space for the Diesel tribe to express themselves through an irreverent take on logomania. The campaign stars Estonian rapper and singer TOMM¥ €A$H as a guru who exalts the House's values of freedom of expression, humor, and rebellion.

Diesel's Oval D insignia is an invitation to part of their family. The D logo, surrounded by an oval, is a seal of allegiance, making its way from the best-selling 1DR bag and array of accessories to a full collection of ready-to-wear, underwear, beachwear, and more. The collection expands the treatments and applications of the Oval D logo, blowing it up, miniaturizing it, and rendering it in hardware or contrast colors. Oval D hoodies, Oval D caps, Oval D belts, Oval D underwear, Oval D bikinis, and of course the 1DR bag - Dieseltopia doesn't make it hard to worship the D.

www.diesel.com
Fashion
Cartier's Journey Begins Anew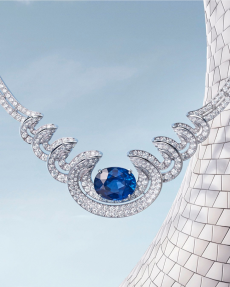 "A journey back to the heart of Cartier creation, an uninterrupted story being told over time", those are the words of Jacqueline Karachi, the Director of High Jewelry creation at Cartier, for the launch of the Maison's High Jewelry collection: Le Voyage Recommencé. Cartier craftsmen and designers approach creation with a perpetual momentum, allowing them to journey into the heart of Cartier style trough a new, unexpected prism. Including over 90 never-before-seen pieces, the collection expands the possibilities of lines and the abstract, reinvents the palette of chromatic harmonies, and celebrates life as well as the world's horizons.

For Cartier, light matters. Focusing on the purity of lines, the balance of shapes and volumes, and the final harmony, Cartier creates pieces that play with structures of light – such as the Ondule ring. Part of the Maison's characteristic style, geometry and contrast remain predominant elements, as seen in the transformable Claustra necklace. Reflected in the Girih necklace is Cartier's passion for the world and its cultures – a taste for curiosity which makes up the legacy of a long lineage that is more contemporary than ever. In addition to the unique pieces, a collection consisting of two sets of jewelry – the Unda and Voltea set – has been created from this Voyage Recommencé. In Karachi's words: "This collection is a great opportunity to delve into the essential themes of the Cartier style. To explore them in greater depth, take a fresh look at them, nurtured by the spirit of time."

www.cartier.com
Fashion
Paul&Shark's Whisper in the Waters of Italy
A key idea in the philosophy of Paul&Shark is that Italy, and the planet for that matter, needs to be safeguarded and taken care of. Although summer style can be chic, lighthearted, and fun, there is an increasing importance for it to be conscious and constructive. This is the "message in a bottle" that Paul&Shark aims to spread in their latest experiential partnership. Along the crystal-clear waters of the Gulf of Tigullio is Tigu Beach, an elegant beach club that will be dressed by the brand for the approaching summer of 2023.

The concept of Tigu Beach began with Edoardo Santanna and Mattia Ferrari, bringing together the driving forces of entrepreneurship and creativity. Fully designed by Paul&Shark, the Beach Club takes on a 1940s French apartment-style atmosphere, complete with seats and tables evoking Parisian bistros and tea and forest shades of flooring and furniture that recall historic patisseries. The welcoming stripes of 54 standard sunbeds and 10 VIP beds await under vintage umbrellas, offering picturesque views of the Mediterranean Sea that needs our protection.

The area was chosen by Paul&Shark for its rich jewel sites of biodiversity, which guests are invited to explore through the brand's program of activities throughout the season accompanied by marine biology researchers who protect the gulf's priceless nature and Sealife. The finishing touch of Tigu Beach's offerings is the fantastic variety of food to tickle the tastebuds: from a Mediterranean restaurant that experiments with local cuisine, to a Japanese style restaurant curated by expert sushi chefs.

www.paulandshark.com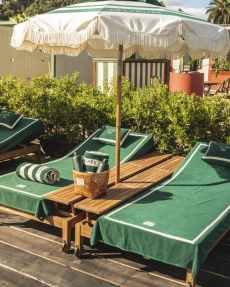 Fashion
Cut Throat Waves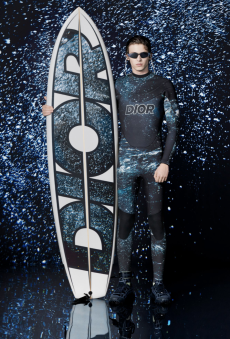 Creating with the future in mind, for the second year in a row Kim Jones, the Artistic Director of Dior Men, has collaborated with Parley for the Oceans, an environmentally conscious organization that works to combat threats to the ocean. Parley for the Oceans, started in 2012 has been protecting marine life through a strategy called Parley AIR: Avoid, Intercept, Redesign. Together, Dior and Parley have created a Men's beachwear capsule collection that reflects the deep connection Dior has with nature whilst making sure to protect the said nature through conscious designs and meticulous attention to detail.

Christian Dior is well known for his passion for flowers and gardens, however, this collection was deeply inspired and formed around his love for water and the ocean, first blooming when he was lulled by the song of the waves in Granville. Kim Jones, sharing Christian Dior's passion, created a collection made from 96% recycled materials to ensure the presence of beaches in the future of our world to wear these garments at. The garments relay a confident relaxation– bold colors catch the eye and a joyful declaration of living is embedded into each fold and thread of the garments. From mules to bags to wetsuits, this capsule collection has integrated every aspect of the beach. The wetsuit accompanied by a dazzling surfboard, sports a graphic water overlay under the iconic Dior logo, embracing the natural elements and playing into the function of the garment. The surfboard, also embellished with a graphic overlay of splashing water is sure to increase your speed as you cut through vicious waves.

www.dior.com
www.parley.tv
Fashion
Louis Vuitton Channels Squid-Games in South Korea
Submerged in the watery illusions of blue and orange light, Louis Vuitton took over the Jamsugyo Bridge in Maison's first Prefall show in South Korea. The living monument atop the Hangang river is the perfect allegory for Louis Vuitton's Creative Director Nicolas Ghesquière's vision of the Prefall 23 collection. The Director of "Squid Game" Hwang Dong-hyuk helped build the scenography for the show, based on the symbolism and cultural significance of the bridge.

The Prefall 23 collection is a tale of to and fro, communicating the never-ending evolution of Louis Vuitton: from Gangnam to Gangbuk, from the West to the East, from K Maison's origins to its modern philosophies. Louis Vuitton essentials take on new features in a diplomatic journey as they are transformed from one shore of imagination to the other.

As the audience huddled together in the stormy weather, the models walked through the night's rain unbothered with windswept hair. HoYeon Jung, the "Squid Game" star and Louis Vuitton brand ambassador was first on the catwalk in a bright blue windbreaker and studded leather A-line skirt. The looks, highlighting the brand's most recognizable silhouettes and elements from recent collections, celebrated French style with a sci-fi twist. Windbreakers and halter neck jumpsuits in bright primary colors reminiscent of the K-thriller were paired with chunky boots, oversized outerwear and belts with supersized buckles. The final looks took a Bohemian turn with maxi skirts and floor length dresses featuring stripes and floral prints.

www.louisvuitton.com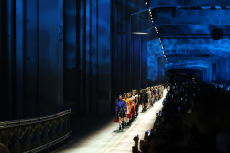 Fashion
Longchamp in Hamburg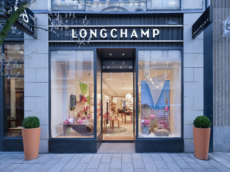 RISE– the new concept of the newly renovated Longchamp Hamburg boutique. The reopening of the brand's second store in Neuer Wall 18, following the Munich store, was celebrated yesterday evening with genuine happiness and pleasure with esteemed customers and friends of the house.

The new Longchamp store envelops whoever walks in with the warmth, elegance, and aesthetics of a Parisian apartment. The new concept explored through the renovation of the Hamburg store expertly reflects the company's heritage and savoir-faire, energy, and optimism. Paying homage to the birth of Longchamp in 1948 Paris– the store's decor is imbued with the Parisian creative curiosity and cosmopolitan attitude that distinguishes Longchamp and its clients from others. Traditional dark green asserts the value of tradition and authenticity while a contrasting rich light green presents energy and modernity.

On the 27th of April, 2023, the opening of the Hamburg Longchamp store was honored with the creation of a relaxed atmosphere that the respected guests and clients of Longchamp would appreciate. The ambiance was perfected with eclectic drinks, delicious food, and a brilliant set by DJane. The guests in attendance roamed calmly through the store, a glint of curiosity present in their eyes, exploring and soaking in the final production of the store. The highlight and entertainment of the glamorous and exciting evening was the raffle for a box-trot bag towards the end of the opening.

www.longchamp.com
Fashion
The Ultimate Denim Experience with Wrangler & Lee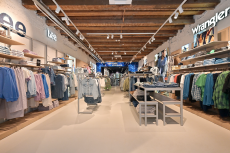 Lee® and Wrangler® Jeans joined forces to launch their new, dual-branded denim store in Amsterdam, offering consumers the ultimate denim experience. "Europe continues to be a key market for expansion for the Lee and Wrangler brands. The new Lee and Wrangler dual-branded stores will create a powerful platform for our iconic denim brands to excite and engage our growing European consumer base," said Chris Waldeck – Lee's EVP, Co-Chief Operating Officer, and Global Brand President. The underlying concept is an immersive experience: not only with both brands' products showcased in the curated retail environment, highlighting the brands' unique characteristics and iconic heritages, but also with the brands' commitment to creating an unmatched denim destination. On April 20th, 2023, Wrangler and Lee kicked off the Amsterdam store opening with a house party. At the store, the consumer's journey begins in the space's main area – where jeans from both brands are merchandized by gender and fit categories – and continues towards a specialized denim room – with a wide variety of denim on a seven-shelf stack. To underline the brands' distinct personalities, heritage materials and imagery are displayed throughout the store: featuring a capsule area for the premium Lee 101 range, as well as red and indigo blues in the visuals to evoke the spirit of Wrangler. "In the coming months," Waldeck remarks, "you can expect to see additional Lee and Wrangler stores in top retail destinations across Europe as we continue to introduce our brands' iconic designs and unrivaled denim heritage to new audiences."

www.wrangler.com
www.lee.com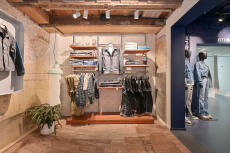 Fashion
Prada Frames 2023: Materials in Flux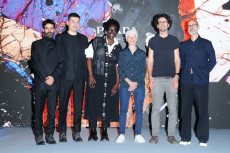 Following the success of On Forest for Prada Frames 2022, this year's multidisciplinary symposium returns to Milan with a new theme, Materials in Flux. The event took place at Teatro Filodrammatici, one of Milan's oldest theaters. The set-up was complemented by a selection of furnishings and lamps by the Italian brand Azucena – designed by architect Luigi Caccia Dominioni starting from the late 1940s. Prada seeks to stimulate a reflection that has nourished the brand's practice for some time now: how the use of innovative recycled materials bestows opportunities for low-impact production and original creativity. Curated by Formafantasma, Materials in Flux explores the concept of waste, and analyzes as well as breaks down the intricate relationship between materials and ecosystems. The symposium departs from British anthropologist Tim Ingold's research, who initiated the first session of the event, transpiring on April 17th from 11am to 12:30pm. Ingold introduces the notion of waste as matter in constant transformation: he views materials as interconnected, as having a relational process through which they become engaged with a perpetually changing web of life. His introduction is followed up by speakers Anna Anguissola, Hans Ulrich Obrist, and Eduardo Kohn. On the same day, from 15:00pm to 16:30pm, speakers Justin McGuirk, Patrick O'Hare, Josh Lepawsky, Elizabeth Povinelli, and Elvira Dyangani Ose investigate the dynamics that regulate waste infrastructure and their value systems during the second session. Together, they create a new, multidisciplinary reality. On April 18th, 2023, the complete recordings of both sessions will be available on Prada's website.

www.prada.com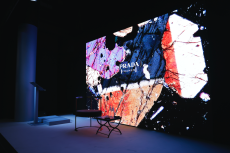 Fashion
Seventh Edition of the Loro Piana Knit Design Award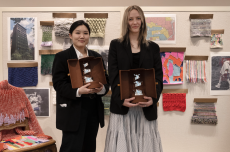 The seventh Edition of the Loro Piana Knit Design Award, an international competition between talented students dedicated to a creative interpretation of iconic yarns that represent the excellence of the Maison, has recently come to a happy ending. Since 2016, the first Edition of the Loro Piana Knit Design Award, students from the most prestigious international design schools have participated in the exciting competition. The theme for 2023 was "Regenerate" and the students from the six participating schools– the Fashion Institute of Technology of New York, Heriot-Watt University of Edinburgh, Donghua University Shanghai, Hong Kong Polytechnic University, Università IUAV di Venezia, and Institut Français de la Mode– were requested to develop a creative idea with a focus on sustainability and recycling, which will in enhance the value of Maison's exclusive yarns in the long term.

After the initial brief, the competing students were given a chance to fly to Italy to see first-hand Maison's extraordinary heritage and a general outline of the production process explained meticulously by the Research and Development team through guided tours of the wool mill. The finalists, presented on the 6th of April, were judged by international experts and internal representatives including but not limited to CEO Damien Bertrand. The winning pair were students Sumin An and Blake Dewitt of the Fashion Institute and Technology of New York. An and Dewitt were graciously celebrated for their win, leaving Italy with a prestigious Loro Piana Knit Design Award 2023 handmade silver trophy, along with a scholarship and an employment contract with the company. Loro Piana's efforts to merge teaching and professional experience allow for the company to shorten the distance between education and the job market– providing youthful creatives with an opportunity to showcase their talents to the world with no time to spare.

An and Dewitt's finished pieces, supported by expert artisans, will be exhibited in Pitti Filati, to be held in Florence from the 28th-30th of June.

www.loropiana.com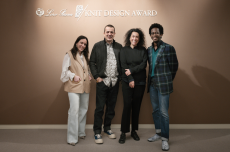 Fashion
Loewe's Reality Glitch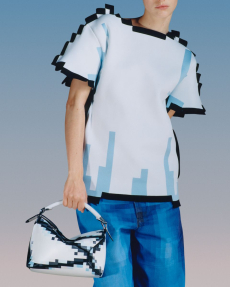 Your eyes are not playing tricks on you, this is Loewe's SS23 pixelated capsule collection. Loewe reimagined casual staples in their women's ready to wear and accessories, making them into a real-world glitch.

First debuting on the Paris SS23 runway, the capsule includes everything in pixel form, from a technical knit hoodie and T-shirt to Duchesse silk satin trousers and denim staples. The 2-D look of the technical hoodie and T-shirt is achieved with polypropylene, cut with a sharply jagged edge around a black outline. The hoodie has a functional kangaroo pocket on its front. The other garments feature a textured block print that complements the natural shadows of the human form. The denim pieces - jeans, a jacket, and a miniskirt - round off the collection.

The Puzzle Bag, which was the first bag designed for the brand by its creative director Jonathan Anderson, joins the collection with its own pixelated makeover. The bag is usually offered in a single shade, but now its supple calfskin leather is decorated with a black, grey, blue, and white pixel design that complements its geometric shape. All the pieces will be packaged in limited designed bags and boxes that fit the theme seamlessly.

www.loewe.com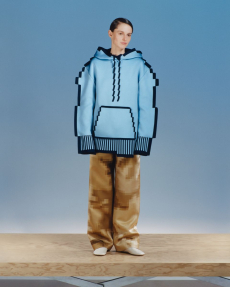 Fashion
This is You in Tiffany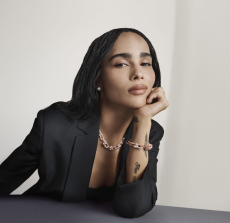 The essence of Tiffany jewelry is about the way one chooses to wear it. The "This is Tiffany" campaign is a celebration of this message, an homage to individual style and the power of expressing one's true self. In their latest campaign, Tiffany & Co. elevates the Tiffany T and the Tiffany HardWear collections by allowing their ambassadors Zoë Kravitz, Jimin, and Gal Gadot to fit the pieces to their personal styles.

Both collections are defined by the fine craftsmanship of the luxury jeweler with hand-polished finishes, sleek silhouettes, and striking pave diamonds. The Tiffany T collection is a classic and simple tribute to the strength of the Tiffany name, instantly recognizable, just like the House's logo. The Tiffany HardWear collection is inspired by the energy and architecture of the House's birthplace, New York City, crafted with gauge links that have allowed the collection to triumph as one of Tiffany's signature collections. This year, a new watch design joins the collection, with a cushion shaped case and Sapphire top glass resembling a full-cut diamond.

Both collections exemplify Tiffany's commitment to superlative quality, elegance, and sophistication. The 2023 "This is Tiffany" campaign offers a full range from subtle to subversive jewelry that provides an option fit for anyone to express their unapologetic personal style.

www.tiffany.com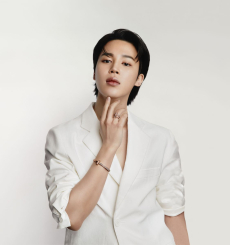 Fashion
W&W: Celebrating Montblanc's Heritage
This year, as every year, Montblanc celebrates its 165 years of watch-making heritage at the Watches & Wonders fair. Upholding its connection to mountains, Montblanc presented its 2023 novelties in an enchanting booth inspired by the Swiss Alps' great glaciers – a booth that combines the Maison's rich expertise and Marie De La Ville Baugé's artworks.

Montblanc's new 8000 Capsule collection places the world's 14 highest peaks in the spotlight alongside the brave individuals who challenged themselves to climb them. Four models join Montblanc's Zero Oxygen timepieces. The 1858 Geosphere Chronograph 0 oxygen The 8000 Limited Edition 290 is perfect for harsh conditions as the zero oxygen inside the 44 mm titanium case prevents fogging and oxidization. The 1858 Iced Sea Automatic Date editions are not mere watches but diving instruments that present a new gray glacier pattern dial, interchangeable and adjustable straps, and a water resistance of 300m. The 1858 Iced Sea Limited Edition Coffret collection includes last year's green and blue watch editions and this year's gray edition presented in a curated chest that resembles the rock of the Mont Blanc mountain. The limited-edition Unveiled Secret Minerva Monopusher Chronograph, with a white gold fluted bezel, comes in a distressed steel finish achieved by treating the 43 mm stainless steel case with a black coating. Lastly, the Unveiled Timekeeper Minerva puzzles us with its bezel-activated chronograph function that celebrates Montblanc's 100th anniversary since its first wristwatch chronograph movement.

Since April 1st, 2023, the novelties are available in Montblanc boutiques and online.

www.montblanc.com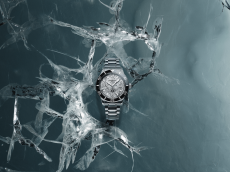 Fashion
The World of Ralph Lauren Arrives in Miami
In April of 2023, Ralph Lauren welcomes consumers around the globe to its newest luxury concept store in Miami's iconic Design District. The store is an immersive shopping destination that integrates the brand's signature vision of timeless luxury with it's goal of implementing digital innovations and interactive experiences.

An assortment of the Men's Purple Label and Women's Collection apparel and accessories, alongside one-of-a-kind handbags, and accessories exclusive to the Design District location will be available in the store. Additionally, interactive digital screens throughout the store unlock access to all the Ralph Lauren products available across North America and personalize the shopping experience with options to book styling appointments and more. This will be the first of Ralph Lauren's locations to accept cryptocurrency as a form of payment, including Bitcoin (BTC), Ethereum (ETH) and Polygon (MATIC), thanks to a partnership with BitPay.

Drawing inspiration from the contemporary yachts and elegant waterfront residencies outside its doors, the store features a sleek, crisp, and modern design. From warm teakwood to blond mahogany and black ebonized detailing, the space embodies the brand's devotion to effortless sophistication. Furniture from the Ralph Lauren Home Collection and carefully curated artworks fill the space, inviting local and touristic shoppers alike.

In late April, the world of Ralph Lauren comes to life to celebrate the stores opening. Guests are invited to a three-day exclusive and fully immersive experience at a water-front private estate in North Miami.

www.ralphlauren.com
Fashion
Dior Pre-Fall 2023: A Celebration of Indian Savoir-Faire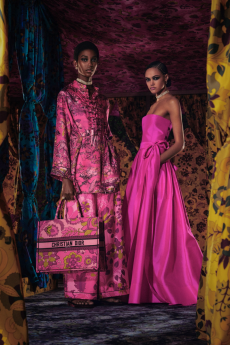 For the first time, Dior presented its Pre-Fall 23 collection in India, more accurately at the Gateway of India in Mumbai. The house has long held Indian culture in high esteem. In fact, this dialogue between France and India began with Marc Bohan, who in April 1962 traveled with Dior models to Mumbai and Delhi for shows. The resulting pictures from these travels served as an inspiration for Dior's Creative Director, Maria Grazia Chiuri. Beyond this, Chiuri's work relations and friendships have also connected her to India for many years now. Most remarkable, however, is her relationship with Karishma Swali, the director of the Chanakya School of Craft – a place that explores different types of savoir-faire and where incorporating women into the fashion industry is a central goal.

Through the collection, Chiuri continues to pay tribute to her and Dior's long-lasting engagement with India. She incorporates materials and color palettes that speak to her shared key influences with Swali. Timeless clothing shapes that have remained largely unchanged throughout time afford Chiuri the capacity to redesign her favorite models. Embroidery carries a special meaning as it represents the multiple landscapes of India as well as honors diverse techniques, which become a woman's instruments of empowerment and inventiveness. As a homage to Marc Bohan, silks in shades of green, yellow, pink and purple set apart sari-inspired straight skirts, while traditional Indian cuts characterize trousers, boleros, jackets and tops. Dior's celebration of Indian craft and creation produced a wardrobe of endless possibilities.

www.dior.com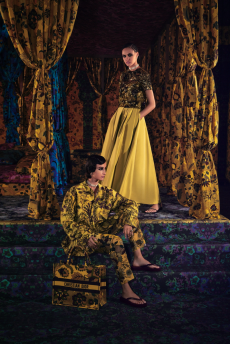 Fashion
Big Dreams, From New York City to the Whole World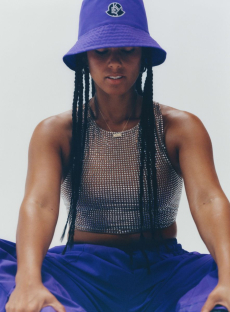 Alicia Keys dares us to dream with her new collaborative collection with Moncler. The collaboration fulfills her childhood dreams in a way she never imagined. She takes us back to the New York winters of her youth, where Moncler spotted the streets, a vision of excellence that always seemed out of reach. And now, her collection transports us to the place where her dreams were made, to her vision of New York City, the intersection of hard work and aspiration.

The Alicia Keys x Moncler collection brings the energy and hopeful optimism of New York to the world. Baggy '90s silhouettes shape an effortlessly gender-neutral collection reminiscent of the unforgettable pre-millennial aesthetic. From oversized tracksuits to cropped and shrunken tops, the collection radiates youthful confidence. Ebullient greens, reds, and Alicia's signature purple piece together with silver metallics and crystals in designs that epitomize swagger and street style.

The accompanying campaign imagery tells the story of the collection in two perspectives. The first, shot by Ibrahem Hasan, stars Keys with a cast of New York's up-and-coming talents swinging above a backdrop of the city's skyline – a visual metaphor for striving, reaching, and then surpassing your dreams. The second is a series of candid portraits reflecting the character and personality of Keys, shot by Laura Jane Coulson.

The collection was unveiled during London Fashion Week of 2023 at Moncler's The Art of Genius event, first worn on stage in a live performance by Little Simz and Cleo Sol. It launched online and in Moncler boutiques in late March 2023.

www.moncler.com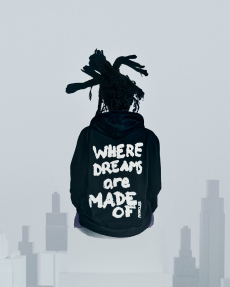 Fashion
Borbonese Studios Starring The SS23 Collection
Out of the darkness, the stillness, the American desert; a warm ebullient glow, and sharp dazzling vision. Dorian Tarantini and Matteo Mena take Borbonese to a new land, familiar yet pure fantasy. In the desert night, a distinctive vision of sharp glamor radiates and captivates. Borbonese Studios presents not only a seductive and rich SS23 collection but creates a captivating story with their latest campaign.

We watch the scene unfold from the director's chair, suedes in the dense colors of a Cadillac roll out and high-heeled wooden clogs set the rhythm. The collection is inherently responsible, with each piece made of archive materials. Suede and silk handkerchiefs and chokers are wrapped as accessories, protecting from the day's beating sun. The silhouette is vertical and voluptuous. Leather fringe and folds put on a sensuous show, a magnetizing dance. Archive silk with a spunky domino-print and dresses edged with crystals; archetypal garments like the blouson, the pleated skirt, shorts, and jeans, become sensual characters of their own.

Undeniably taking the lead is the cast of seductive and vivacious bags. The absolute protagonist is 110, with its rounded shape crafted from seasonal colors. A special version is presented, adorned with Swarovski crystals® in two variants: a 'crystal texture' like the glassy, crisp sparkle of sand, and a 'crystal transfer' with large stone embellishments. The hobo style of Domino, with brass dice on the knotted shoulder strap, brings soft volume and buoyant character. The short handle and rounded enveloping shell-like shape of Oyster makes it compact yet mighty. And Horseback's strong silhouette brings a rigorous structure.

www.borbonese.com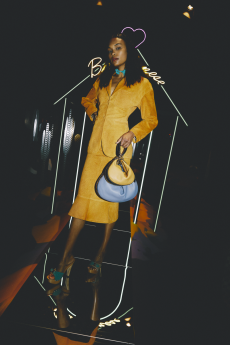 Fashion
Beauty Threaded in with Speed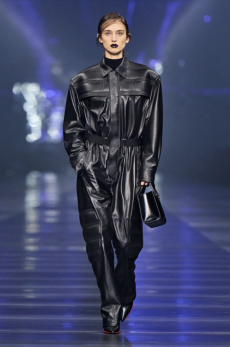 A provocative and bold analysis of beauty, what it is, and what it means – Ferrari's FW23 collection explores the ins and outs of beauty as a concept. The brand's Creative Director Rocco Iannone masterfully outlines what beauty is for the brand driven by speed: "Beauty is the pleasure that derives from speed, captured in its initial burst, in its full symbolic and design potential. It is the movement that stems from an idea, the aesthetic that captures the uniqueness of the transient, the sign of what is about to take place".

The collection features beauty sewn into motion and speed, the ultimate signifiers for the luxury brand. The garments, sleek and dutifully inspired by the elusive world of racing are crafted to produce silhouettes that are aerodynamic, outlining the body and providing the foundation for further acceleration. The colors are bold, classic black is contrasted with a pop of blood red or magnificently saturated yellow. The beauty is observed in the details.

The color red symbolizes Ferrari's universal identity and elegance, and within the spaces of Palazzo Citterio, a historic building housing the Brera Art Gallery, it reaches full saturation. A highlight garment from the collection, workwear-inspired by practical elements as well as the world of racing, the loose suit paired with a blue leather jacket is adorned with blood-red fur lapels and heels lined at the sole with the same omnipresent hue. The monochromatic cohesiveness and the conscious disruption enhance the vitality of the silhouettes and the entirety of the collection.

www.ferarri.com
Fashion
Premiata at KaDeWe
The Italian brand Premiata celebrated the long-awaited opening of its new store in February of 2023. Located on the first floor of KaDeWe in West Berlin, the space spans 20sqm, offering a wide range of the brand's products. Premiata specializes in high-quality jackets, backpacks, and a variety of shoes that are expertly crafted with Italian style and sophistication. The illuminated Premiata logo invites customers into the concept 'Corner Store', reduced to the essentials while offering Premiata's latest designs. The selection of materials creates a space that reflects the purity and elegance of Premiata and its products. The design elements in the space coexist in a way that emphasizes the products on display, such as the current sneaker collections. The new store is reminiscent of the other Premiata location, with glossy black surfaces that harmonize with accents of brass and plexiglass. The store and the products unite in a common language: light and minimalist, yet technical and modern. A small area of the store is furnished with a carpet and velvet stools to provide seating so customers can find their perfect fit. With the opening of the Premiata Corner Store opening at KaDeWe, Berlin, Premiata invites its customers into the world of Italian style and high-quality craftsmanship. www.premiata.eu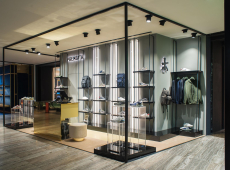 Fashion
A New Chapter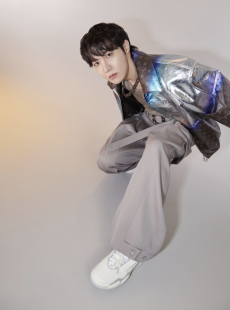 In late February, the luxury fashion brand Louis Vuitton unveiled the South Korean rapper, dancer, and songwriter J-Hope as the brand's newest House Ambassador. As a member of the beloved k-pop group BTS, J-Hope rose to international stardom and is now a global fashion, art, and music icon. BTS has gone down in history as one of the most influential music groups of all time – broken several Billboard records, has been listed in Times Magazine's 100 most influential people, and more.

The creative, bubbly, and unique energy J-Hope possesses has only intensified his momentum as a solo artist. He is adored by fans worldwide for his masterful choreography, charismatic attitude, and creative musical direction. The rapper's positive on-and-off-stage aura outlines his genuine nature and passion to push artistic boundaries while inspiring international audiences. J-Hope's new and exciting charm will outline a new chapter for the Maison, combining artistic passion with exquisite design and craftsmanship.

www.louisvuitton.com 
Fashion
Louis Vuitton and Yayoi Kusama's New World of Infinity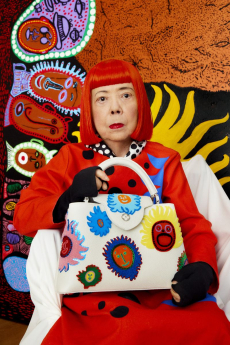 Louis Vuitton has collaborated with artists for years, an impetus which continues with perhaps the pre-eminent global artist of the 21st century. Yayoi Kusama's transformative imagination is embraced by the Maison, taking over all its product lines. The gift that sparked their relationship in 2012 exemplified their shared vision. Kusama hand-painted her characteristic INFINITY DOTS, known for giving a glimpse into infinity, onto of the most timeless, emblematic Louis Vuitton objects - the trunk.

This collection unites the two in their pursuit of crafting fantastical objects with an investment to detail and infinity in mind. A cascade of Kusama's captivating motifs in vibrant, joyful colors furthers the limits of Louis Vuitton's savoir faire in Drop 2 of their collaboration.

In stores starting March 31st, 2023, PUMPKINS, FLOWERS, FACES, INFINITY DOTS, and INFINITY NET encompass the ready-to-wear, bags, shoes, accessories, luggage, trunks, and fragrances available to men and women. The winsome form of PUMPKINS is integral to Kusama's hallucinatory world. They take center stage, inspiring new forms, and playful new designs on iconic pieces. The women's world receives special attention inspired by the psychedelic FLOWERS painting from 2004, with delicate embroideries and prints of elegant hyper-florals. FACES, especially chosen for the collaboration, are married with the new signature blue of Louis Vuitton, combining chicness with chaos especially in ready-to-wear. A second wave of INFINITY DOTS introduces enthralling new colors to accessories and men's footwear. Finally, the Capucines bag is entirely enveloped in the mesmerizing rhythm of Kusama's INFINITY NET motif.

www.louisvuitton.com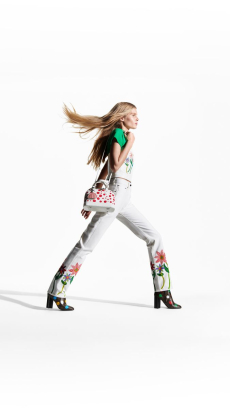 Fashion
Unboxing Valentino Around the World
Valentino's SS23 collection, titled Unboxing, unfolds globally, celebrating the limitless diversity and complexity of fashion. Nine brilliant stylists with their own window displays infuse the collection with the stories of the city they create in. Supported by precision tailoring and fine differences in drapery and design, minimalistic and monochromatic clothes serve the true individuality of any wearer.

In New York, Law Roach connects to Valentino's history with a deep totalizing red and the Valentino Toile Iconographe pattern. In London, Rebecca Corbin-Murray's contrasts all-black with vibrant yellow blooming flowers to signify the unboxing of nature. Clement Lomellini takes Paris in a literal direction, creating a desire to tear off the wrapping paper behind which Valentino awaits. Lorenzo Posocco reflects the authentic fashion of the streets of Milan with a video installation. A paradox plays out in Dubai, where Anna Dello Russo color-blocks and accessories Mannequins in a profusion of Valentino Garavani feathers and fluff to create a fantasy world. Mix Wei in Shanghai infuses traditional Chinese culture into the collection's quest for purity, honoring the essentials that make up the worlds of art. In Seoul, Geum Nam Hwang invites viewers into the puzzle of the Soma Cube, to search for and unbox their personal essence. In Tokyo, Masataka Hattori spreads the wings of earth-toned looks in an enclave that pays homage to the natural environment. The final window, styled by the duo Grandquist, transcends location with a digital display suspending mannequins in a world of intense red that epitomizes Valentino.

www.valentino.com
Fashion
Prada's Tenth Exclusive Timecapsule NFT Collection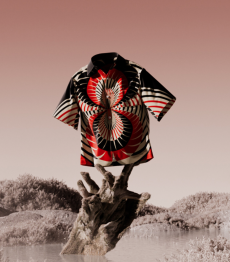 On March 2nd 2023, Prada dropped its tenth limited-edition Timecapsule collection paired with a corresponding gifted NFT – titled INTERFERENZA OTTICA ART PRINT BY ENZO RAGAZZINI, 1969. Last year in June, the NFT initiative was put in place to expand on the Prada Timecapsule project, launched back in December 2019. Currently, Prada's Timecapsule NFT is an online event that takes place on the first Thursday of every month. For 24 hours, a limited amount of 50 items are made available for purchase.

This month, the Timecapsule collection concludes Italian photographer Enzo Ragazzini's print trilogy from his 1960s and 1970s archives. This edition's shirt carries the final print of the three-part series – a print that was originally designed in 1969 for the Enzo Ragazzini exhibition at the Institute of Contemporary Arts in London (ICA). The design was made with the optical interference technique, using mechanical devices of Enzo's own invention. The "rotating plane" and the "rotating drum" – digitized in 2017 – are used for the shirt's circular and horizontal patterns respectively. The shirt also features the Prada enameled triangle logo with "MARCH" transferred on the back of the item. Each shirt comes with its own gifted NFT – an invitation to join Prada's exclusive Crypted NFT community. As each NFT series includes a serial number for the drop and another for the item, Timecapsule collection holders can match their physical product to the virtual one. As such, Prada continues to expand on its Web3 community with artistic ingenuity.

www.prada.com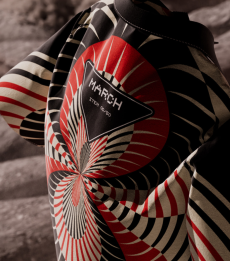 Fashion
The Sound of Brunello Cucinelli's Women's FW23 Collection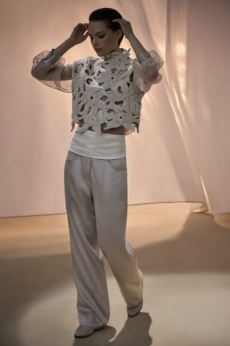 Brunello Cucinelli explores the sound of style in the Women's FW23 Collection. The collection is based on musical and artistic harmony in redefining the feminine. The brand showcases an attachment to simplicity and order, clean lines, alternating shapes, and a color schema inspired by the essence of the countryside to build the foundation of harmony for the Italian brand - luxury and serenity.

The softness that the knitwear made from mohair, alpaca yak fibers, and soft shearlings evoke is counteracted with elements influenced by "academic charm". Comfortable shearling-lined outerwear garments are paired with mini- and midi skirts and thin heels paired with neutral socks or practical boots.

The collection, inspired by "the clean and essential look of the '90s", displays the authenticity that the modern feminine yearns for. The visuality of garments is constructed with different experiences in mind, and a masterful understanding of how environments influence silhouettes and garment construction. One can find solace in the comfort of casual silhouettes during the day and explore the intimacy of their femininity with evening garments inspired by "jazz club atmospheres".The collection resembles the workings of an orchestra, and the looks feature elements of varying environments and attitudes, but the collection as a whole creates an outlet for the divine feminine which is not limited to the traditional boundaries of simplicity and minimalism.

www.brunellocucinelli.com
Fashion
PFW - Louis Vuitton FW23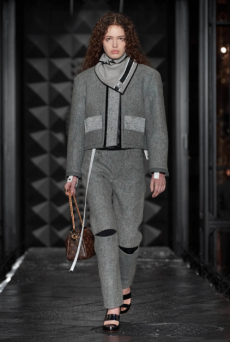 By asking the question, "What is French style?", the Louis Vuitton FW23 was an innovative and cosmopolitan take on classic and timeless Parisian silhouettes. The collection debuted with a return to the ballroom of Musée d'Orsay, anchoring the new pieces in the conventions of French fashion culture. Artist Philippe Parreno and production designer James Chinlund, met with sound illusions by Nicolas Becker, set the scene of the catwalk in a busy cobblestone Parisian Street. The show began in muted, neutral colors with belted blazers layered over floral dresses. This evolved into bold, oversized garments and the vibrant French tricolore appearing in bags, leather motocross gloves and the patterns of the garments themselves with accents of burgundy and yellow. Traditional fabrics like tweed and wool were transformed into contemporary silhouettes such as oversized outerwear and trousers slashed at knee length. The pieces were expertly tailored, with thick knits in bold angular shapes and sculpturally pleated blazers and trousers. Leather was manipulated with details such as on coats embossed and printed with a wool-like texture, and on pants painted with pinstripes. Dresses featured white collars and cuffs were reminiscent of the traditional café uniform, paying homage to the French service industry. The show concluded by featuring international prints and textures, tying in Louis Vuitton's traveling spirit, and the trailblazing style of the French to which the world is magnetized.

www.louisvuitton.com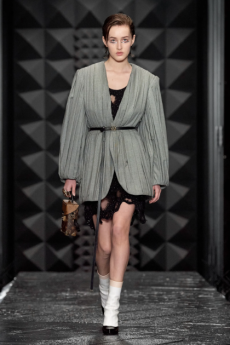 Fashion
ZEGNA x The Elder Statesman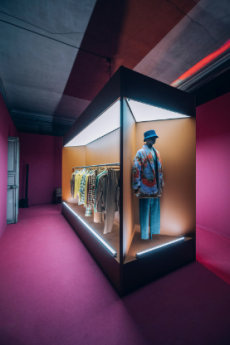 The collaboration of ZEGNA and The Elder Statesman represents a commitment to masterful craftsmanship, the world's finest raw materials, and new possibilities in environmentally conscious fashion. ZEGNA is a global leader in luxury menswear faithful to its heritage style of Piedmont Italy. Their Oasi Cashmere reflects a deep, technical appreciation of a traditional material manipulated with the ambition for innovation. Their designs have effortless synchrony with nature, aspiring towards using waste-free, fully traceable fibers without compromising beauty. ZEGNA's ethos is shared by The Elder Statesman, a luxury lifestyle company comprising a team of artisans in Los Angeles that hand spins, knits, dyes, and embroiders their designs. Their ongoing partnership was announced by teasing a shirt and carried overcoat in the ZEGNA FW23 fashion show in Milan. Their dialogue represents a harmonious "recognition of quality, craft, and a deep mutual respect", as said by Greg Chait, the Founder and CEO of The Elder Statesman. ZEGNA's Artistic Director Alessandro Sartori describes it as a "cross-pollination" merging the Italian textile mastery with Californian levity and spontaneity. The ZEGNA x The Elder Statesman collection will deliver a rich and vibrant balance of colors like lilac, bacca red, and aurora yellow and elevate nostalgic patterns referencing worn-in plaids and corduroys. From cashmere button-down shirts, long shorts, and slip-ons, to felt bucket hats and baseball caps, the pieces embody a soft, comfortable masculinity.

The collection will be available from September 2023 in key ZEGNA stores, The Elder Statesman retail channels and selected wholesale partners.

www.zegna.com
www.elder-statesman.com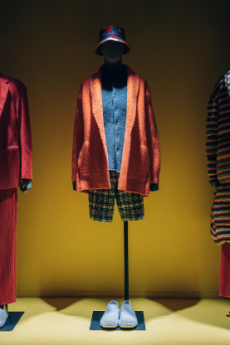 Fashion
H&M and Mugler announce their Spring 2023 Collection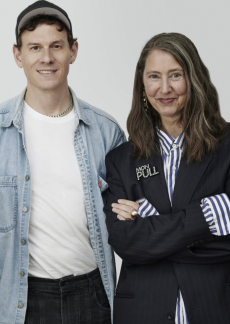 Last week, the Swedish brand H&M announced its upcoming collaboration on a Spring 2023 Collection with the fashion house Mugler. H&M has a star-studded history of designer collaborations- Karl Lagerfeld, Maison Martin Margiela, and most recently Balmain. Through these creative collaborative relationships, H&M has made high fashion more accessible for the majority of consumers worldwide. This collection, infused with the atelier's unique essence, will be designed under the Mugler Creative Director, Casey Cadwaller.

The exciting H&M and Mugler Spring 2023 Collection will be made available online and in selected stores.

www.hm.com
Fashion
MFW - Ferragamo's New Hollywood - FW23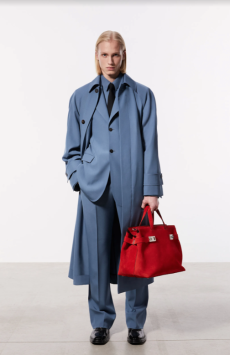 Hollywood with its cosmic history, omnipresent attitude, and aura is threaded into the seams of Ferragamo's Pre-Fall23 collection. The collection is inspired by the oppositional elements in the narrative of Hollywood and the cinematic endeavor that is the cowboy boots Salvatore Ferragamo created for The Covered Wagon in 1923. The brand is not reductionist in regard to what Hollywood aesthetically offers, on the contrary, it adopts a panoramic view of the Californian landscape to highlight the intimate dance of the snowy mountains and the desiccated desert. The seductive dichotomies between hot and cold and, refined and raw create the subtext of the showcase. The brand is deeply intertwined with the history and the aesthetic of Hollywood, past and present, and although Salvatore has been dropped from the Ferragamo name Maximilian Davis - the Creative Director of the brand- regards Hollywood as the shoe-making prophecy once did - an opportunity for creative expansion and improvement. The silhouettes and the garments efficiently marry the aesthetic of the Western wardrobe with the essence of today- monochromatic garments influenced by the West that create seductive, reserved, and powerful images paired with accessories that are loud, bold, and attention-grabbing. The cohesion achieved with an elaborate baby blue suit, featuring a light and dynamic monochromatic trench coat, is contrasted with a bright red tote bag. Leather, colorful gloves, denim, and elements that highlight natural lines found in nature create a collection that can embellish the Hollywood red carpet or the everyday.

www.ferragamo.com
Fashion
MFW - Emporio Armani FW23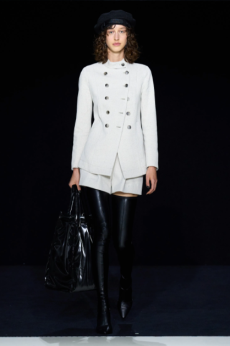 Emporio Armani brought an air of humor to the FW23 fashion show in Milan. The backdrop of the catwalk was a throwback photo of model Noemi Ditzler, setting the stage for the timeless collection. Models carried looks inspired by old Elizabethan theater, with dazzling smiles that put a subtly ironic twist on Armani's classical elegance. The collection draws a joyful inspiration from stage costumes, met with everyday wearability that can carry one from day to evening. This was represented in the clothing from asymmetrical jackets, pin-tucked trousers and breeches, to accessories such as miniature hats, shirt collars as necklaces, and grosgrain straps. The characteristic fluidity between masculine and feminine seen in Armani's designs did not fall short. The styling brought together precise and sophisticated silhouettes featuring tailored jackets accentuating sharp shoulders and bodice belts to define waistlines, with youthful short hems and flowing trousers. Black, white, and gray dominated the runway, but dramatic and playful flares of magenta and graphic patterns provided radiance. Layers of texture and volume brought the drama of the theater to the runway. Embossed velvet, mohair and faux fur effortlessly met with silk, canvas, and sequins. Armani consistently suggests clothes that bring out the person, bridging the attitude of the catwalk with the drama of the theater to introduce an unusual and ironic take on classicism.

www.armani.com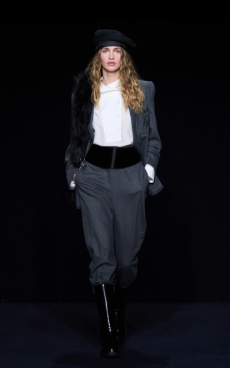 Fashion
TUDOR becomes official Timekeeper of the Giro d'Italia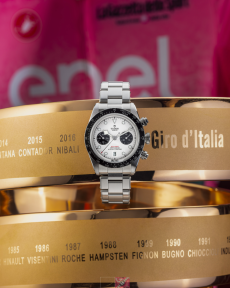 The world of competitive sports today has become more competitive than ever before. Through research, developments and optimization of training methods, the athletes' performances are brought to a peak. Races are no longer decided by seconds, sometimes it's merely fractions of a second which decide about winning or losing. The world of pro cycling is by no means an exception. One of the biggest happenings in the yearly cycling calendar is the Giro d'Italia which is considered to be one of the most prestigious and gruelling races in the world. In its 106th edition this year, riders from all across the world are once again chasing the maglia rosa, the Pink Jersey, handed to the overall winner of the tour. For the first time, TUDOR will now be the official timekeepers of the Giro d'Italia. But the Swiss watchmaker will not only be the timekeeper of the Giro d'Italia, but for all the RCS races which include classics such as Milan-San Remo or Il Lombardia. TUDOR and pro cycling have longstanding ties, as both are connected through the shared values of courage and team spirit as well as a constant striving for perfection. This is also embodied by the TUDOR Pro Cycling Team competing in races and tours all across the world. The Giro d'Italia will take place between May 6th, 2023 and May 28, 2023.

www.tudorwatch.com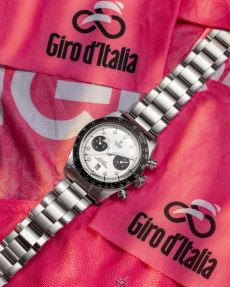 Fashion
White Canvas: LV Trainer in Residence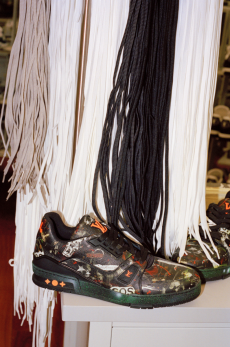 Over the past decades, the sneaker has undoubtedly become a must-have item in all our wardrobes to the point where a brand like Louis Vuitton would feel incomplete without sneakers in their collections. With this in mind, the former Artistic Director of menswear at Louis Vuitton, Virgil Abloh, designed the ultimate luxury sneaker. The LV Trainer, first unveiled for SS19 and an instant icon in the sneaker community, is fusing the authentic codes of basketball shoes with the iconography and savoir-faire of the Maison with each pair requiring no less than seven hours of manufacturing. Now, this special sneaker is becoming the foundation for Louis Vuitton's newest project, the White Canvas: LV Trainer in Residence exhibition. The idea for this exhibition goes back to the late Virgil Abloh who saw the LV Trainer as a perfect canvas for artistic collaborations. For the first instalment of this recurring artistic exchange program, the French Maison is partnering up with three artists shaped by the 80s New York underground scene, Lady Pink, Lee Quiñones and the Estate of Rammellzee, who each put forward their own unique spin on the iconic LV Trainer. It's an embodiment of Louis Vuitton's ongoing fostering of free expression and creative conversations bridging the gap between diverse domains of knowledge and genres. Lady Pink was born in Ecuador and was a leading figure in the rise of graffiti-based art which made her a cult figure in the hip-hop community. Lee Quiñones was born in Puerto Rico and was pivotal in bringing street art above ground and Rammellzee rose to fame through the rich expression of his artworks across multiple disciplines. Exhibited in Garage Traversi in Milan, the centerpiece of the exhibition will be the three original hand-painted sneaker adaptations. But Louis Vuitton created an overall experience which allows the visitors to immerse themselves within the context of the works through multimedia installations charting the collaborations. Aside from being a display of the works, the exhibition will also act as an exclusive point of sale for commercialized versions of each collaboration made available in limited quantities.

The Louis Vuitton White Canvas: LV Trainer in Residence exhibition will be open to the public from February 24th until March 16th at Garage Traversi in Milan.

www.louisvuitton.com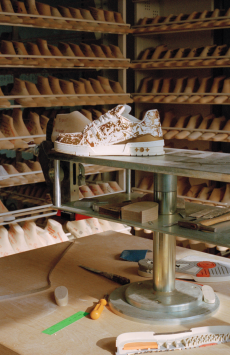 Fashion
Instilling Womens' confidence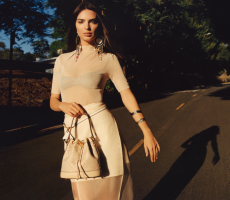 Since the beginning, women stood at the core of the Tory Burch empire, named after its founder. Tory Burch recognised a gap in the market, the overlooked, yet successful women seeking affordable quality with the timelessness of good taste. From the very beginning, her pieces resonated with these mid-career women who helped transform the brand into what it is today. The newest collection remains in line with the brand's underlying philosophy and is a celebration of the strength of women, the power of femininity, motherhood and family. According to Tory herself the collection's purpose is to empower women and to instil confidence. To put it in her own words, 'Women don't want to feel restricted, and they aren't interested in rules. They want to dress for themselves and express their individuality.' This is perfectly captured in the seasonal imagery starring Emily Ratajkowski and her son alongside Vittoria Ceretti and Ugbad Abdi set in the expansive, sun-drenched horizons of the Hollywood Hills. Styled by Brian Molloy and photographed by Jamie Hawkesworth. Throughout the captivating imagery, the three muses wear a selection of looks off the runway, showcasing the range and diversity within the collection. They also highlight the new standout accessories of the season, such as shoes, eyewear and watches, as well as the newest iterations of signature Tory Burch handbags.

The Spring 2023 collection is available in Tory Burch stores and selected retailers as well as online.

www.toryburch.com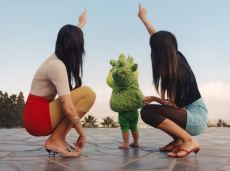 Fashion
Sabato De Sarno Appointed as GUCCI's New Creative Director
End of November, Kering announced that the house of Gucci and Alessandro Michele, the Creative Director at its helm, would part ways after an extraordinary seven-year run which has seen the Italian house return to its rightful place as one of the most iconic and influential luxury houses in the limelight of international attention. Ending months of speculation about who would take over, Gucci has now announced that Sabato De Sarno will assume the role of Creative Director with his debut collection expected at the Milan Women's Fashion Week in September later this year. Following the announcement, De Sarno expressed that he was "touched and excited to contribute my creative vision for the brand." Born and raised in Naples, De Sarno himself was relatively unknown to the wider fashion world prior to this announcement having worked primarily behind the scenes. His own journey in fashion started in 2005 with Prada, before moving to Dolce & Gabbana, followed by a 13-year tenure at Valentino. Throughout the years, he held positions of increasing responsibility, helping the brand to evolve into one of the most influential houses of today. It's this vast and valuable experience that will help Gucci open an exciting, new chapter whilst bringing a singular and contemporary perspective to modern luxury.

www.gucci.com
Fashion
Color and comfort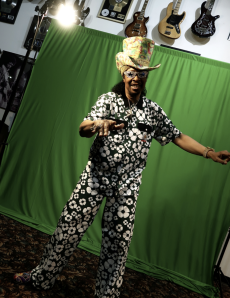 Utility meets euphoria – this is what springs to mind when looking at the new collaboration collection between Carhartt WIP and Marni for Spring/Summer 2023. Carhartt WIP's legacy as a workwear-turned-global-sensation is well-known and well-documented. With a uniquely utilitarian appeal, the brand has captivated young and old alike and gained significant attention in the fashion industry, despite its humble beginnings producing overalls for railroad workers in the early 20th century.

Carhartt's latest partner, Marni, tracks a similar success story as a relative outlier in the fashion world. Hailing from Milan, the brand presents somewhat of an antithesis to the splashy and extravagant or, on the other end of the spectrum, more classic sartorial styles that are often associated with Italian fashion houses. A look through the brand's archives reveals a penchant for slouchier silhouettes, and more importantly, a prolific use of playful patterning.

Bringing together the light-hearted and colorful palettes of Marni and the utilitarian silhouettes most associated with Carhartt, the Marni x Carhartt WIP Spring/Summer Collection 2023 will bring a refreshing splash of color and style to any wardrobe. HZ

www.marni.com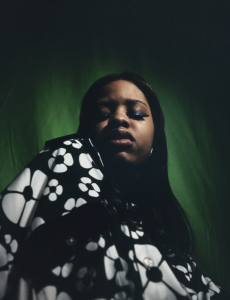 Fashion
The Passage of Time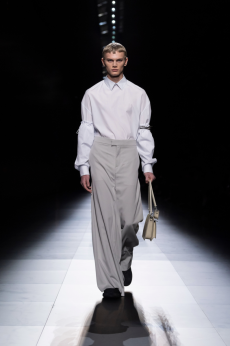 The changing of the seasons, the passing of time. The cycle of life moves through the motions – like a river; always moving, never still. Stillness in movement, in change. The passage of time, of life and death, of renewal and mutability, have been themes that have absorbed artists and philosophers alike for centuries. Such was the inspiration behind Kim Jones' latest collection for DIOR Men Winter 2023-2024.

In a release to the press, DIOR explains the river as a symbol of inspiration to the designer; ever-changing, a parallel to the constant flow of movement that is fashion. Jones has often been praised for his unique ability to pay tribute to the history of the iconic Maison whilst bringing in novel elements such as streetwear, striking a careful balance between the codes of the past and the ways of the present and future.

In this collection, Jones especially pays tribute to one of his predecessors, Yves Saint Laurent, who was the immediate and chosen successor to the father of the Maison, Christian Dior. The Spring/Summer Collection of 1958 is mainly drawn upon for inspiration, yet Jones brings in elements of himself and the time in which he lives to provide freshness and relevance. Mixing male and female elements, as well as a sense of modernity in the ease and practicality of the garments, Jones abides faithfully by the Maison's mission to reinvent its codes in ways that fit to the lifestyle and agency of the modern wearer. HZ

www.dior.com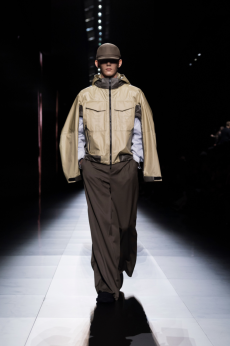 Fashion
The Unity of Nature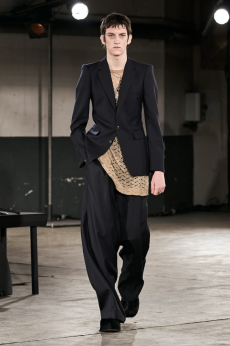 Human-to-human and human-to-nature are among the most important aspects of our existence on Earth. Dries Van Noten pays tribute to both of these themes in its latest FW23 men's collection. An overlapping of nature motifs, together with a more unexpected inspiration in raver culture, forms the basis of the line. Both themes, nature and raver, simultaneously advocate a sense of freedom and self-expression, a constant theme throughout the range of designs.

The nature symbolism in the collection is largely inspired by the groundbreaking work of German naturalist and geographer Alexander von Humboldt. Informed by his decades of exploration and travel and an insatiable curiosity of the natural world, Humboldt's "unity of nature" theory advanced the idea of the interconnectedness of all living things on Earth. It seems that the concept of the "harmoniously ordered whole" likewise percolated into the artistic headquarters of Dries Van Noten, where individuals were inspired by drawings housed in the Meise Botanic Garden to create the vivid renderings of tiger lilies, snakes and eagles present throughout the collection.

Other elements work to create a strong sense of the outside world – earthy, muted tones; the rawness of fabrics such as jute and alpaca, next to materials and fabrications that have been weathered by the elements. To complete this picture of interconnectedness and the energy of the elements, design choices are informed by classic raver styles. HZ

www.driesvannoten.com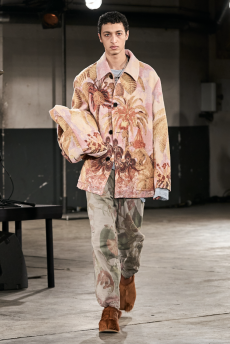 Fashion
GUCCI REBELS
The debut of the Gucci FW23 Men's Collection at the Men's Fashion Week in Milan, two weeks into the start of the calendar year, marked yet another historic moment in the company's history – its first collection since the departure of Alessando Michele, former Creative Director of the House. To the tense musical accompaniment of Marc Ribot's Ceramic Dog, the Gucci models strutted their stuff on the circular runway, many of them donning beanies and oversized silhouettes. Apparently inspired by acts of improvisation, the collection riffed on a core premise of oversized everything in the beginning and elements of indie sleaze especially in the latter part of the collection. Leg warmers featured prominently, as did variations on conventional male designs such as the blazer and chinos. Touches of glitter and pastel also emanated throughout, giving a colorful spin to the looks. As the models moved as if in a gravitational orbit around the energetic trio in the middle of the circular stage, the mood was undeniably… sexy. And moody. The collection reflected something of a rebellious take on traditional and less-traditional styles – fitting to the grunge-y chords and drum beats emanating from the core of the show. The finale, with the models revolving in single file around the periphery of the stage, had to be the highlight; as the models left the stage, Marc Ribot let out one final cry and the band played an epic drum-filled outro – an explosive and electrifying moment to mark the end of the show. As the first composition of Gucci's post-Michele era, the show and collection sets an exciting new course for the House and its loyal followers. HZ

www.gucci.com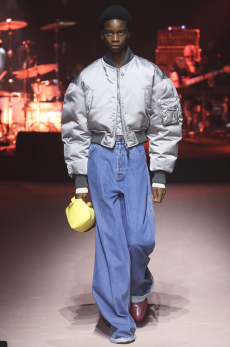 Fashion
Lady 95.22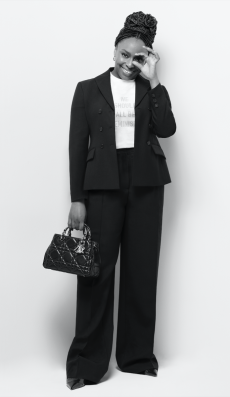 The Dior Lady 95.22 is revisiting the iconic Lady bag, first released by the Maison of Dior in 1995; its name a reflection of its decade-long history. As the new replaces the old, the Lady 95.22 reinvents the original Lady with new lines and silhouettes. Its rounded silhouette and bold black design makes it a statement piece that nonetheless blends seamlessly into any outfit. Like its predecessor, the Lady 95.22 retains its signature pattern and textures in the form of the maxicannage pattern, an instant identifier. The two handles are dressed in leather and metal and embellished with Dior lucky charms. Leading the charge of the new Dior staple are three industry-leading women. World-renowned author Chimamanda Ngozi Adichie is by now widely regarded as one of the most influential novelists and public speakers of this generation. For her work she has been distinguished with a MacArthur Fellowship, a National Book Critics Circle Award, and perhaps most importantly, the faithful following of a generation of young readers. Appearing next to Adichie in the current campaign are Anya-Taylor Joy, the award-winning young actress who found international recognition especially through her role as a chess grandmaster in the hit show 'The Queen's Gambit', and Beatrice Borromeo, long-time Dior ambassador and political journalist. With such an impressive roster of representatives, the new Lady 95.22 embodies a pluralistic vision of femininity, painting a picture of grace, empowerment and style. HZ

www.dior.com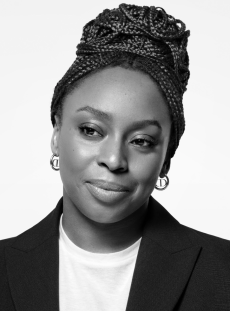 Fashion
LV & Ski
Ski, slopes and sun. What better way is there to spend a winter season? For those lucky enough to make it to the mountains this year, Louis Vuitton's new LV Ski Collection comes like a belated Christmas present. Sporting everything from snowsuits to furry hats to ski boots, the collection has an item for every occasion, whether that be racing down the slopes or having the odd drink or two at the après ski. Puffer jackets made of genuine goose down padding and recycled nylon fabric will keep you warm in the cooler climates; technical nylon and waterproof stretch gabardine will allow for optimal movement while bracing you against the cold. Louis Vuitton also commemorates the winter season with a remixed version of the famous LV logo, giving rise to a reworked version of the Snowflake motif alongside the LV Flocon logo.

In a nod to traditional nomadic architecture, Louis Vuitton has also opened a new pop-up in the famous Alpine town of St. Moritz in the shape of a yurt. The structure is emblazoned on the outside walls and throughout the interior with the familiar LV logos and patterns, and houses a cozy yet sophisticated vibe, complete with plush sofas and a fireplace in the middle.

The Louis Vuitton Yurt Pop-Up is open from December 16th until April 10th on Via Maistra in St. Moritz. HZ

www.louisvuitton.com
Fashion
Premiata New Style: CROSS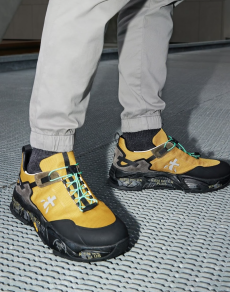 Offering comfort, luxury and style, Premiata's shoes are a prime example of how the sneaker has revolutionized the footwear industry. The brand was founded in Italy in 1885, and has had nearly 150 years experience in handcrafting the highest quality Italian shoes. Graziano Mazza, heir to the family business, took over and registered the brand in the early 1990s. With his creative vision, he turned the company on its head, turning the focus on sneakers at a time in which these were reserved for gym floors and after-school sports. Following Graziano's character, the brand focuses on innovation, both in style and functionality. It has succeeded in striking a careful balance between respecting the traditions of the shoemaking craft, while using each new collection as a bold experiment. The new CROSS sneaker collection is no exception to this rule. The sneaker comes in an astonishingly versatile range of designs, colors and fabrics. Animal prints, fur trimming, bold colors adorn the entire collection. For the more minimalistically minded, there is also the option of the mono-colored sneakers. Taking on a modern silhouette, it centers around a blend of fine materials as well as the characteristic details exclusive to the Premiata brand.

www.premiata.eu
Fashion
Re-Enchanting Villa Medici
In its latest collaboration, FENDI has worked together with the French Academy in Rome and the Mobilier National by refurbishing and redesigning six Salons in the Villa Medici, a 16th-century villa in the heart of Rome which has been the French institution's base since 1803. Under the creative direction of Kim Jones, FENDI's Artistic Director of Couture and Womenswear, and Silvia Venturini Fendi, Artistic Director of Accessories and Menswear, the villa finds itself transformed, becoming a place that perpetuates exceptional know-how, a union between contemporary design and history, actively shaping the heritage of tomorrow. Following in the footsteps of the many creative minds, such as Balthus and Richard Peduzzi, who have created the villa's unique architectural and decorative identity, color became the central element for the entire project. For the new interpretations of the new Salons, the creative duo supported by the FENDI Architecture department, combines interior fittings and conversation-restoration, with the tones of the different room's original wall paintings becoming the starting point for choosing the new color palettes reflected in particular in three custom-designed, hand-knotted carpets with graduated shading and entirely crafted from recycled French wool. But the fil rouge of this project was the spirit of collaboration, of creating a dialogue between existing heritage and contemporary design aspects and designers. Whether it is the furniture pieces by contemporary designers such as Ronan and Erwan Bouroullec or Chiara Andreatti or the artworks of artists such as Sheila Hicks or Patrick Corillon, one can experience a remarkable introduction of contemporary design into the historic Salons of the Villa Medici, where the new enters a dialogue with the historical. Through this project, FENDI endorses its commitment towards the preservation of the artistic patrimony, fuelling its ever-lasting connection to its hometown, the Eternal City of Rome.

www.fendi.com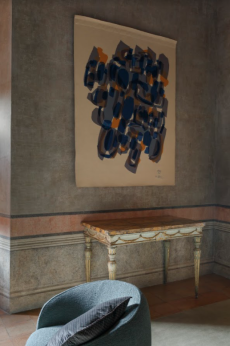 Fashion
C.P. Company x Palace Skateboards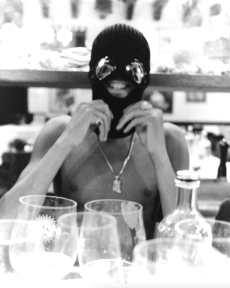 Palace Skateboards was born in 2009 out of London's South Bank, an area known for its vibrant skate and art culture. By now a seasoned collaborator, the brand has often been applauded for breathing fresh wind into the oftentimes stiff and serious world of high fashion. With its wit and youthful energy, it reflects the zeitgeist of modern skate culture and the South Bank that it hails from.

C.P. Company, "the Original Italian Sportswear Brand," has, since 1971, been an industry leader in the creation of functional menswear. Like Palace, C.P. Company's founder, Massimo Osti, took subtly non-conformist approaches to the business of fashion. Among the first to develop the technique of garment dyeing, C.P. Company is a pioneer in fabric innovation.

For the first time, C.P. Company and Palace have joined forces to create an exclusive collaboration, remixing the former's technical expertise and sportswear legacy with the latter's youthful, tongue-in-cheek attitude. The result is a collection that brings together staples of both brands, such as the C.P. company's revered duffle coat and Palace's bomber jackets and sweatpants, saturated in colorful palettes and playful overtones.

The collection will be available online on C.P. Company and Palace official websites and official flagship stores worldwide from December 16th, 2022. HZ

www.palaceskateboards.com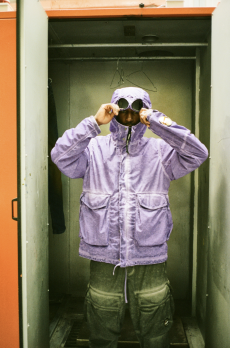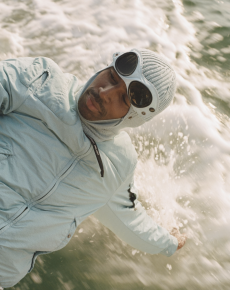 Fashion
Armani in the Alps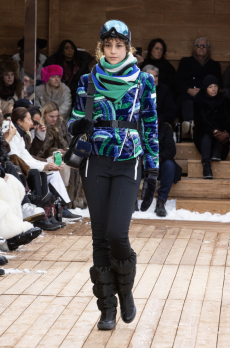 St. Moritz – luxury ski resort town and host to not one, but two, historic Winter Olympics – played host yesterday to another major event, the Giorgio Armani Neve Autumn/Winter 2022/23 show. Held against the backdrop of the Olympia Stadium one one side, and a 360 degree panorama of the glorious Swiss Alps, the Giorgio Armani Neve event drew a throng of over 300 gracious guests.

"Neve", Italian for snow, is the name of Armani's elusive skiwear collection, launched only a few years ago, in response to a growing demand for high-fashion skiwear. Armani is certainly not alone in answering to this call – by now, droves of fashion brands are ambling into the style-meets-ski arena – however "what makes Neve different is the balance of performance and style, and the span of the offer, which is dedicated both to skiing and après ski," according to the namesake founder/designer Giorgio Armani himself.

Armani is leading by example as a major fashion label. Together with the Swiss Tourist Board, the Armani Group worked to organize a show with minimal environmental impact throughout the entire affair, avoiding single-use plastic and food waste, as well as ensuring the reuse and recycling of materials. The brand is also committed to offset all event-related emissions through nature-based solutions, including making a sizable donation to "MortAlive," a Swiss organization working to protect glaciers all over the world. HZ

www.armani.com
Fashion
CHANEL IN DAKAR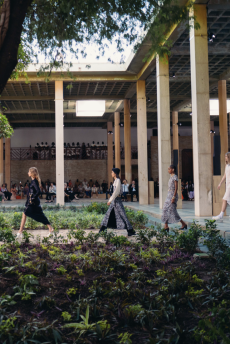 Dakar, the Senegalese capital and westernmost city on the African mainland, was host this season to the CHANEL 2022/23 Métiers D'Art Show. It represented a significant moment in fashion, as the first fashion show by a European luxury brand in sub-Saharan Africa. The show took place a week after Dakar had hosted the 20th edition of Dakar Fashion Week, Africa's longest-running fashion event. Preceded by "real dialogues, nourished over the long term," the show was intended as a celebration of the vibrant local culture. The collection and show come as the results of multiple creative encounters with artists, choreographers, directors, musicians and writers from the local scene. This collaboration was evident in the show itself, featuring performances by special guests such as local singer Obree Daman and dancers from the local École des Sables dance school.

During the creative process, CHANEL Creative Director Virginie Viard drew heavy inspiration from the 1970s – a time of freedom, revolution and enormous energy – with heavy tweeds, warm color palettes, flared trousers and platform shoes forming integral elements of the collection. The collection also emulates this iconic chapter in fashion history with precise details, such as plant motifs, sequins, sparkling pendants and geometric motifs.

A four-part short-film series published on the Chanel website and directed by the students of the Kourtrajmé film schools, tracks the story behind the 2022/23 Métiers d'art CHANEL – DAKAR collection and show. HZ

www.chanel.com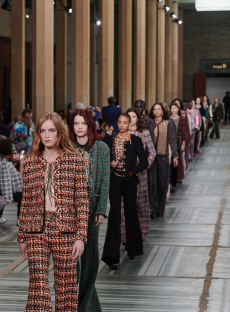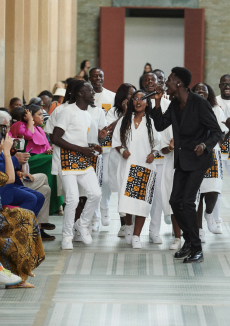 Fashion
Cartier opens new Amsterdam Boutique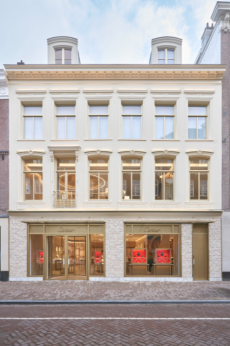 For almost 45 years, Cartier has been charming all the residents and visitors of Amsterdam connecting to the city through its incredible designs and savoir-faire in an unforgettable manner. Since 1994, the Maison's main boutique has been located in the Dutch capital's most prestigious shopping street, the P.C. Hooftstraat. After all these years, Cartier was proud to announce the opening of their new boutique, remaining on the same street just a few doors down at P.C. Hooftstraat 129. As Valérie Ahner-Boudier, Managing Director of Cartier Benelux & Nordics, puts it, "The new boutique will be an open window to timeless design, celebrating creativity and craftsmanship. A perfect reflection of Cartier's distinctive blend of tradition and innovation." It marks a new chapter for Cartier in Amsterdam. The design of the new store was headed by Studio Parisien and inspired and supported by local Dutch talents. Throughout the store, one can find hints reminiscent of the rich Dutch heritage, its world-renowned painters the Dutch Masters, the innovative design language such as De Stijl and the various local characteristics that define the city. A perfect embodiment of this is the playful and welcoming ceramic façade designed by Amsterdam-based artist Eva Crebolder who took inspiration from the imperfections of Amsterdam's canal houses. In addition to this, all the ceramic pieces were created in the world's oldest operating tile factory, the Koninklijke Tichelaar Makkum. Stretching over multiple floors, the new boutique offers clients a complete offering of the Maison in an environment that isn't solely aesthetic but also meets the highest ecological standards as directed by the globally recognized Leadership in Energy and Environmental Design certification.

The new Cartier Boutique is located at P.C. Hooftstraat 129 in Amsterdam.

www.cartier.com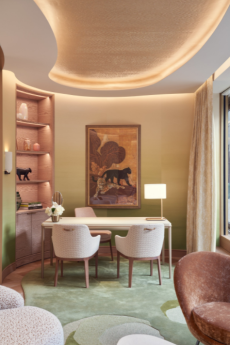 Fashion
Walking through a dream
Beginning December 12th, 2022, Louis Vuitton invites guests to LV DREAM, an expansive exhibition within the building of the former La Belle Jardinière department store. The exhibition is a look back at the Maison's partnerships and creative exchanges throughout the years. Historic and contemporary pieces offer an immersive journey through the brand's creative past, a temporal display of artistic undertakings. The exhibition is interactive as much as it is visual: a room dedicated to Rei Kawakubo, artistic director of Comme des Garçons, plays with scales and encourages visitors to step into the bag, like an Alice-in-Wonderland-type alternate reality.

Nine rooms make up the LV DREAM-scape. Diverse takes by various artists in the room Louis Vuitton: As Seen By offers multiple unique artistic perspectives on the brand. Chinese painter Yan Pei Ming, American tattoo artist Mister Cartoon, American artist Alex Katz and Turkish-American new media artist Refik Anadol, are just a few impressive names on LV DREAM's roster of credits. The artistic collaboration continues in the Origins room, which features Kenta Cobayashi's characteristically vivid photography as a backdrop to iconic Louis Vuitton designs. The Leather Goods in Fashion part of the installation dedicates itself to the work of two important artists in Louis Vuitton's history – Takashi Murakami and Yayoi Kusama – who were responsible for remixing the brand's identity with youthful Pop Art playfulness. The room Art Meets Fashion throws the spotlight on collaborations throughout the years between artists and Artistic Directors at Louis Vuitton, such as Daniel Buren and Marc Jacobs, Christopher Nemeth and Kim Jones or Atelier Fornasetti and Nicholas Ghesquiere.

As the cherry on top, Louis Vuitton hosts Chef Pâtissier Maxime Frédéric in its dedicated café and chocolate shop (la chocolaterie). A mutual love of craftsmanship and the finer things especially forms the heart of this partnership. HZ

The LV DREAM exhibition is open from December 12th, 2022 at 2 rue du Pont Neuf in Paris, Monday to Sunday from 11am to 8pm.

www.louisvuitton.com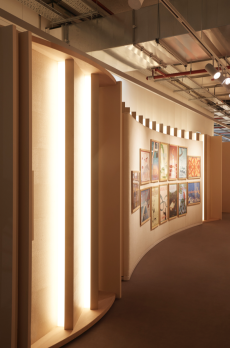 Fashion
Furla Cruise 2023 Collection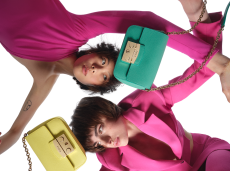 Founded in 1927 by Aldo Furlanetto in Bologna, the brand Furla has long been hailed as an industry leader in its craft. Drawing on its long-standing expertise, the Italian brand strives to create pieces made from a sense of beauty and quality, reaching at the same time for new heights in design innovation and creativity. With its atelier based in Tuscany, the brand stays true to its DNA of producing goods of traditional Italian craftsmanship. Furla stands for optimism, bringing a sense of colorful and cheerful creativity into each creation.

True to form, colors and youthful playfulness make up Furla's Cruise collection 2023. Furla paints the picture of a woman – "curious, enthusiastic, creative: a woman who is not afraid to experiment." Its newest collection of handbags is designed to equip this modern woman. Available in both bold and vibrant as well as neutral and classic colors, the Furla handbags are readily wearable for any occasion. Soft and geometric shapes can be found throughout, creating a visually versatile range of purses and bags.

www.furla.com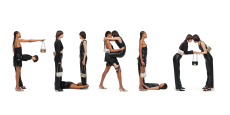 Fashion
Prada's Crypto Christmas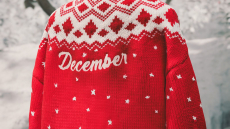 Prada's newest announcement of its seventh Timecapsule Collection drop marks the latest development in the House's digital saga. The Timecapsule collection is a futuristic take from an over 100-year-old business. The House of Prada, along with some of its other peers in the industry, has taken a bold step toward expanding its area of function and creative presence into Web3. The Timecampsule NFT collection embodies this progression into the digital realm, as each new monthly drop is linked to both a gender-neutral physical product as well as a gifted NFT. The drop takes place in the form of an online event: on the first Thursday of every month, a limited quantity of the Timecapsule Collection products are made available for 24 hours. Limited-edition Timecapsule items are linked to a unique serial number, and buyers are granted Prada NFTs in the second stage. NFT owners are also offered exclusive benefits and experiences, including invitations to Prada Extends or Prada Mode. The latest installment celebrates the festive season with the revisit to a familiar favorite – the holiday sweater. Made of Merino wool and using a special Norwegian jacquard knitting technique, the sweater forms one half of the Prada package, weaving in knitted traditional festive glory with Aura blockchain technology. HZ

www.prada.com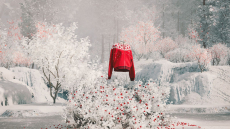 Fashion
A timeless timepiece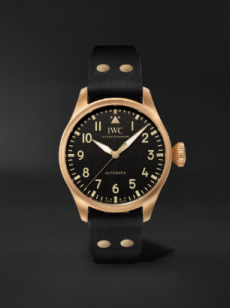 A collaboration between MR PORTER and IWC Schaffhausen has resulted in the Big Pilot's Watch 32 MR PORTER EDITION 1. This special edition watch features a reduced 43mm bronze case, titanium case back, and black dial with gold-plated hands. The idea of the Big Pilot Watch 43 model is to mimic the style of an easily readable cock-pit instrument. It was specially chosen as the limited-edition timepiece for its simplistic yet sophisticated dial design, which creates "an amazing presence on the wrist with excellent wearing comfort." The limited edition model – with only 500 pieces globally – is made further unique by the bronze case and crown. Through the process of oxidization, each individual piece develops its own patina over time – a green or brown film that arises on the surface of bronze materials. This bronze material also contains aluminum and iron, thus making the alloy used for the watch about 50% harder than standard bronze. The watch furthermore features IWC-manufactured 82100 caliber to automate the movement of the hands, a highly efficient self-winding system developed in the 1950s by IWC's then technical director Albert Pellaton. "A unique take on an iconic collection," the Big Pilot's Watch 43 MR PORTER EDITION 1 is available from now until February 2023 exclusively on the MR PORTER website. Afterward, it will also be available for purchase in IWC Schaffhausen boutiques.

www.iwc.com


Fashion
A partnership of perfectionism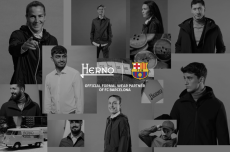 A new partnership between Italian fashion house Herno and Catalan sports behemoth FC Barcelona marks the beginning of a new era for both companies. For the first time in its history, the women's and men's football and basketball teams of FC Barcelona will all be attired by the same design house. Despite coming from very different industries, the two houses have one key commonality - the aspiration to excellence in their respective fields.
Founded on the banks of the Lago Maggiore over seventy years ago, the brand Herno has distinguished itself as a fashion house par excellence in creating high-quality, innovative designs while staying true to its long-standing Italian sartorial traditions. In the context of this new collaboration, Herno has commented that it looks forward to the challenge of "dressing players of very different physicalities," in pursuit of making everyone "feel comfortable and well dressed" in their off-field appearances. Aided by its investments in research and design innovation, the Italian heritage label seeks to pioneer the industry in unifying style, functionality and technology. In this sense, the brand represents a good fit to one of the most beloved sports clubs in the world. Boasting over 140,000 members and hundreds of millions of fans worldwide, the club known as "more than a club" holds the eyes of the world. Coming January and through the next three seasons of 2024/25, so too will FC Barcelona's official partner Herno. HZ

www.herno.com 
Fashion
DIOR Maison Cruise 2023
Vibrant greens, reds and yellows in intricate ornamental patterns adorn the new Andalusian-inspired dinnerware collection by Dior Maison, designed by Maria Grazia Chiuri, Dior's first ever female creative director. Much like the women's fashion line of the same name, the earthenware collection brings to mind the vitality of the southern Spanish peninsula. The attention to ceramic craftsmanship, bold colors and ornate motifs all closely mirror their significance in the Andalusian culture of pottery and ceramics. The Dior Cruise 2023 show, presented in Seville, heavily drew inspiration from flamenco and was especially an ode to Carmen Amaya, or 'La Capitana', the revered Spanish flamenco dancer. Aside from the design choices that serves as direct nods to cuts and fashions from the region, the venue, production and line itself also featured heavy elements of the rich and diverse blend of different cultures characteristic of the region, where Muslim, Gypsy, Christian and Jewish cultures met. This blended heritage is beautifully reflected in both collections. The strikingly rich colors of the ornaments evoke the intensity and passion of flamenco, while the intricacy and detailing of the patterns recall Arabic influences, as seen on the vaulted ceilings of the Alhambra or in the palaces of Seville. A "festive ode" (in Dior's own words) to the art of entertaining, the Cruise 2023 line brings more than just dinnerware, but also the energy and spirit of Andalusia, to the table. HZ

www.dior.com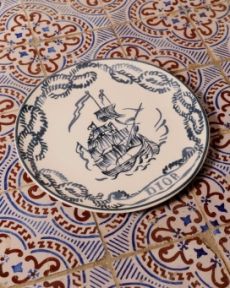 Fashion
ARTYCAPUCINES CHAPTER 4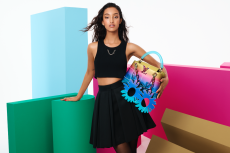 It has long been established that fashion and the fine arts are intrinsically linked and connected. Fine arts are not only an inexhaustible source of inspiration for the various luxury houses' designers, but through collaboration, fashion's creations can also become a blank canvas for artists to bring their visions to life within a three-dimensional object. In this spirit, the French Maison Louis Vuitton has started Artycapucines, bringing together the stunning creativity of chosen artists with the unparalleled savoir-faire of its masterful artisans. The starting point is Louis Vuitton's timeless and feminine classic, the Capucines bag, named after the Rue Neuves-des-Capucines, where the Maison's founder Louis Vuitton opened his first store in 1854. For the fourth chapter of this special collaboration, Louis Vuitton partnered up with six global artists, Daniel Buren, Kennedy Yanko, Park Seo-Bo, Amélie Bertrand, Peter Marino and Ugo Rondinone, who have all brought their unique visions to the bag. Daniel Buren's Capucines features a trompe-l'oeil design with his trademark stripes in white and black; Kennedy Yanko's interpretation of the bag is constructed of 3D-printed leather defined by its hand-applied metallic patina and Park Seo-Bo recreates one of his signature Écritures paintings on the textured and embellished calfskin. Amélie Bertrand in turn hand-sprayed her vision resulting in a bag in shifting colors and phosphorescence, whereas Peter Marino's variation is a powerful all-black and studded creation featuring an exclusive clasp. The last of the six artists, Udo Rondinone created a harlequin-style bag, delightfully playful and colorful due to its over 14,000 hand-stitched beads. The resulting bags are creating veritable contemporary artworks, as diverse as the artists themselves. Highly limited to 200 per artist, the bags will be presented in their own specially designed gift boxes. Artycapucines bears witness to Louis Vuitton's desire to put its innovative spirit and artisanal expertise to the service of artists and their creativity.

www.louisvuitton.com
Fashion
The Palace Gucci Collection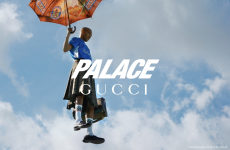 Italian luxury and London streetwear melt together as Gucci's creative director Alessandro Michele invites Palace Skateboards to an astonishing collaboration. Although the two brands appear to be opposites at first glance, the Palace Gucci Collection discovers their common ground of approaches, obsessions, and meanings. The designs focus on modern street culture as they unite the creative universes of both Palace and Gucci, captured in surreal imagery accompanying the collection. The film by Max Siedentopf connects the two different realities, thus encouraging viewers to discover their own anomalous affinities.
The collection includes accessories and clothing for all genders, that is Palace presents for the first time women's ready-to-wear designs. Alongside Gucci icons, such as the Horsebit loafer, Palace's staples are represented as well, meaning soccer tees, denims, and tracksuits. Within the collection, Gucci's heritage gets revamped, as for instance, the legendary monogram canvas incorporates a Palace 'P' while duffles appear reshaped in a pyramidal form. The fusion of the diverse aesthetics culminates in the logo, which merges Gucci's double-G with Palace's Tri-Ferg.
The result is an inspiring collection of high-end streetwear, which bears the signature of two modern and acclaimed brands that have discovered new sides of themselves together. JW

www.gucci.com
www.palaceskateboards.com
Fashion
Colmar presents pink skiwear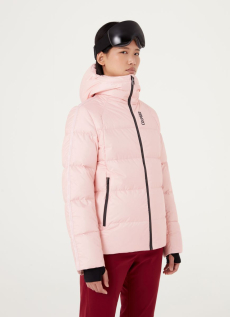 Colmar heralds the ski season with an astonishing Fall Winter 2022/ 2023 collection, revolving around the motto Pretty in Pink. Skiwear has a long tradition within the renowned fashion and lifestyle brand, which provides Winter athletes with wonderful skiwear since the 1930s.
This season Colmar introduces an outstanding ski suit in a light pink color. The quilted jacket is made out of ripstop fabric and is distinguished by its water-resistant materials. Thus, it can withstand any weather conditions and brings you dryly to the end of the ski slopes even in snow and rain. A special touch is given by the logo details on the jacket's sleeves, significant to Colmar. The beautifully crafted jacket can be worn combined with matching pants, which mirrors its soft color and water resistance. Together, the light-colored set brings joy to the mountains and defies any winter weather, no matter how gray.
Both of the products, the jackets as well as the pants, are part of the Colmar Green Path Projects, which focuses on sustainable production for an environmentally conscious future. Thus, the brand takes an important step, while offering an elegant, unique and functional ski suit. JW

www.colmar.com
Fashion
Sander Lak publishes coffee table book about his former label Sies Marjan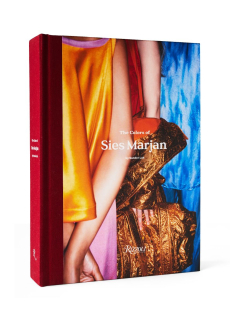 In 2016 the Dutch fashion designer Sander Lak founded his highly influential and now cult fashion label Sies Marjan. Despite closing down in 2020, the garments stood out due to the evocative use of colors, proportion as well as subversive fabrication, leaving a lasting mark on the world of fashion. Offering an impressive retrospective on the work of the beloved creative director, Sander Lak launches an excellent coffee table book, titled The Colors of Sies Marjan. The pages of the decorative book introduce the readers to the luxuriously constructed pieces, distinguished by shining, jewel-toned hues and a uniquely cool appeal. It brings them to the buzzing streets of New York City, where the brand was based during its four-year-long existence and where its beautiful pastel coats can still be seen regularly walking down the avenues. Tracing the label's history path, the richly illustrated volume is organized by color. It includes various expressive images, ranging from unpublished drawings to ad campaigns and found objects of inspiration. Alongside the pictures, a number of interviews and reactions from, among others, Donna Tartt, Isabella Rossellini, and Hanya Yanagihara give an insight into Sies Marjan's glorious journey. JW

www.rizzoliusa.com
Fashion
Zegna officially partners up with Real Madrid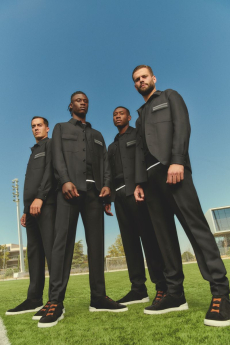 The Italian luxury brand Zegna and the famed football club Real Madrid have officially teamed up as Zegna becomes Real Madrid's Official Luxury Travelwear Partner. Together, they form a partnership of superlatives, built on shared values and shaped by a relentless desire to make a positive difference on Earth. First seen during the inaugural Champions League game of the 2022/2023 season, the items of the exclusive collaboration will increase in variation over the upcoming seasons. Its core consists of the signature overshirt, the chore jacket, and matching jogger bottoms or narrow trousers as well as crewneck underpinnings and signature triple stitch shoes. The jackets carry Zegna's new brand sign, amplified through Real Madrid around the world. Characterized by a double-stripe graphic, it honors the 232 Road that crosses through Oasi Zegna, which was created as a result of the founder's early commitment to sustainability.
"I am outstandingly thrilled about our newly announced partnership with the Real Madrid, one of the most recognizable brands in the world with a loyal and enthusiastic fanbase. The importance of values is what attracted Zegna and Real Madrid. We are both convinced that what is visible, either an item of clothing or winning a football match, only matters if there is an ethical stance behind it", affirms Gildo Zegna, Chairman and CEO of Ermenegildo Zegna Group. JW

www.zegna.com
www.realmadrid.com
Fashion
Dries Van Noten SS23 goes from Darkness into light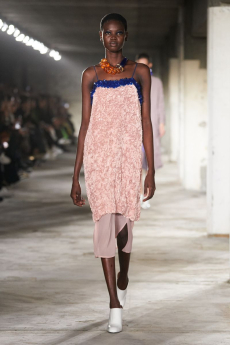 During Paris Fashion Week Dries Van Noten showed the women's spring/summer 23 collection, which revolved around the theme of Darkness into light. Thus the collection was divided into three parts: the purity of black, the suggestion of color faded pastels, and novel flower prints. Investigating the contrast between these elements, the development from dark shades to cheerful patterns celebrates and embraces optimism.
The first part of the collection, distinguished by its black color, is inspired by the radicality of Kazimir Malevich's Black Square. As it consists of structured pieces, this part includes jackets with oversized shoulders and dresses with sculptural waists. Continuing with the pastels, which can be found on crushed pleats, the fringing of cargo pants, and a layered dress, the soft shades embody the lingering memory of color. For the flower prints, significant to Dries Van Noten, earlier designs got revamped. Varying between oversized and micro-prints, the patterns and textures collide in powerful silhouettes. As the collection plays with the contrast between transparency, lightness, and precision, masculine jackets are combined with mousseline skirts.
The accessories, including glass jewelry and heeled shoes, are fragile and robust at the same time, paying homage to intimate moments within the whole collection. JW

www.driesvannoten.com
Fashion
Dior SS23 revisits history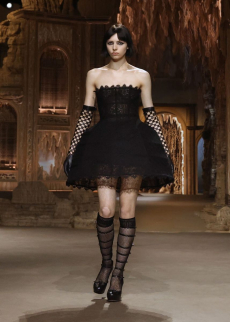 The French Maison Dior unveiled its new spring-summer 2023 ready-to-wear collection, designed by the creative director of Dior women's lines Maria Grazia Chiuri, at Paris Fashion Week. To gather inspiration for the garments, the Italian fashion designer turned to the Dior archives, from which she took an image of a map of Paris featured on a scarf from the 1950s.
The designer was also influenced by Catherine de Medici, an Italian noblewoman who came to France in 1533. As she portrays the early relationship between women and power, Maria Garzia Chiuri was mesmerized by her political intelligence. Pioneering innovations in fashion such as heeled shoes and the corset, Catherine de Medici influenced the designs and silhouettes of Dior skirts. Beyond that, the collection also incorporates raffia coats, characterized by nature motifs. Set in a scenography designed by the artist Eva Jospin that reinvents Baroque grottos, the dancing and choreographic duo Irme and Marne van Opstal offered an astonishing performance. Striking a stunning balance between the beautiful and the disconcerting, they complemented the Dior fashion show and enhanced the presentation of the elegant garments of the spring-summer 2023 ready-to-wear collection. JW

www.dior.com
Fashion
Prada's SS23 shifts between realities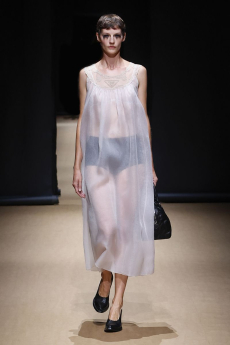 Miuccia Prada and Raf Simons showcased a sequence of realities for the Prada Spring/Summer 2023 womenswear collection, titled Touch Of Crude, and presented during Milan Fashion Week. The collection investigates the contrast between delicacy and roughness, shifting between different visions and alternate realities. Some of the garments mirror the show space, a black panopticon, as they are made of a paper-based fabric, torn against the body. Intentional rifts, twists, creases, and folds define and shape many of the collection's pieces as they depict traces of human life and memories of beauty. It is this rawness that evokes fragility, reflecting humanity as reality.
Day and evening clothes alternate and blur the lines between distinct realities, fusing opera coats with leather jackets and intimate loungewear with outwear. Continuing with accessories, Prada presents reinterpretations of classic Prada handbag silhouettes in an antique nappa and with patinated, pressed, and wrinkled surfaces.
For the fashion show Film director, Nicolas Winding Refn presented fragments of his short films through raw apertures punched through the décor, giving the audience the opportunity to look into a different reality, remaining in the context of the Touch of Crude collection. JW

www.prada.com
Fashion
Bulgari presents the SS23 Leather Goods & Accessories collection at MFW
Bulgari presented its new Spring Summer 2023 Leather Goods & Accessories collection during Milan Fashion Week. In its Milanese home, the enchanting Bulgari Hotel the renowned jeweler set up a showroom and furthermore hosted an evening event there. Under the title "Shades of Wonder", Bulgari showcased a world of vibrant nuances, testifying to the brand's captivating creativity and unrivaled mastery. More than 400 members of the international press joined the showroom to explore the new Spring Summer 2023 collection which is defined by intense colors inspired by the most precious gems.
These colors and gems were mirrored by the garden of the Bulgari Hotel at sunset, which lit up thanks to the light installation "PRECIOUS SHADES" by Studio Mandalaki. The special optical bodies of the Halo Edition lights appeared just like the rare stones incorporated in Bulgari's fine jewelry, creating a unique and magical atmosphere in the midst of the buzzing city of Milan. It thus evoked a both visual and sensory experience which is liked to the concepts of the new collection. JW

www.bulgari.com
Fashion
Diesel SS 23 showcases democratic fashion